It was a year like no other. From whispers of a novel virus to a global pandemic, 2020 changed the year we lived.
But it was also a year where we were able to spend time in the place we made a home. Dinners at the dining room table, late nights but the fire. The treadmill was dusted off and those dumbbells came out from the corner.
It wasn't about making the most of the time inside our walls. Many people found a new appreciation for their backyards and a desire to upgrade their outdoor living areas. Popular projects included new lighting, pergolas, and adding a fire or water feature.
The ultimate water feature might have come as a surprise: a swim spa by Master Spas. As pools shut down and vacations canceled, homeowners wanted a year-round space to swim, exercise, play, and relax.
Where do you start, though? Master Spas launched a regular Facebook Live series hosted by swim spa specialists Ben Gilliam and Mari Cuticelli.
In their Facebook Live videos, Ben and Mari talk about all things swim spa. From which swim spa is best to how to take care of a swim spa, viewers were able to get the answers they wanted.
Here are some of your favorite video topics and frequently asked questions about swim spas by Master Spas.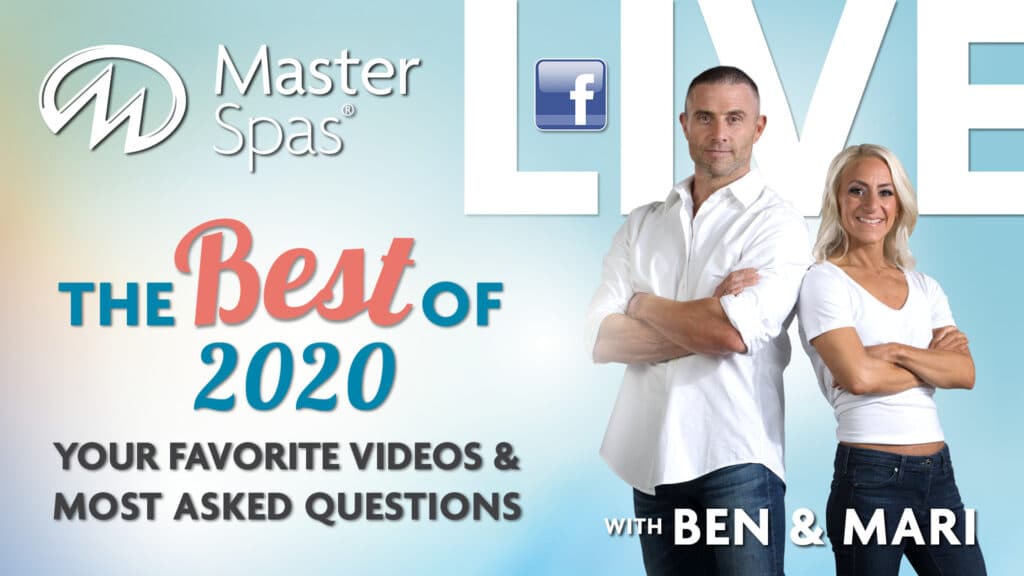 Best Swim Spa Videos for 2020
Why a Swim Spa is a Great Pool Alternative
Ben and Mari swim and train in an H2X Challenger 15D by Master Spas. The swim spa, which was designed for athletes, steals the show during the Facebook Live videos. However, they also go on location to show how a swim spa serves as a year-round pool alternative. A swim spa by Master Spas is more affordable than an inground pool, and it can be installed in one day in almost any yard.
Related posts:
In-Ground Swim Spa Installation
Getting Your HOA to Approve Your Swim Spa
Local zoning rules and HOA guidelines can dictate where you put your swim spa and your installation options.
In a popular video, Ben and Mari talked about the challenges HOAs and zoning rules can present and how to overcome them.
Important talking points when asking your zoning board or HOA to approve a swim spa:
A swim spa is NOT a pool (never call it a pool, as pools have different regulations)
Regulations will be the same as a hot tub
This is because no plumbing exits the cabinet
And all components are self-contained
Locking covers are UL listed
Swim Spa Installation Process
An in-ground pool can take weeks to months to install. But a swim spa? It's less than a day once your space is ready.
In this video, Ben and Mari talk about how to prepare your backyard for a swim spa. The two discuss what the requirements are, including the ideal foundation and power requirements.
Related post:
7 Things to Do for a Smooth Hot Tub Delivery
Swim Spa Chemicals & Water Care
Many of the questions asked during Facebook live videos had one thing in common: water care. Swim spas by Master Spas feature EcoPur Charge. This mineral filtration system uses natural elements to purify your water without large doses of chemicals. Finding the right water care routine, though, can vary depending on how many people are in the swim spa — and how often. In this video, Ben offers his tips for how to keep swim spa water clean and clear. Ben answers questions about the best way to add chemicals to a swim spa. With regular water care, you can enjoy a stress-free swim spa experience.
Swim Spa Water Care Tips:
Add chlorine after every use
Test water weekly
Watch the water and make sure you have a clear view of the bottom
Choose a routine schedule/method and stick to it
Related posts:
Chemicals for Swim Spa Start-Up
Swimming & Exercising in a Swim Spa
Swim spas feature a continuous water current that provides resistance, allowing you to swim and exercise in place. It's similar to how runners would use a treadmill.
But swimming in a swim spa is different than a pool, Ben and Mari share.
As IRONMAN coaches, the duo have taken several videos to talk about how to get the best swim experience in a swim spa. The videos go over the basics, as well as go a bit more in depth — including talking about how to measure swim distance in a swim spa.
Many people enjoy using a swim spa for exercise, whether they are a beginner or fitness enthusiast. The water helps relieve pressure on the joints, making it easier to move. A popular video focused on the best swim spa exercises for beginners.
Rehab and Recovery
No one likes to be in pain. And it can be frustrating when you want to — or need to — exercise but it causes discomfort. In this video, Ben and Mari talk about the healing benefits of water exercise and how to use a swim spa for water therapy.
The buoyancy and natural resistance of water create a comfortable environment for exercise. For a therapeutic exercise session, the water should be warm — between 90 and 95 degrees. A swim spa by Master Spas allows you to set the perfect temperature for aquatic therapy. In addition, the SoftTread Non-Slip Flooring System provides comfort and safety.
Benefits of using a swim spa for rehab and recovery:
Adjustable water temperature for aquatic therapy
Increased depth for added buoyancy, relieving stress on joints
Water allows for better range of motion and flexibility
Convenient access and privacy
Reduce Stress and Relax at Home
The advantages of owning a swim spa go beyond the opportunity to swim, exercise, and splash at home. Swim spas also feature contoured therapy seats and adjustable massage jets — just like a hot tub! The comfy seats are the perfect place to relax after a long day or to get targeted relief. In this video, Ben and Mari talk about how the hydrotherapy can help you relieve stress and ease anxiety