Welcome to 2022!
It's been a week since we rang in the new year, marking not just a new page on the calendar but a new decade. For many, a week has also passed since setting a new year's resolution or two.
According to an Ipsos survey, 38% of Americans planned to make a resolution in 2022. The most popular goals were to improve finances, eat better, and move more.

Of the people who planned to set a resolution, 42% wanted to lose weight and 38% hoped to better their mental well-being.
For people living in Great Britain, the most popular New Year's resolutions were improving fitness (47%), losing weight (44%), and improving diet (41%).
But as hopeful as we are at the start of a new year, statistics show that most people are not successful in achieving their goals. Statistics from U.S. News & World Report show that 80 percent of New Year's resolutions fail by February.
Is it a lack of discipline? Unlikely. Could it be that we need to reframe our resolutions of how to be a better version of ourselves to how we can live life better? Definitely.
Thinking of our goals as a way that will make us happier — and not deprived — can help us set the small steps needed to be successful.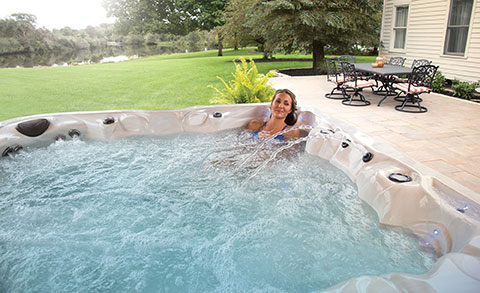 4 New Year's Resolutions You'll Want to Keep
Reduce Stress
There's no doubt we, as Americans, are stressed. Statistics show that three out of four people report feeling stressed in the past month.
But it can be challenging to eliminate things that trigger stress — work, family, finances. Instead, it's important to find ways to manage stress.
Spending 20 minutes in a hot tub in the evening has been proven to lower stress levels. A hot tub by Master Spas allows you to relax, mentally and physically. Hydrotherapy massage and prioritizing self-care are just two ways that a hot tub helps.
Related: Relieve Stress in Just 20 Minutes
Sleep Better
Who doesn't want to sleep more? Not only does it help us feel more refreshed and ready to take on the day but it is a key factor of overall health. Setting an intention to improve your sleep habits in the new year can lead to overall happiness.
"Sleep plays a critical role in immune function, metabolism, memory, learning, and other vital functions," according to Harvard Medical School. When we don't get enough sleep, we can see changes in our mood, judgment, and attention span. Chronically bad sleep can also lead to other health problems, such as obesity, diabetes, and heart problems.
There are a number of factors, such as stress, diet, and depression, that can affect your sleep. But you can help manage your routine so that you set yourself up for sleep success.
Soaking in a hot bath or hot tub before you go to bed can ease tension, reduce pain, and cause changes in body temperature — all helping you to get quality sleep. Studies show that the rapid drop in body temperature (when you get out of the water) improves the chance of sleep and helps you get into a deeper sleep. People who relax in warm water are reported to be less restless, especially in the first three hours of sleep.
Read More: Sleep Easier, Sleep Better with Hot Water Therapy
Be Present
Our daily lives are full of distractions, and it can be easy to find ourselves thinking about what we need to do or what someone has said. Or, we find ourselves mindlessly scrolling through social media apps or checking emails while trying to catch up with loved ones.
Choosing to be more present allows us to see and experience what is going on in the moment. We can fully listen to our partner or appreciate a quiet moment.
The benefit of choosing a new year's resolution such as "Be Present" is that it's a process goal, not a product goal. Unlike "lose 10 pounds" or "save $1,000 a month," we can decide what present looks like and take small steps to achieve it.
For some, it might be setting down the phone and spending more time with family and friends. It might mean taking time to yourself in the morning to enjoy a cup of coffee and sun rise before work.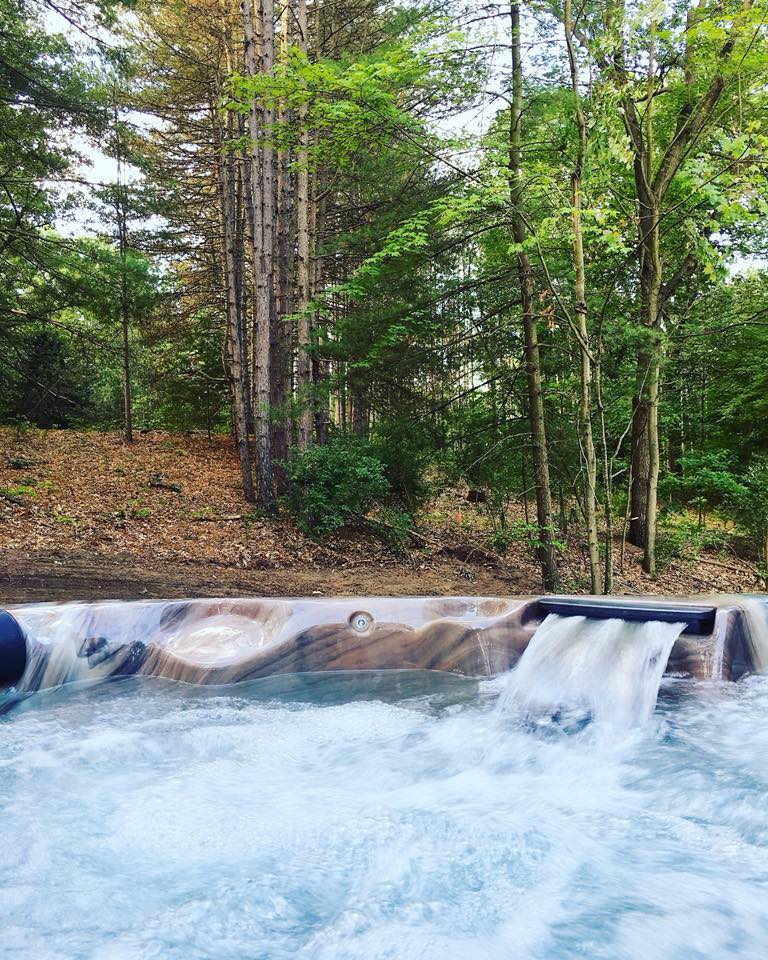 Connect With Nature
Want to improve your overall health? Just go outside. Spending time in nature has been shown to provide "significant and wide-ranging health benefits." A 2018 study reported that exposure to green space could reduce the risk of diabetes, cardiovascular disease, stress and high blood pressure.
Being outside often leads to increased physical and social activity, which help improve health. However, the fresh air and Vitamin D are also beneficial.
You're more likely to keep new year's resolutions that make you feel good — and getting outside just feels good. Even if you don't have hours to go hiking at a nearby nature preserve or a nature walk doesn't fit in your schedule, you can still get outside. There are so many great activities that encourage you to enjoy the outdoors without compromising your schedule.
Go for a walk, drink your coffee on the patio, garden, or take 20 minutes to soak in a hot tub by Master Spas.
Check out our Backyard Ideas and discover how Master Spas owners have created outdoor retreats.
• • •
Interested in buying a Master Spas hot tub? Click HERE to find your a hot tub dealer near you.