If you are looking for how to relieve stress in your life, you are not alone.
According to a report from the American Psychological Association, three out of four Americans report experience at least one stress symptom in the last month.
The "Stress in America" survey highlights the statistics. It says that 45 percent report lying awake at night; 36 percent report feeling nervous or anxious; 35 percent report irritability or anger; and 34 percent report fatigue due to stress.
Stress is natural and not all of it is bad. However, we need to take action when it starts to affect our health. The stress not only strains our mental outlook but can negatively affect our physical health.
A hot tub from Master Spas can help you relieve stress and anxiety.
15 Signs You Are Too Stressed
Frequent headaches, jaw clenching or pain
Gritting, grinding teeth
Tremors, trembling of lips, hands
Neck ache, back pain, muscle spasms
Light headedness, faintness, dizziness
Ringing, buzzing or "popping" sounds
Frequent blushing, sweating
Cold or sweaty hands, feet
Dry mouth, problems swallowing
Frequent colds, infections
Rashes, itching, hives, "goose bumps"
Unexplained or frequent "allergy" attacks
Heartburn, stomach pain, nausea
Difficulty breathing, frequent sighing
Chest pain, palpitations, rapid pulse
SOURCE: Stress.org
How to Relieve Stress
But at Master Spas, we want to help you live life better.
So it's important that we find a healthy way to relieve stress. And self-care can be a big part of that.
While it seems indulgent, self-care is not an indulgence. Research shows that taking time for yourself improves your emotional well-being, immune system, and relationships.
There's not a magic number for how much self-care you need. But we think taking 20 minutes out of your day, whether it's in the morning as you sip coffee or at the end of the day, goes a long way — especially when you take that time in a Master Spas hot tub.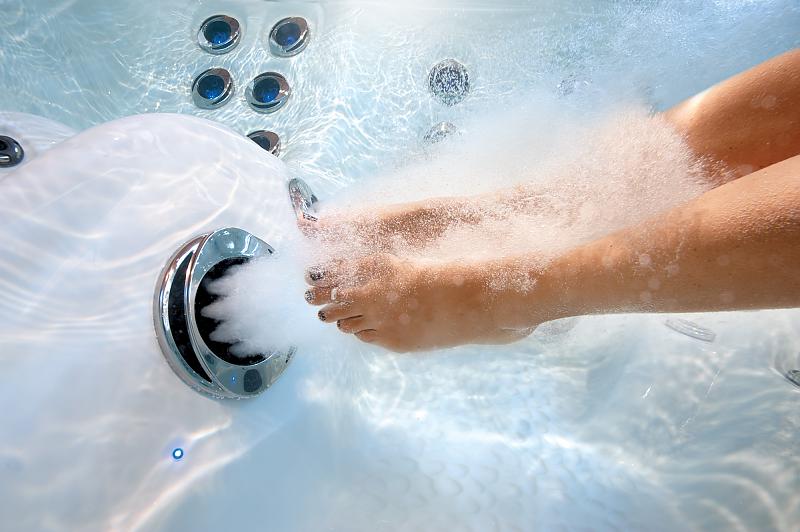 7 Ways a Hot Tub Relieves Stress
1. Massage
A hot tub from Master Spas features adjustable premium jets that deliver a custom massage. Maybe you prefer gentle pressure and like to keep the jets on a low setting. Or maybe you have exercise-related soreness or like a stronger approach. If so, you can change the jets to get a muscle-kneading force. And while it feels good on the muscles, the massage does more than reduce your physical pain. Studies show that massage can improve your mood, fight stress, and reduce cortisol levels.
2. Muscle relaxation
Stress can manifest itself in a lot of ways, including physical pain. The warm water of a hot tub helps to open the blood vessels, increase blood flow, and stimulates the nervous system. Not only does it help your muscles to relax but it causes your body to release endorphins — the feel-good hormone.
3. Better sleep
Stress and sleep go hand in hand. If you are feeling stressed, you might struggle to get to sleep and log a restorative night. And, if you have trouble sleeping, you might feel more stressed throughout the day. Relaxing in a hot tub for 20 minutes will help you clear your mind and, maybe more importantly, raise your body temperature. When you get out (and get that chill), your body temperature dips — just a degree or two — and helps you sleep better.
4. Social support
Sometimes when we're feeling stressed, we need to reach out to those around us. Sitting in a hot tub with your partner or family, you have chance to reconnect at the end of the day. You will find that conversation might flow more easily as you relax without the distractions of everyday life.
5. Back to nature
Sometimes you just need a breath of fresh air. Literally. Spending time in nature, outside, can be a powerful stress reliever. The sounds of birds chirping, a lush landscape, and a refreshing breeze can be enough to turn your mood around. Depending on your installation, your hot tub can put you in the middle of a tranquil setting. Plus, with the EcoPur Charge water purification system, you will smell the fresh flowers — not the chemicals in your hot tub water.
6. Right note
According to researchers at Stanford University, "listening to music seems to be able to change brain functioning to the same extent as medication." While you might think you need to turn on a classical or easy listening playlist, tune into the music that makes you feel relaxed — something with a slower rhythm, around 60 beats per minute, as it can synchronize with your brain waves. (Isn't that cool?) Play your favorite soothing playlist on water-resistant Bluetooth speakers as you relax into a comfortable position. 
7. Take it slow
Life can feel like it is just go, go, go. Whether you are balancing a demanding career or family commitments (or both), it can sometimes feel like there is no time for you. But you should be able to have the opportunity to unwind. Slowing down, even if it is at the end of the day, can go a long way in reducing stress. A hot tub invites you to put aside commitments for 20 minutes and take a break.
For more information about how a hot tub can help you relax, go to MasterSpas.com.