Take a deep breath. And another. We might even suggest you close your eyes … but then you couldn't read this blog post. As you inhale, think about how you feel. Are your shoulders inching up to your ears? Is your head tilting forward? Do you just feel tight?
The daily stress we encounter — whether it's mental or physical, whether it's at work, home, or in the gym — can take up residence in what's called the tension triangle. The base of the tension triangle is at the shoulders and reaches a point at the top of the head.
The build-up of stress can cause headaches, muscle pain, and limited mobility. And those problems can lead to more — poor sleep, teeth grinding, and spasms.
With proper relaxation techniques, though, people can relieve tension and pain while feeling less stressed. Deep breathing, muscle relaxation, stretching, and meditation can help, according to Northwestern University.
But you can't do all of those things at one time … can you?
Before you let your de-stress routine add to your stress, consider this: a hot tub by Master Spas can be the place where you unwind and find relief.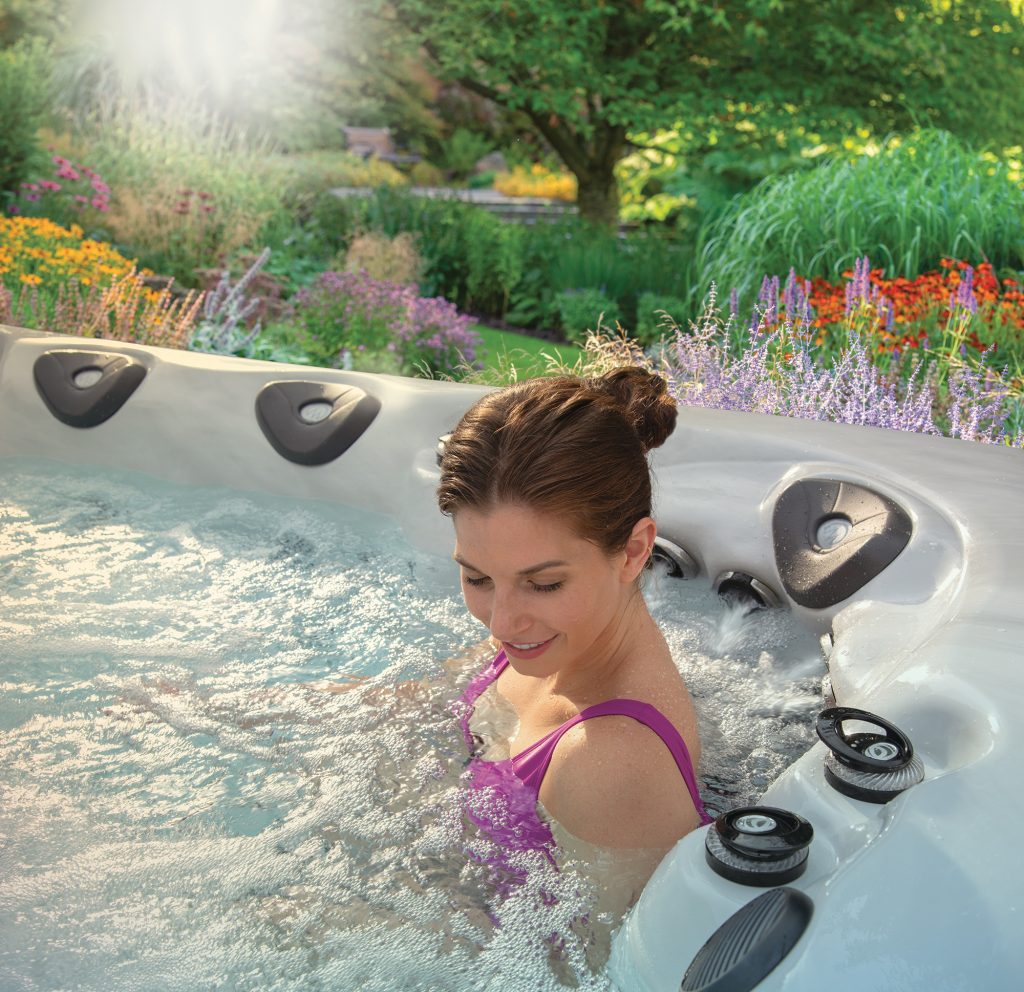 StressRelief Neck and Shoulder Seat™
Many Master Spas hot tubs feature the exclusive StressRelief Neck and Shoulder Seat™,which directly targets the tension triangle.
The seat features a ledge with specially designed jets that are directed downward. Your neck and shoulders will receive a tension-relieving massage that you can customize. Adjust the water pressure to enjoy a gentle touch or a muscle-kneading massage.
Rest your head on the comfy spa pillow and relax in the seat, which is designed to fit the contours of your body.
Is a Hot Tub Good for Stress Relief?
Even just as an escape, a hot tub can make it feel easier to relax and feel less tense. It's a place where you can sit down without the distraction of electronics, listen to the soothing sound of a waterfall, and just be for 20 minutes.
But there is science behind the benefits of a hot tub and how it can help you undo the effects of stress.
For those seeking specific relief for tension in the upper body, here's how a hot tub can help you.
Massage Jets
Combining air and water, the spa jets of a Master Spas hot tubdeliver a therapeutic massage. The pressure of the water causes the muscles, tendons, and ligaments to relax. But more than that, when the muscles relax, it can reduce painful muscle contractions and spasms, as well as release compressed nerves.
The StressRelief Neck and Shoulder Seat™ targets the muscles in the tension triangle but it is important to recognize that the body is connected. If there is pain, tightness, or soreness in one area, it can cause issues other places. By taking a total body approach to massage, the way you can in a hot tub, you are promoting overall wellness.
Warm Water
Heat can be a way to treat pain — just think of the times Grandma pulled out a hot water bottle or heating pad. With a hot tub by Master Spas, you can find the perfect amount of "hot" by adjusting the temperature of the water. For safety, it can be set up to 104 degrees. The warm water helps to loosen up stiff muscles, relieve pain, and quiet muscle spasms so that you can feel less tension in your neck and shoulders.
Buoyancy
Water can be healing and therapeutic, thanks to its natural properties. Among them is water's buoyancy.
What is buoyancy and why is it important?
It is the force that acts upon an object (or person) in water. Buoyancy allows you to feel supported and "weightless" when you are submerged in water. You will notice that you are able to move better and with more mobility in the water. So if you are experiencing tension in the "triangle," you can maximize the benefits of water by stretching.
A few of our favorite stretches to do in the water are the cross-body shoulder stretch, reverse shoulder stretch, and a modified cat-cow pose from yoga.
Improved circulation
When you think about a hot tub, you might not think about how your body is pumping blood. But the warm water of a hot tub helps to open the blood vessels, increase blood flow, and stimulates the nervous system. The increased circulation delivers vital nutrients to your muscles, as well as improves inflammation.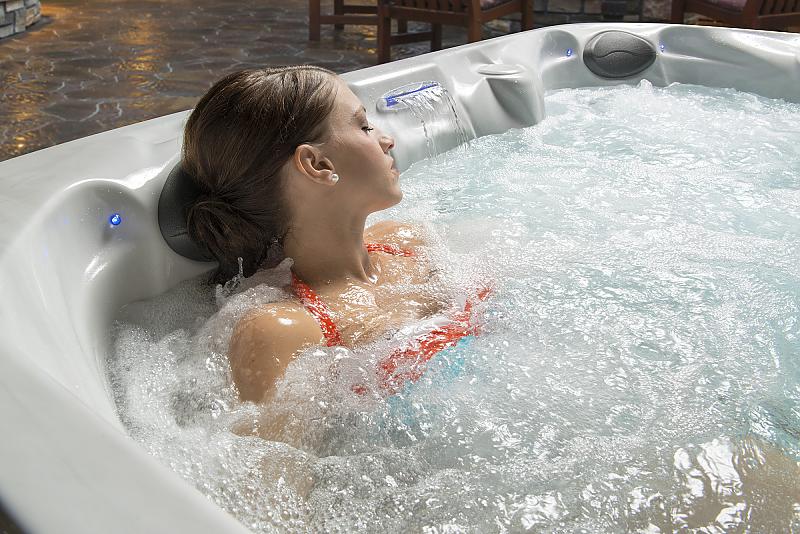 If you like this blog, check out these posts:
Chill out with this calming playlist
Enjoy the benefits of massage therapy