The power of massage is not just about the force or pressure. It's about the change it can cause in a person. And you can enjoy the health benefits of massage therapy.
Massage is not just about pampering, though. Regular massage can spark changes in health, mood, and the way you live your life.
According to an American Massage Therapy Association survey, 88 percent of participants see the benefits of massage therapy and think it helps overall health and wellness.
You don't have to book regular appointments at a pricey spa, though.
Hot tubs and swim spas have massage therapy built in. Premium jets are strategically placed in hot tubs and swim spas from Master Spas so you get the benefits of massage therapy in the convenience of your home or backyard.
Benefits of Massage Therapy
According to the Mayo Clinic, research shows the benefits of massage therapy. Massage can help with:
Anxiety
Digestive disorders
Fibromyalgia
Headaches
Insomnia related to stress
Myofascial pain syndrome
Soft tissue strains or injuries
Sports injuries
How Massage Therapy Works
Massage is a physical act. It involves using a force to apply pressure to parts of the body that are experiencing discomfort.
With a hot tub or swim spa from Master Spas, the force is created by jets that push out a stream of water. It's almost as if the body is squeezed and then the pressure is released. Squeezed and released. In response, blood and lymph circulation improves and the soft tissues relax.
One study showed that trigger point therapy, a type of massage, also lead to a decrease in heart rate, blood pressure, and cortisol levels. And that change in cortisol levels? It's part of the reason that people feel less anxiety and more relaxed after a massage.
When it comes to the circulation and massage, more oxygen and nutrients are delivered to the muscles. It helps make the tissues work more efficiently, reducing swelling and inflammation.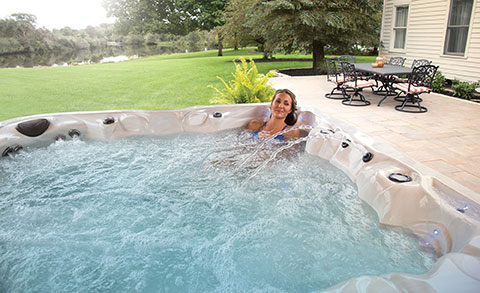 How Massage Works to Relieve Pain
But many people are likely drawn to massage because they have physical pain or discomfort. Maybe they have trouble moving their arm because of an old shoulder injury. Or, a job keeps them on their feet all day. Chronic conditions, such as fibromyalgia and arthritis, can also affect pain levels.
The pressure of a massage causes the muscles, tendons, and ligaments to relax. But more than that, when the muscles relax, it can reduce painful muscle contractions and spasms, as well as release compressed nerves.
And even though the target is often the tissue closest to the skin, relaxing those muscles can cause deeper change. The deep musculature can relax, and a person will experience better alignment and balance.
Enjoying a Massage in a Hot Tub and Swim Spa
People have been soaking in baths and springs for millennia, realizing the therapeutic benefits of hot water. But the addition of the hydrotherapy pump is a relatively modern invention, with the first developed in the 1950s.
The goal of the first modern hot tub was to relieve the pain of rheumatoid arthritis. And since, millions have people have discovered that a hot tub can deliver a massage that not only feels good but does good.
At Master Spas, we build therapy into ever hot tub and swim spa that's manufactured at our state-of-the art campus in Fort Wayne, Indiana.
Known for being innovative, Master Spas delivers the ultimate spa massage with exclusive features available only on our hot tubs and swim spas.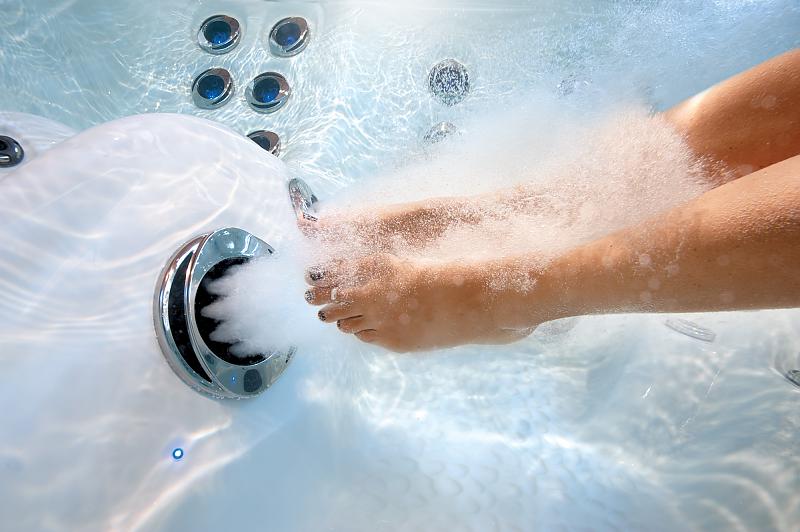 The StressRelief Neck and Shoulder Seat™
This seat features a ledge with specially designed jets that are trained downward — putting your neck and shoulders under the jets for the ultimate tension-relieving massage.
The Master Blaster® Foot Therapy System*
The Master Blaster uses dual jet clusters with 28 individual nozzles to deliver an encompassing foot massage. This unique form of reflexology is bolstered by scientific studies into the health benefits of foot massage. Our Master Blaster® Foot Therapy System is powered by a separate oversized pump, generating 200 gallons per minute of powerful yet soothing relief.
The Xtreme Therapy™ Seat*
This seat has 22 strategically placed jets while two individual whirlpools. Enjoy maximum hydrotherapy coverage for calves, arms, wrists, and hands. The unique jet pattern specifically designed for your neck and back. To maximize relaxation, the individual jet controls let you configure the ideal settings for you.
Xtreme Lounger Seat*
Deliberately engineered to alleviate high tension areas, the elements of the Xtreme Lounger work in harmony to provide a therapeutic massage only achievable with this innovative design.
It features six powerful jets to soothe back tension, and 12 jets to satisfy calves and hamstrings. Enjoy and a gentle massage to target pressure points in the feet.
Xtreme Therapy™ Cove*
Available on swim spa models, the Xtreme Therapy™ Cove puts you in the best position to enjoy a massage for your lower back, hips, thighs, and calves. A unique pattern of jets provides complete coverage for your back. Additional jets focus on the hips, thighs, calves, arms, wrists, and hands.
To learn more about hot tub and swim spa models, go to MasterSpas.com.
*Available on select models.