Exercise is a key component of any weight-loss program. But it can be challenging to get started with a fitness routine. A gym might be intimidating, or it might feel difficult to add another thing to your already busy life.
More than that, if you struggle with mobility issues or chronic pain, exercise can hurt before you start.
Where there is a will, there is a way, and aquatic exercise can be that way. From swimming to walking, stretching to aerobics, there are myriad workout options in a swim spa by Master Spas. The water offers a low-impact environment where you can move more freely without added pressure on the joints.
When combined with a consistent routine and well-balanced diet, exercising in a swim spa by Master Spas can help you reach your weight-loss goals.
Exercise and Obesity
In the United States, more than 93 million adults are obese. As the obesity rate grows, so does the risk for weight-related chronic conditions, such as heart disease, Type 2 diabetes, high blood pressure, and sleep apnea.
Research shows that exercise can help people lose weight and even prevent obesity.
According to the Harvard School of Public Health:
Physical activity increases people's total energy expenditure, which can help them stay in energy balance or even lose weight, as long as they don't eat more to compensate for the extra calories they burn.
Physical activity decreases fat around the waist and total body fat, slowing the development of abdominal obesity.
Weight lifting, push-ups, and other muscle-strengthening activities build muscle mass, increasing the energy that the body burns throughout the day-even when it's at rest-and making it easier to control weight.
Physical activity reduces depression and anxiety, (source) and this mood boost may motivate people to stick with their exercise regimens over time.
To get the most benefits, people should aim for an hour of movement a day. However, it's important to start slow and build up to longer sessions to prevent injury and frustration.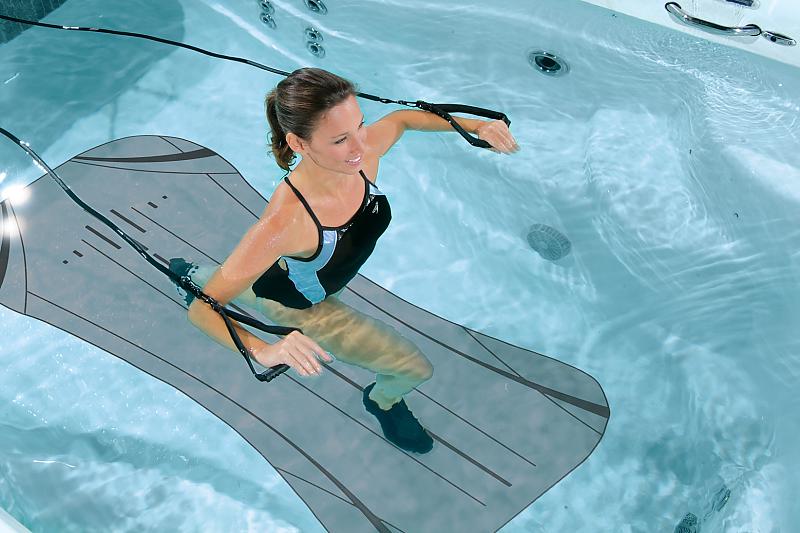 Four Ways to Incorporate Water Exercise for Weight Loss
Benefits of Water Resistance
By its very nature, water tries to slow down things moving through it. It's that drag you feel when you extend your leg in the water or catch the water as you swim. It's why a person exercising in water will have to use more energy to push his body through the water, as opposed to a land-based session.
The good news: The more energy you use, the more calories you will burn. When you're trying water exercise for weight loss, that's important.  
It is estimated that the average 30-minute aquatic workout burns about 300 calories. But you can make a water workout more challenging by increasing the pace of your movements or using H2xercise equipment, which further increases the resistance of the water.
Low-Impact Exercise Option
One of the other properties of water is buoyancy. Rather than making a movement more challenging, buoyancy can make exercising in the water easier than a land-based option.
Aquatic exercise significantly reduces the stress on your joints, bones, and muscles. People who have mobility issues or are overweight will enjoy having a safe and effective way to exercise.
The stress-free environment supports the joints while enabling limbs to move better. The freedom to will encourage you to use water exercise for weight loss.
Swim spas by Master Spas can feature the SoftTread flooring system, making it safer and easier to exercise in the water. The nonslip flooring system provides amazing traction during a workout, whether you are aqua walking, rowing, or stretching.
Long-Term Fitness Solution
There is no "one-size fits all" solution to diet or exercise. However, research is shows that aquatic exercise can not only benefit weight loss but may also have enhanced recovery on injuries and muscle soreness. This makes it easier to exercise on a long-term basis without the need for days off because of muscle soreness.
Convenient At-Home Workout
It can be intimidating to walk in a fitness facility. Whether you are new to exercise or don't like changing in a locker room, it can feel just as much a mental challenge as a physical one to go to the gym. Research also shows that more than half of people who join a gym do not attend consistently.
With a swim spa by Master Spas, the fitness facility is in the convenience of your backyard. There's no waiting for machines or crowded group fitness classes. And it's easier to start slowly, beginning with 10 or 15 minutes and working up to 30- to 45-minute sessions.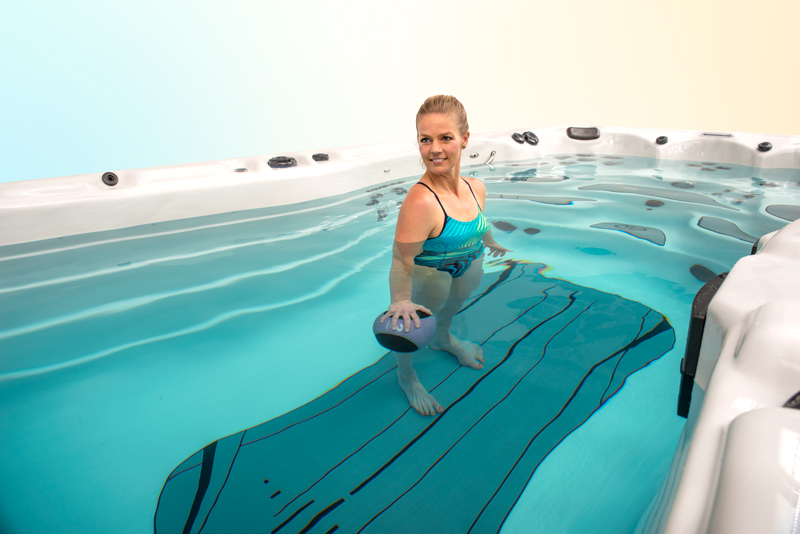 Want to Learn More About Exercising in a Swim Spa?
The Basics of Swimming in a Swim Spa
Improve Balance with Water Exercise
Exercise Ball Routine for the Water