5 Questions Everyone is Asking
and What You Need to Know
Whether you want to overcome a fear of the water, improve your freestyle technique, or need a convenient way to train for a swimming event, a swim spa can help you incorporate swimming into your regular routine. But swimming in a swim spa, the perfect alternative backyard pool, can be surprising.
Swimming in a swim spa recruits different muscles and requires more body awareness in the water. It can feel challenging in the beginning but there are steps you can take to improve your sessions in the spa — and fitness.
Master Spas recently hosted a Facebook live event, where IRONMAN coach Ben Gilliam shared his personal tips and tricks for swimming in a swim spa.
Whether you are an accomplished swimmer or just getting started, anyone can benefit from the drills and techniques that Gilliam shares.
Why does it feel different than swimming in a pool?
It's totally normal to feel tired or challenged when swimming in a swim spa the first few times.
Swimming in a swim spa is not like doing laps in a pool. The current system creates a flow of water to swim against whereas the water in the pool is still. It's more similar to being in an open body of water, such as a lake or ocean.
A swimmer will have to adjust body position and engage her core to stay balanced in the water.
How is a swim spa different than a pool?
The biggest difference between a pool and a swim spa is the current of water. Just like a treadmill for runners, the current creates a way for swimmers to move in place. On a treadmill, runners do not have to stop for traffic lights, make a turn to stay on a route, or weave in and out of slower runners or walkers. In a swim spa, swimmers have a solo continuous swimming experience. There's no crowded lap lanes or flip turns.
And just like a treadmill, select swim spa models by Master Spas have preprogrammed workouts that intuitively change the force of the current so the swimmer has to work harder or gets the opportunity to recover.
Do I need a tether?
No! If you are buying a swim spa for swimming workouts, it's best to select a model that does not require a tether. A tether is required when the spa does not create a strong enough current to swim against.
Master Spas manufactures two unique brands of swim spa — H2X Fitness Swim Spas and Michael Phelps Signature Swim Spas. With innovative water current systems, the H2X Challengers and Michael Phelps models are ideal for swimming.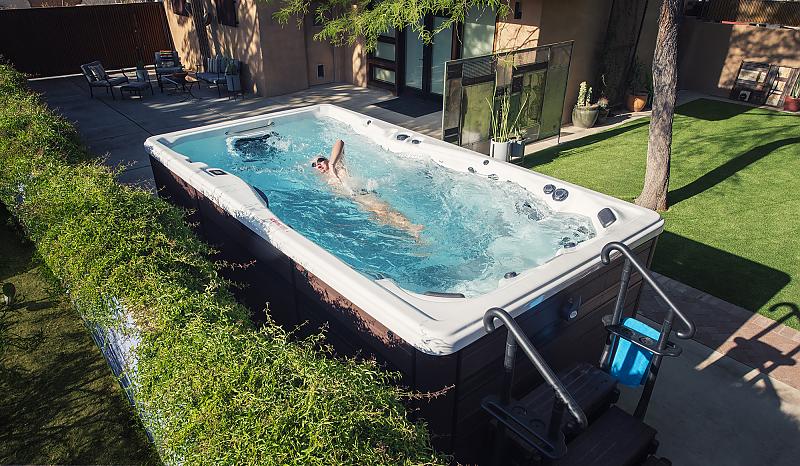 How can I improve my swimming by incorporating a swim spa?
Pros such as IRONMAN triathlete Ben Hoffman and 23-time Gold Medalist Michael Phelps enjoy the feedback that one gets in a swim spa. Whether you use an underwater camera or work with a coach, get feedback on your form so you can make the changes needed to become a better swimmer.
What can I do to make swimming in a swim spa easier?
Using swim tools and drills can help you improve your technique and acclimate to swimming in a swim spa.
Here are the three things you need:
A pull buoy, which helps give buoyancy to your lower body. According to Gilliam, triathletes often swim with these because they are trying not to kick because they are saving their legs for the rest of the day. Using a buoy will make swimming easier for you in the swim spa.
Put into practice: Place the buoy between your upper thighs and do three sets of 1 minute, making sure to rest between intervals.
Center snorkel, which helps improve your body position and technique. A center snorkel that extends out of the water is best when you are training in a swim spa, so you can keep water from getting in the tube. Using a snorkel can also improve your aerobic and lung capacity.
Put into practice: Keeping the buoy in place, position the snorkel and begin swimming. Do three sets of 1 minute, making sure to rest between intervals.
Nose plug, which makes sure you are not breathing in water. Breathing can be one of the most challenging parts of swimming, especially for beginners. By using the nose plug, along with the snorkel and buoy, you take the stress out of breathing so you can focus completely on the quality of your stroke.
When the buoy, snorkel, and plug are in place, you can try swimming for a longer set. Maybe that's three sets of 3 minutes or 15 minutes straight.
With a swim spa by Master Spas, it's all about you setting the pace and reaching your goals — without ever reaching the wall.