April 7, 2019, was going to be a test for IRONMAN Champion Ben Hoffman.
Racing the Standard Bank IRONMAN African Championship that day, Hoffman would have the opportunity to put a disappointing 2018 finish behind him and begin 2019 with a reignited fire for the sport and a drive to win.
And finishing that day in South Africa, breaking the tape in 7:34:19 and winning, Hoffman made it clear — he was back and he was fit.
Now, the 35-year-old who trains in Tucson, Arizona, is setting his sights on the IRONMAN World Championship in Kailua-Kona, Hawaii. The race will take place on October 12. Having finished second at the World Championships in 2014, his ultimate goal is to compete against the best in the world and win the title.
Unlike years past, though, he has a new tool in his training arsenal — an H2X Fitness Swim Spa by Master Spas. The world's largest swim spa manufacturer and Hoffman announced their partnership this spring.
The H2X Challenger series from Master Spas bridges the gap between traditional jetted swim spas and propulsion systems. The unique airless jet system creates a water current that is efficient, powerful, and smoothe. With the ability to control the resistance and temperature, novice swimmers to competitive triathletes can enjoy a continuous swimming experience that mimics open water.
We caught up with Ben while he was in Colorado for a summer training block. Check out our Q&A to see how he is feeling leading up to the big race.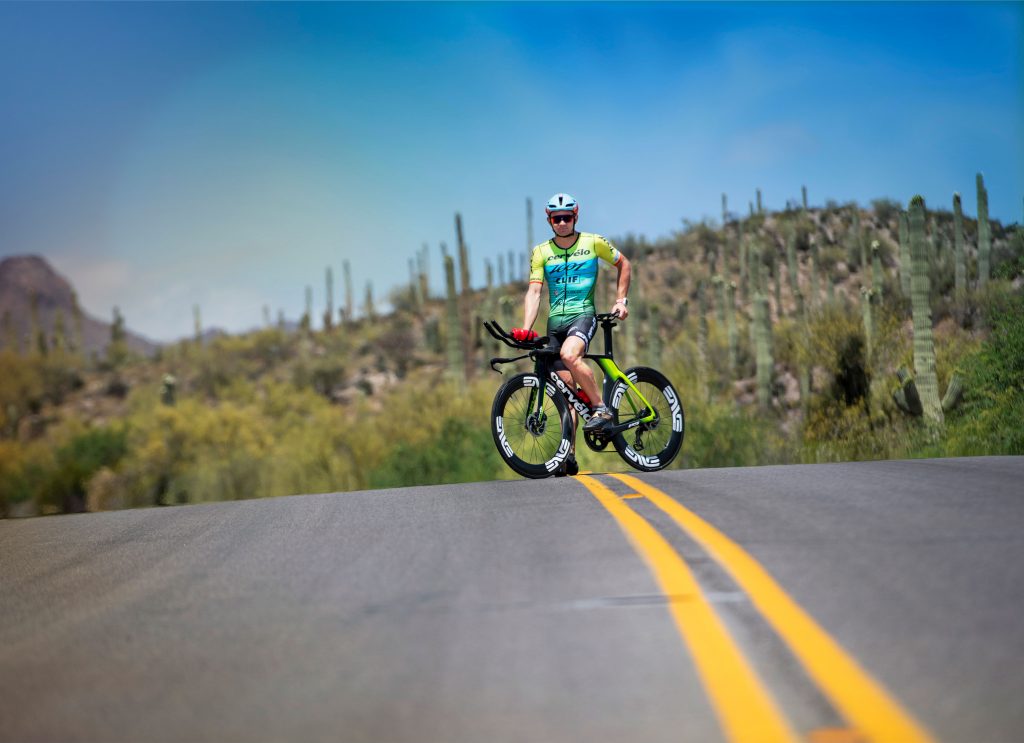 What is your mantra?
It really depends on the situation, but I have a few go-to mantras that help me push my limits and stay focused on the task at hand.
1. "Do what you can, with what you have, where you are." It's pretty obvious and simple, but this one helps me check in with myself over the course of a long training day or Ironman race and make sure I am getting the most out of myself in each moment, giving my body what it needs in at all times, and staying focused on giving my best so my mind does not wander. I think that it is something anyone can apply to whatever situation they are dealing with and trying to overcome.
2. "Keep it together." Sometimes things just get ugly, and you have to do what you can to keep the wheels from coming all the way off. The last 10K of an IRONMAN marathon is usually pretty brutal, and this one has helped me get the job done more than once.
3. "Humans are programmed for survival." This is one that I use to remind myself that your body will constantly try to tell you to stop when you are pushing the limits, because it wants to stay safe and ensure survival. The truth is you can usually go harder and experience even more discomfort before your body will truly fail you.
How do you stay motivated during your IRONMAN training?
I've always been a really innately motivated person. I love getting out there and pushing myself and challenging myself to see if I can accomplish these goals that I set for myself. Of course, it's hard but that's also what I thrive on. I've always loved really hard work. My parents instilled in me the value of hard work as its own reward.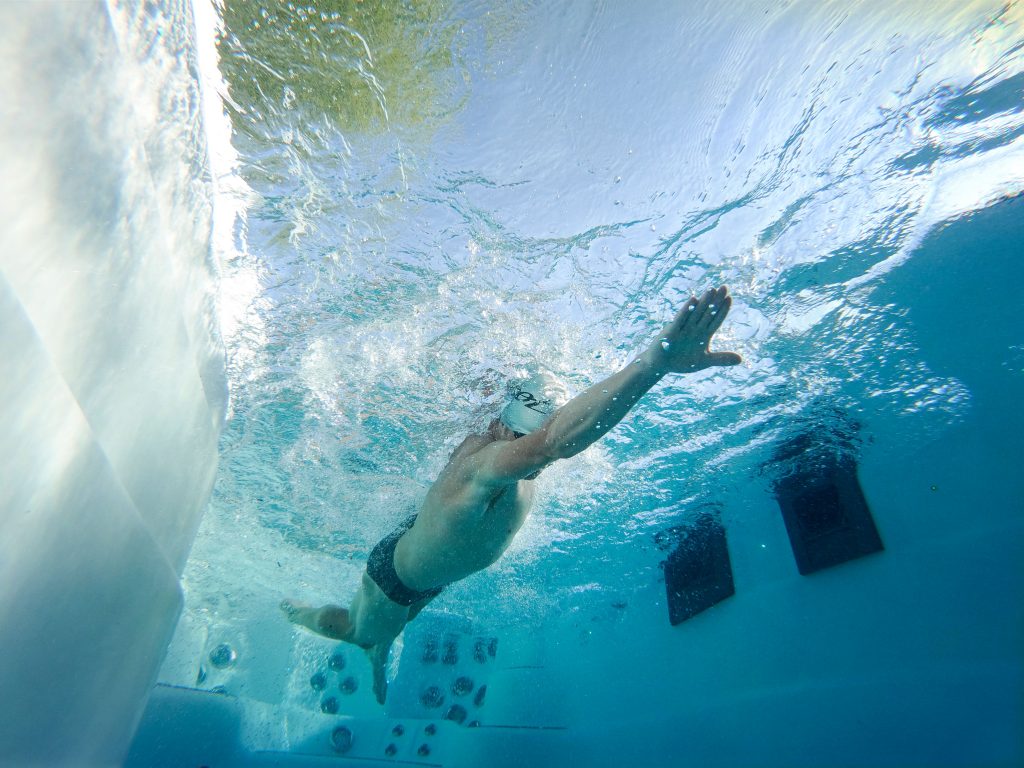 How can athletes, from pros like you to age groupers, benefit from an H2X Fitness Swim Spa by Master Spas?
One of my favorite things about the H2X Challenger swim spa by Master Spas is that it's right in my backyard. The activation energy – the energy to get out the door – is really minimized with the swim spa. And I think that's a big component for a lot of triathletes out there, where you are balancing three different sports and a lot of life things going on. Maybe you have a family. You have a job. Having a swim spa right at your house makes everything so much easier and time efficient. It makes it a lot easier for me, and maybe I can even fit an extra workout that I wasn't originally planning or even a bit of recovery.
Swimming in open water can be an obstacle for triathletes. How do you work on this discipline?
I knew that I wanted a Master Spas swim spa not just for recovery but as a performance feature in my training. As a professional triathlete, I can get in the Challenger and have instantaneous feedback. Coming from a non-swimming background, it's something I have to focus a lot of energy on. And a swim spa is gives me the opportunity to hone in on that technique, which is important since swimming is such a technique-heavy sport. I always have to find those little tweaks and improvements in order to maintain that front-pack swim, which is so critical for my performance in the sport.
What are you looking forward to about the IRONMAN World Championships on October 12 in Kailua-Kona, Hawaii?
Kona is definitely the race that gets me the most excited. It's the one that means the most. I want to see if I can go out and get that world title that I've been chasing for many, many years.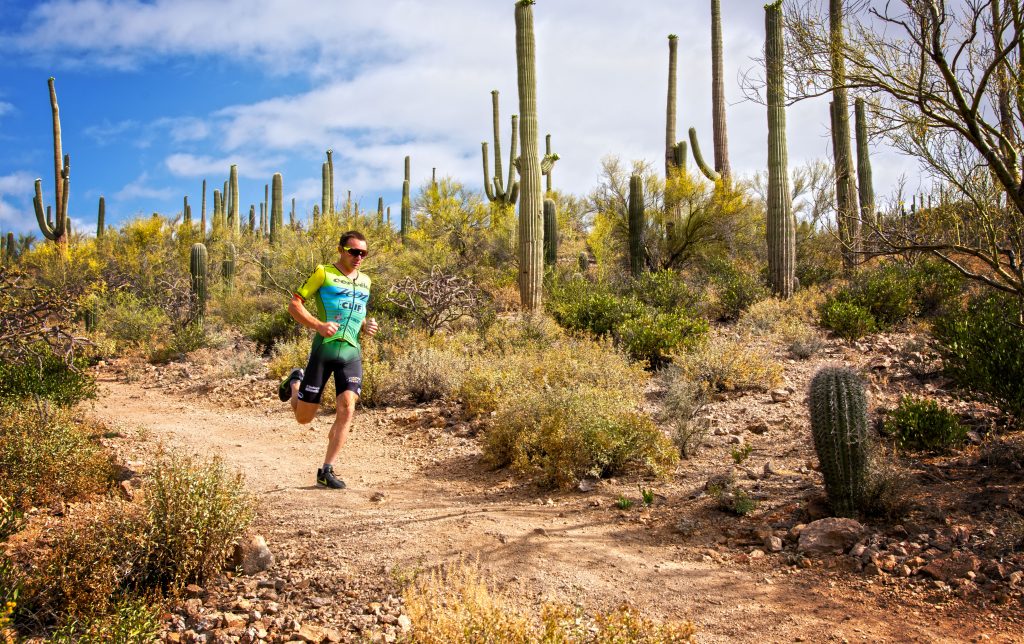 How is your training going so far this season?
Training has gone well for me this year. After a tough season in 2018 with a couple injuries, I have built back strong and raced well at most of my events, including a big win at the Regional Championship at IRONMAN South Africa. I have made sure to keep the focus on my big goals this year, and now I am right on track for the World Championship in Kona this October. Timing is everything for me, so making sure I am not too fit too early is important, as well as making sure not to overdo the intensity too early in the cycle. I'm excited to see what I can do against the best in the world this October.
How do you Win Your Day?
For me, winning my day is multi-faceted for sure. There's a career-life balance. For me, it's always been about setting these goals and accomplishing them. Each day, I have training set to help me work toward that. Then there's the other side — my wife and my family. I want to spend that time with the other people in my life. Winning my day comes with a sense of accomplishment, getting out there and proving to myself that I can accomplish some of these goals that I set and finding that balance.