A quality cover is protecting your investment — a hot tub from Master Spas. But it's important to invest the time to maintain the cover so that it can do its job and last the life of your hot tub. Knowing how to clean your hot tub cover will help it look good and last longer.
A properly sized Master Spa cover is the best way to keep the heat in, the cold out, and your energy bills low. As heat rises from your hot tub, a well-insulated cover will act as a barrier and prevent the heat from escaping.
It also keeps out debris, leaves, pet hair dust, and anything that would, well, take the water from a place you want to relax to a place you want to escape.
Not only that, the cover protects the hot tub surface from prolonged exposure to the elements. Weather and sun can damage the hot tub surface, and it might not be covered by your warranty.
But just as you care for your hot tub, you need to take care of the cover. Keep reading for our best tips on how to clean your hot tub cover.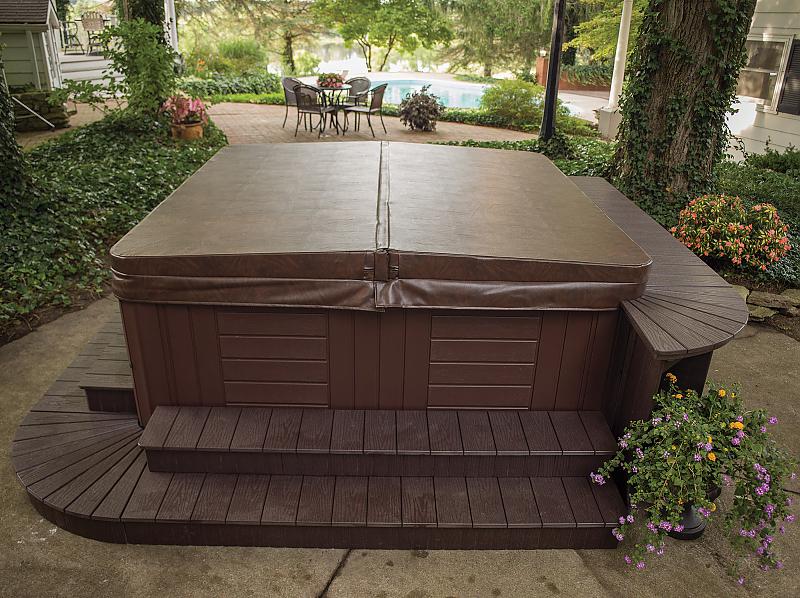 How to Clean Your Hot Tub Cover
10 Do's and Don'ts of Hot Tub Cover Care
The top and bottom of the cover for your hot tub should be cleaned periodically. Cleaning the cover maintains the appearance, as well as helps it last longer.
DO: Remove the cover so cleaning agents and dirt don't enter the water. You work hard to maintain the quality of your water, you don't want to compromise that by leaving the cover on. Plus, it's easier to reach every spot when you can walk around the cover.
DON'T: Put the cover on an abrasive surface, like cement or patio stones. Not only will it be uncomfortable for you to clean the cover on a hard surface, it's not good for the cover. Instead, put it somewhere like a swath of grass. (Rule of thumb: If you would scrape your knees or feet during the cleaning process, pick a new spot.)
DO: Wash off dirt, leaves and other debris with a hose.
DON'T: Use a harsh cleanser because you think it will do a better job. After spraying off the cover with a hose, scrub any spots with water and a gentle cleanser. Rinse thoroughly and flip over.
DO: Keep the water of your hot tub clean and the chemicals balanced. Properly balanced water does help maintain the life of your hot tub cover.
DON'T: Let the cover air dry. Use a soft towel or shammy to dry the top and the bottom of the hot tub cover.
DO: Apply a vinyl protectant or conditioner once the cover is dry. It's just like using lotion on your skin after you've had a shower. You want the cover to be clean but you also want it to be soft so it doesn't dry out or crack.
DON'T: Use a product made with petroleum, silicone, or citrus. Those ingredients can damage the vinyl of the hot tub cover.
DO: Put the cover back on your hot tub and keep it free of debris, even if you are not using the hot tub as often you would like. Depending on the climate of where you live, make sure to wipe off snow and ice in the winter months. And if you have trouble with leaves or twigs, consider trimming trees and bushes.
DON'T: Allow items to collect on top of the cover. Not only does putting stuff on the cover detract from your landscape but it puts extra pressure on the cover and your hot tub's shell.
Additional Tips
Inspect your hot tub cover for rips, tears, or any signs of wear when you are cleaning it. Minor tears and rips can be fixed with a vinyl repair kit.
Always leave the cover off for 20 to 30 minutes after shocking the water. Vapors are released during the process, and they can damage the materials of the cover.
Taking off the hot tub cover once or twice a week can help air out the cover. It helps prevent odor and mildew from building up, which can happen when the cover or water isn't properly maintained. Plus, it's a great time to do that weekly shock treatment for your water. (Need to brush up on hot tub water care? Check out this post or visit the How-To section on our YouTube channel.)
About Your Hot Tub Cover
Just like your Master Spas hot tub, your cover was made in our hometown of Fort Wayne, Indiana. 
They are designed to match your Master Spas model so that you can feel confident you are getting the best fit.
The covers are made, by hand, with high quality vinyl and high-density foam. The designs feature easy-to-grab handles and locks to keep the cover in place.