Splashing around, swimming, just being in the water — there's no other way to put it. Hanging out waterside is fun.
And when you have a swim spa from Master Spas, the backyard swimming pool alternative, the fun is in your backyard. Sunny, cloudy, cold, or hot, a swim spa can be used year-round.
But as the weather warms up, it's a natural time to want to play in the water.
Before you take off your swim spa cover and hop in, make sure that you emphasize water safety for kids who will be in the spa. It's important to make sure they are "water aware" and know how to swim.
Does your child need to learn to swim? A swim spa from Master Spas is the perfect place to teach a lesson.
May is National Water Safety Month, and we want to make sure safety is first when children are in the water. After all, it's easier to relax in your Master Spas swim spa when you feel confident everyone is safe.
Read more: Drowning Prevention Tips and Swim Safety Tips
What is National Water Safety Month?
What started as a week in 2003 has grown into this annual month-long event designed to help prevent water-related fatalities, illnesses, and injuries. It is supported by thousands of aquatics facilities and professionals that provide educational programs, public service announcements, governmental proclamations, dealer and aquatics business promotions, and the distribution of water safety-themed materials.
"National Water Safety Month is a powerful way to send a crucial message at the start of the busy summer swim season," said Connie Harvey, Director of the Aquatics Centennial Initiative for the American Red Cross. "There are layers of protection involved in water safety. Ensuring everyone in the family learns how to swim and that parents and caregivers have the knowledge and skills to handle emergencies around the water, including how to perform CPR is a good place to start. National Water Safety Month helps us communicate these messages."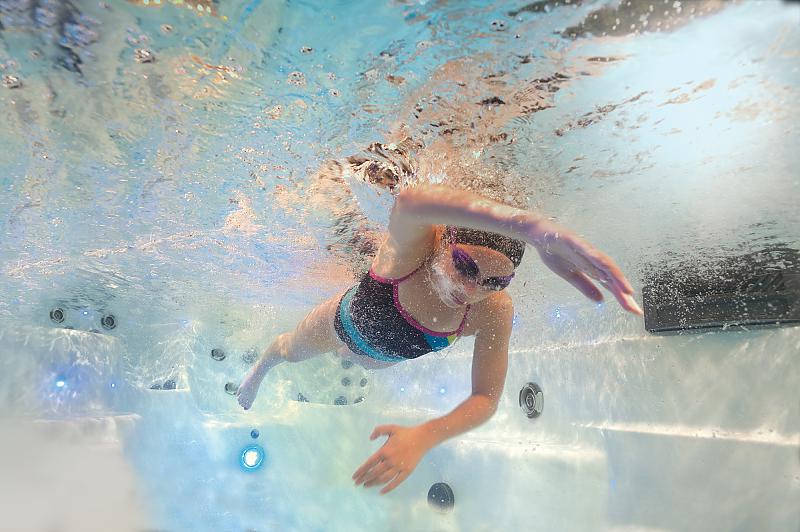 Learning to swim in a swim spa
Children sit in a car seat and use a safety belt in a vehicle. Outside, they wear a helmet while riding their bikes. Sports such as baseball and football require protective gear.
When it comes to the swimming, we should take the same precautions. And that's why it's so important for a child to learn how to swim.
According to the Centers for Disease Control and Prevention "from 2005-2014, there were an average of 3,536 fatal unintentional drownings (non-boating related) annually in the United States — about ten deaths per day." Research shows risk of drowning can be reduced by 88% if children participate in formal swimming lessons between ages 1-4. Source: Archives of Pediatrics & Adolescent Medicine 2009
Michael Phelps is an advocate for water safety and shares that message should have fun while being safe around the water through the Michael Phelps Foundation. It's his mission to teach and promote water safety as drowning is the second leading cause of death for children younger than 14.
There are a variety of options for teaching kids to swim but if you have a swim spa, you can bring the lesson to your backyard.
Learning to swim in a swim spa is a lot of fun. It offers a pressure-free environment for children so they can learn at their own pace. Whether you teach your child yourself or hire a private instructor, the lessons can progress based on your child's skills — not the rest of the class.
The lesson also becomes a family activity instead of Mom and Dad sitting on the sidelines, making swimming more fun for everyone!
If your child is afraid of the water, a swim spa is a great tool. The swim spa is a self-contained pool that is inviting and intimate. Often, the water is not as deep as community pools, and it can ease a child's fear of water.
Plus, the water features and lighting add an element of fun that other pools don't have.
International Learn to Swim Day
International Learn to Swim Day is the perfect opportunity to raise awareness about the importance of teaching children to swim. With summer just around the corner, learning to swim is an essential life skill.
Elizabeth Beisel, world-class swimmer and USA Swimming Foundation ambassador, offers these water safety tips for children so everyone is happy in the water:
Once your children have learned to swim, create consistent practice time to enhance their skills and increase their confidence.
Consider using water toys, pool floats, pool games and swim training gear to make learning to swim fun.
Swimming uses a lot of energy. Remind kids to take breaks and stay hydrated to maintain their level of confidence in the water.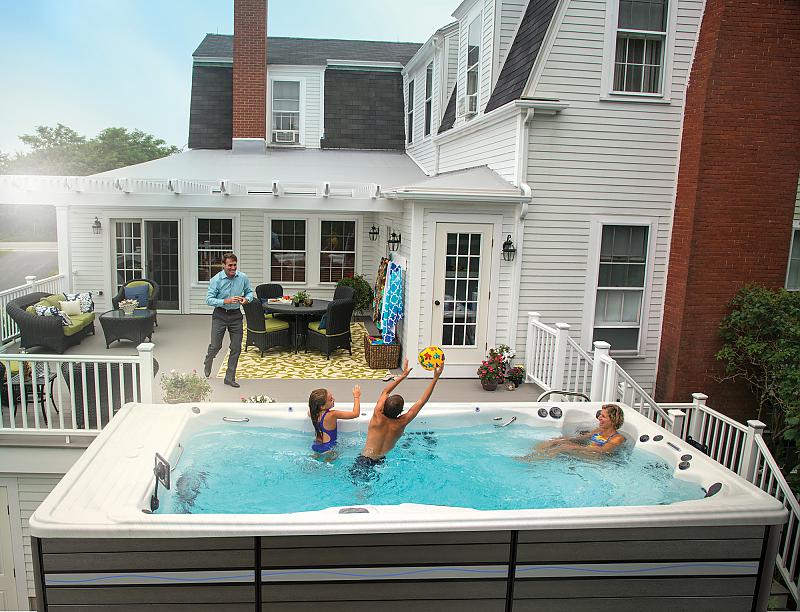 Water safety tips
"Being safe in and around the water requires more than just swimming lessons," according to the group behind the World's Largest Swimming Lesson.
Here are five tips to keep children safe around your swim spa:
1. Supervision is key
When hosting gatherings, consider having a designated duo to watch the children. Pairs can rotate so everyone can have a good time and knowing your friends and family are safe will make it easier to have a good time.
2. Swim spa cover
Keep your swim spa covered and securely latched when not in use. It will eliminate the temptation for children to use the swim spa when adults are not around.
3. Follow the rules
Make sure adults and children know the rules of the swim spa, such as no diving and only pool-specific toys in the swim spa. Other rules to stress are to enter and exit the swim spa safely, wearing bathing suits, and no glass.
4. Swim spa instructions
Make sure to follow the instructions for using the swim spa, such as maintaining a proper temperature and only allowing adults to use the controls. Owners manuals are available on our resources page.
5. Lighting
Adequate lighting is a must if you plan to be in the water at night. Swim spas from Master Spas have optional lighting packages to add ambiance. But consider additional outdoor lighting if necessary.
Master Spas is committed to making swimming accessible and safe. We are partners with USA Swimming and make charitable contributions to the Michael Phelps Foundation.
How to buy a swim spa
Do you want to be able to swim, exercise, and relax at home? Having a Master Spas swim spa allows you to swim on your schedule while adding a fun factor to your backyard. You can click here to find out more about the benefits of hydrotherapy and relaxing in a hot tub. Or, contact your local Master Spas retailer to learn more about swim spa ownership. Wondering how much a swim spa costs? You can request a quote here.