The song of summer might just be the splashing and squeals of joy that come from kids playing in the water. Whether they are on the beach or in a swim spa by Master Spas, the water can be a place where it really is all fun and games.
But it's important for parents to start creating that environment by encouraging confidence and knowledge around the water. Teaching children to swim and the basics of water safety will go a long way in helping them — and you — feel at secure.
It might seem challenging to know where to start. You can take your children to a certified instructor but a large pool can be intimidating. With a swim spa by Master Spas, which might be considered a self-contained pool, kids might feel more at ease because of the smaller size. And, there's LED lighting, water features, and Bluetooth speakers complete with subwoofers to make it fun.
Wait. Did you read that? Yes, we wrote fun.
And fun is what it's all about. When you are teaching kids, it's not just about rules and techniques. It's about incorporating water games and other elements so that the experience is enjoyable and creates enthusiasm.
Related: Water Safety Tips for Summer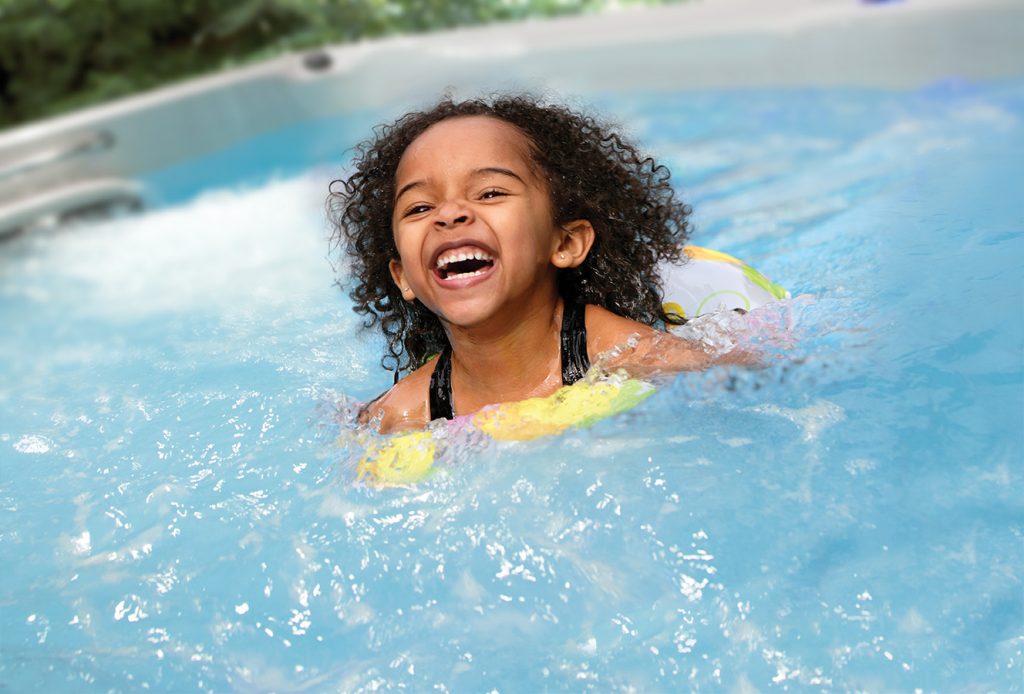 Why Play Games in the Water
Parents and swim instructors can build confident and eager swimmers by creating a fun environment. And water games can — and should — play a significant role in cultivating a positive relationship with the water.
When teaching a child how to swim or stressing water safety, games can be extremely helpful.
Water games create a distraction if an activity or skill feels challenging.
Kids are going to learn more when they are enjoying it. With games, they think they are playing but they are actually learning.
It's an opportunity to pour on positivity and offer praise and affirmation. Children who are nervous or have anxiety around the water need the praise to build confidence.
Adding an element of fun helps children learn, as well as form a positive association with the water.
Games for Your Swim Spa
Hot Potato (set to "Baby Shark")
With several friends, pass a beach ball around as the popular song "Baby Shark" is playing. (This song is such a sensation that the children can probably sing it on their own!) Players should pass the beach ball as quickly as possible. When the song is over, the last person holding the beach ball is "out." Continue to play until there is only one person remaining.
Floating Ring Toss
A popular carnival game, a floating ring toss set can make the swim spa fun for the entire family. Sets can be found at stores that sell water toys, as well as online. Children can play solo or on teams for added fun. And bonus: Take the game to the lawn when it's time to close up the swim spa for the night. Just be sure to rinse the pieces before putting them back in the water.
Treasure Hunt
Swim underwater for this fun game. Toss favor items into the swim spa, where they will sink to the bottom. When an adult says "Go!", the children will have to put their lessons into action as they retrieve the items from the swim spa floor. Children can tag-team the game, taking turns retrieving items. Or, start the clock and time each child, with the fastest time earning a prize.