Do you have questions about buying or owning a hot tub?
At Master Spas, we understand that a hot tub can feel like a big purchase. You want to understand the process, the benefits of a hot tub, and maintenance considerations.
Whether you want to know how much you will spend on a hot tub or to learn more about the temperature settings, keep reading. We're going to answer some of the most popular questions about hot tubs so that you can feel confident that you are choosing a quality hot tub.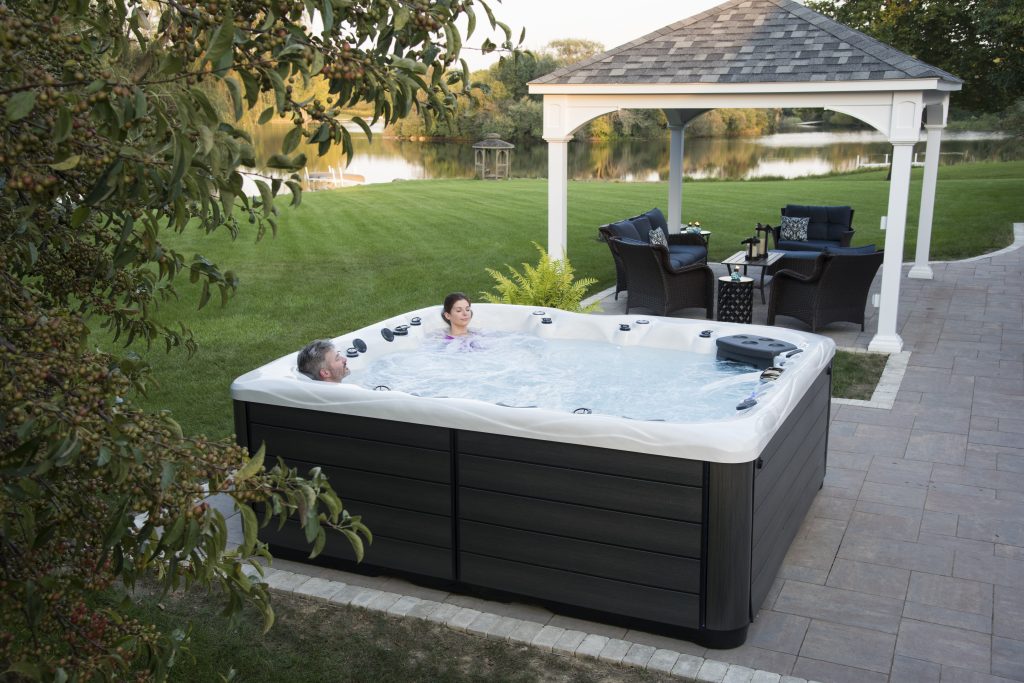 10 Hot Tub Questions Shoppers Ask
How much does a hot tub cost?
The price of a hot tub varies based on the quality of materials, construction, design, and features. A hot tub from a big-box store might appear cheaper on paper but will cost more over the life of the spa. For a premium hot tub, customers can spend anywhere from $5,000 to $15,000 — or more, depending on the upgrades.
How much does a hot tub weigh?
The weight of a hot tub depends on the size and whether it is filled with water. For example, the Michael Phelps Legend Series LSX 700 weighs 1,090 pounds when it is empty and 4,560
Pounds when it is filled. The smaller Twilight series TS 240, which seats two to three, weighs 840 pounds dry and 2,780 pounds when full.
How to install a hot tub?
All that is required for hot tub installation is a solid, level surface than can handle the weight of the hot tub. Once the space is ready, a hot tub by Master Spas can be installed in less than a day.
A Master Spas dealer can evaluate your space to determine the best location, how the hot tub will be delivered, and help with installation.
For more details, download your Backyard Planning Guide.
Are hot tubs good for you?
Yes! While you should always talk to a doctor if you have any pre-existing conditions or medical concerns, research has shown that hot tubs can be therapeutic. The massage jets can help relieve muscle aches and pains, ease tension, and reduce stress. The hot water of the spa can improve circulation, lower blood pressure, and improve sleep.
Read more about Hot Water Therapy
Read more about Managing Chronic Pain
How hot is a hot tub?
Hot tubs by Master Spas have a digital control panel that allows you to set your own perfect temperature.
The water in a spa should never exceed 104 ̊F (40 ̊C). Water temperatures between 100 ̊F (38 ̊C) and 104 ̊F (40 ̊C) are considered safe for a healthy adult. Lower water temperatures are recommended for young children and when spa use exceeds 10 minutes.
The digital display of your hot tub control panel will give you a constant temperature readout.
How long can you stay in a hot tub?
It is recommended that you soak in a hot tub for no more than 20 minutes at a time.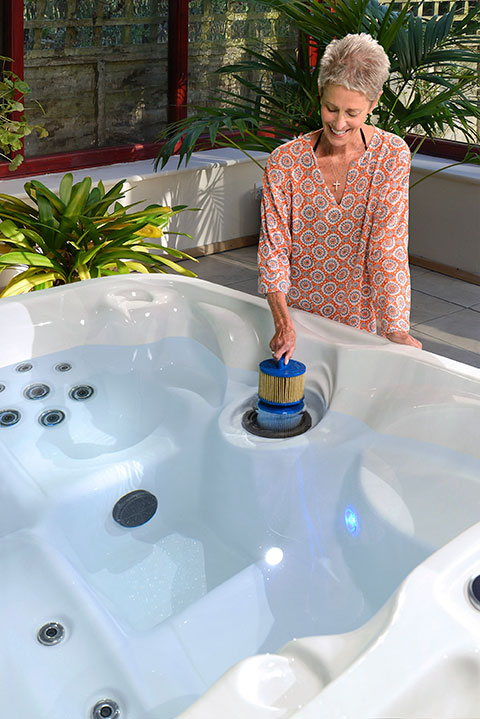 How to clean a hot tub filter?
Cleaning a hot tub filter is an important part of regular hot tub maintenance. We recommend cleaning your filter about once a month under normal circumstances.
To get started, you will need a garden hose, bucket, filter cleaner, and towel.
You'll start by turning off your hot tub and then remove the spa filters. Remove any larger items, such as leaves, and then use the hose to spray the filter. Once you've done that, grab your five-gallon bucket pour the filter cleaning agent, which you can get at your local dealer, while adding water. Check the filter cleaner bottle for specific dosage. Once filled add the filter and let it soak overnight. In the morning, rinse the filter thoroughly and replace it. The outer filter can be cleaned and reused several times and should have a lifespan of at least a year with proper care.
Many hot tubs from Master Spas have an EcoPur Charge filter. Do not use a chemical solution to clean an EcoPur Charge filter as it will compromise the minerals that are in it. Instead, just rinse it. The EcoPur filter should be replaced every six months.
Want step-by-step instructions? Check out this video about how to clean a hot tub filter.
How to winterize a hot tub?
Master Spas manufactures its hot tubs to be used year-round, in any type of climate. Energy-efficient Icynene insulation, thoughtful design, and a quality cover keep the spa water hot — even when it's snowing outside.
Master Spas does not recommend winterizing your spa. If you choose to do so, any damage that may result is not covered under the spa warranty.
However, if you decide you don't want to use your hot tub in the winter, you must drain it and follow the winterizing steps detailed in your owner's manual. Manuals are available online, or you can find them behind the skirting of your hot tub.
How long do hot tubs last?
With proper care, hot tubs can last many years. In fact, Master Spas technicians still service hot tubs that customers have kept running that date back to when Master Spas first came in to business in 1996.
However, the industry generally estimates that a hot tub will last 10 years, similar to cars.
One thing to consider is that original parts from the earlier years of production may not be available from suppliers but service technicians can often source comparable components to fit and keep older hot tubs operational for customers.
Where to buy a hot tub?
Master Spas has dealers all across North America — and the world. If you are interested in buying a Master Spas hot tub, go to our dealer locator and enter your information. A knowledgeable sales representative will reach out so you can take the first steps in hot tub ownership.