The dog days are summer are here. Depending on where you live, the temperatures are soaring and the humidity is high. The idea of hopping into a swimming pool seems more than refreshing; it feels mandatory.
But when you look out at your backyard, you just see a swath of green grass. Maybe it has been the cost of an inground swimming pool that's held you back. Or, you might be concerned that you have a small backyard.
There is a swimming pool alternative, though. A swim spa by Master Spas is more affordable than an inground pool, and it can be installed in one day in almost any yard. Plus, unlike a pool, you can use it all year long.
A swim spa will allow you to enjoy an endless summer, even when the leaves start to turn colors and the temperatures drop.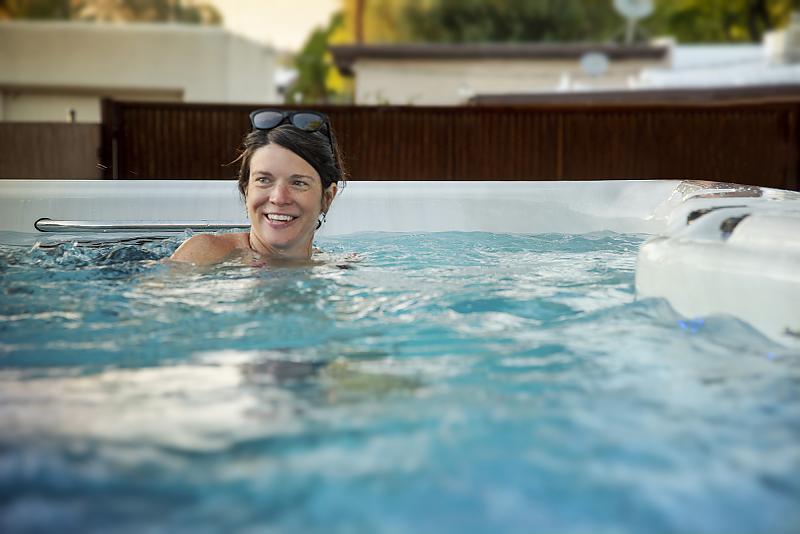 7 Reasons to Skip the Pool and Install a Swim Spa
Year-Round Use
A pool is subject to the weather conditions and seasons. Depending on where you live, you might be able to use a pool only two months out of the year. Master Spas designs its swim spas to be used 365 days a year, making it an ideal swimming pool alternative. A special foam provides insulation, and the temperature is easily controlled from a touch-screen panel.
Ease of Installation
Excavation for a pool can take three to five weeks, and projects can take three months or longer depending on how extensive it is and local municipal codes. Once you are ready for delivery, swim spa installation takes less than a day.
Small Backyard? No Problem.
A swim spa can be installed on a concrete pad or decking (with the right support). Models vary in size from 11 feet long to 19, making it an ideal fit for almost any yard. An inground swimming pool requires more space and access to make it worth the cost.
Versatility
A pool is, well, a pool. Depending on the size, you can swim, enjoy water exercise, and entertain. A swim spa offers the opportunity to swim, exercise in the water, relax, and entertain as well as relax and experience the benefits of hydrotherapy.
Price tag
The price of installing a pool can vary greatly depending on the materials. A concrete pool can cost between $50,000 and $100,000. A pool with vinyl liner is more affordable, costing $35,000 to $55,000 but its life expectancy is five to 10 years. A swim spa by Master Spas, though, can cost a fraction of a pool 50% less to 75% and some models are less than $20,000.
Cost
When you are looking at a swimming pool alternative, you are not just considering the price but long-term cost of ownership. A standard swimming pool can hold 10,000 gallons of water where as a swim spa holds about 2,000 gallons. Home owners will spend less money filling up the pool. Also, less water means that owners will spend less on chemicals and energy to heat the water.
Entertainment Options
A homeowner can add water features, deck jets, lighting, and a hot tub when undertaking a swimming pool installation. With a swim spa, the water features, jets, and LED lighting are built-in. Shoppers can also choose to add Wi-Fi and Bluetooth capabilities. As for the hot tub? Select swim spa models have separate hot tub areas with separate water controls, and the water of the swim spa can be adjusted up to 99 degrees for the ultimate in relaxation.
No Flip Turns!
Choose from a swim spa with a jetted swim current or a propulsion system, and enjoy a continuous swimming experience. Unlike a pool, where you have to do flip turns and can hang onto the wall, a swim spa gives you a more realistic swim.
Read more about pool alternatives.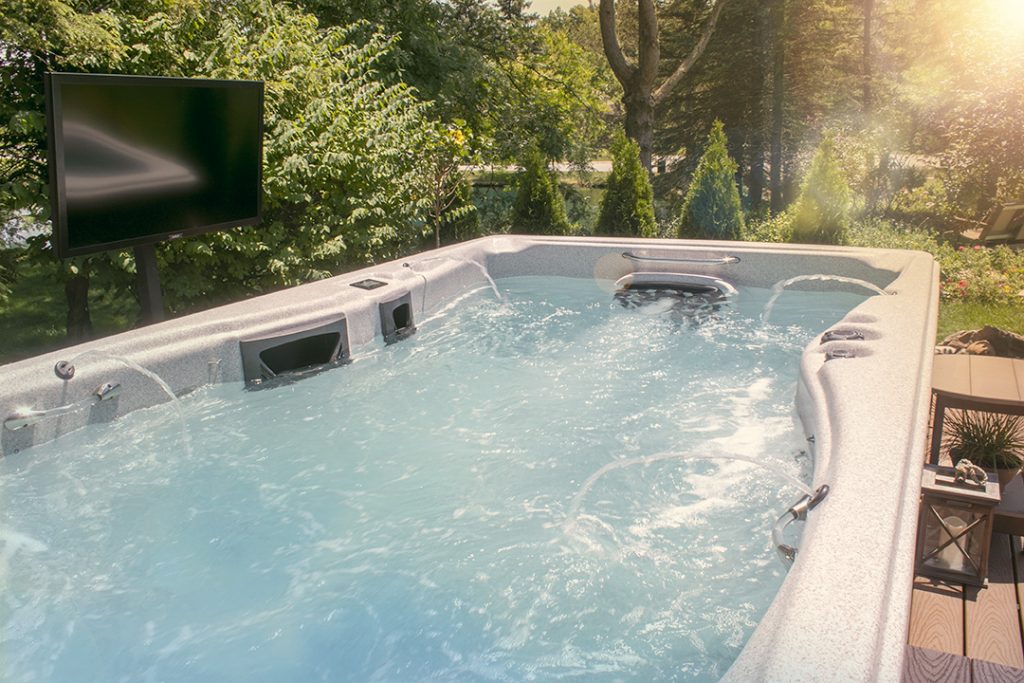 4 Ways to Enjoy an 'Endless Summer'
It's hard not to want summer to last forever. But for most parts of the country, cooler temps begin in October or November and winter is sure to follow. While others are closing up their pools, swim spa owners can extend the season into fall and beyond.
Entertain Outdoors
A hallmark to the summer is entertaining outdoors. When it starts to get colder, it's easy to want to retreat indoors. But with proper planning and, maybe, a fire pit, you can easily host friends and family on the patio. And when they all bring a swimsuit and hop in the swim spa, they won't even notice the chill in the air.
On the Small Screen
There's no greater escape than when you combine the relaxing waters of a swim spa with Hollywood. Consider playing a summer-themed movie on your iPad or streaming a summer playlist on water-proof speakers.
On the Menu
Create a tropical mocktail or prepare your favorite summer dishes. While the weather outside might be frosty, the meal will remind you of warmer days.
Bloom Where Planted
When planning your landscape, choose perennial flowers that will bloom in late summer and fall. And, start thinking spring by planting bulbs that will add color to your swim spa-scape.