It's been three years since Michael Phelps took home six medals, five of which were gold, from Brazil.
But the swimmer, arguably the greatest of all time, still loves the water — even if he's no longer competing professionally.
"For me, it's different now than when I was training," Phelps says. "I like getting in because it's peaceful for me to swim. I enjoy just being in the water."
Phelps, who retired in 2016, says being in the water is a big part of who he is. But it's not just about exercising and improving his stroke.
A longtime partner of Master Spas, the world's largest swim spa manufacturer, Phelps finds that the water can be a place to relax.
The Michael Phelps Signature Swim Spa seriesfeatures a generous swim area for exercise, as well as therapy seating with adjustable massage jets — just like a hot tub. It's a place, Phelps says, where you can take a deep breath and relax, as well as spend time with family.
"We find it very relaxing, which helps keep us in good spirits and a happy mood," Phelps says.
Balancing life, family, fitness, and mental well-being are at the core of Master Spas' current campaign, Win Your Day. An alternative to a backyard swimming pool, a Michael Phelps Signature Swim Spa offers a place to get active and stay active in the convenience of your backyard.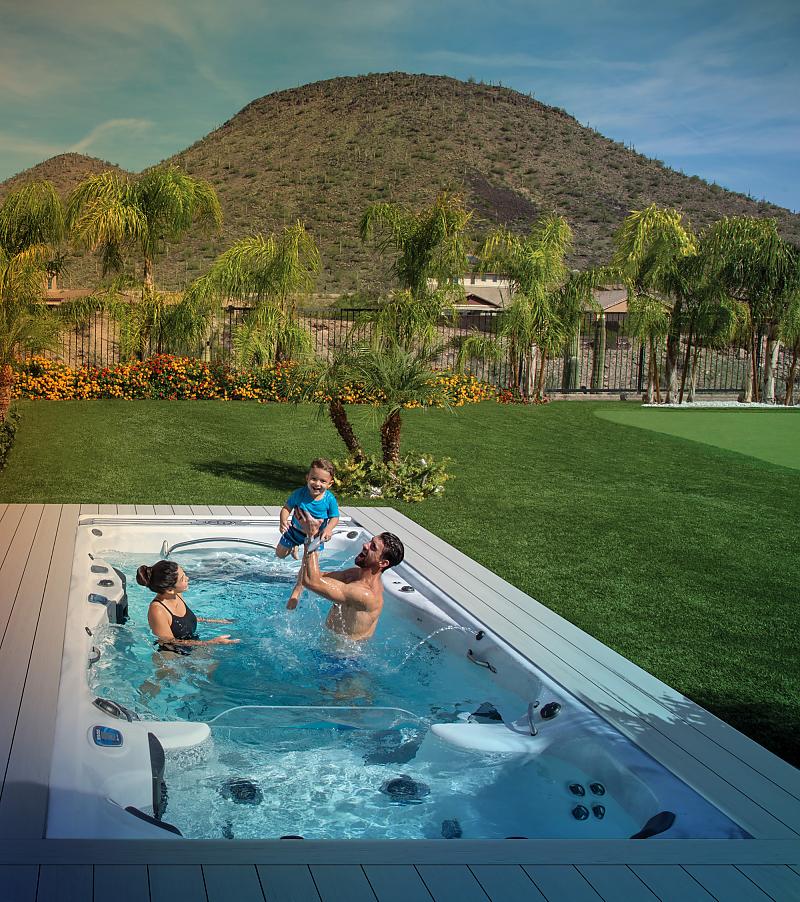 Q: How were you first introduced to the swim spa by Master Spas?
A: Master Spas introduced their top-performing swim spa to my coach and me in 2010. We were drawn to the Wave Propulsion Systemas it allowed us the chance to create different types of water environments for training. One challenge was that the swim area needed to be deeper and longer for me to be able to train with all four of my strokes. We also needed the Wave Propulsion System to be even faster for more challenging workouts. Master Spas took our suggestions and developed the Michael Phelps Signature Swim Spas.
Q: What are some of the benefits of the Michael Phelps Signature Swim Spa by Master Spas that you've experienced?
A: It was easier for my coach to see the small aspects of my stroke that he just couldn't see in the pool. The underwater camera gave him vantage points underwater that he couldn't see from the pool deck. I would be able to apply his input right away, which helped refine my stroke technique. I believe training in the swim spa helped me develop the best freestyle stroke I've had in my career.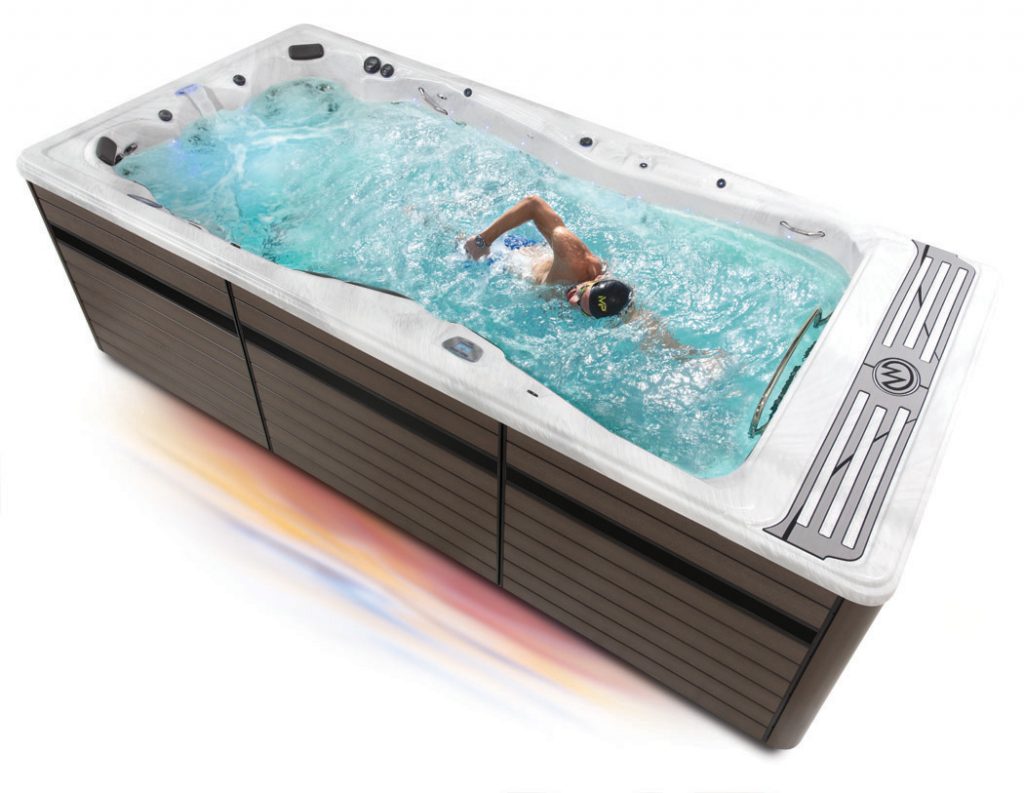 Q: How do you use the swim spa now that you are retired?
I think we spend a lot of time talking about physical health, but it's really important to take care of your mental health, too. The water has become a retreat and a way to take time for me. What I love about the swim spa, which has an adjoining hot tub, is you have the chance to escape and unwind for the day. The warm water offers a place to take a deep breath and relax.
Q: Why would you recommend this swim spa to recreational and endurance athletes?
A: There are many benefits to training in the water — even if not for swimming purposes. Water resistance and the low-impact environment can be used to help with speed, quickness, and explosiveness. The swim spa can be used as a cross-training tool, especially with the variable current. You can get in a challenging workout or dial it back for a recovery day.
Q: What are a few benefits for non-athletes in different stages of life?
A: Michael Phelps Signature Swim Spas by Master Spaswere designed with multiple-use purposes in mind, from different forms of exercise to leisure water time and the overall, year-round use. For example, children love learning how to swim for the first time in the swim spa because it's a smaller, controlled environment, which helps with their level of comfort in the water. You have the music, the water features — it's fun. 
Q: How does the swim spa help people relax?
A: Michael Phelps Signature Swim Spas by Master Spas feature an incredible therapeutic seat with out-of-water neck and shoulder jets that give a great, stress-relieving massage. And the Xtreme Therapy Cove provides massage coverage for your lower back, hips, thighs, and calves. There also are great feature options such as lighting and a sound system — which is a necessity in my book.
On Giving Back
For every Michael Phelps Signature Swim Spa sold, a donation is made to NAZ Children's Centre, a K-12 school that also serves children with special needs in Montego Bay, Jamaica. Master Spas was instrumental in building NAZ's new school and installed a Michael Phelps Signature Swim Spa for the kids to learn how to swim. Master Spas also supports the Michael Phelps Foundation, which promotes water safety, healthy living, and the pursuit of dreams.

Learn more about the Michael Phelps Signature Swim Spa by Master Spas.