Owning a hot tub is a fantastic investment — not just for your landscape but your health.
A hot tub can help you sleep better, relieve chronic pain, and be a place for the entire family. It's also an addition that can take your backyard from OK to amazing.
And the best part might be that a hot tub from Master Spas is easier to take care of than you think!
Find out everything you need to know, A to Z, about owning a hot tub by Master Spas.
A is for ACRYLIC.
Hot tubs from Master Spas are made with premium acrylic. Customers can choose from up to seven different colors, including Tuscan Sun, Sterling Silver, and Smoky Mountain. (Selection varies on the model.)
B is for BACKYARD IDEAS.
A hot tub can complement any backyard makeover, whether you have a small yard or acres of land. Find inspiration and explore installation ideas on our Backyard Ideas page. You can also download the Backyard Planning Guide, which will help you get your space ready for a spa.
The Clarity Spas series is one of four acrylic hot tub brands from Master Spas. Clarity Spas take relaxation, recreation, comfort, and wellness to a new level. Hot tubs feature ergonomic seats, therapy jets , Master Force™ Bio-Magnetic Therapy System, and LED lighting.
D is for DIVERTER VALVE.
A diverter valve diverts the flow of water from one group of jets to another, and it can be a way of adjusting the water pressure of the jets. Not every hot tub has a diverter.
The EcoPur Charge hot tub water purification and filtration system uses copper and zinc to purify water and remove dirt, bacteria, and algae. Its innovative filter design builds upon previous Master Spas hot tub filters and utilizes Master Spas' patented filtration fabric.
F is for FAMILY FUN.
Adults are not the only ones who will enjoy soaking in a hot tub. Children, from elementary school to teenagers, will enjoy the adjustable massage jets and warm water. It's also a great place to catch up at the end of the day without the distraction of electronics. But if you are allowing younger children in the hot tub, lower the temperature below 100 degrees for safety. And limit their time to about 15 minutes.
G is for GFCI.
When you are shopping for a hot tub, you might see the acronym "GFCI." This abbreviation refers to grounded fault circuit interrupters, which is the type of home electrical wiring often required for hot tubs. The Backyard Planning Guide and owner's manuals will have more information about the electrical requirements for your selected hot tub. And, if you have any questions regarding whether you have the right outlet, we recommend talking to a licensed electrician.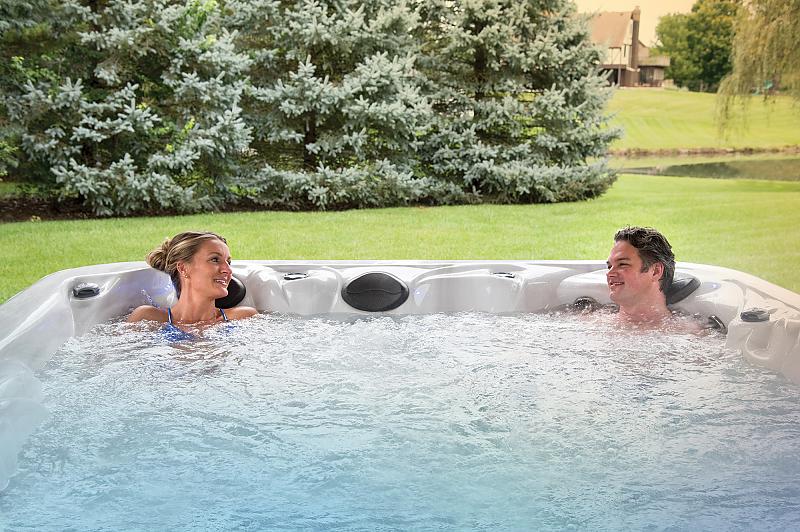 Healthy Living Hot Tubs are one of four acrylic hot tub brands from Master Spas. We want you to be able to complement your healthy lifestyle and feel better doing it. With six models in the series, you can find the best hot tub for you. Experience the benefits of hydrotherapy, including improved mood, less muscle aches and pains, and better sleep.
Master Spas uses Icynene insulation, which expands to 100 times its initial volume to insulate and air-seal the spa. The resulting blanket of soft foam insulation forms a continuous thermal barrier that eliminates cold spots and significantly reduces energy costs.
J is for JETS.
Every hot tub features therapy jets, and some models might have a variety of jets — pulsating, rotating, and dual pulsating. All jets, regardless of style, return the water to the spa. Air is mixed with the water by using the air controls (if equipped) creating a massage.
K is for KNOWLEDGEABLE DEALERS.
Master Spas has a network of dealers across the country, and world, who are committed to selling the best hot tubs. Dealers are able to not only direct you to the best hot tub for you but help you find the best location, arrange delivery, and support you after the purchase.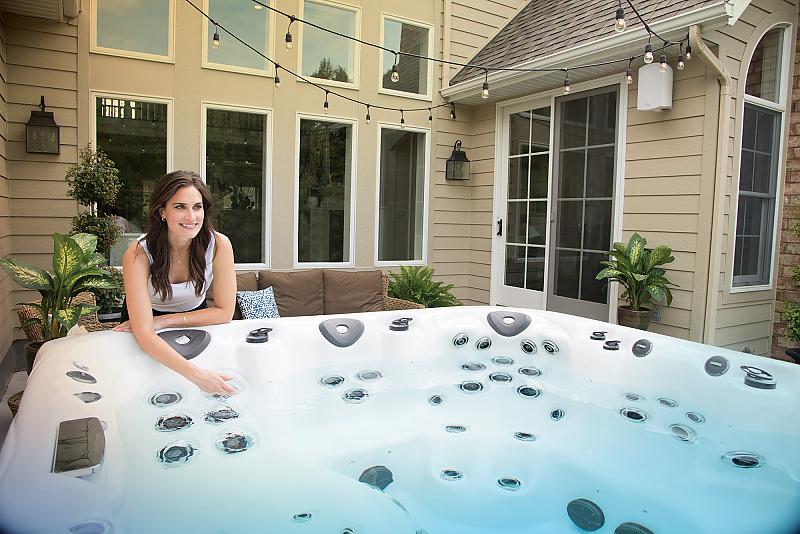 The Michael Phelps Legend Series is one of four acrylic hot tub brands from Master Spas. Legend series features ultra-premium hot tubs that look and feel luxurious. The jets offer a tension-relieving massage, helping you to feel revived and restored after a stressful day.
M is for MAINTENANCE.
Regular maintenance is part of hot tub ownership. But it's easier to take care of a spa than you think. A quality water care system, like the EcoPur Charge, is key to keeping the water clean. A well-fitting cover is also important, and Master Spas makes its own covers to keep debris and dirt out. The cover Is also a key safety eature and makes your hot tub energy efficient. And if you ever need assistance, a library of videos can walk you through a variety of tips for routine maintenance.
From anxiety to exercise, stress to poor posture, the way we live can affect how we feel. And, many times, those things can result in muscle pain and tension, especially in the "Tension Triangle." The Tension Triangle is from the shoulders to the top of the head and where we hold most of our stress. Master Spas' exclusive StressRelief Neck and Shoulder Seat™ targets that area. The reverse molded, neck and shoulder seat features a ledge with specially designed jets that are trained downward. The design puts your neck and shoulders in the best position to enjoy a tension-relieving massage.
Every hot tub comes with an owner's manual that's place inside the cabinet for safe keeping during delivery. It contains a wealth of information, from setting up the unit to troubleshooting potential water issues. But if you are unable to find it or misplaced it, you can find the owner's manuals online for your convenience.
P is for PLAN IN PLACE.
Every backyard is different but you deserve to get the most out of your space — without sacrificing your landscape. With the backyard planning guide, you can learn more about how to prepare your space so you can find the best hot tub for you. And once you're ready, installation takes less than a day.
Q is for QUALITY.
At Master Spas, quality is more than just a 100-point, multi-part inspection process that includes water testing of every hot tub and spa. It's more than the added cost of using only premium components from the industry's most trusted suppliers. For us, quality is a way of life and a state of mind that is woven into everything we do.
R is for RECOVERY.
The warm water of a hot tub can help you recover at the end of the day, whether it's from an injury or a hard workout session. It can even offer relief from chronic pain, too. The buoyancy and resistance of water, combined with the temperature, can relieve pressure on the joints, support the body, increase circulation, and reduce inflammation so you can feel better … move better … and live life better.
S is for SPA.
A hot tub is often referred to as a spa, whether it's a consumer or a manufacturer. A hot tub refers to a unit that has massaging jets that are thoughtfully placed to deliver the ultimate in relaxation and rejuvenation. A spa is a place where you go for a massage or a skin treatment.
The Twilight series is one of four acrylic hot tub brands from Master Spas. With the Twilight series hot tubs, we want to help you enjoy the health benefits of a hot tub in a relaxing environment. The eight spa models in this line-up are designed with exclusive features and comfort in mind.
U is for UPGRADES.
When you choose a hot tub by Master Spas, you have the opportunity to make it your own. Choose the features that are important to you, such as the Mast3rPur Water Care System.
V is for VALUE.
Master Spas prides itself on manufacturing a premium hot tub. From self-supporting acrylic shells to full Icynene foam insulation to quality high-flow jets, there is a lot that goes into making a Master Spas hot tub. There might be cheaper hot tubs but Master Spas customers get more value for their dollar. The design and materials mean that the tub is more energy efficient, is easier to maintain, and lasts longer.
W is for WIFI
The WiFi module is an option available on select models. Using the WiFi, hot tub owners can set the mood of their hot tub from the convenience of an Apple® or Android® device. From an app, owners can remotely control how the hot tub operates, including the lighting, water temperature, and running massage pumps.
X is for XTREME LOUNGER SEAT
Michael Phelps Legend Series hot tubs have an Xtreme Lounger Seat, which offers a full-body massage. The seat has six powerful jets to soothe back tension, 12 for the calves and hamstrings, and a gentle massage to target pressure points in the feet.
Y is for YOU.
A hot tub is really about you. It's about creating a model that targets the points where you need relief from aches and pains, whether it's from a chronic condition or the stress of daily life. It's about you finding time for yourself. It's about you having a retreat for yourself. It's about you having the space you have always wanted.
Z is for Zzzs
A hot tub can help you sleep. When we don't get enough sleep, we feel more stressed. And when we are stressed, we are less likely to get good sleep. But taking 20 minutes at the end of the day, as a practice in self care, can help reduce stress and improve sleep. A Master Spas hot tub can be a place where you take time to breathe and focus on calming techniques that you have found successful.