A swim spa from Master Spas might be the centerpiece of your fitness routine. But the backyard pool alternative can also be the star of your summer parties.
From offering guests the chance to relax in the hot tub area or to play in the swim area, there's plenty of opportunities for entertainment with a swim spa from Master Spas.
But before you invite guests over to enjoy your swim spa from Master Spas, it's important to establish the house rules. Rules will help protect your investment and keep everyone free from harm. Everyone will have more fun when safety guidelines are followed.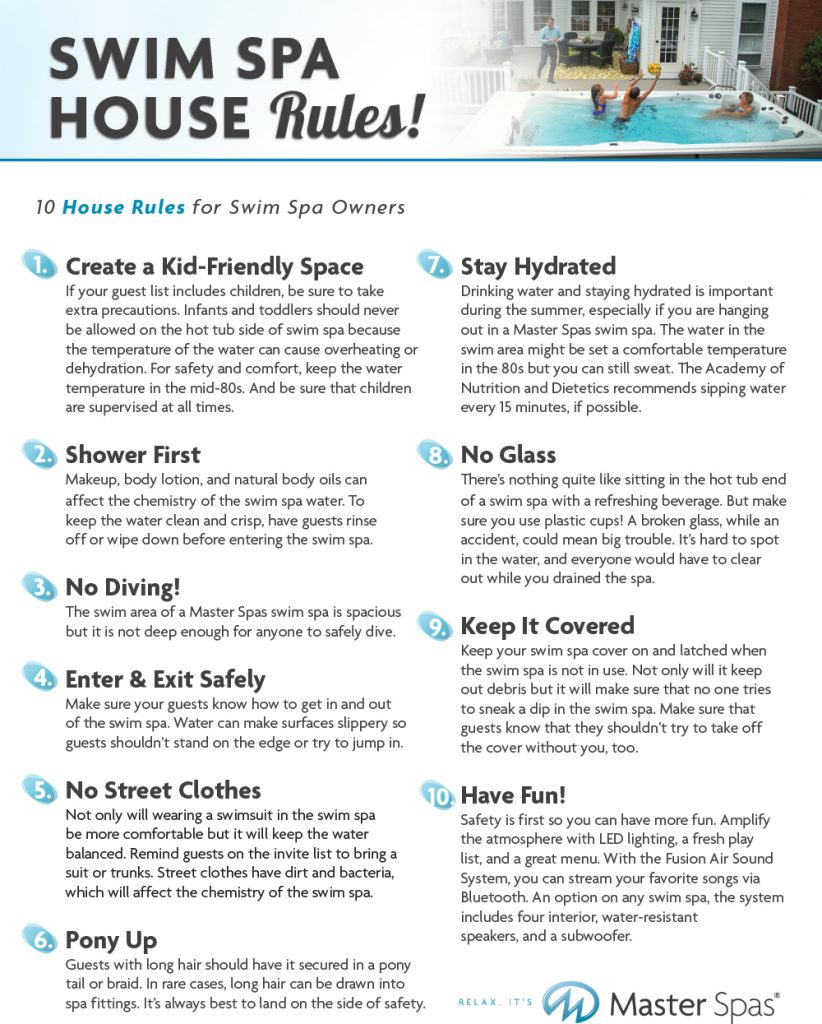 10 House Rules for Swim Spa Owners
Create a Kid-Friendly Space
If your guest list includes children, be sure to take extra precautions. Infants and toddlers should never be allowed on the hot tub side of a swim spa because the temperature of the water can cause overheating or dehydration. For safety and comfort, keep the water temperature in the mid-80s. And be sure that children are supervised at all times.
Party Tip: Consider setting up yard games, bubbles, or an art station for your younger guests. Fun activities will keep the children occupied when the adults are taking a break from the swim spa or enjoying a tray of treats.
Shower First
Makeup, body lotion, and natural body oils can affect the chemistry of the swim spa water. To keep the water clean and crisp, have guests rinse off or wipe down before entering the swim spa.
Party Tip: In a pinch, try body wipes that remove oils, dirt, and make up. Or, consider adding an outdoor shower to your backyard. There are easy-installation options that require only a garden hose.
No Diving
The swim area of a Master Spas swim spa is spacious but it is not deep enough for anyone to safely dive.
Party Tip: Fill the swim side of your swim spa with water accessories, such as noodles and floats. Not only will they be great fun, they take up space so kids are not tempted to dive in.
Enter and Exit Safely
Make sure your guests know how to get in and out of the swim spa. Water can make surfaces slippery so guests shouldn't stand on the edge or try to jump in.
Party Tip: Keep an extra towel or two nearby so you can wipe down the steps into the swim spa if you have an above-ground installation.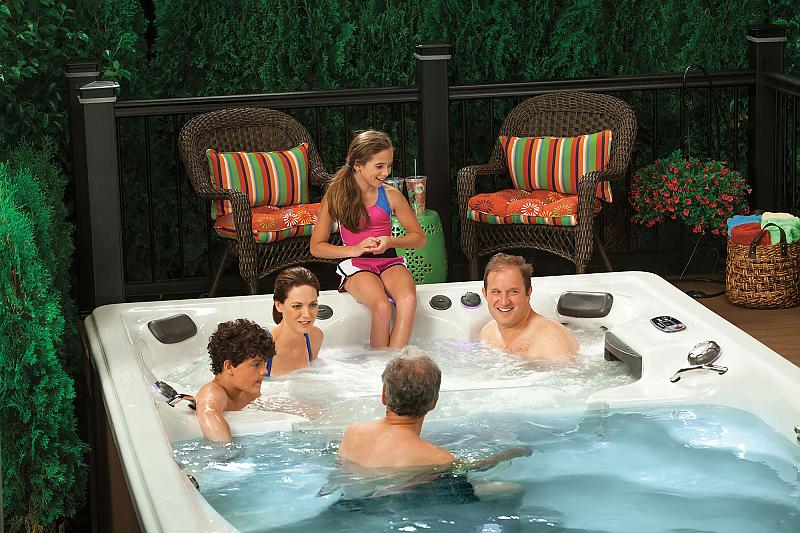 No Street Clothes
Not only will wearing a swimsuit in the swim spa be more comfortable but it will keep the water balanced. Remind guests on the invite to bring a suit or trunks. Street clothes have dirt and bacteria, which will affect the chemistry of the swim spa.
Party Tip: If you regularly entertain at your home, offer to store swim suits for friends or buy extras when you find them on sale.
Pony Up
Guests with long hair should have it secured in a pony tail or braid. In rare cases, long hair can be drawn into spa fittings. It's always best to land on the side of safety.
Party Tip: Keep a jar of hair ties and other amenities next to your swim spa supplies. Not only will it be helpful, but it will make guests feel more welcome.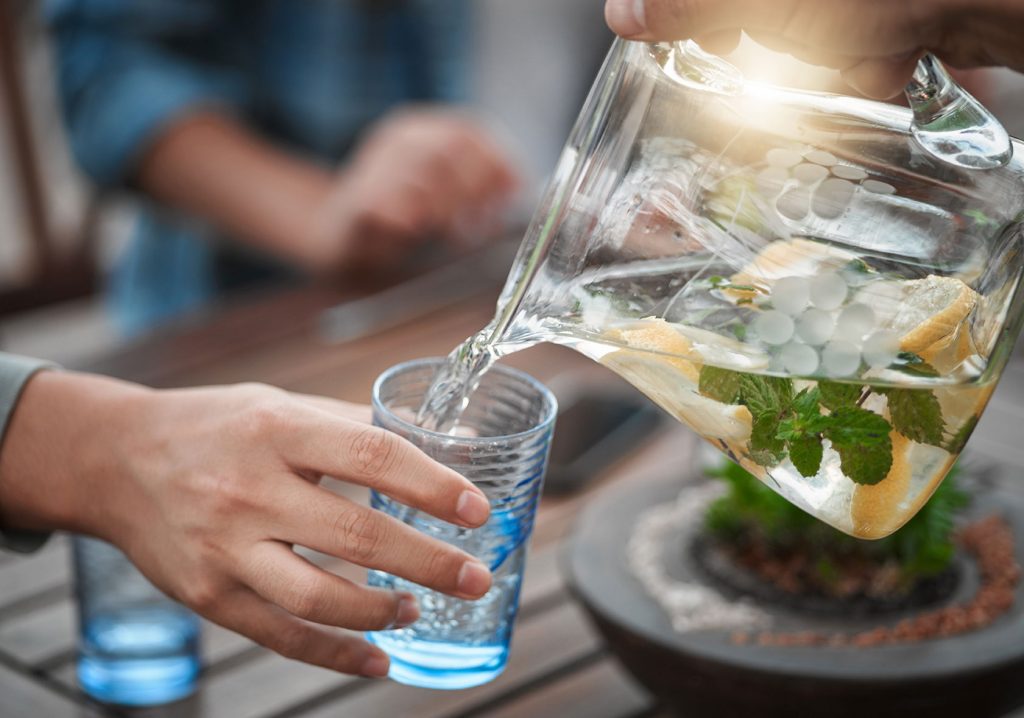 Stay Hydrated
Drinking water and staying hydrated is important during the summer, especially if you are hanging out in a Master Spas swim spa. The water in the swim area might be set a comfortable temperature in the 80s but you can still sweat. The Academy of Nutrition and Dietetics recommends having sipping water every 15 minutes, if possible.
Party Tip: When planning your get-together, make sure to keep a pitcher of water nearby so friends and family can have quick access. Consider adding sliced citrus, berries, or fresh mint. It will add flavor to the water and encourage guests to drink more.
No Glass
There's nothing quite like sitting in the hot tub end of a swim spa with a refreshing beverage. But make sure you use plastic cups! A broken glass, while an accident, could mean big trouble. It's hard to spot in the water, and everyone would have to clear out while you drained the spa.
Party Tip: Invest in a set of party cups in different hues so everyone can select their own color. If disposable cups are more convenient, have guests write their names on them in marker. Or, you can try varieties that have labels you can personalize.
Keep It Covered
Keep your swim spa cover on and latched when the swim spa is not in use. Not only will it keep out debris but it will make sure that no one tries to sneak a dip in the swim spa. Make sure that guests know that they shouldn't try to take off the cover without you, too.
Party Tip: Consider setting "spa" hours for your get-together so that guests know what to expect. You can keep the cover on until it's time to open so the water is clean and at a comfortable temperature for everyone. And when it's time to put the cover back on, there won't be (too much) disappointment.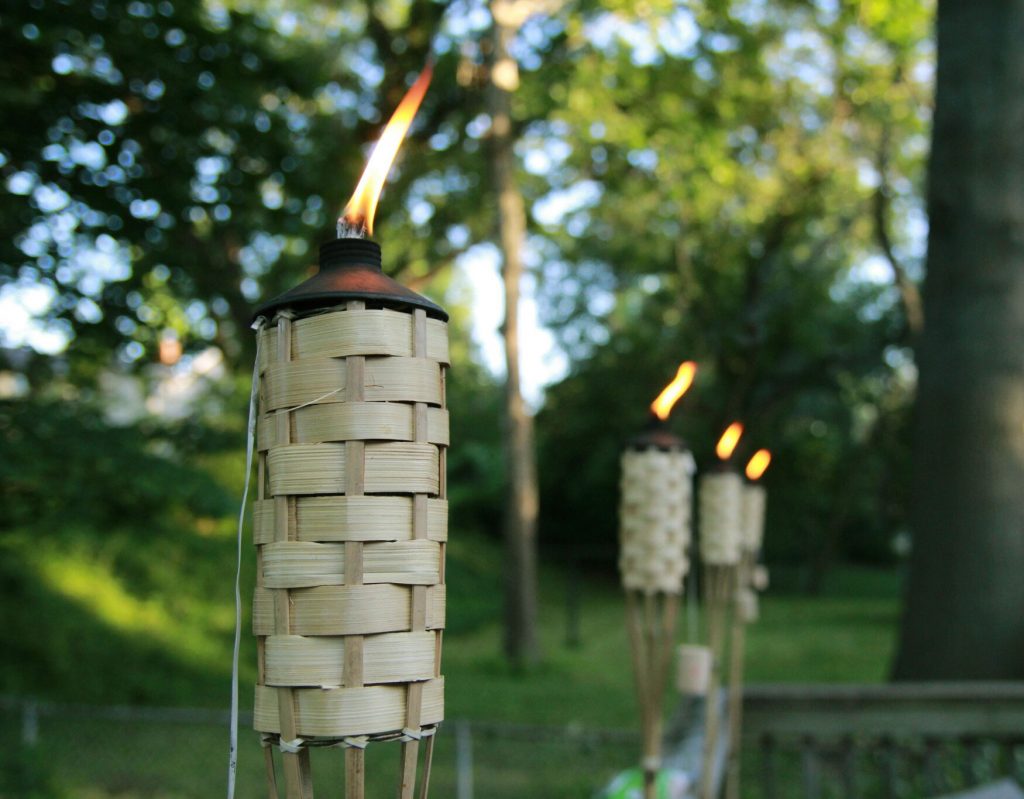 Have Fun
Safety is first so you can have more fun. Amplify the atmosphere with LED lighting, a fresh playlist, and a great menu. Stream your favorite songs via a water-resistant Bluetooth speaker.
Party Tip: Consider creating a theme for your get-together and planning the music and snacks to match it. One of our favorite themes is inspired by our partnership with IRONMAN and its world championship race in Kona, Hawaii. Tiki torchers add ambient lighting (and keep away bugs!) while guests can enjoy chips with pineapple mango fruit salsa, teriyaki chicken kabobs, Hawaiian fried rice, and frozen coconut lemonade. Curate a playlist with classics such as Elvis' "Blue Hawaii" and "Kokomo" by the Beach Boys.