Create your dream backyard oasis
with America's finest hot tubs and swim spas, by Master Spas®
Daily self-care on your doorstep.
Enjoy Pure Relaxation
Get Relief from Pain
Reinvent Family Time
Creating your dream backyard oasis should be simple.
With the Master Spas® range of ultra-therapeutic hot tubs hot tubs and swim spas, it is.
Master Spas® is an award winning company you can trust.



Torch
Award

Inspire
Award

Ernst & Young
Entrepreneur
of the year

That longing for your own backyard oasis to relax and unwind in?
We've felt it too.
At Master Spas™, we understand that your hot tub or swim spa has to meet your unique needs.
As America's largest hot tub and swim spa manufacturer, we've been supplying an unrivaled range of premium home hydrotherapy solutions to customers like you for three decades. Whether you are looking for relief from pain, pure relaxation, a therapeutic exercise aide, or to reinvent time with family, we have a hot tub or swim spa that will surpass your expectations.
Finding your perfect Master Spas® hot tub or swim spa is simple.
Find Your Master Spas® Dealer

Your local dealer will assess your site and your requirements before presenting you with recommendations and prices.

Choose Your Perfect Spa

With your Master Spas® dealer guiding you through the buying process, you'll choose the model that is right for your lifestyle and your space.

Live Better

Enjoy better daily living from the comfort of your own home with a Master Spas® premium spa solution.
Experience the Master Spas® difference.
You'll wonder how you ever lived
without one.
Quality construction and innovative
designs make Master Spas hot tubs
and swim spas easy to enjoy and
easy to own.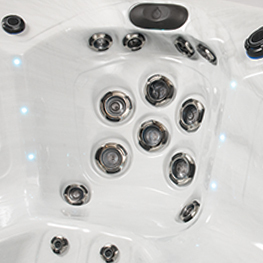 Applies magnetic therapy to pressure points on the neck and back. Increases blood flow, improves circulation, and reduces swelling.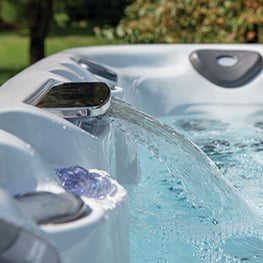 Inspired by nature, our water filtration system utilizes copper and zinc to purify water so that it is crystal clear and fresh.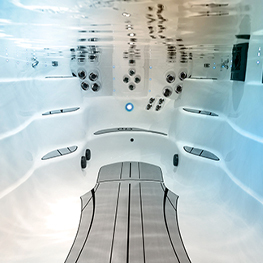 Walk, jog, and exercise in the water without the need for water shoes. The Nonslip, Comfort Floor System prevents slips and provides a comfortable, cushioned surface.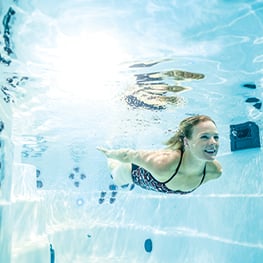 Creates a deep and wide current of pure water flow with virtually no turbulence.
See what our customers are saying
Fully customizable
This hot tub is like no other I have ever been in. I love that you can control the flow of water and direction of the jets. I move from seat to seat for a full body massage!
— Helen, Illinois
So therapeutic
Our hot tub has brought so much joy & relaxation! My aching body so appreciates the time spent in this heaven. We look forward to each day of pure joy!
— Kay, Arizona
'No longer a dream but a reality'
This really is the best purchase I ever made. I can swim day or night, and I love the water. It has wonderful accessories that can allow me to get total fitness.
— Rita B., Tennessee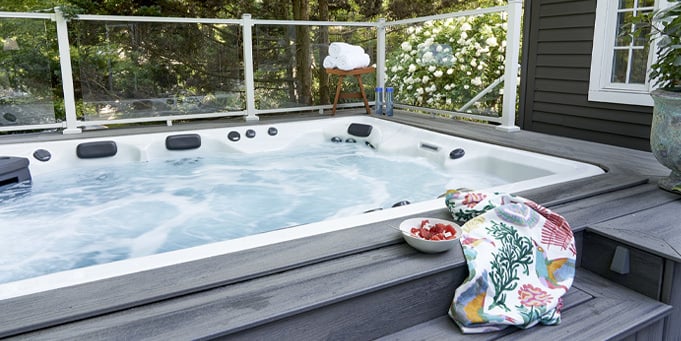 The 5 Secrets to Creating your Perfect Backyard Oasis
Your essential guide to planning for the installation of your Master Spas hot tub or swim spa.