"That feels really good. I'm going to need a minute."
Ben Gilliam, a swim spa specialist for Master Spas, was taking a moment in the StressRelief Neck and Shoulder Seat of an H2X Fitness Challenger Swim Spa.
The seat has out-of-the-water jets that target the neck and shoulders, as well as stainless-steel therapy jets that release tension in the hips and calves.
Gilliam, along with Mari Cuticelli, demonstrated how you can incorporate a swim spa into your stress relief routine in a Master Spas Facebook Live event.
A swim spa by Master Spas is an alternative to a backyard pool that can be used year-round. Not only is it a place where you can swim and splash but a place to realize the benefits of hot tub therapy.
Swim spas feature adjustable massage jets, temperature controls, and a continuous water current. The combination of exercise and hydrotherapy can allow you to relieve stress and ease anxiety, especially if these levels have increased during this challenging time.
Related post: Discover a Better Way to Ease Stress and Tension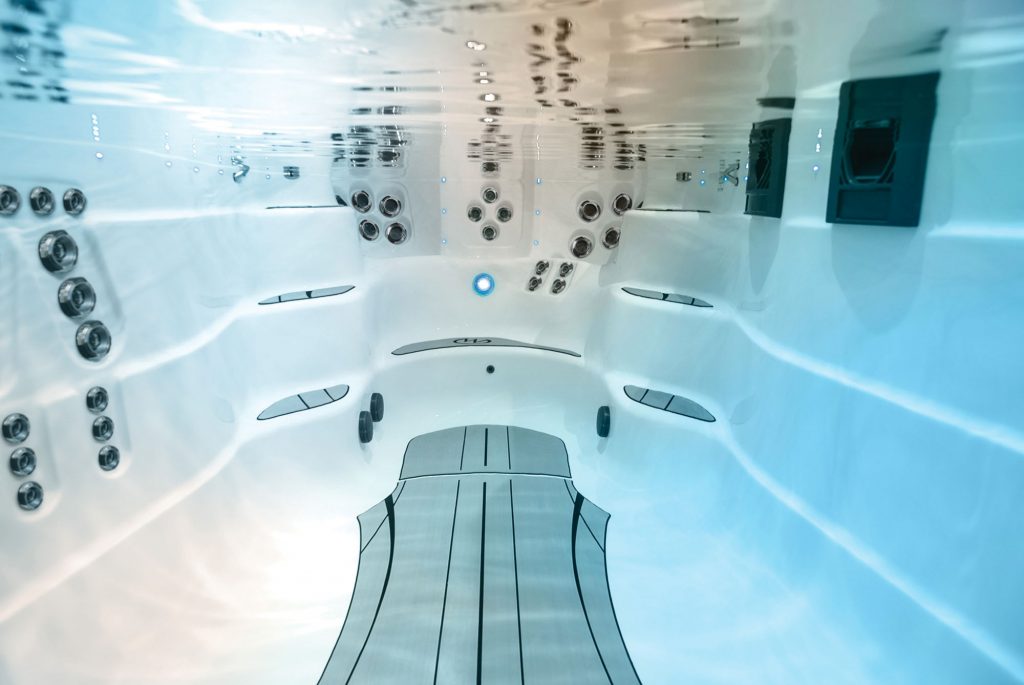 Stress Relief in a Swim Spa
A swim spa allows you to combine the benefits of water exercise and aquatic therapy without installing a pool and hot tub.
In the recent Facebook Live video, Gilliam and Cuticelli guide viewers through a complete stress relief routine. You can choose to fit in one or two elements or take advantage of your time at home to take a complete approach.
Exercise
A lifelong athlete, Gilliam suggests starting with exercise. It might feel difficult to motivate yourself to hop in the swim spa to work out. However, exercise has been shown to improve your mood and you will feel more accomplished at the end of the session.
The workout is also something you can cross off your "to-do list," and a key to managing stress is not to allow your list to get too long.
Exercising in the water can be incredibly effective without being intense. Gilliam demonstrated new ways to exercise in the swim spa, including using the rowing bars for bicep curls and tricep kickbacks.
You can also use the dumbbells, which come with the complementary H2Xercise kit, for bicep curls, hammer curls, forearm curls, and dumbbell flyes. To change the intensity of the exercise, Gilliam recommends changing the tempo — how fast or slowly you complete the movement.
Tip: If you are using the swim spa for aquatic therapy, the water temperature of the swim spa should be between 91 degrees and 93 degrees.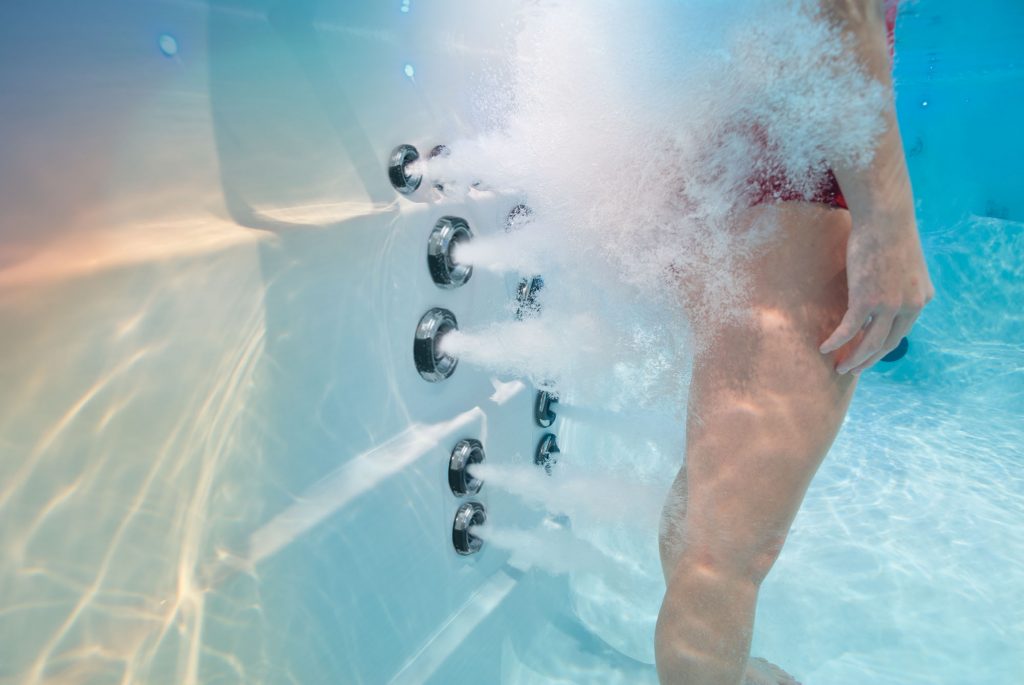 Cool Down and Stretch
When we are stressed or feeling increased anxiety, our muscles can feel tight and joints stiff. Taking a few minutes to stretch or cool down after a workout will be time well spent. Stretching, especially in the warm water of a swim spa by Master Spas, can help relax the body and mind. And the relaxed vibe of the swim spa will enhance the experience.
During the Facebook Live, Cuticelli demonstrated a total body stretch. You can begin by bringing the chin to the chest and simply taking a deep breath. Be mindful to stretch to the point where you feel a release rather than pain. You should never feel pain, Cuticelli advises.
You can also use the steps of the swim spa to target the lower body and calves.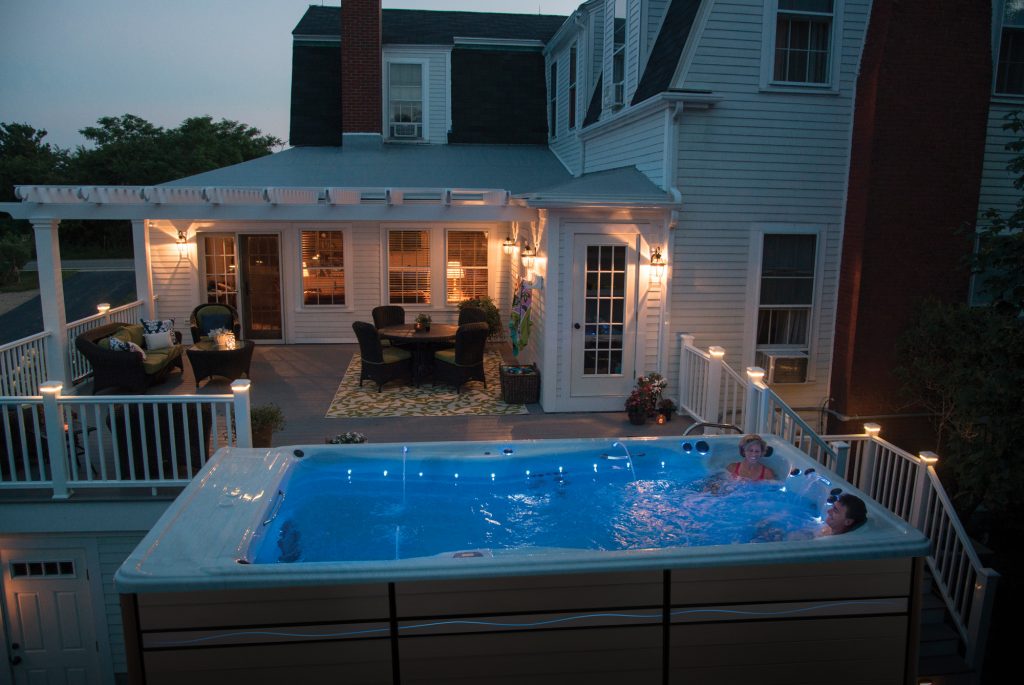 Hydrotherapy Massage
A swim spa by Master Spas allows you to enjoy the benefits of hydrotherapy. But more than therapy seats, select swim spas feature the Xtreme Therapy Cove. Stand in front of the jets, which are arranged to ease muscle aches, pain, and tension in the lower body.
If you put your back to the swim spa, the jets will hit the hips, hamstrings, and calves. But Gilliam demonstrated that you can also face the jets, draping your arms over the side. The stand-up cove will allow you to feel relief in the quads — something that would be challenging in a hot tub seat.
We often feel stress in our neck and shoulders, and select swim spas feature the StressRelief Neck and Shoulder Seat. The out-of-water jets target that area and can be easily adjusted to give you a custom massage.
But sometimes the best thing you can do to relieve stress is to take a quiet moment. Hop in the swim spa at the end of the night, turn on the waterfalls and LED lights, and relax. You can adjust the temperature to 99 degrees so that the water feels warm and soothing.
Music can help make it better, Gilliam and Cuticelli say. Stream a calming playlist on your phone or via a waterproof speaker. Close your eyes and breathe.
For more information about swim spas by Master Spas, find your nearby retailer. Request more information, schedule a virtual tour, or video chat.