The weekends can be a flurry of activity, from household chores to social obligations. If you find that you are spending more time at home, it might be the perfect opportunity to take on some projects in your backyard.
But taking on a big project can feel overwhelming. After all, you want to spend your time in your backyard playing or relaxing — not working.
However, you can create a backyard you won't want to leave in less time than you think. These one-day backyard projects will refresh your outdoor living space. From fresh paint to lighting up the night, your backyard will get the attention it deserves so you get the relaxation you need.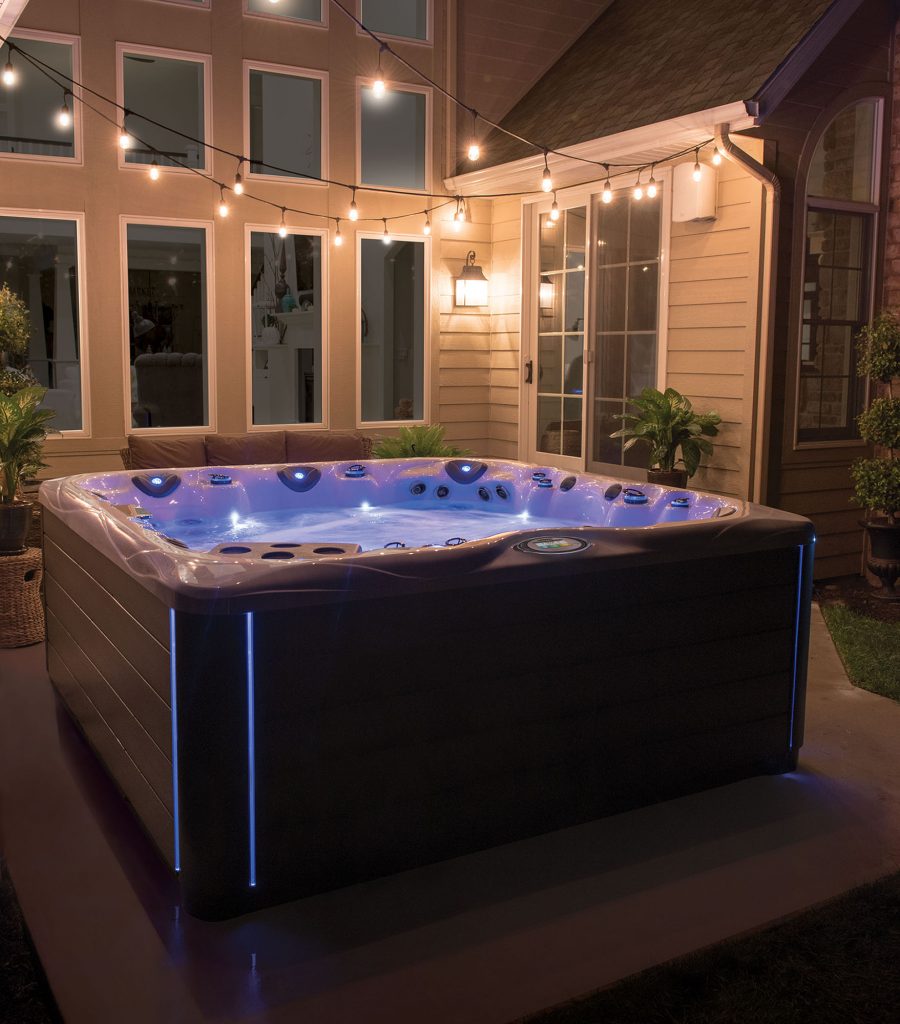 One-Day Backyard Projects
Paint Refresh
A fresh coat of paint can make nearly any surface look brand new. From outdoor columns to brick, check to see if there are any spaces that need a touch up. Privacy fences can often benefit from paint or stain.
But you can also go for an unexpected refresh with paint. One of our favorite one-day backyard projects is to give old ceramic planters new life with spray paint. A metallic finish will be an eye-catching look for your annual flowers or tropical plants.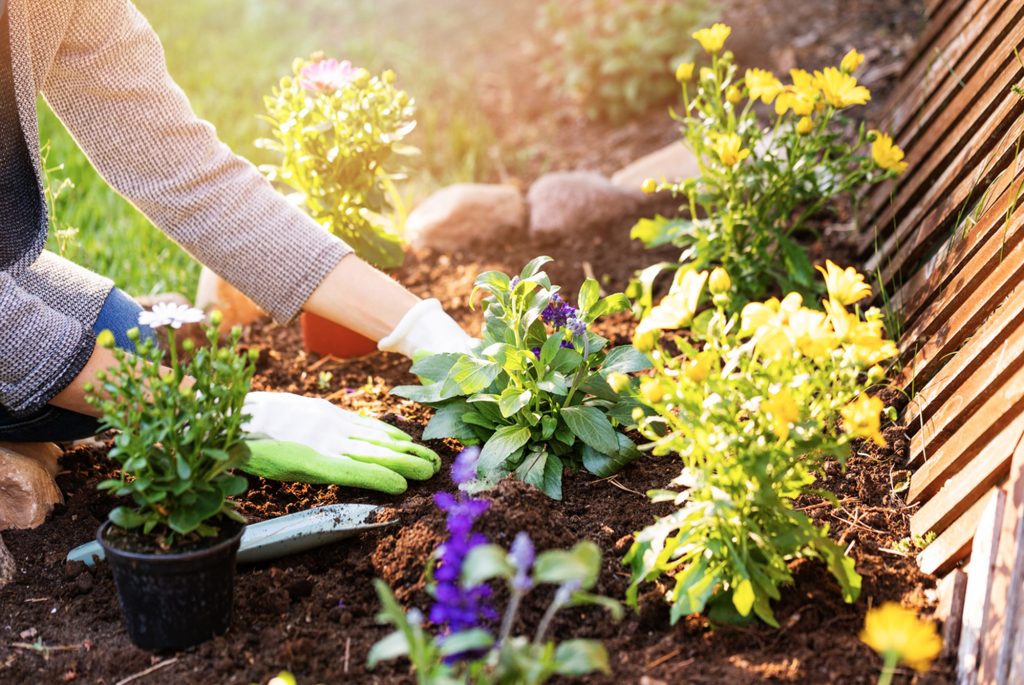 In the Garden
A garden is often a year-round project. Planting bulbs in the fall, trimming rose bushes after the first thaw, and weeding throughout the warmer months.
But there are one-day backyard projects you can tackle that will transform your space.
Outdoor LED lights can illuminate a walkway, put a spotlight on your landscape, or add ambiance. As many of them are solar-powered, these can be easy to install while offering a dramatic effect.
You can use an edger to add a clean, crisp look to your lawn and landscape. While edging might seem unnecessary, the time you spend will benefit you in the future. Edging will decrease the time you will spend trimming and provides a root barrier between grass and flowers. The bonus: A well-manicured lawn that will be nice to look at.
While the project is a bit more labor intensive, a fresh layer of mulch can revive tired looking flower beds. Choose a color of mulch to complement home color or go for a dark hue to allow the foliage to standout. Many nurseries will deliver mulch right into your driveway, saving you a trip to the garden store.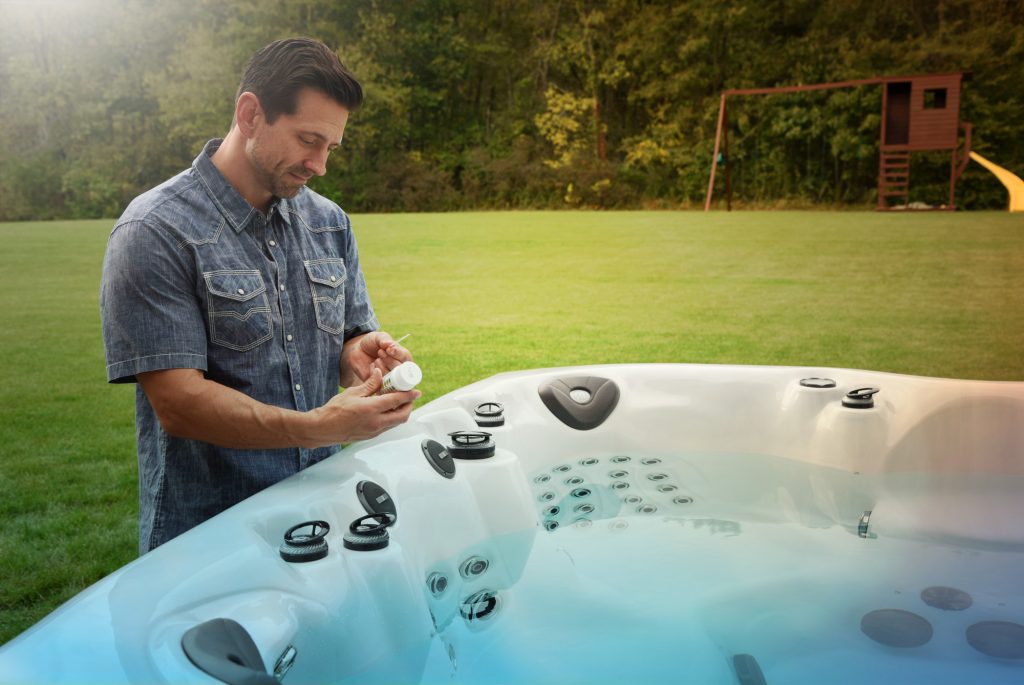 Your Backyard Oasis
Are you looking for the ultimate one-day backyard project? Consider a Master Spas hot tub. Not only does a hot tub offer a place to relax once the work is complete, it can be used any day in any season.
"But, wait," you might find yourself saying. "A hot tub is a one-day project?"
Yes, depending on your space. You need a flat, level surface that can support the weight of the hot tub. And once that site is ready, delivery and installation of a Master Spas hot tub takes less than a day.
Master Spas owners can also revive their outdoor space by cleaning the skirting and cover of your hot tub. These projects not only improve the look of the spa but extend the life of the accessories. You can find tutorials for these projects on the Master Spas YouTube page.
An important weekend project is to check your hot tub maintenance schedule and cleaning the filter elements. Hot tub owners should rinse the filter elements every month and replace the EcoPur element every six months. Refer to your Master Spas hot tub manual for details and a maintenance schedule.
The bonus of taking on the project of installing a hot tub? It could motivate you to make other changes to your backyard. Maybe you'll revamp your landscaping or extend your patio to create an outdoor living room.
Related post: The Best Hot Tubs of 2020
Fresh Decor
A quick and easy way to change the look of your backyard is to refresh your outdoor décor. The project can be as simple as washing outdoor patio cushions or replacing tired patterns with bright colors.
All-weather curtains can add a sense of privacy and drama to your outdoor patio. Sheer panels can filter the light while a more striking pair might keep out the sun. When shopping be sure to look for fabric that is designed for outdoor use, mildew resistant, and unlikely to fade.
Cozy seating can also enhance your outdoor space. Find a place to survey your yard and look for tucked away places to add seating. Whether it's a bench in the middle of a flower bed or a swing on the porch, seating can give you a new view of your space.
Related post: Outdoor Décor Trends for Spring 2020
Get Organized
A tidy backyard is a happy backyard, and good storage will make it easier to enjoy your space.
But if you are starting to look at an outdoor storage shed, consider other organization projects that can add to the style of your space.
An existing gate or fence can be transformed into an outdoor "hall tree." Install hooks on the fence panel, which can be used to hang up towels to dry. Cubbies can store sandals or water toys for the hot tub. Just be sure to have an outdoor rug nearby to wipe feet before getting into the spa.
Other storage options include outdoor ottomans, patio benches, and deck boxes. They are easy spots to keep outdoor toys or dry towels for your hot tub.
If you are looking for more inspiration, download our Hot Tub Planning Guide!