Indiana residents Al and Deb wanted their backyard to be more like an outdoor living room rather than a seasonal green space.
A gas fire pit, comfortable seating, and an H2X Fitness Swim Spa make for a backyard oasis that can be enjoyed year-round.
Related post: A Year-Round Retreat in Indiana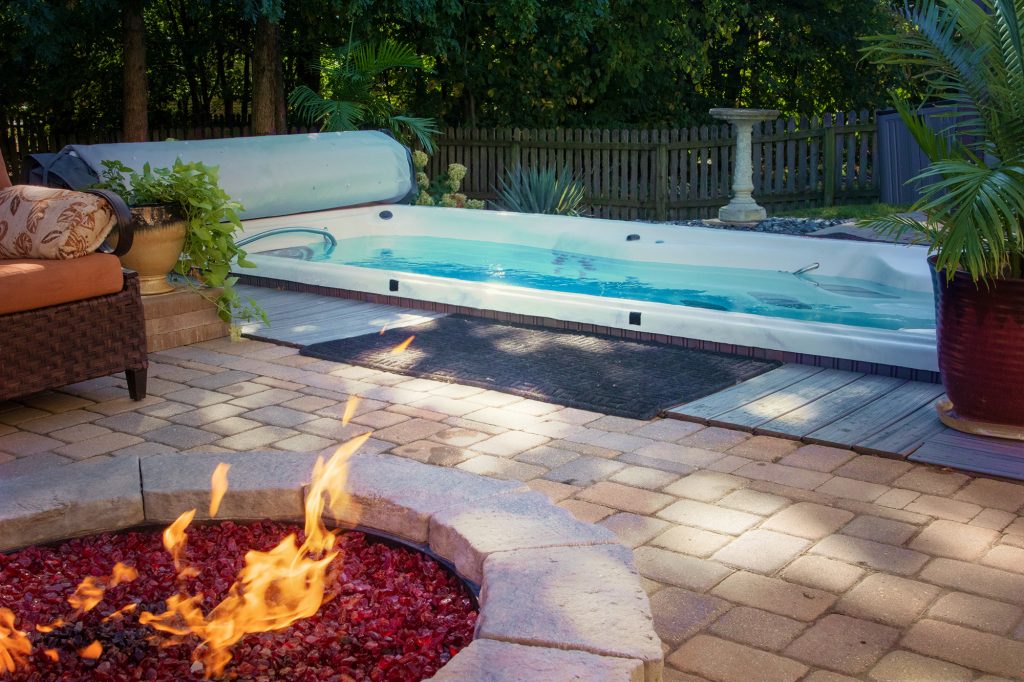 Deb thought she wanted an in-ground pool. However, the couple chose an alternative they could use no matter the weather.
"We always loved our outdoor space in the summer," Al says. "We thought adding a swim spa and other parts to the backyard would make it a great spot to spend as much time outside as we could."
The 18-foot swim spa by Master Spas is now the centerpiece of their backyard. The project included a vault for the in-ground swim spa, patio pavers, and a pergola.
But what's it really like to install a swim spa? Check out this behind-the-scenes look of the in-ground swim spa installation.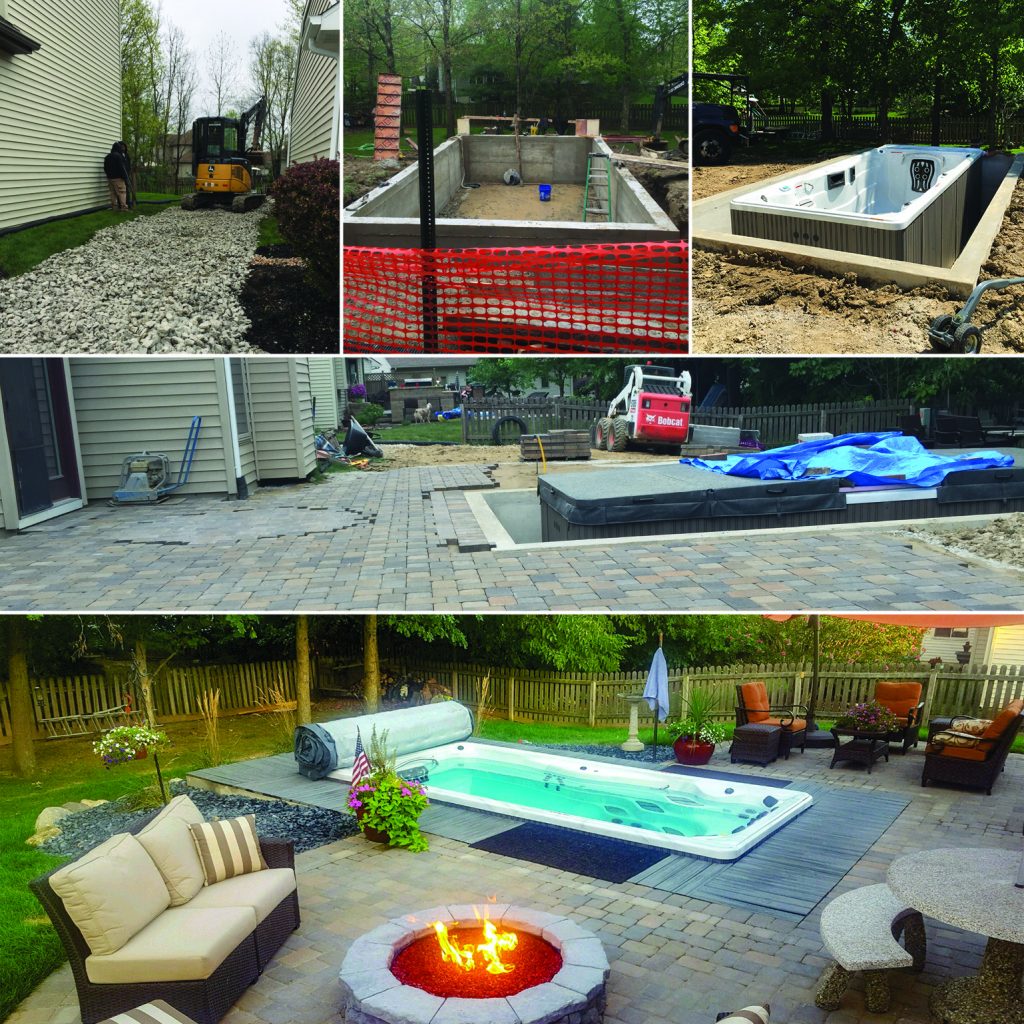 Vault Preparation
Deb and Al chose a recessed installation for their swim spa. This would allow the couple to enjoy the benefits of an in-ground pool without having to dig up the entire backyard. The contractor designed the vault to allow space for swim spa maintenance and repairs. No matter the installation, there needs to be access to the control panel.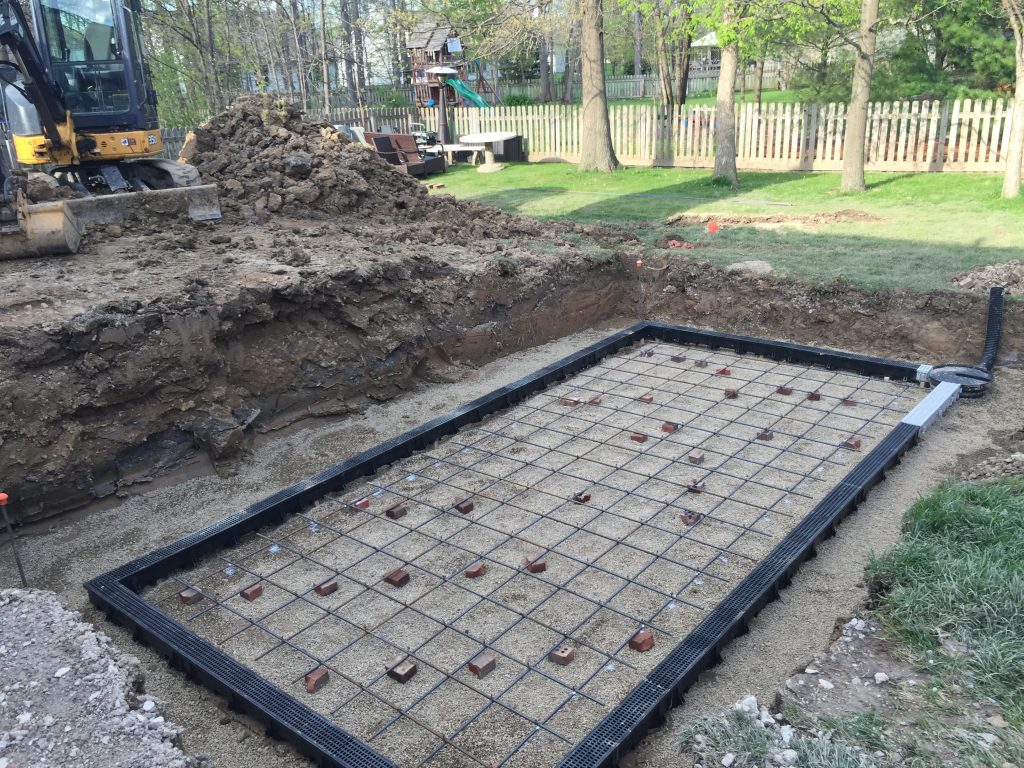 For more details about what you need to do to install a swim spa, download our Backyard Planning Guide.
An in-ground swim spa will need access to power, and it's important to consult with a licensed electrician. Be sure you take the appropriate planning steps while the vault is being poured.
Swim Spa Delivery
A swim spa can be delivered via a forklift or a crane, depending on access to your backyard. A crane was used to place the swim spa into the vault.
A swim spa by Master Spas can be installed in less than a day once the site is ready. For Deb and Al, they were able to use their swim spa the same day it was delivered.
"We were swimming in it that evening," Al says. "It was just that easy."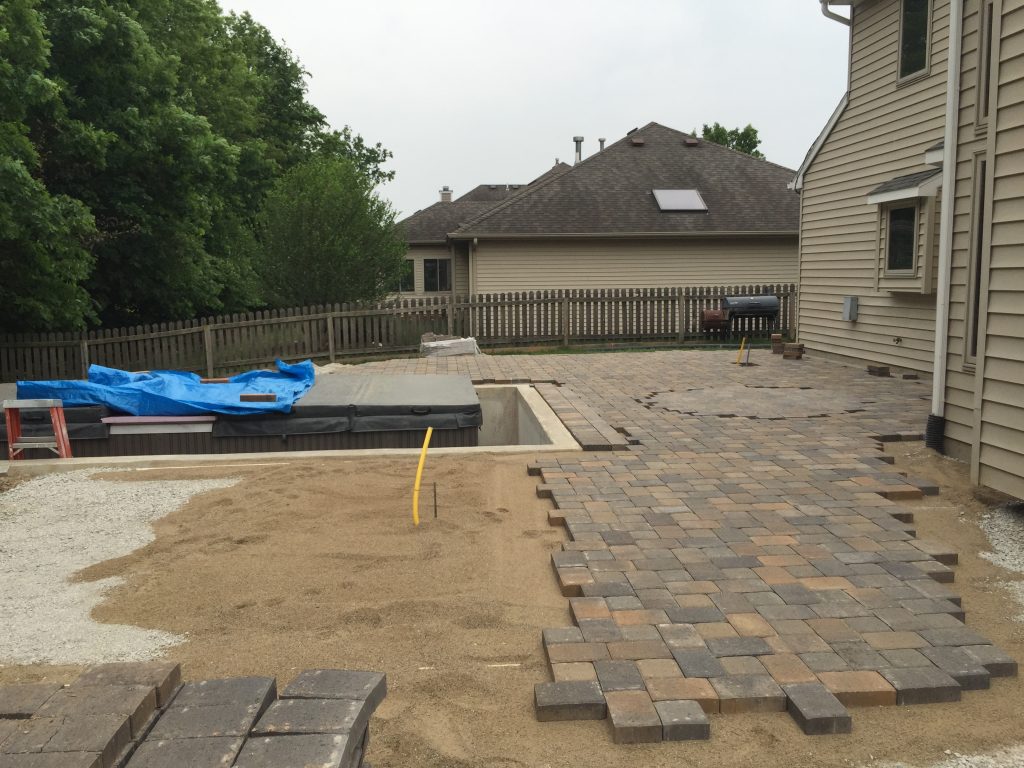 Patio Paver Installation
The patio pavers were the final part of the backyard makeover. Crushed gravel was placed on the prepared site and leveled. Then, the pavers were installed. Deb and Al chose a decking material to surround the spa, creating definition and dimension.
Other finishing touches for the backyard included a gas fire pit, plenty of lounge seating, and a pergola. Al, who is an executive chef for a restaurant group, also made sure to have a grill and smoker.
Do you have questions about how you could install an in-ground swim spa by in your backyard? Contact your local Master Spas dealer, who can evaluate your space and help you choose the best swim spa for your space.