Debra and Al wanted a place where they could relax, entertain family and friends, and exercise.
But living in Indiana, with their dog Tank, they knew that a backyard pool would only be used three to four months out of the year.
Debra and Al, an executive chef at a restaurant group, love spending time in their backyard and wanted to maximize their space. By adding a pool and other elements, the couple thought it would make it a destination, a place where they could spend as much time as possible outside.
"We went looking at pools and hot tubs. I thought, 'Well, if we get a pool, we can't use it all year long,'" she says. "So both of us came to the conclusion: Let's get a swim spa."
Debra and Al decided to buy an H2X Fitness Swim Spa by Master Spas. With easy-to-use temperature controls and foam insulation, the H2X Trainer can be used year-round in any climate.
Incorporating the swim spa into a backyard makeover, the couple chose a recessed installation that features wood decking, patio pavers, and landscape rocks.
Their outdoor living area also includes a pergola with optional shade and string lights; lush tropical plants in large containers; multiple seating areas; and gas fire pit.
Describing the space as tranquil, the design and swim spa combine to create a relaxing retreat.
Al says that he appreciates the versatility of a swim spa by Master Spas — the ability to use it as a pool, lounge, and centerpiece of a gathering area.
"I'm so glad we chose a swim spa over a pool," Debra says.
Swim spa installation
Once the space was ready for delivery, a truck and crane were used to deliver the swim spa. It was quite the sight, the couple says, but it went smoothly.
"We were swimming in it that evening," Al says. "It was just that easy." 
The placement and installation of a swim spa takes just a few hours. If you want to use your swim spa as soon as possible, be sure to schedule your electrician on the day of delivery. You can also have water delivered via a truck to make filling the swim spa a quick process.
For information about installing a swim spa, download our Backyard Planning Guide.
Exercise and therapy
Debra and Al have managed lower back problems, and the swim spa has been a place where they can exercise and stretch without pressure on their joints.
Water's buoyancy can reduce the effects of gravity by up to 90 percent, depending on how deep the water is. If you are exercising in chest-deep water, you will have about 80 percent less impact on your joints than on land.
More than that, you can move through a greater range of motion when you are exercising in the water. You might even notice that you can do more in a swim spa than on land.
"To be able to exercise and stretch in the weightlessness of water is really easy and it helps a lot," Al says.
Debra enjoys swimming, water running, stretching, and doing core work in the swim spa. 
There is also the option to attach rowing bars and resistance tubing to the swim spa, as well as use the dumbbells that come in the H2Xercise System.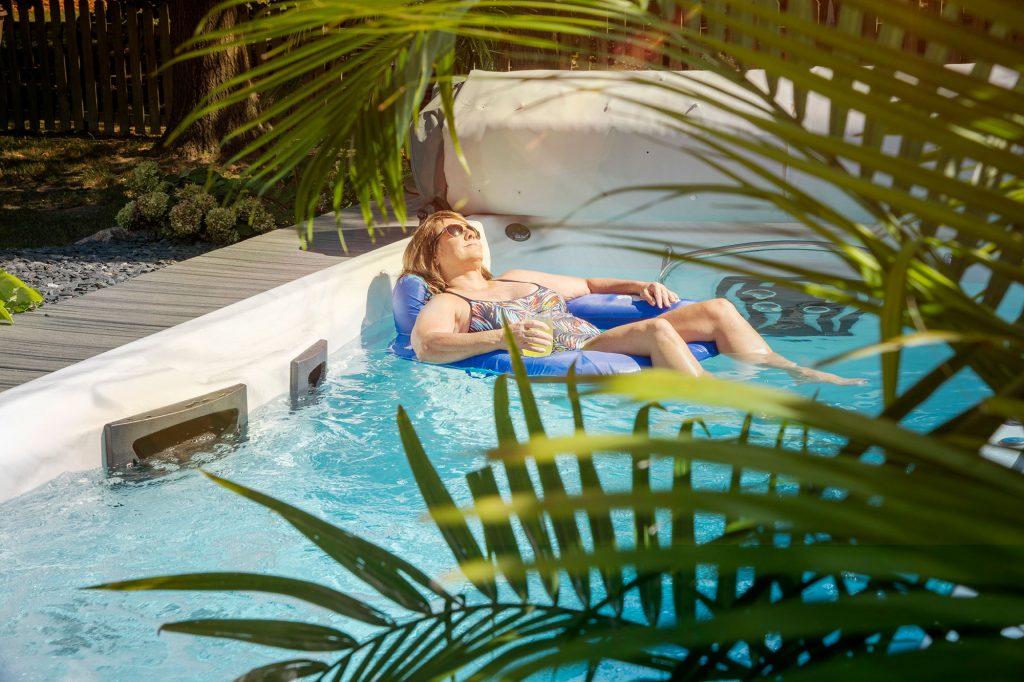 Year-round use
When deciding between a pool and swim spa, Debra and Al wanted somewhere that they could enjoy the water year-round.
Debra does enjoy the summer more — "I love to put the lounge in there and float around all day. Lounging around in the summertime is my favorite."
"I'm really the more diehard during the winter," Al says. "Winter is incredible when you are out there."
"Winter is really neat when it snows," Debra adds. "The snow is coming down."
Backyard patio accessories
The couple installed the swim spa as part of a backyard makeover. To maximize the investment and make it a true outdoor living area, the couple included patio accessories.
Towel warmer. Deb and Al enjoy using the swim spa in the winter, and a warm towel is comforting after a January soak. 
Gas fire pit. A fire pit provides heat and ambiance in the evening, whether it's summer, fall, winter, or spring. But a wood fire can be smoky, with ash blowing on people sitting nearby. A gas fire pit makes enjoying the night sky and sounds of the water cozier.
This gas fire pit is made of stone pavers and features colored glass. While Debra and Al chose red glass, this style of fire pit allows you to choose material based on style and preferences.
Smoker and grill. As a chef, Al wanted to have a place to cook and entertain. A built-in grill and smoker allow him to bring the kitchen outdoors, making it easier to entertain friends and family.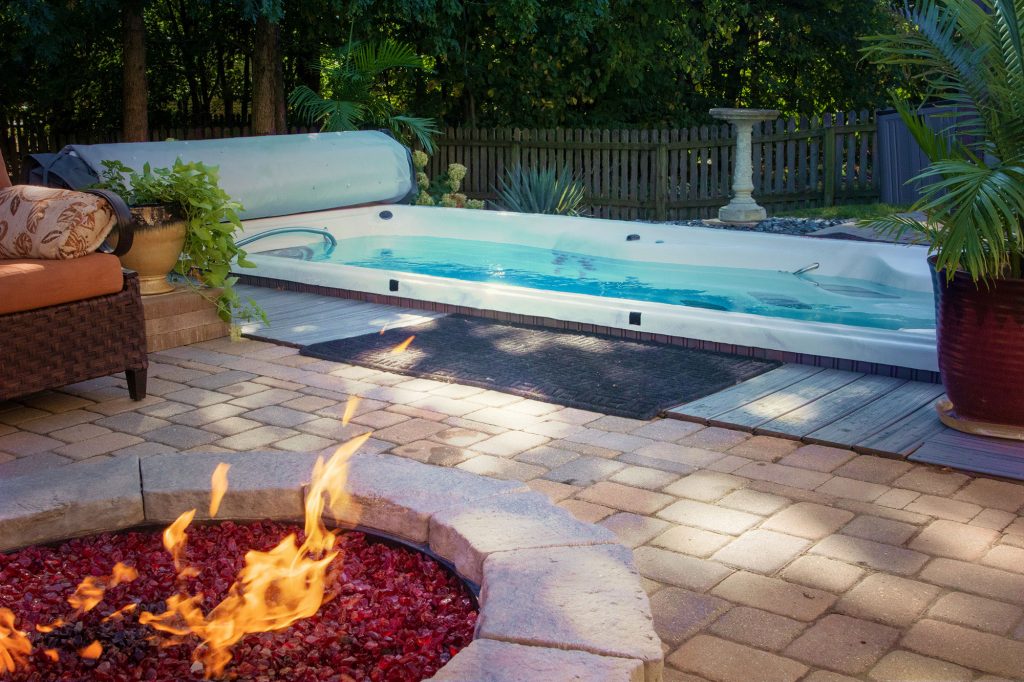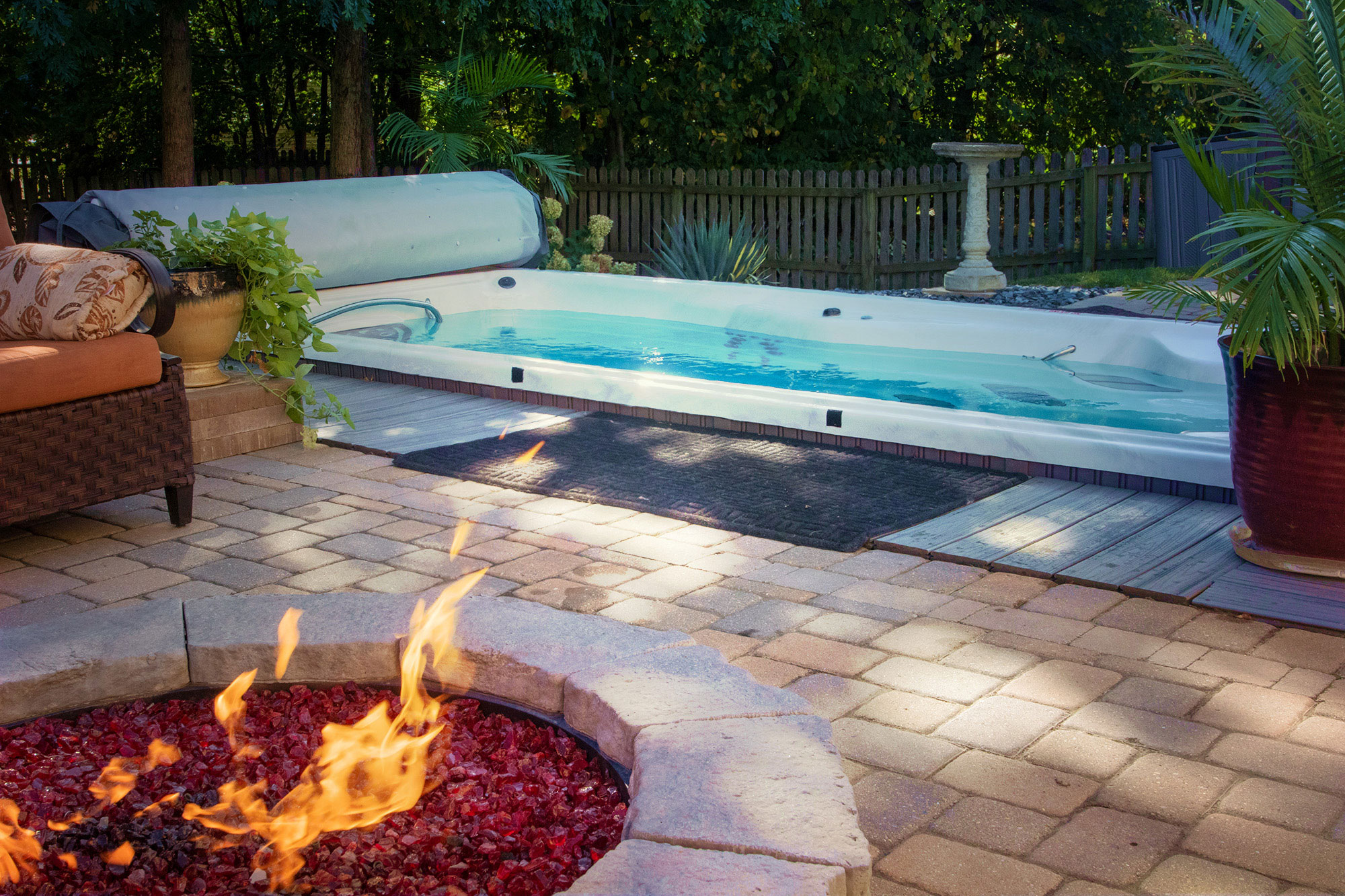 Relaxation
An H2X Trainer not only features swim jets for exercise but three contoured seats and the Xtreme Therapy Cove.
The therapy seats have adjustable massage jets that target your neck, shoulders, and back. There are a variety of jet types, too, that provide different types of pressure. The Xtreme Therapy Cove is a unique pattern of jets that targets your upper and lower body. When combined with warm water, the jets deliver a hydrotherapy experience that can ease muscle aches and pains. 
"I think what surprised me the most is how many different areas in the swim spa that you can visit. There's a lot of space to move around … so many different areas to enjoy," Al says. "That's what makes it much more enjoyable than a pool."
How to buy a swim spa
Are you ready to create a personal sanctuary in your backyard? Relax, unwind, and reinvent family time with a Master Spas swim spa. You can click here to discover our secrets to creating a backyard oasis. Or, contact your local Master Spas retailer to learn more about spa ownership. How much does a swim spa cost? You can request a quote here.
If you like this post …
Backyard Ideas for Small Spaces