A swim spa can be a place to exercise, relax, entertain and, of course, swim. But models vary in size, performance, and features so it's important to find the best swim spa for you.
Swimmers, triathletes, and other endurance athletes might want a model that offers more performance, as well as additional recovery options.
People who are seeking to keep fit or lose weight by exercising in the water might prefer a swim spa that has an increased depth so that there's less impact on the joints.
And those interested in aquatic therapy might focus on getting a swim spa that maximizes therapy and is less performance-based.
Master Spas is the world's largest swim spa manufacturer and offers more than a dozen model between its two unique brands (H2X Fitness Swim Spas and Michael Phelps Signature Swim Spas). You'll be able to find the best swim spa for you, your swim level, and your backyard.
Of course, all swim spas by Master Spas have massage jets, adjustable temperature, and contoured seating so that you can unwind, relax, and recover.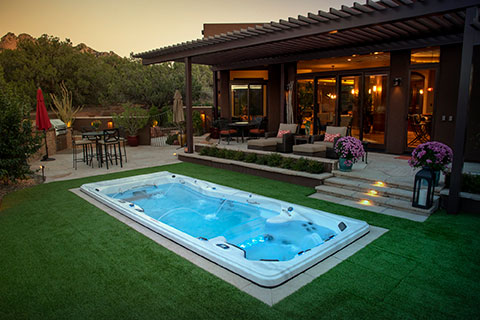 The Best Swim Spa …
For the Ultimate Experience
With the MP Momentum Deep, you don't have to choose between a backyard swimming pool and a hot tub. This dual-zone swim spa has two separate areas. The hot tub side can be set at a higher temperature for relaxation and recovery. The swim side can be set to a cooler temperature, which is ideal for swimming. (Typically, pools are heated to the 82 or 83 degrees. However, you can skip that shocking chill and set it to your perfect temperature.) The swim area of the Momentum Deep is obstacle-free with plenty of space to swim any stroke.
All Michael Phelps swim spas have a smooth, wide current of water created by a propulsion system. MP Momentum Deep owners can control the speed of the water with an easy-to-use touchscreen panel, and the variable speed system goes from zero to 100.
---
For Elite Swimmers
The MP Signature Deep comes standard with the Wave XP Pro system, which swims as fast as 54-second per 100-meter pace. The Wave XP Pro system generates almost 2,000 gallons of water flow per minute so that as you get stronger, you can dial up the current. This option is available only on the MP Signature Deep.
The MP Signature Deep also has the Xtreme Therapy Cove, which allows you to find the optimum position for a complete therapeutic massage for your lower back, hips, thighs, and calves.
---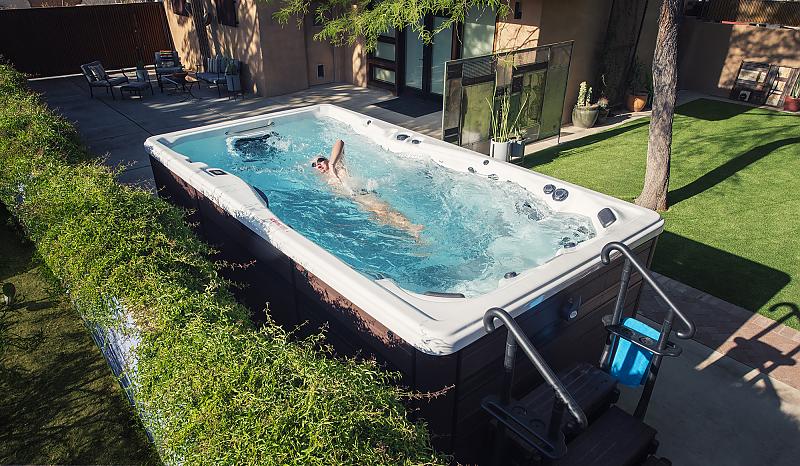 For Triathletes
Challenger 15D Swim Spa
The Challenger swim spa series, which debuted in 2019, is a jetted swim spa that puts performance first. There are six swim jets that are powered by three pumps. With less air introduced into he water, swimmers can enjoy a smoother flow of water with better visibility when compared to other jetted swim spas. At 15 feet by 8 feet, the Challenger 15D is big enough for most swimmers without overtaking your backyard.
Swimmers can adjust the current using a dedicated control panel on the swim area, as well as using the diverters. The VSP pumps have settings from zero to 25, and a third pump has low and high settings for additional power.
The Challenger 15D swim spa can produce a current that swims as fast as a 1:20 per 100-meter pace.
---
Challenger 18D Pro
Do you want to take your swimming to the next level? The Challenger 18D Pro allows competitive age group athletes and pros to train at a high level. This 18-foot swim spa has three swim pumps and six airless VIP jets, which creates a smooth current for stationary swimming. The top speed of the Challenger 18D Pro is the equivalent swim pace of 1:10 per 100 meters.
Another benefit of this swim spa is its size; the Challenger 18D Pro has the largest swim area.
The swim spa has hydrotherapy features that are ideal for recovery and relaxation. For example, the stand-up Xtreme Therapy Cove has a unique pattern of jets to target the hips, hamstrings, and calves. You can adjust the water pressure to get a personalized massage so you can feel better and recover faster.
---
For Aquatic Exercise
The Trainer series by Master Spas offer an adjustable water current that can be used for swimming, water exercise, and recreation. You can use the swim spa to reach your fitness goals — whether you are new to exercise or a fitness enthusiast. So the Trainer 15D has is deeper for increased buoyancy and comes with an H2Xercise Fitness System. The Trainer 15D is the best-selling swim spa, and it is a great pool alternative for small backyards.
Recreational swimmers can turn on the four VIP jets, which have a high and low setting, using the touchscreen panel. Adjust the diverters to change the strength of the water current and find your perfect swim pace. If you prefer a water aerobics session, you can turn on the current for water walking and aqua jogging.
---
For Therapy Exercise
Discover the benefits of water exercise with a Therapool D. This swim spa has is 60 inches tall and the added depth translates to less pressure on your joints. You'll enjoy walking, jogging, and exercise at your level thanks to three flow stream jets, which complement the natural resistance of water. 
Click here to learn more about Master Spas and find your local dealer.