A swim spa can be a place to exercise, relax, entertain and, of course, swim. But models vary in size, performance, and features so it's important to find the best swim spa for you.
Swimmers, triathletes and other endurance athletes might want a model that offers more performance, as well as additional recovery options.
People who are seeking to keep fit or lose weight by exercising in the water might prefer a swim spa that has an increased depth so that there's less impact on the joints.
And those interested in aquatic therapy might focus on getting a swim spa that maximizes therapy and is less performance-based.
Master Spas is the world's largest swim spa manufacturer and offers 15 models between its two unique brands (H2X Fitness Swim Spas and Michael Phelps Signature Swim Spas). You'll be able to find the best swim spa for you — and your budget.
Of course, all swim spas by Master Spas have massage jets, adjustable temperature, and contoured seating so that you can unwind, relax, and recover.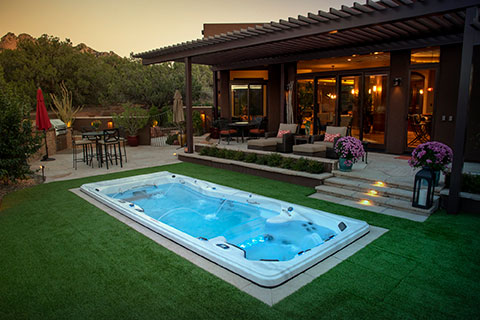 The Best Swim Spa …
For the Ultimate Experience
With the MP Momentum Deep, you don't have to choose between a backyard swimming pool and a hot tub. This model features two sets of temperature controls, allowing you to exercise in cooler water and retreat into warm water up to 104 degrees. It also has a generous swim area, which is free of obstacles, that is ideal for aquatic fitness and refining your stroke.
All Michael Phelps swim spas have a smooth, wide current of water created by a propulsion system. MP Momentum Deep owners can control the speed of the water with an easy-to-use touchscreen panel, and the variable speed system goes from zero to 100.
For Elite Swimmers
The MP Signature Deep comes standard with the Wave XP propulsion system. But serious swimmers and triathletes can choose to upgrade the swim spa with the Wave XP Pro system that provides an even stronger current. The Wave XP Pro system generates almost 2,000 gallons of water flow per minute so that as you get stronger, you can dial up the current. This option is available only on the MP Signature Deep.
The MP Signature Deep also has the Xtreme Therapy Cove, which allows you to find the optimum position for a complete therapeutic massage for your lower back, hips, thighs, and calves.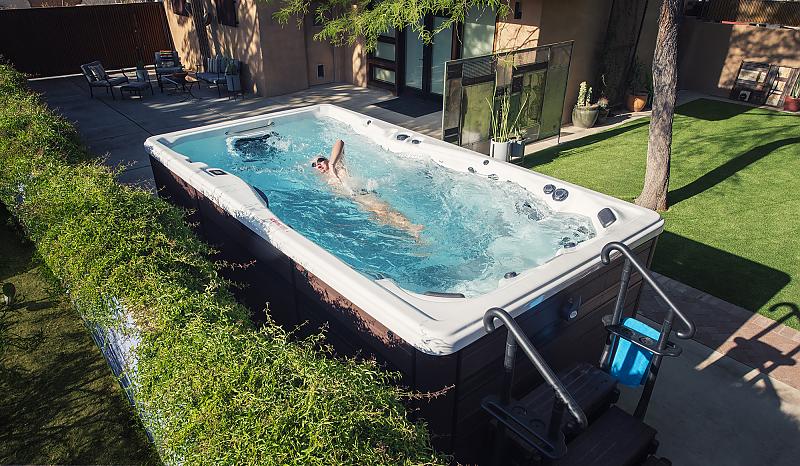 For Triathletes
The Challenger swim spa series, which debuted in 2019, is a jetted swim spa that puts performance first. The system uses airless VIP technology, which delivers a smoother current than other jetted swim spas. The Challenger 18D has the largest swim area of the series, making it ideal for triathletes. With an obstacle-free area and flat floor, triathletes can train against the current that mimics open water conditions. And with settings from zero to 25, the power to control the flow is at the touch of a button.
For Aquatic Exercise
The Trainer series of swim spas by Master Spas offer an adjustable water current that can be used for swimming, walking, jogging, aerobic exercise, and strength training. Master Spas wants swim spa owners to have the tools they need to reach their fitness goals — whether they are new to exercise or fitness enthusiasts. So the Trainer 15D has is deeper for increased buoyancy and comes with an H2Xercise Fitness System. The swim spa is the most popular model from Master Spas, and it is a great pool alternative for small backyards.
For Therapy Exercise
Discover the benefits of water exercise with a Therapool D. This swim spa has is 60 inches tall and the added depth translates to less pressure on your joints during a workout session. You'll enjoy walking, jogging, and exercise at your level thanks to three flow stream jets, which complement the natural resistance of water.