Hot tub or pool — it can feel like an either or decision. A hot tub will offer a chance to relax and unwind, while a pool can make it easier to exercise and entertain at home. But, the combination of the two might take up more space in your backyard than you would like.
There is an alternative, though: a dual-zone swim spa.
Whether you are taking on a backyard makeover project or want to trade-in an old hot tub, a dual-zone swim spa can transform your outdoor living space without compromise. You can enjoy a space to exercise and swim while still taking advantage of a hot tub's benefits.
Master Spas manufacturers four dual zone swim spas to meet the needs of your budget, space, and lifestyle.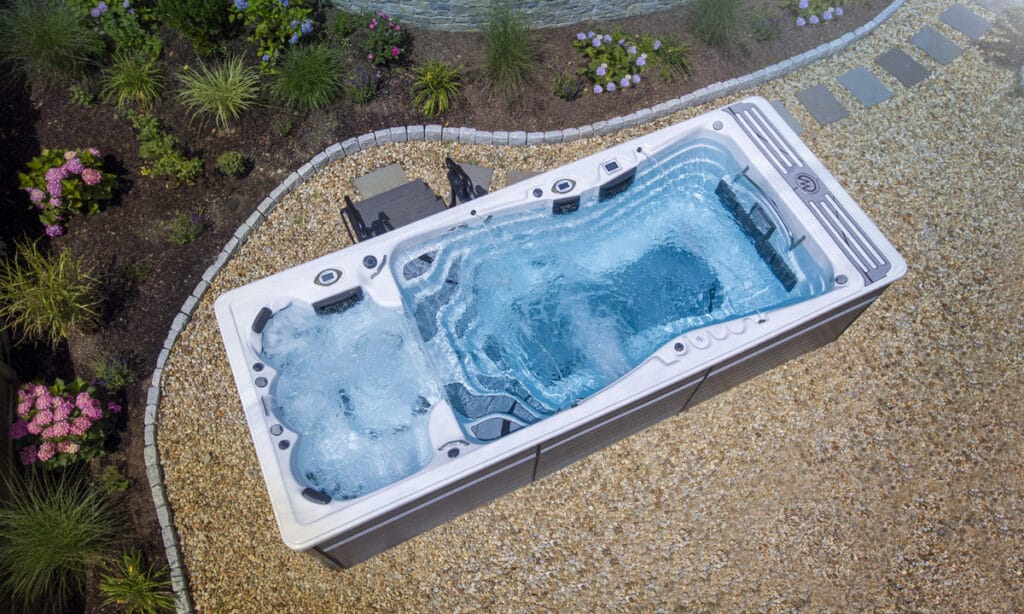 What is a Dual Zone Swim Spa?
Most swim spa models are a single unit with a large swim area. The therapy seats are in the "back" of the spa while the endless water current is in the front. You can swim or exercise while someone relaxes.
However, the water temperature will be the same whether you are enjoying the massage jets or water running.
A dual zone swim spa, though, has two separate bodies of water. Each zone can be a different temperature. The swim spa side can be set in the 80s — even in the 70s — while the hot tub side can be set in the 90s or up to 104 degrees.
The two sides of the swim spa are separated by a divider. The MP Momentum Deep has a clear acrylic divider while the H2X 19-foot swim spas have the divider built in.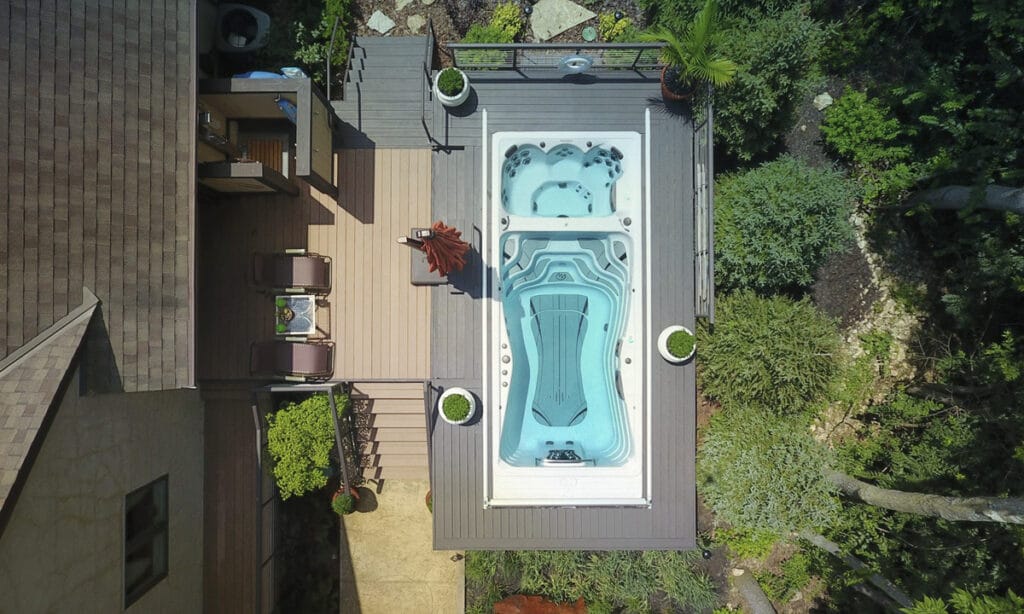 Benefits of a dual zone swim spa
Combine what you love about a swimming pool and a hot tub without having to pick.
Master Spas dual temperature swim spas are 19 feet long and 8 feet wide. While these have the largest footprint of any Master Spas swim spas, they can be a pool alternative for people with smaller backyards.
A traditional swimming pool and hot tub combo can take up a lot of real estate in your backyard. Even a smaller fiberglass pool can be 11 feet by 22 feet — and that does not include the additional patio surround and spa. These smaller pools are limited to recreation and fun.
But for those who want to be able to exercise and swim at home, a dual temperature swim spa is the perfect alternative to a lap pool and hot tub.
Among the benefits of a dual zone swim spa:
Hydrotherapy and exercise in one unit
Sleek styling and design
Do not have to toggle between temperatures if you want to train and recover in the same session
Year-round use, with no worries about pool hours or shutdowns
Holds fewer gallons of water, making swim spa water care easier than a pool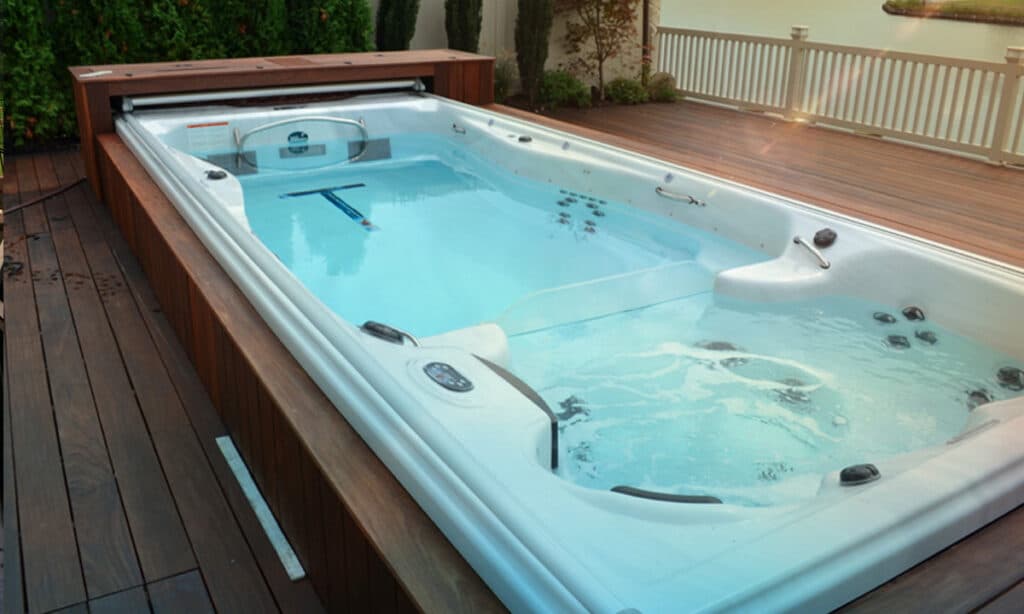 Best dual temperature swim spas
MP Momentum Deep
The largest model in the Michael Phelps Signature Swim Spa series, the MP Momentum Deep is a 19-foot swim spa with two bodies of water. A clear acrylic divider separates the hot tub from the swim area, offering a way for everyone to relax, have fun, and train.
For 2021, this Michael Phelps swim spa features the Wave XP Pro Propulsion System. With a maximum pace that is equal to 54 seconds per 100 meters, this swim spa is best for serious athletes. It can be used as a complement to training in the pool or as the centerpiece of a swimming routine. Adjust the pace, from zero to 100, on the easy-to-use touchscreen panel.
Customer review: "We love our swim spa! It was the best investment ever! Our Swim Spa was bought as a replacement for our old, worn out spa. This is the best of both worlds. It gives us a spa and a year-round pool. The quality of the pool is second to none. As a swimmer, it provides me the ability to swim at home instead of going to a public pool. This has been the best investment I could have made. My kids love playing in the pool as well as learning their swim strokes in the current." — Kevin, Texas
H2X Challenger 19D
A 19-foot model from the H2X Challenger series, this swam spa features an airless jet system. The water current is wide and smooth, and a wide channel makes it easier for swimmers to get in a good rhythm. With speed settings from zero to 25, you can set the pace using the touchscreen panel.
How fast can you swim in this swim spa? The water current can go as fast as 1:20 per 100 meters.
Customer review: "This is the first swim spa we have owned. I find the water soothing to my joints and a good form of exercise. The spa part feels great on the body especially the foot jet — it's great for sore feet. I feel the way the swim spa is built, and the videos Master Spas has as well as the tech support people that the Master Spas H2X Challenger 19D is a good value. We enjoy our swim spa and have no regrets at all. I wish we would have got it years ago. The grandkids love it." — Elkzip, California
H2X Trainer 19D
H2X Trainer swim spas are the perfect combination of fun and fitness. The VIP jets offer a continuous water current ideal for the recreational athlete, while the swim area is perfect for splashing around. As a dual temperature swim spa, the H2X Trainer 19D has 48 jets with 44 of those offering massage and hydrotherapy. Therapy features include the Xtreme Therapy Cove, which has a stand-up pattern to target the muscles in your lower body.
The Trainer series also includes a 19-foot swim spa with a standard depth.
Customer review: "I love swimming but had never tried the swim spa experience. My swim spa exceeded my expectations. From the first time I entered the water I was able to swim like I would in a pool … but no turning! The lights, the water features, the massage jets all add up to an amazing experience. I swim before I go to work and it is so convenient, clean and hassle free. After a swim, I slink into the hot tub. Totally luxurious!" — Leisa, British Columbia
How to buy a dual temperature swim spa
Are you ready to turn your backyard into an oasis with a hot tub-pool combo? Having a dual temperature swim spa at home makes it convenient and fun to incorporate swimming, exercise, and relaxation into daily routine. You can click here to find out more about the benefits of water fitness and hydrotherapy. Or, contact your local Master Spas retailer to learn more about swim spa ownership. Wondering how much a Michael Phelps swim spa costs? You can request a quote here.