Jordan Hasay might be known for her determination, grace, and blistering pace over the course of 26.2 miles. But for the California native and professional athlete, running was not her first sport.
It was swimming — encouraged by her mother, Teresa Hasay, who was an accomplished swimmer herself.
But while Hasay has made her career on land, the water is still an important part of her life and training routine.
Hasay became a brand ambassador for Master Spas in 2020, allowing her to take advantage of the swim spa benefits.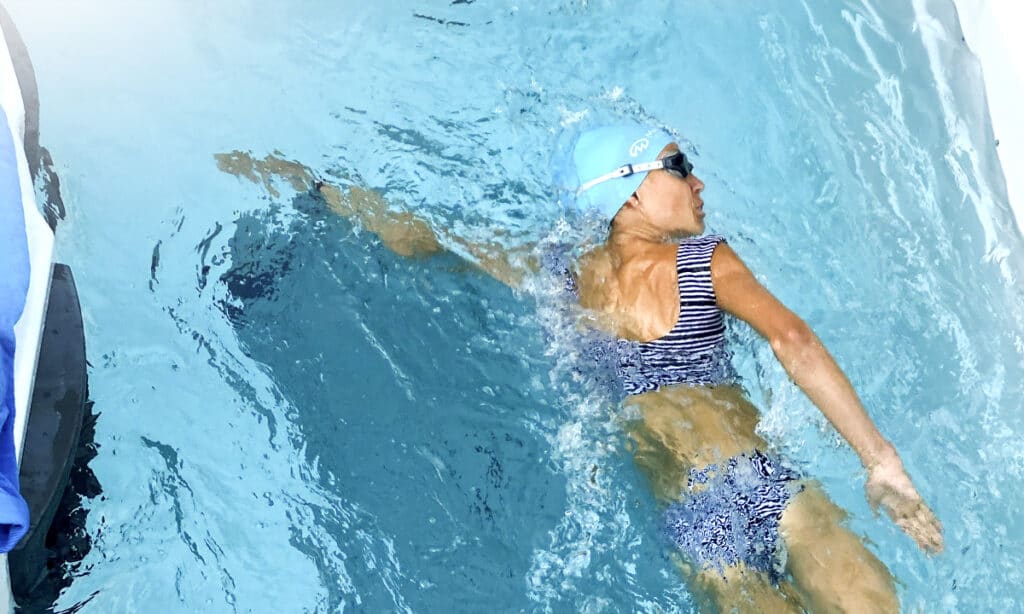 Swim Spa Benefits for Runners
Runners, professional and recreational, often see the pool as punishment. It's a place that you have to go when you are injured, swapping miles on the road for laps or aqua jogging.
But Hasay has long incorporated swimming into her training schedule, helping her to train smarter and get closer to her goals.
"When I'm in full training, I'm running about 120 miles a week — running twice a day," she says.
Sometimes, after a run, she'll jump in the water for 20 to 30 minutes for extra cardio. And, early in her season, she'll swap a second run for a session in the pool.
Backyard Convenience
It can be challenging to muster the motivation to drive to the pool and hop in the cool water — especially for Hasay, who says she gets cold easily.
"Driving to the pool is not always worth it because I still need to make sure I'm resting and recovering," she says.
The H2X Challenger 15D, though, "has been huge," she says. She was able to run less miles while staying fit and getting in extra training. Installed in her backyard, she can walk outside and start swimming in less than five minutes.
Bonus: Hasay can keep it set at a therapeutic temperature in the low 90s, ensuring that she definitely won't be cold. The temperature is easy to adjust on the touchscreen and can be safely turned up to 99 degrees for relaxing.
The warm water of the swim spa has also afforded Hasay the opportunity to do marathon-simulation workouts. With an aqua jogging belt, she will "run" for up to three hours in the swim spa. The H2X Challenger 15D has a water depth of about 51 inches for buoyancy, reducing the wear and tear on Hasay's body.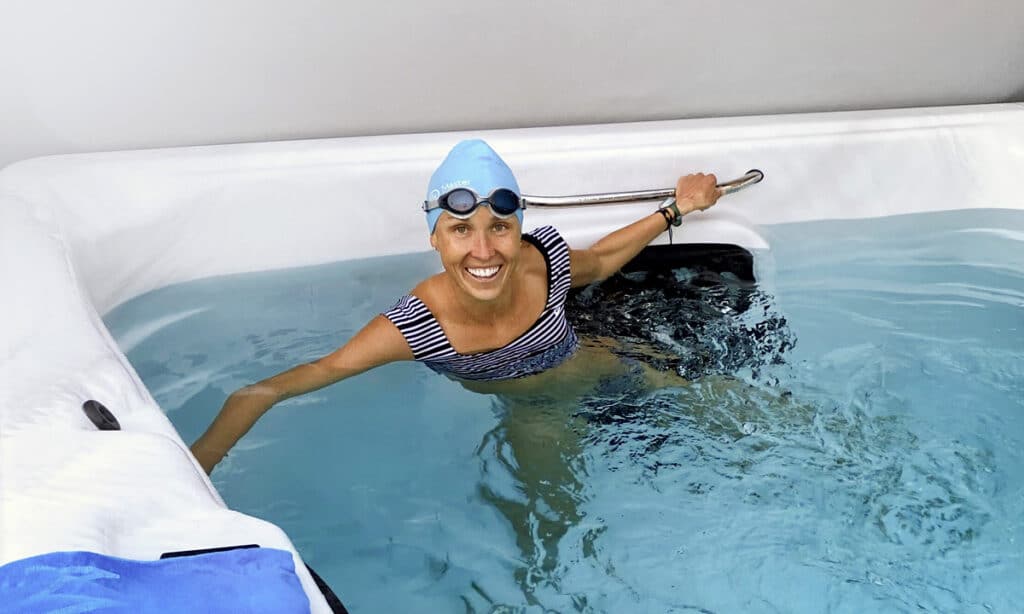 Recovering in a Swim Spa
First introduced to swim spas because of Master Spas' partnership with Michael Phelps, Hasay was interested in using the pool alternative for cardio workouts. However, the swim spa has become an integral part of her recovery.
"Using the jets has become part of my daily routine," she says.
The swim spa features the Xtreme Therapy Cove, a stand-up jet arrangement that targets the hips and legs. It can be used to massage the muscles after a difficult run.
Hasay, though, also likes to use the swim jets to work out any tight spots on her back and legs. The swim jets can move more water, and there's also a stainless-steel grab bar for stability.
Recovery is important as a professional athlete but Hasay also stresses that it's important for recreational athletes to make it a priority.
"My mom was a big runner and never stretched, and she would get these small injuries," she says.
While you have "to get going and can't stay stretching all day," she suggests taking time off a run to focus on recovery whether it's cross training in a swim spa or doing some stretches.
But it's not just about recovering properly after a big training block.
"It's Important after a big event to give your adrenal system a rest," Hasay says.
For a month after a big marathon, Hasay will take between three and six days off. She will follow up with a month of easy workouts. Among those easy workouts are swims in a swim spa. These help get her body moving and flush out the legs without getting her heart rate up.
Moving a Portable Spa
The installation of her swim spa is almost a family joke now. At the time, Hasay was living with her dad as she awaited a move to a new house. The property needed a concrete pad, which is the preferred foundation for a swim spa. So she had it poured and scheduled the delivery — all without consulting her dad.
It's a story they both love to tell, smiling as they do.
However, when it came time for Hasay to move, the swim spa needed to be transported to the new house.
A swim spa is a portable unit and can be drained and moved to a new property, with the help of your Master Spas retailer.
"When it got craned in, all the neighbors thought it was super cool," Hasay says. "It is a new housing area, and I was worried about it not being allowed because it's an HOA."
Hasay was grateful that she didn't need to navigate HOA regulations. However, HOAs will often allow swim spas when pools  are not allowed because it's a portable unit. 
Related post: Installing a Swim Spa: Tips for Navigating Your HOA