A new year is approaching, and it can be a time of reflection, renewal, and another "R" word — resolutions. From getting organized to getting in shape to spending more time with family, more than half of Americans report that they make New Year's resolutions.
Those resolutions are worthwhile pursuits but it can be hard to measure success. After all, what does getting in shape look like? But, resolutions can also make it feel like we're not doing enough or good enough.
Instead, setting goals can be a way to get specific and measurable results. Goals can include incorporating five fruits and vegetables per day to feel nourished. Perhaps you want to feel more hydrated, and would like to swap one soda a day for a bottle of water. It might be important to you to take 20 minutes at the end of the day to unwind. The goal can be finding ways to make you — and your wellness — a priority.
A hot tub by Master Spas can help you improve your wellness without it feeling like a task you have to accomplish. A hot tub offers health benefits that can support you in your wellness goals for the new year, including better sleep and reduced anxiety.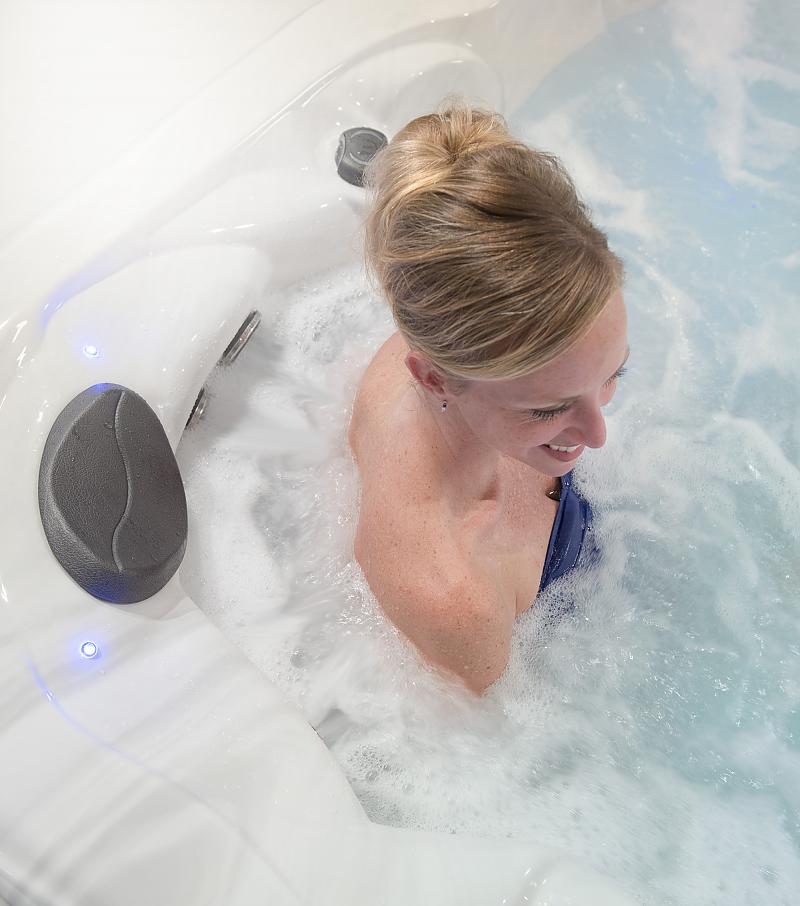 Hot Tub Health Benefits
A hot tub is more than a place to relax and enjoy an occasional soak. The warm water and massage jets help you feel better — physically and mentally.
Known as hydrotherapy, a hot tub offers myriad health benefits. You can use a hot tub to manage chronic conditions, such as arthritis and fibromyalgia. The warm water can improve circulation. Research has even shown that a hot tub can help people with type II diabetes who cannot exercise.
How often should you use your hot tub to realize the health benefits? A hot tub can be a centerpiece of a wellness routine, and you can use it daily. Some Master Spas owners share that they use it multiple times a day to manage pain and stress.
Top Health Benefits of Owning a Hot Tub
Chronic pain relief
Reduced muscle soreness
Relief from stress and anxiety
Better sleep
Improved blood flow
Lower blood sugar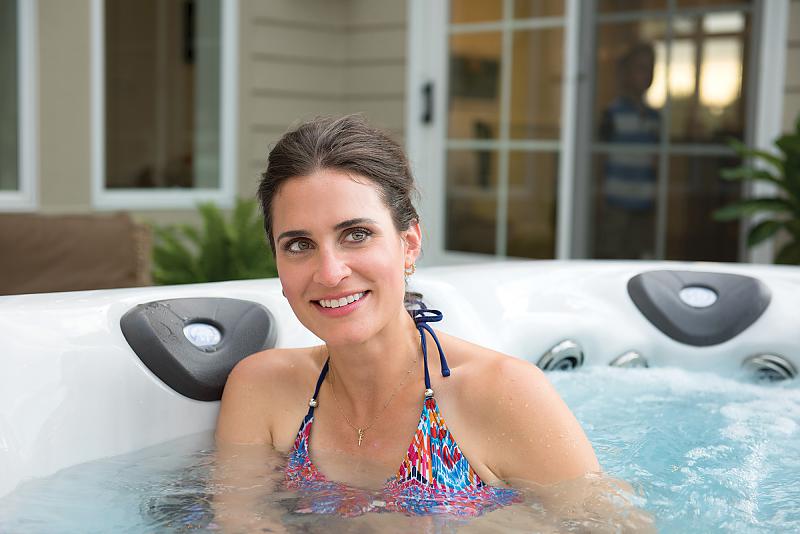 5 Wellness Goals for 2021
Goals should be SMART — specific, measurable, achievable, relevant, and time-based. Try a new recipe or food each month, meditate for 5 minutes each morning, take a walk during your lunch once a week. If that's something you already do, maybe you grow that habit. You can cook at home four days a week instead of three. You can swim for 30 minutes instead of 20 minutes.
Resolution: Stress Less
Make It a Goal: Make a date with yourself each week
There are things that we can do to change how we react to stress. However, aiming for a stress-free life can be near impossible. There are things that will be beyond your control. However, finding a way to make time for yourself to do what makes you feel good can help reduce those stress levels. Consider making it a new year's goal to make a date with yourself each week. Even if it's just an hour on a Sunday afternoon, the time will benefit your mental health.
A hot tub by Master Spas is a physical reminder to take time for yourself. Schedule time to soak in the spa with a loved one or go solo, depending on what you need. Stream a relaxing playlist with waterproof speakers, whether it's a portable unit or part of your backyard design.
Resolution: Start Exercising
Make It a Goal: Move for 30 minutes three times a week
Exercising more is one of the most popular new year's resolutions. Of the Americans who make resolutions, 50 percent resolve to exercise more. Thirty-seven percent of Americans want to lose more weight. But it can be hard to define what exercising more looks like, especially if you do not have an established routine. You don't want to go from not working out to pushing yourself to go to the gym six days a week for an hour. Start simple and build from there. Walk for 30 minutes during your lunch break or swim for 30 minutes three days a week. A routine that's fun and achievable will keep you encouraged.
Easing back into exercise, though, can come with some aches and pains. A hot tub by Master Spas can help you relax your muscles and massage away any tight spots. Regularly using a hot tub can improve your recovery, range of motion, and enjoyment.
Related post: Exercise Guidelines for Beginners
Resolution: Eat Healthier
Make It a Goal: Cook one new meal a month
Keto, Mediterranean, paleo, low-fat, vegan, intermittent fasting — there seems to be endless approaches to healthy eating. It can be frustrating to try to navigate the conflicting messages. And not all of those approaches will be a good fit for you and your lifestyle. Instead of resolving to "eat healthy in 2021," commit to cooking one new meal a month or trying a food you thought you disliked. Incorporating new foods or dishes will feel more exciting than burdensome.
Resolution: Boost Energy
Make It a Goal: Commit to a new sleep routine
You are reaching for your third cup of coffee when you look at the clock. It's only 10 a.m. Sure, you love the taste of coffee but you also want that little jolt it offers. You wish you could have more energy. But how do you do that? And how much more energy do you need?
Sleep plays an important role in how we feel throughout the day. Regularly getting a good night's sleep will make you feel better throughout the day, improving your mood. But one in three people don't get enough sleep, according to the Centers for Disease Control.
"One cause of insomnia is anxiety; when the brain centers that control anxiety become over-active, people can find it difficult to fall asleep," said David J. Earnest, Ph.D., professor at the Texas A&M Health Science Center College of Medicine. [source]
Regularly using a hot tub as part of a night-time routine has been shown to help people sleep better. The relaxing effect of a hot tub combined with the change in body temperature allows you to fall asleep more quickly and sleep with less interruption.
Related post: How a Hot Tub Helps You Sleep Better
Resolution: Declutter Your House
Make It a Goal: The 10-Minute Cleaning Routine
A clean house can make it feel like home, and it might actually make you feel happier. Research has shown that people who have a tidy house are healthier, more productive, and more relaxed. But it can feel overwhelming to take on a full-house clean or go through things you have stored in the attic. Instead of making a resolution to tidy up or keep the house clean, which is vague, consider committing to a 10-minute cleaning schedule. Take a small period of time after dinner — maybe Monday through Thursday — to clean counters, tables, sweep, even dust. The 10-minute cleaning routine is also a way to encourage children to do chores around the house.