Whether you have a small backyard or plenty of outdoor space, you want an amazing place to enjoy with family and friends. But how do you create an outdoor living space that's, well, meant for living? It's not just about putting in comfy patio furniture or hanging string lights (although that helps).
The best backyards are destinations, spaces that almost beg you to be visited. You stand at the kitchen window or back door, morning or night, and can't wait to head outside. The focal point can be a fire pit or thoughtfully planned flower garden. The ultimate destination, though, just might be a hot tub.
A Master Spas hot tub can transform your outdoor space from a place you like to be to a place you love to be. These installations show how you can create your perfect backyard oasis with well-planned hot tub landscaping.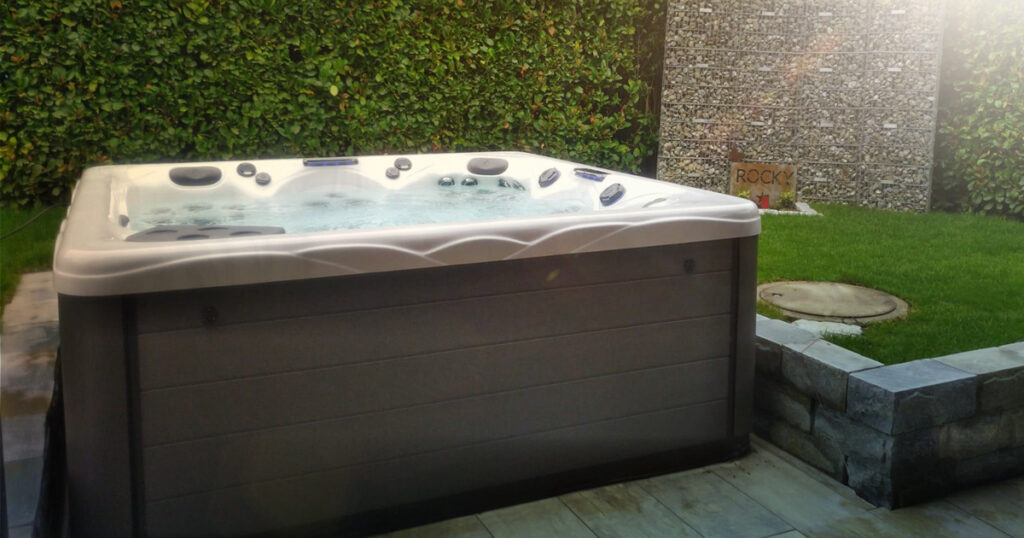 Hot tub landscaping tips
What is the number one thing you should think about when you are designing the landscape around your hot tub?
Hint: It's not how to create the Pinterest-perfect space. However, when you follow these tips, you will have a backyard oasis that you will enjoy year-round.
The best hot tub landscaping designs reflect what the homeowner likes and how you will spend time in the space.
People who love gardening will want to incorporate lush flowers and greenery. However, others who prefer a low-maintenance yard can get creative with patio pavers, planters, and stone work.
Other factors to consider:
Drainage. It's natural for water to splash out of your hot tub as people get in and out, as well as move around. It's important to make sure that any flower beds or planters have adequate drainage.
Sun and shade. Many hot tub owners choose to incorporate shade elements to enhance their enjoyment of the spa. If you add a pergola or shade sails over your hot tub, the shade coverage will affect the landscape design.
Step placement. Flowers, pergolas, deck or concrete pad. There's a lot to consider when you are planning your hot tub landscape design. One thing that is easy to forget — where to put your steps. If you are installing a hot tub, you want to be able to get in and out of the spa safely. Consider where the steps should go and the best path from the house to the spa.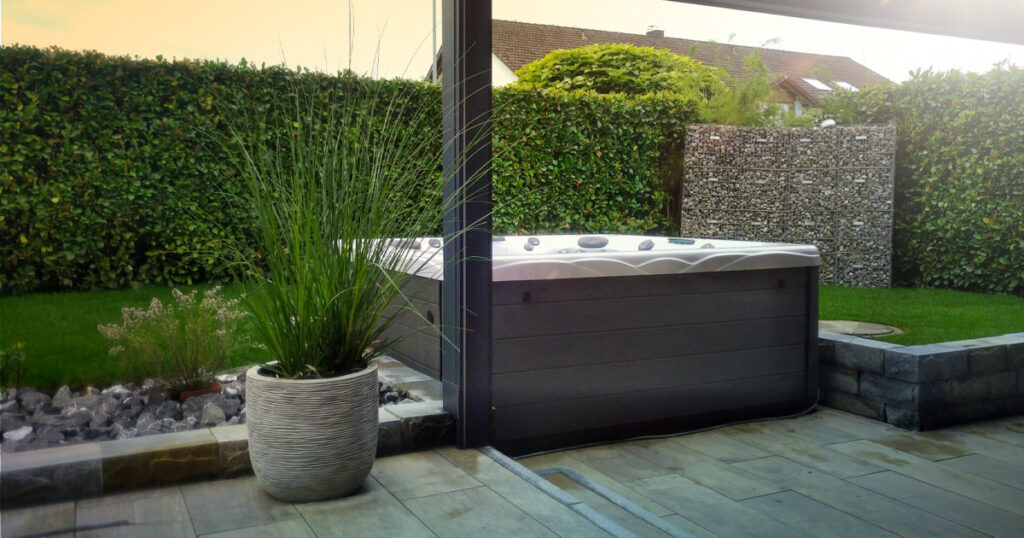 3 backyards to inspire hot tub landscaping
A water feature like a hot tub will be the highlight of your outdoor space. The Twilight Series 8.2 by Master Spas is an 8-foot hot tub. It's spacious enough for six adults to stretch out and relax.
Modern simplicity
When you install a hot tub on a deck, you don't want the process to be rocky. This installation, though, is — in the best possible way.
This backyard features a contemporary low-level deck and stone edging. A unique feature in the landscaping design is a rock wall that occupies a corner of the garden.
There are lots of different ways to create privacy in your backyard, including fencing and bamboo. This backyard space features tall hedges that create a living wall. It's not only functional but adds to the overall hot tub landscaping.
Do you want to install your hot tub on a deck? Keep in mind that the structure will need to be reinforced to support the weight of the spa with water. An alternative, though, is to cut out the deck and place the spa on a concrete pad.
More to love: The rock landscaping bed that features oversized stones, a planter with tall ornamental grasses, and the multi-level deck design.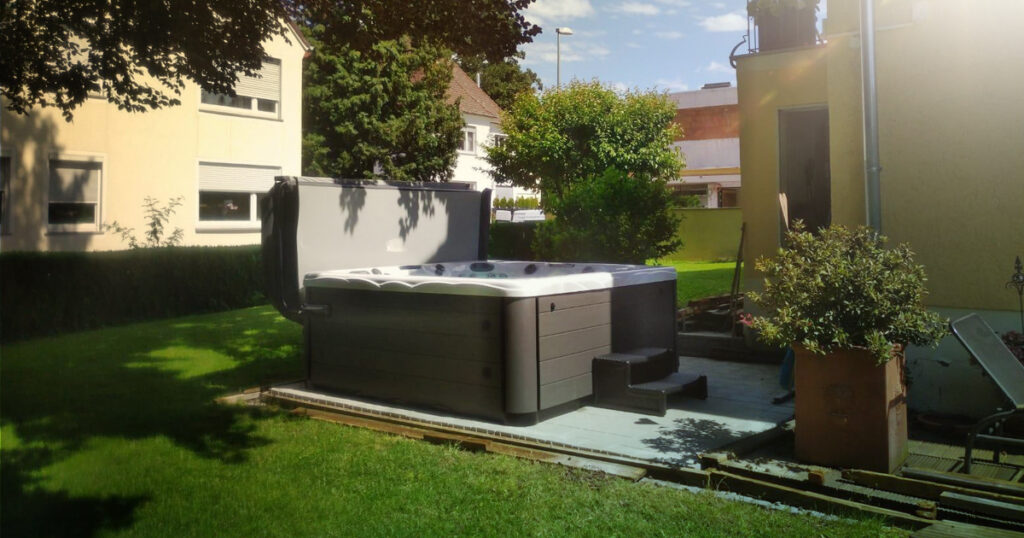 Blank slate
There are two types of spa owners — those who have the perfect space for a hot tub and those that want to create one.
This backyard TS 8.2 installation is a blank slate. The hot tub is offset from the house and is installed on a low level deck. When you walk out the back door, you are pulled to the hot tub.
When you are considering how to design your hot tub, the spa can be the focal feature. Planters and mature trees can add interest and shade, as it does with this install.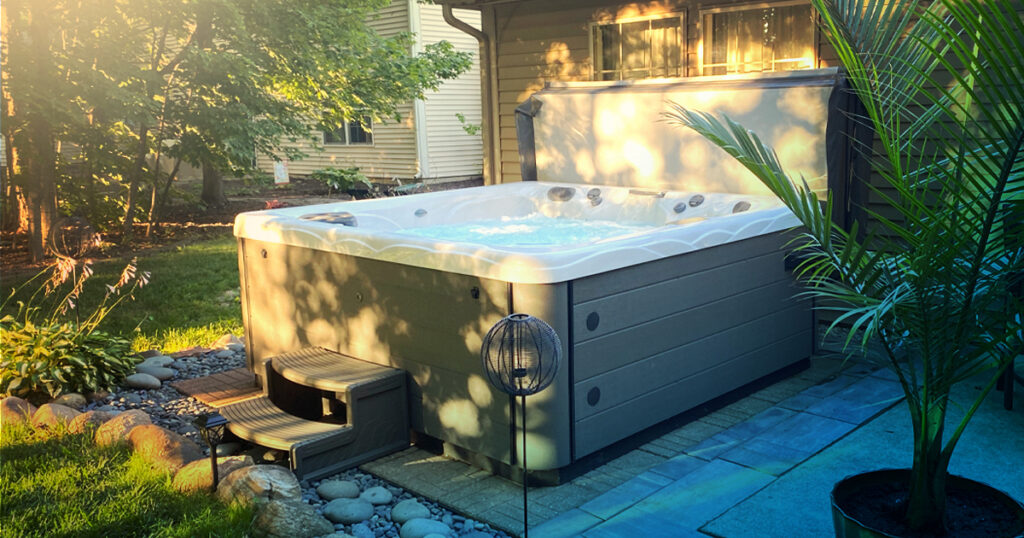 Rock landscaping for your hot tub
Many hot tub landscaping ideas focus on flowers. However, this stunning backyard is all about the stones.
The owner of this TS 8.2 made the most of her shady outdoor space by incorporating Spanish rock into her hot tub design. The stones are in myriad shapes and sizes, adding unexpected dimension and interest.
The border, along with ferns and other low-spreading plants, bridges the gap between the surrounding outdoor space and the hot tub installation.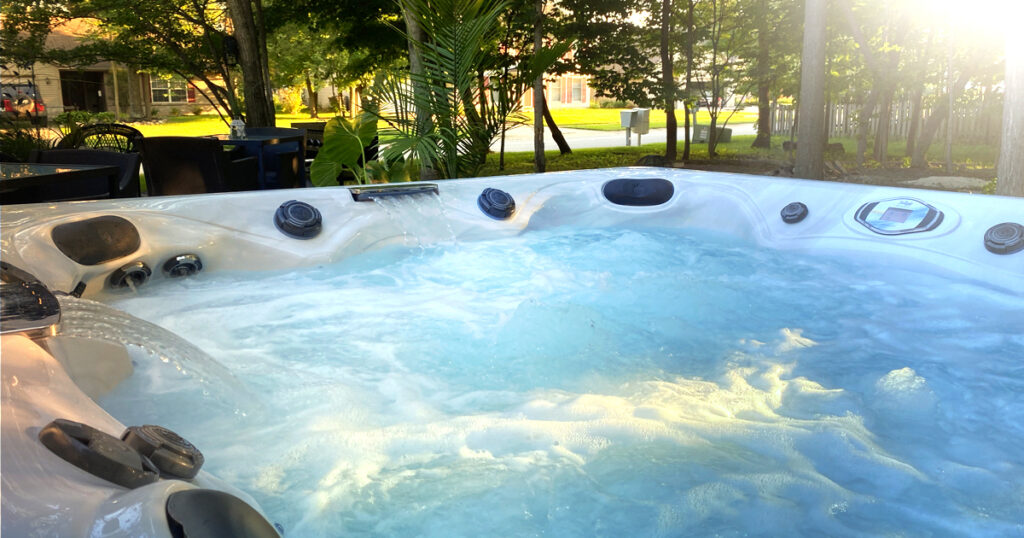 About the Twilight Series 8.2
The Twilight Series TS 8.2 is a popular choice for homeowners. It is one of the best-selling hot tubs from Master Spas. An ultra therapeutic six-person hot tub, it has 44 jets and a full-size lounge. You experience the immensely rejuvenating effects of hydrotherapy from the comfort of your backyard.
The hot tub seats feature a variety of jet arrangements making it easy to relax. Relieve pain and discomfort in your shoulders by sitting down in the StressRelief Neck and Shoulder seat. Revive tired feet with the Master Blaster Foot Therapy jets.
Other features of the Twilight Series 8.2:
EcoPur mineral filtration system
LED lighting
Ozone system
Durable DuraMaster cabinet
Full foam insulation for superior energy efficiency
Digital touchscreen panel
Click here to learn more about Master Spas and find your local dealer.