It could be a dull ache or a sharp pain. Maybe it started gradually or began suddenly. You might be able to identify a cause or what makes it worse. But while the symptoms might vary person to person, most people experience low back pain at some time in their lives.
"Low back pain is second only to the common cold as a cause of lost days at work. It is also one of the most common reasons to visit a doctor's office or a hospital's emergency department. It is the second most common neurologic complaint in the United States, second only to headache," according to eMedicineHealth.com.
As the population ages, it's expected that low back pain — and chronic cases — will become a more burdensome problem.
But the potential for higher incidences of back pain does not necessarily mean busier pharmacy counters and operating rooms. Guidelines are suggesting more conservative treatments that are patient-led, and a hot tub by Master Spas can complement those therapies.
What is chronic low back pain?
According to the National Institute of Neurological Disorders and Stroke, chronic back pain can be defined as "pain that persists for 12 weeks or longer, even after an initial injury or underlying cause of acute low back pain has been treated. About 20 percent of people affected by acute low back pain develop chronic low back pain with persistent symptoms at one year. In some cases, treatment successfully relieves chronic low back pain, but in other cases pain persists despite medical and surgical treatment."
Treatment for chronic low back pain
There is no "one size fits all" approach to easing pain in the lower back. Treatments can vary from hot or cold packs to surgery, physical therapy to prescription medications.
However, the medical community is advocating a "self-management, physical, and psychological therapies as first-line treatment for low back pain," according to the American Physical Therapy Association.
Those therapies could include sessions with a physical therapist, exercise, and even massage. Researchshows that massage can help patients with chronic low back pain. It can help reduce pain and symptoms of low back pain, while limiting the release of stress hormones.
Surgery is often a last resort, "recommended only if there is evidence of worsening nerve damage and when diagnostic tests indicate structural changes for which corrective surgical procedures have been developed." [National Institute of Neurological Disorders and Stroke]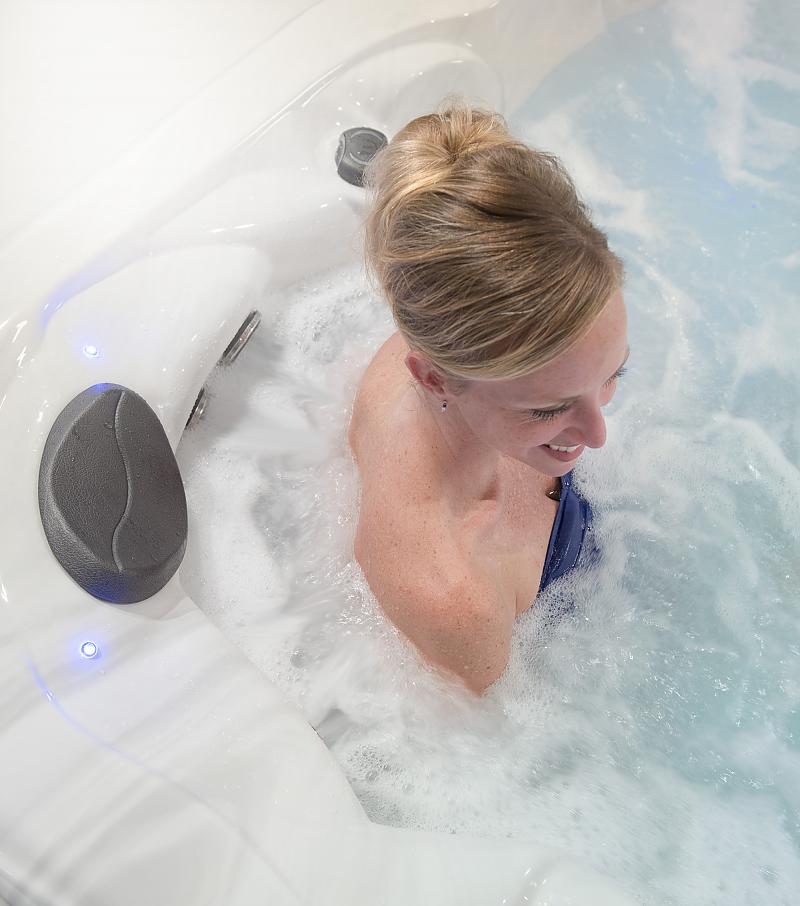 Hot tubs and chronic low back pain
A hot tub by Master Spas can be part of a self-care plan that accompanies traditional treatment. Helping to ease aches and pains and improve quality of life, the combination of massage and warm water have been proven to be beneficial for those with chronic low back pain. 
How does a hot tub help with pain?
Warm water. The temperature of water in a hot tub, which can safely go up to 104 degrees, helps to improve circulation, relax muscles, and reduce pain. 
Warm water also helps to improve flexibility and mobility, which can help ease stiffness associated with low back pain.
Massage jets. Adjustable therapy jets deliver a custom massage that can ease discomfort associated with low back conditions. 
Hot tubs by Master Spas offer multiple jet configurations, including lounge seats, to offer a relaxing massage that targets the shoulders, back, and hips.
Buoyancy. Water's natural properties help reduce gravity's effects on the body. Simply immersing yourself in water will reduce the pressure on your joints and muscles. When sitting in water up to your neck, your bodyweight is reduced by 90%, helping to ease the pressure on the low back.
What Master Spas owners are saying
"We love our hot tub and use it every day. Beats an expensive massage for aching muscles and back."
— Jane, Florida; TS 240
"We have only had our hot tub for a couple weeks but I am loving the powerful jets, which really relax me. I am able to fall asleep much easier, and it gets rid of my back discomfort after a long day on my feet at work."
— Kelly, Iowa; Master Spas owner
"I recently had spinal surgery the end of last year for my lower back, and I feel absolutely fantastic after a 15-minute soak with the jets on. I've been in it almost every night since the day we bought it, just to keep capturing that feeling."
— Darrin, Michigan; Master Spas owner
"I have owned several different hot tubs and found that the LSX800 is by far the best hot tub I have ever owned! The power of the jets gives me the massage I need. I have a very bad back due to a couple of bad car accidents and found the massage is incredible! I have also had major surgeries on my legs dating back to my athletic days and noticed that the leg jets in the lounger have improved my mobility greatly."
— Sean, British Columbia; owner of LSX 800
"This is no ordinary tub … it is therapeutic. My hubby has a bad back and I have a really bad shoulder and I can honestly say this has helped both of us immensely. Our beautiful escape that lasts all year long!"
— Krista, Nova Scotia; Master Spas hot tub owner
"We purchased our Master Spa due to back, leg, feet injuries sustained in the military. I used to get massage therapy once a month and chiropractor visits once a week. This hot tub has stopped all those visits and added to our fun times at home."
— Arturo, Texas; Master Spas owner
How to buy a hot tub
Are you ready to realize the benefits of hydrotherapy? With a Master Spas hot tub, you can manage chronic pain while enjoying the relaxation of a hot tub. Learn more about the benefits of hydrotherapy. Or, contact your local Master Spas retailer to learn more about spa ownership. Wondering how much a hot tub costs? You can request a quote here.