Owning a swim spa is like having the best of both worlds. You get the backyard swimming pool that you've always with the relaxation you need from a hot tub. And with easier installation, a more affordable price, and energy-efficient design, you are able to enjoy a swim spa every day of the year.
But at Master Spas, we know that buying a swim spa is a big decision. It's important for you not to just get a place to exercise and relax but invest a quality product.
Before you head to the dealer, we want to ask yourself some questions. They're not hard, we promise. It's just a way for you to narrow down your wants so you can get the swim spa you deserve.
And, it will help you will feel confident throughout the process.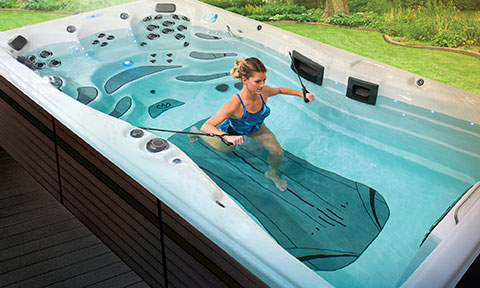 What is a Swim Spa?
A swim spa is a swimming pool alternative, combining the benefits of water exercise and the therapy of a hot tub. A fraction of the cost of an inground pool, a swim spa from Master Spas can be installed in less than a day. (When you're ready, of course!) A jet or propulsions system creates a current of water that allows people to exercise in place. Whether you enjoy swimming, jogging, or walking, you can move without really moving.
Swim spas, which are built for year-round use, also have adjustable massage jets — just like a hot tub. With the option to adjust the temperature, you can relax in warm water when lounging or lower it to the 80s for exercising.
But unlike a hot tub, there are additional therapy options — such as the Xtreme Therapy Cove. The unique set of jets targets the muscles of the back and legs to help everyone, from beginner to athlete, recover from exercise.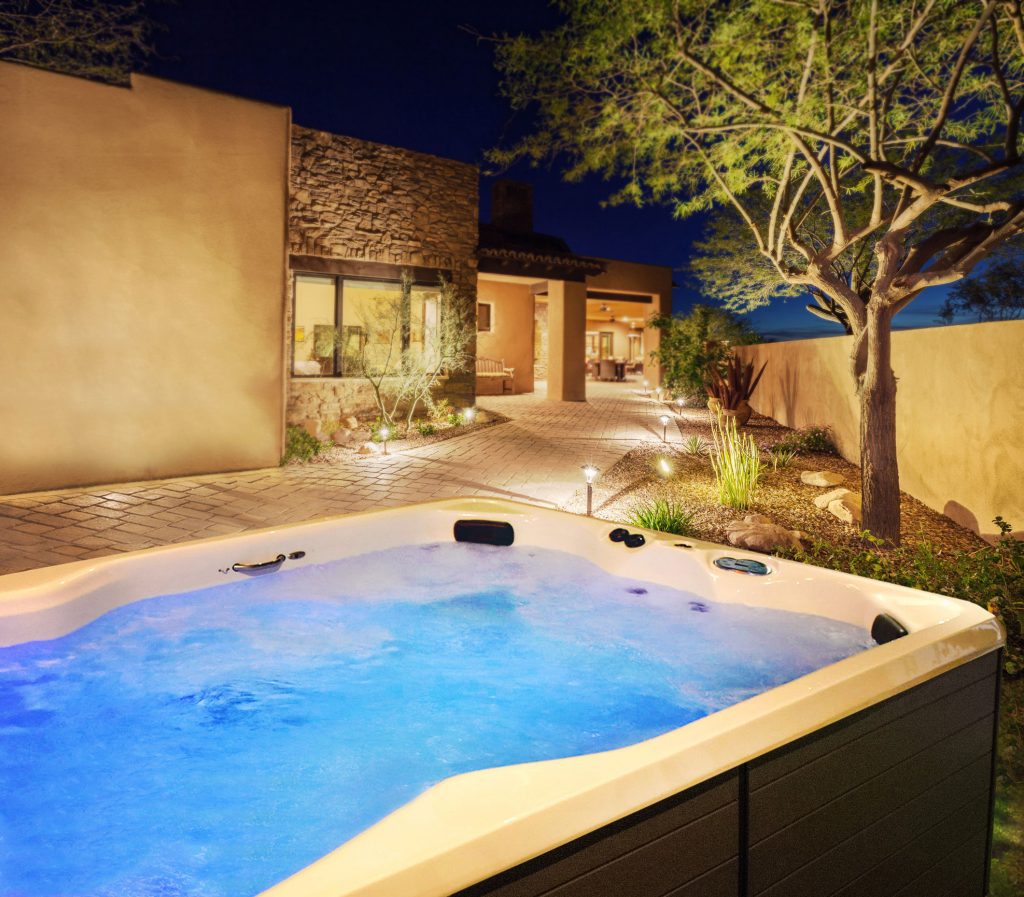 Keys to Buying the Best Swim Spa
Where do I want to put my spa?
Master Spas makes swim spas in a variety of sizes, from 11 feet long to 19 feet. Swim spas require a level surface that can withstand the weight of the unit filled with water. Be sure to account for at least two to four feet around the area of your hot tub.
But you can choose to have it installed outdoors or indoors, although the latter requires proper ventilation. You can put it on a stamped concrete patio or surround it by decking. There is also the option to have a recessed installation that mimics the look of an inground swimming pool.
Something to consider: You will want to have quick access to your swim spa. In fact, it's recommended that it is no more than 10 paces from the access to your home. Anything farther has been shown to limit how often homeowners use their swim spa.
Why do I want a swim spa?
Don't let the name fool you. While a swim spa is great for practicing your freestyle, it can be used for much more than that. The natural buoyancy and resistance of water offer a low-impact environment that is ideal for exercise. Are you new to working out? You might enjoy a place where you can start at your own pace and enjoy having privacy. Do you suffer from a chronic condition, such as arthritis? You will enjoy increased range of motion and flexibility in a swim spa. Are you an athlete wanting to take your performance to the next level? You can change the speed of the current to increase the challenge, as well as use a swim spa to cross train and help prevent injury.
Or, maybe you want a place to have fun and entertain friends and family. And, we have to admit, a swim spa is great for that.
But the right swim spa for you will depend on the "why." A knowledgeable Master Spas dealer will help to guide you to the right line and model based on that answer.
What features do I want?
From built-in luxuries to optional packages, a swim spa from Master Spas has a lot of features.
There are jets, which deliver a custom massage; waterfalls and other water features, which add to the ambiance; and technology, such as music systems and Wi-Fi controls.
The therapy side of a swim spa from Master Spas will have jets but the number will vary among models, as well as the arrangement and pattern. Consider where you will need the most relaxation. Do you spend your work day on your feet? Some swim spa models include the Master Blaster Foot Therapy, which provides an all-encompassing foot massage.
Other features available for a Master Spas swim spa: lighting packages, water features, and upgraded water purification systems.
What do I want to spend?
It's important to know the budget for your swim spa and whether you will need financing. Having a number in mind will help your dealer, as well as make sure you get the best value.
But you also have to take into account the other costs — installation, monthly electric use, chemicals, and accessories.
Buying a swim spa that is "affordable" might look good on paper. However, it's likely to cost you more in the long run.
Swim spas from Master Spas are made with high quality materials and built to be energy efficient. Energy-efficient foam insulation will keep your water warmer longer so that you don't have to use as much energy. DuraMaster Premium™ polymer skirting and tight-fitting covers keep out the elements, adding years to the life of the spa.
How can I buy the best model?
We understand that there's a lot of information available, and it can feel that it's conflicting.
But here's what you need to know about us. Master Spas is the largest swim spa manufacturer in the world. It's not just making the most swim spas but offering a quality product.
We have been recognized by the Better Business Bureau and the Association of Pool & Spa Professionals for our customer service and innovation, respectively. We are also a TradeCertified™ company and member of the International Hot Tub Association.
More importantly, our customers have good things to say. Look at the reviews on our website that have been submitted by verified customers. You can learn how people use their swim spas — and why they love them.
Master Spas wants to make buying and owning a swim spa as relaxing as using one. Going to your local Master Spas dealer prepared will help you feel confident — and relaxed.