Your backyard is a space where you can sit under a patio umbrella, host a barbecue, or watch the children play. But could it be more than that? With a hot tub, your backyard can transform from ordinary to an outdoor sanctuary. A hot tub not only offers a place to relax and gather with loved ones but destress.
But when you decide to invest in a spa, you want to get the best hot tub for your home, budget, and lifestyle.
Here are the best hot tubs for 2021, whether you are looking for at-home therapy or a place to entertain.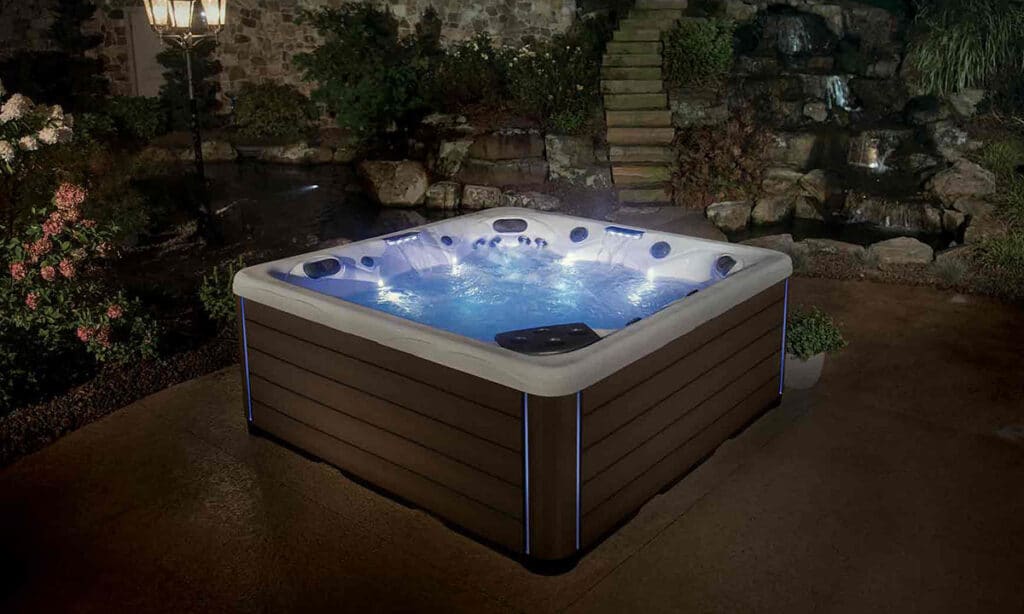 Best Hot Tubs for 2021
Best Overall Hot Tub
A part of the best-selling hot tub series from Master Spas, the Twilight Series TS 8.2 is a six-person hot tub that has 44 jets. There is a full-size lounge, StressRelief Neck and Shoulder Seat, and biomagnetic therapy. The seating arrangement allows for hot tub owners to target different areas of the body, depending on where they feel the most stress.
This hot tub ranks as one of the best for 2021 because of its size and versatility. An eight-foot by eight-foot spa, the TS 8.2 has room for the whole family without compromising valuable backyard real estate.
What our customers are saying: "We love our new hot tub and use it as much as the weather permits. Each seat provides the therapy we need to different spots on our body, and helps relieve our stress from our busy lives!" — Tivo30, Michigan
Best Hot Tub for Groups
Bigger isn't always better but if you have a large family or a lot of friends, bigger can be best when it comes to a hot tub. An eight-person hot tub, the Clarity Series Balance 9 is designed for those who want to enjoy life — and share it with loved ones. The Balance 9 has an open seating arrangement, 57 therapy jets, and LED lighting.
What makes this model one of the best hot tubs for 2021? The Balance 9 comes in at an affordable price point while being made with quality materials .
What our customers are saying: "We use the tub almost every day. It is relaxing, and in the summer heat it makes watching the sunset a cooling off time." — Cliff, Texas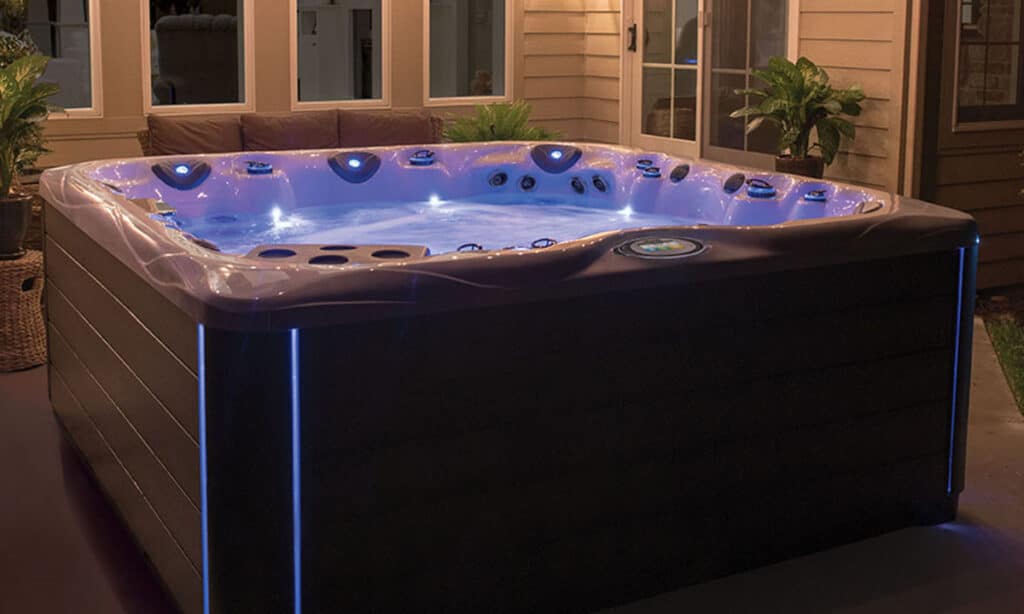 Best Hot Tub for Easy Maintenance
Hot tubs by Master Spas feature the EcoPur Charge filtration system, which makes water care easier. The system uses naturally occurring minerals to purify the water with less chemicals than other systems.  
But why does the LSX 800 rank highest? This six-person hot tub has 70 orbit jets, lounge seating, and Master Blaster Foot Therapy. It brings a luxury spa experience to the privacy of your backyard.
What our customers are saying: I have owned several different hot tubs and found that the LSX800 is by far the best hot tub I have ever owned! The power of the jets give me the massage I need. I have a very bad back due to a couple of bad car accidents and found the massage is incredible! I have also had major surgeries on my legs dating back to my athletic days and noticed that the leg jets in the lounger have improved my mobility greatly." — Sean, British Columbia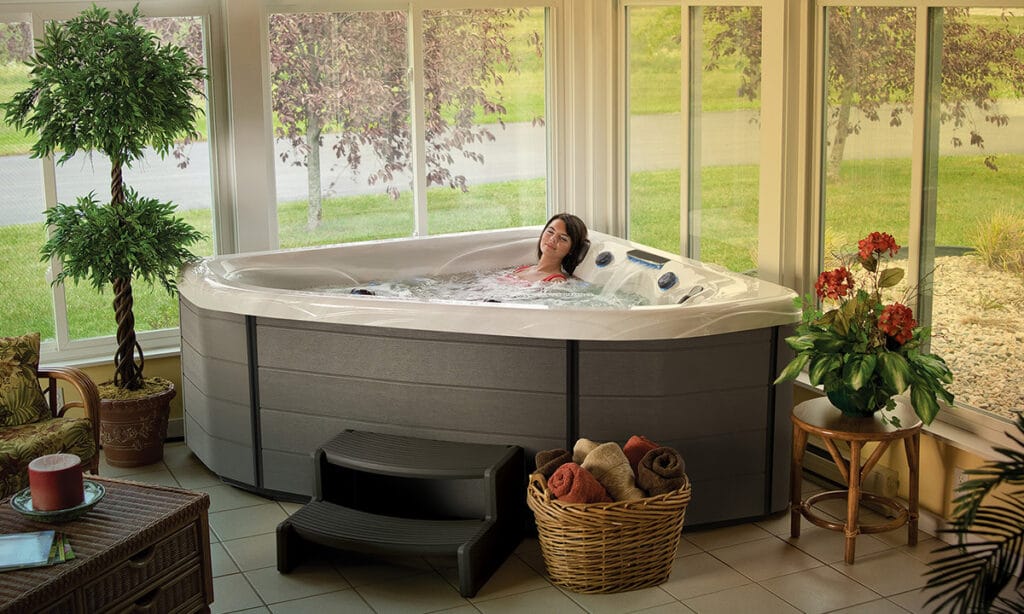 Best Two Person Hot Tub
Sometimes you just want to relax solo or with the person you love most. The Twilight Series TS 240 is a cozy corner hot tub that is perfect indoors or out. While it's smaller in size, it still has the power and hydrotherapy of a larger hot tub. There are two pumps, which power 26 hydrotherapy jets. The TS 240 also has dedicated foot jets, a waterfall, and LED lighting.
The TS 240 made the list of best hot tubs for 2021 because it allows you to make the most of the space you have.
What our customers are saying: "We love our TS 240 and use it everyday. It has really helped ease my shoulder and back pain. It is so relaxing and when used before bedtime I have noticed I sleep much better. The size is perfect for two adults. I would highly recommend." — Sandy, California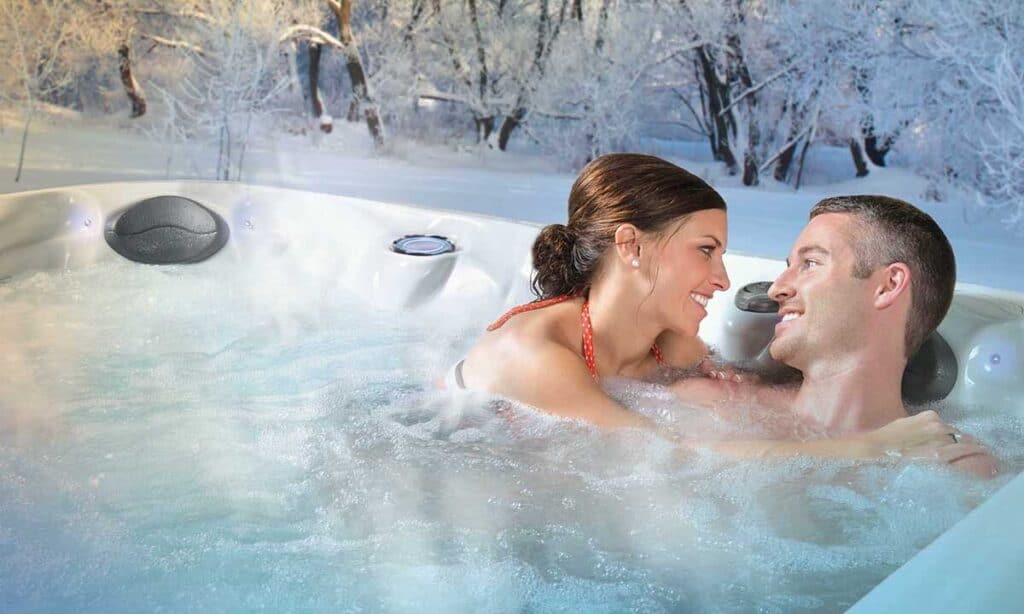 Best Hot Tub for Small Spaces
At 71 inches by 87 inches, the Ocho Rios SE is a four-person hot tub that fits in almost any space. Whether you have an existing concrete pad or a screened in porch, the Ocho Rios can make it easier to relax at home.
This spa has 17 hydrotherapy jets, water feature, and colorful lighting.
This hot tub makes the best of 2021 list for its convenience, making it easier for you to prioritize you.
What our customers are saying: "Our hot tub has made staying at home like being on vacation! We love being able to enjoy the evenings under the stars. Our model is just the right size for us, and everyone at Master Spas has been so helpful as we learn how to care for our spa." — Mary, Indiana
Best Budget-Friendly Hot Tub
Hot tubs range in price from $5,000 to $20,000. When you are buying a hot tub, you want to find the best model without busting your budget. The Clarity series Balance 7 might be more affordable than comparable acrylic spas but it's made to Master Spas construction standards.
The Balance 7 is made in Master Spas' most popular size and will make a great addition to your backyard. It has a full-size lounge, StressRelief Neck and Shoulder Seat, and contoured comfort pillows.
What our customers are saying: "We enjoy our hot tub just about everyday. It is very easy to maintain and the expense is minimal. Such a wonderful way to relax and ease our aches and pains! Definitely would purchase again and highly recommend it!" — Rosie, North Carolina