Mirinda Carfrae and Jordan Hasay are both known for their strength and speed over the course of the marathon distance. But the professional athletes are not likely to toe the start line nor be at a press conference together.
Carfrae, as a professional triathlete, holds the run course record at the IRONMAN World Championships in Kailua-Kona. Hasay is a professional runner who has posted some of the fastest marathon times for an American woman.
While they are in different sports, the two were both part of a unique panel discussion hosted by Master Spas.
The world's largest swim spa manufacturer brought together members of Team Master Spas: professional triathletes Ben Hoffman, Mirinda Carfrae, Tim O'Donnell and Meredith Kessler; professional runner Jordan Hasay; and influencers Taren Gesell and James Lawrence.
Kevin Richards, Vice President of Marketing and Sales, moderated the conversation, which was a part of the company's annual dealer meeting — The Sky's the Limit.
"This year was the first time we have ever held a virtual dealer meeting, bringing together our global network of dealers," Richards says. "While we had to pivot, the virtual platform afforded us the unique opportunity to bring together all of our athletes.
"Our Team Master Spas program has grown this year, as being able to swim at home was crucial. This panel discussion gave our dealers insight into how these athletes are integral part of the Master Spas family."
Swim Training in a Swim Spa
For athletes who are used to swimming laps in a pool, the swim spa experience will be different. Gesell found really quickly that swimming in a swim spa requires good technique.
"It's just repetition upon repetition while I'm swimming, probably, less than I was two seasons ago," says Gesell, who is known on YouTube as Triathlon Taren. "I can swim more efficiently, be more efficient with my time, and still make improvements."
A swim spa by Master Spas features an endless current that allows athletes to swim in place, similar to a treadmill for runners. Simulating the experience of swimming in open water, athletes can take time to get in a groove without flip turns. Many swimmers find that they have to engage their core to keep good technique and stay in the channel of water.
During the panel discussion, Hoffman adds that there are recovery benefits to being in the water. The buoyancy and resistance can be therapeutic. For Hoffman, though, an easy swim can be helpful.
"I've been amazed just having it in the backyard … I know that I'm going to feel better tomorrow after my hard bike or run, so I'm going to jump in and splash around for 15, 20 minutes."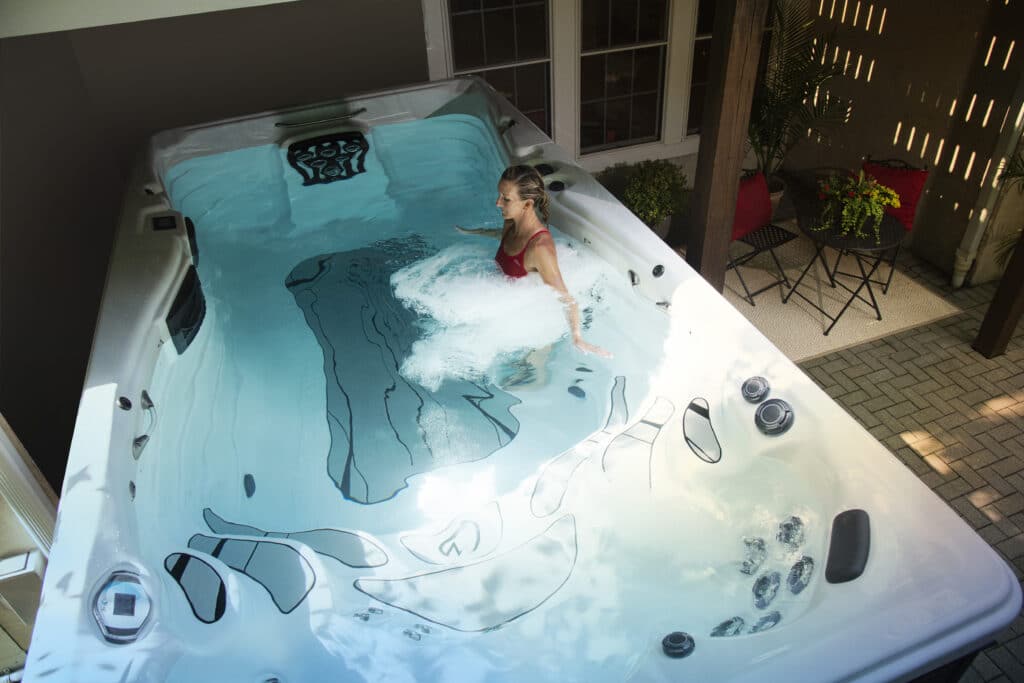 Training (and Relaxing) at Home
"Given that we're home a lot more during the pandemic," Kessler says. "It gives us one more resource."
An 11-time IRONMAN champion, Kessler joined Team Master Spas in spring 2020. The professional triathlete wanted a way to continue her training while the country was on lockdown.
An H2X Challenger 15D swim spa gave Kessler a space to swim and train in the convenience and safety of her backyard. But more than that, she says in the discussion, it's a place for her family to unwind at the end of the day.
"It's an anxious time for everybody, even if you are a bit insulated," Hoffman says. '… Having that hydrotherapy aspect to it, where you can just go out and relax, it's a bit of a meditation. You can give yourself time every day … to let go of that stress."
Hoffman, who has a young daughter, says that she loves to play in the swim spa at the end of the day. After a hard day of training, it's a great place to reconnect with Josie and wife Kelsey.
"It's become the focal point of our backyard where we get together as a family," the seven-time IRONMAN champion says.
James Lawrence made a name for himself when he completed 50 IRONMAN-distance triathlons in 50 states in 50 days. A motivational speaker and athlete,
"We were in panic mode," he says. "My wife and I are both athletes, and it's our escape. … it was great to get out there and escape."
The family has not only trained in the swim spa but also hosted family and friends, allowing them to spend time outdoors during a challenging time.
Related post: Real Mothers of Triathlon Event
About Team Master Spas
Master Spas believes every person, every athlete, should have the opportunity to be their best self — whether it's reaching a fitness milestone or making it to the top of the podium. It can be challenging, though, to balance dreams and passion with real-life demands.
Through Team Master Spas, the swim spa manufacturer helps athletes balance their training with the other things in their lives.
A swim spa by Master Spas allows them to swim and exercise in the convenience and safety of their backyard, almost becoming a training partner.
Team Master Spas athletes are training in Challenger series swim spas, which are a part of the H2X Fitness Swim Spas by Master Spas. Challenger series swim spas feature an airless jet system, bridging the gap between traditional jetted swim spas and propulsion systems.