As an athlete, you are always setting goals — it's a way to challenge yourself while staying focused. You want to get stronger. Go farther. Be faster.
While training for an IRONMAN-distance triathlon or working toward a personal best in the pool, the training can feel like a solitary effort. But a good support system is crucial to your success. Family and friends offer encouragement. Training partners push us. Coaches offer important feedback, and the right gear will help you perform your best.
Not only will your support system help you stay focused, you will feel confident and prepared on race day.
With the all new H2X Challenger Pro swim spa by Master Spas, athletes can put more into their training without taking away from family and recovery time.
Master Spas, the world's largest swim spa manufacturer, unveiled the all-new H2X Challenger Pro swim spa at Challenge Daytona.
The 18-foot swim spa is the ideal training partner for competitive age group athletes, as well as elites, helping them to maximize efficiency and performance.
"After working with our professional athletes, we felt there was a real opportunity to take our Challenger Series to the next level,"says Kevin Richards, Master Spas Vice President of Sales and Marketing. "The new swim spa allows for an even smoother and faster swim experience. The new Challenger Pro by Master Spas will change the way athletes are able to train at home."
Challenger Pro Features
Building on the success of the H2X Challenger series, the H2X Challenger Pro is an 18-foot swim spa. It has three swim pumps and six airless jets for maximum performance. The increased water flow allows you to train at faster paces without sacrificing visibility and swim experience quality.
Even the tallest swimmer can enjoy the workout in the obstacle-free swim area. Practice your front crawl or work on your butterfly. You can also use underwater mirrors or a GoPro-style camera to get feedback on your stroke. You can use the information to refine your technique.
The swim spa has hydrotherapy features that are ideal for recovery and relaxation, including the stand-up Xtreme Therapy Cove. Users can adjust the flow of water through the jets to get a personalized massage, helping them to feel better and recover faster.
A popular feature exclusive to Master Spas, the StressRelief Neck and Shoulder Seat allows you to relieve tension where you need it most. The out-of-water jets are positioned downward to hit just the right spot while adjustable therapy jets massage your back and hips.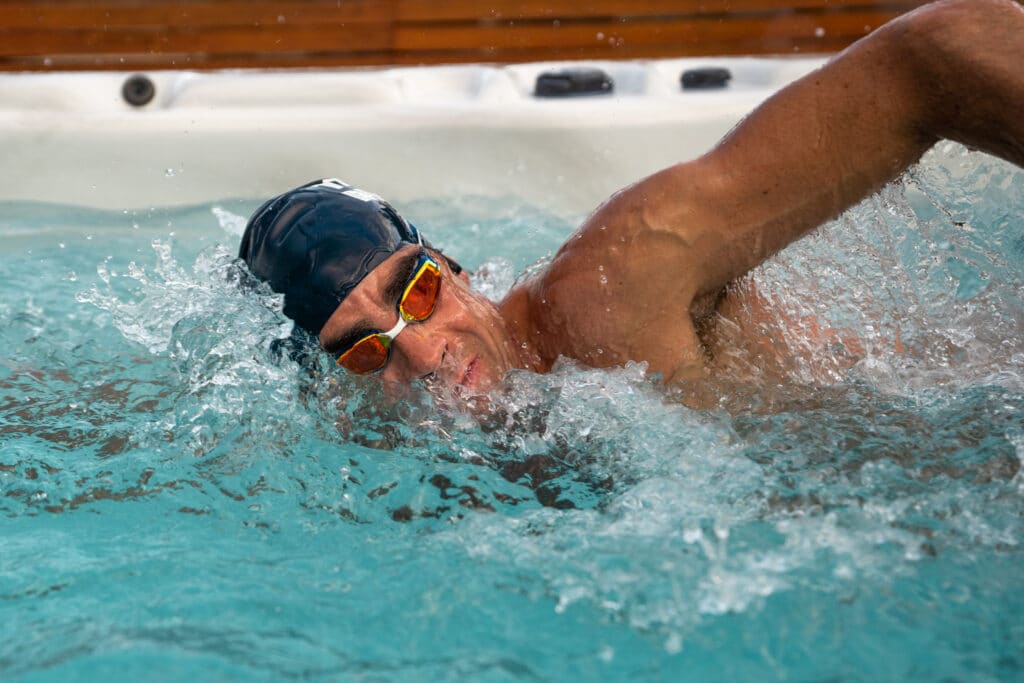 H2X Challenger Series Swim Spas
The H2X Challenger Series entered the market in 2019, and it was the first variable-speed jetted swim spa. This technology allows for a customizable user experience, and the control panel allows workouts to be pre-programmed with ease.
The unique airless jet system creates a water current that is more efficient, powerful, and smoother than the competition. With the ability to control the resistance and temperature, novice swimmers to competitive triathletes can enjoy a continuous swimming experience that mimics open water.