It's true. The delivery and installation of your hot tub by Master Spas takes less than a day. When the day comes, a skilled delivery team to move the spa from truck to its new home — whether by cart, forklift, or crane. It is an exciting and sometimes anxious process.
But you can minimize any stress you might feel by properly preparing for your hot tub delivery.
Just a little prep work can make the delivery smooth for you — and the Master Spas team. New hot tub owners should check the delivery path, coordinate with the electrician, and mark the spot before the spa arrives.
Check out these pro tips and prepare for your hot tub delivery so you can enjoy your Master Spa for many years to come.
Pro Tips for a Smooth Hot Tub Delivery
Measure Once, Measure Twice
The delivery team is filled with pros, and they can skillfully maneuver through spaces to put your hot tub in place. However, there should be enough clearance to move the tub on its side. Measure any gates or tight areas that the team will have to navigate. And then measure again just to be sure.
Pro tip: While you are measuring, take note of any uneven ground, low-hanging structures, or A/C units that might affect the delivery team.
Coordinate with Your Electrician
Most hot tubs by Master Spas require a dedicated 220V/50-amp GFCI hook-up. This connection can be set-up before your hot tub is delivered. However, your hot tub should be connected by a licensed electrician who has experience installing spas. 
Pro tip: Schedule the electrician to come when the hot tub is delivered. The electrician can coordinate with the crew enough so you can minimize how much time you have to wait before soaking.
Related: Electrical diagrams for Master Spas hot tubs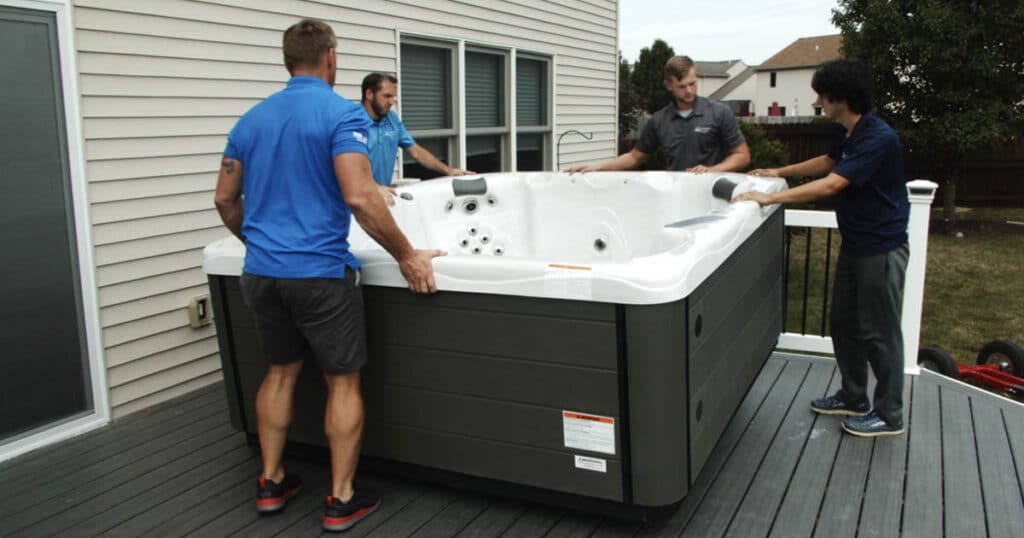 Be Certain About Location
It can be hard to envision what your hot tub will look like in your space until it's actually there. This can be especially true if your hot tub will be installed on a larger patio or reinforced deck. But a hot tub can be hard to maneuver once the delivery team leaves. It will be impossible to move when it's filled.
Pro tip: Before delivery day, mark the spot with some painter's tape and make sure you are happy with the location.
Pick Up Your Space
Clear the way for your hot tub! Literally. The path the delivery team will take should be free of obstacles, including patio furniture, toys, and yard equipment. In the days leading up to your hot tub's arrival, take a few minutes to clean up your space. Not only will it make the delivery easier but it will mean that you can have the picture-perfect set-up after the spa is filled.
Pro tip: It's also a good idea to trim any tree limbs or bushes that can prevent easy access.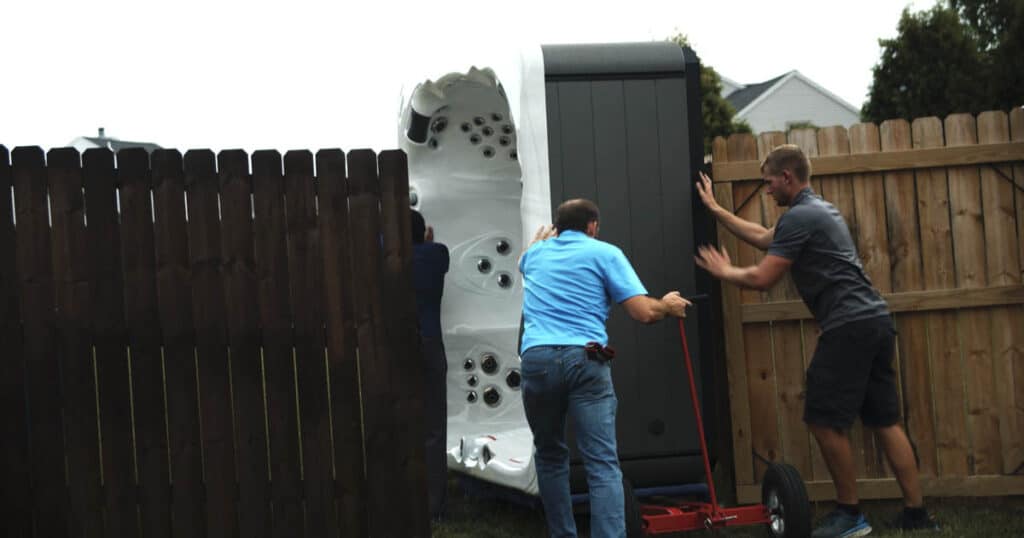 Let Your Neighbors Know
The neighborhood might be jealous that you are going to have a hot tub in your backyard. But you don't want your neighbors to be mad. It's a good idea to let them know that you have scheduled the delivery of your hot tub. The truck might be parked in front of their house, or the crew might use your side yard to deliver. A head's up can help them avoid a surprise.
Pro tip: You can even keep them in good spirits by extending an invitation to hang out once the hot tub is filled and ready to enjoy.
Doggy Daycare
Hot tub delivery day is very exciting, and the four-legged members of your family will be especially enthusiastic. But a rambunctious pup can add some stress to delivery day. The gates will be open and strangers will be visiting the dog's space. Consider taking your dogs to a friend's or daycare for the day.
Pro tip: Pick a doggy daycare with lots of fun activities. It will make it feel like a treat for your pet.
Check In and Relax
The Master Spas delivery team is skilled at installing hot tubs. It's important, though, to check in to see how things are going. Introduce yourself to the team lead and make sure they don't have any questions about location or need anything to make it easier. Once the team is set, sit back and relax.
Pro tip: Set out a cooler with bottled water and sports drinks for the crew. It will keep them hydrated and help them feel at ease.