When it comes to planning a hot tub party, size does matter. Family and friends will appreciate having room to spread out and enjoy each other's company.
The perfect spa for your hot tub party will have enough space to seat your friends; plenty of jets so everyone can relax; and an efficient design so that the sound of the motors does not interrupt the conversation.
Oh, and we think it's important for there to be an element of fun, too.
Master Spas has 10 hot tubs that comfortably seat at least six adults. The models offer the hydrotherapy and relaxation that guests will love, and you'll have the option to add entertainment features such as colorful lighting and sound system.
Hot Tub Party Tips
A hot tub party can be a lot of fun but keep the following things in mind.
Turn on the heater and pumps before guests arrive.
Make sure guests rinse off before entering the tub. Rinsing off helps keep the hot tub water clean.
Have extra towels on hand.
Make sure everyone stays hydrated. Offer a variety of beverages — such as sparkling water, iced tea, and flavored lemonade.
No glass near, around, or in the hot tub. Broken glass is a safety hazard, and it's best not to risk it.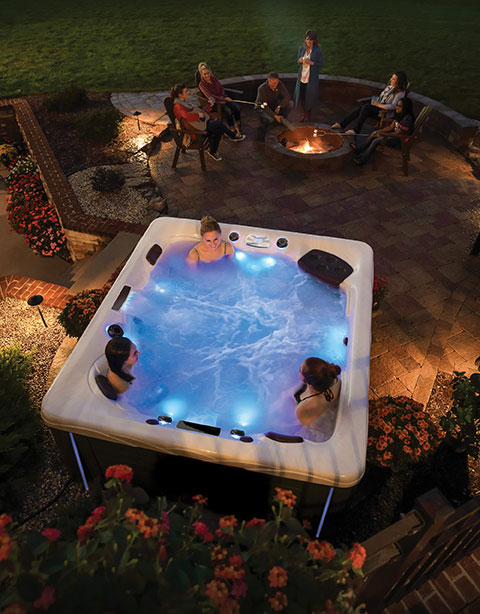 Best Hot Tubs for Entertaining
With seating for seven, this hot tub is the ultimate in luxury. There are 72 jets, lounge seating, and LED lighting to help you make guests feel welcome.
This hot tub has an open seating that accommodates six adults. Guests will enjoy the 36 premium jets, the StressRelief Neck and Shoulder Seat™, and Master Blaster Foot Therapy.
Forty-four jets, lounge seating, and water features will wow your guests. This premium hot tub can seat up to six adults.
Get ready for it. This hot tub seats eight adults without compromising on the relaxation features you seek in a hot tub. It has many of the same features as the Twilight 8.2 but a different seating layout for entertaining and a few extra jets.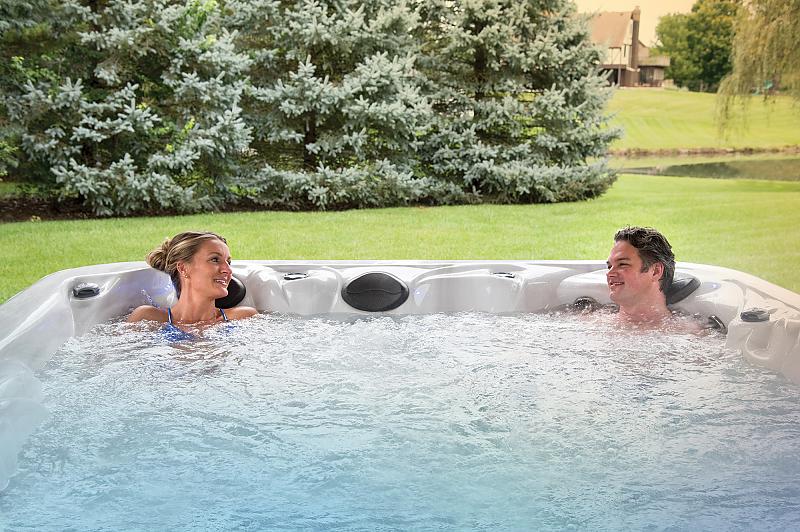 With the large, open seating design, there's plenty of space for seven people – without compromising therapy. The Stress Relief Neck and Shoulder Seat experience will undoubtedly be the highlight of your party.
This model has a generous amount of space, so friends and family can spread out. With dual therapy pumps and 48 massaging jets, the Balance 8 is designed for six adults.
There's a waterfall, LED lighting, and 38 therapy jets that will help friends relax and reconnect. This model, which seats up to seven. Part of the Clarity series, this hot tub makes hydrotherapy more affordable.
Check out how Master Spas makes hot tubs on its Indiana campus.