The movements are familiar and the music is fun. While you know you are in a water aerobics class, you feel more like you are splashing around than exercising.
A popular fixture on gym schedules, water aerobics classes often incorporate traditional exercises — jumping jacks, jogging, and curls. However, the low-impact environment makes the movements easier to do and with less stress.
But as the seasons change, it might be challenging to make it to your favorite pool aerobics class. Your schedule is busier, and the fitness facility hours might be limited. Routine maintenance, which can close a pool for a couple weeks, is also scheduled during this slow period.
You want to maintain your workout motivation, though. Exercising in the water has been beneficial for your physical and mental well-being. As you feel the cold air on your walk from the car to the pool, you wonder, "How can I do water aerobics at home?"
A swim spa by Master Spas brings the benefits of a water aerobics routine to the convenience and comfort of your backyard. Insulated and designed to be used year-round, the water temperature can be set to your ideal range.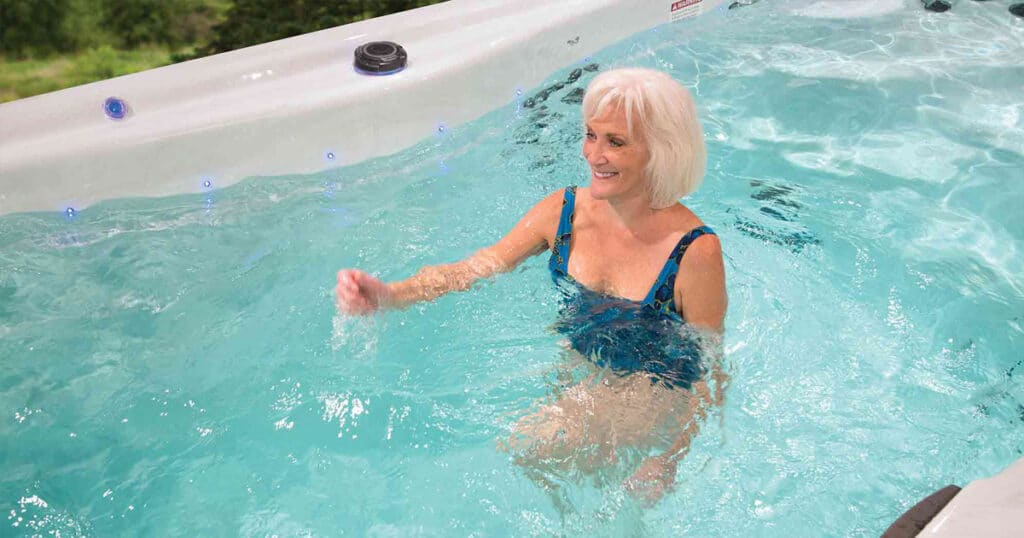 Water Aerobics at Home
Whether you are new to exercise or want to shake up your current routine, water aerobics is ideal for most people. The water is a fun environment where aerobics feels more like play than work.
These five exercises can be a part of any water aerobics routine, whether you are at home in your swim spa or in a pool. You can focus on one exercise for a session or incorporate three or four for a circuit-style workout.
Water Walking
Water walking is a gentle cardiovascular exercise. A low impact way to move, it allows you to improve your overall well-being without putting extra stress on your body. Walking in the water can benefit heart, joint and bone health, making it ideal for people new to exercise, recovering from injury, or with limited mobility.
Select swim spa models from Master Spas offer increased depth, reducing the effects of gravity on your body. In chest deep water, a 160-pound person will "weigh" 16 pounds.
As you walk in a swim spa, maintain a tall posture and move with a natural gait. Swing your arms naturally and avoid walking on your tiptoes.
Aqua Jogging
Want to go for a run? Before you lace up your sneakers, consider slipping on your swimsuit and running in the water. Aqua jogging is a great way to log miles without the stress of land-based running. The added benefit of running in a Master Spas swim spa is the SoftTread non-slip flooring system, which offers comfort and traction while you exercise.
In a swim spa, the continuous water current provides resistance — an added challenge. By changing the speed of the current, you can go for a slow jog or work on speed with interval training.
To go aqua jogging, be sure to jog forward with high knees and a tall posture. Be sure to follow an opposite arm/leg motion.
Related Post: Water Running Benefits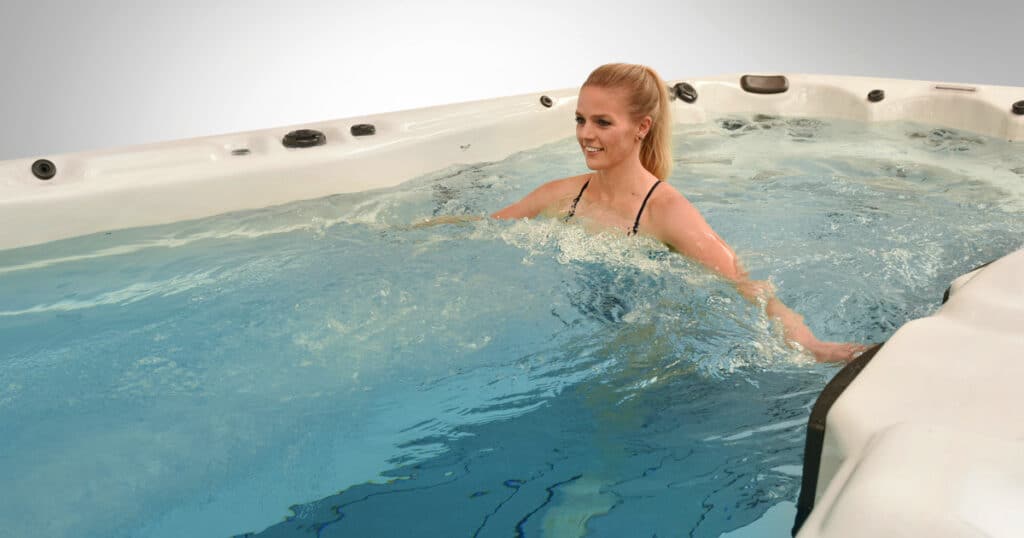 Rowing
Swim spas by Master Spas come with the complementary H2Xercise kit, which includes dumbbells, exercise bands, and rowing bars. A rowing session will utilize your arms, chest, back, and abdominals while increasing your heart rate. In the swim spa, clip the bars into the base on either side. Sit with good posture, core engaged. Grip the handles and perform a rowing motion, using the arms equally.
Related Post: Interval Training in a Swim Spa
Seated Bicycling
Exercise sitting down? Yes, please! For this water aerobics exercise, sit on the therapy side of the swim spa. Place your hands on either side of your hips for stability, and sit with upright posture. Be sure to engage your core, which helps support the low back! To perform the exercise, move your legs in a bicycling motion in the water.
Swimming
When people think about exercising in water, more often than not, they will think of swimming. And for good reason. Swimming is a total-body exercise that is gentle on the body, and it helps you build strength and endurance.
Related post: Swimming in a Swim Spa 101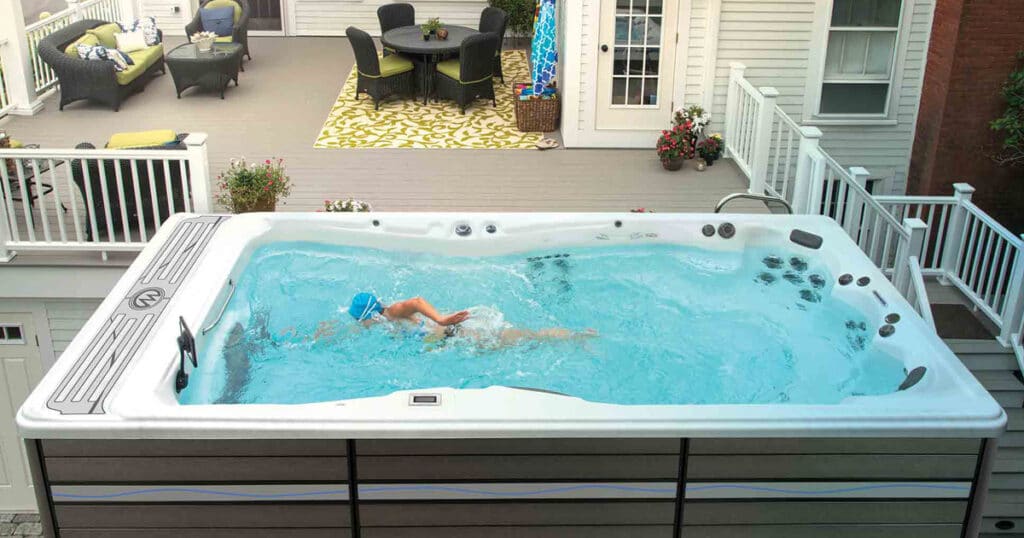 If you like this post …
Therapy Exercises for Shoulder Injuries
Beginner-Friendly Water Workout