It was nearly 30 years ago that Terry was diagnosed with spinal stenosis. The condition, which causes a narrowing of the spine, affected how the New England woman lived and moved. She regularly woke up in pain and would sometimes walk with a limp.
A chronic condition, spinal stenosis can be managed with pain relievers, physical therapy, and steroids among other treatments.
But it was regular aqua therapy exercises in a swim spa that changed Terry's quality of life.
Alongside her husband Joe, Terry began exercising in an H2X Challenger 15D by Master Spas. They exercise for about an hour, three times a week, in the warm water of the swim spa. Their full-body water workout routine includes exercises for balance, strength, and cardiovascular health.
In a recent Facebook Live video with Ben Gilliam and Mari Cuticelli, the couple shared how the swim spa has helped them and what aqua therapy exercises they like to do.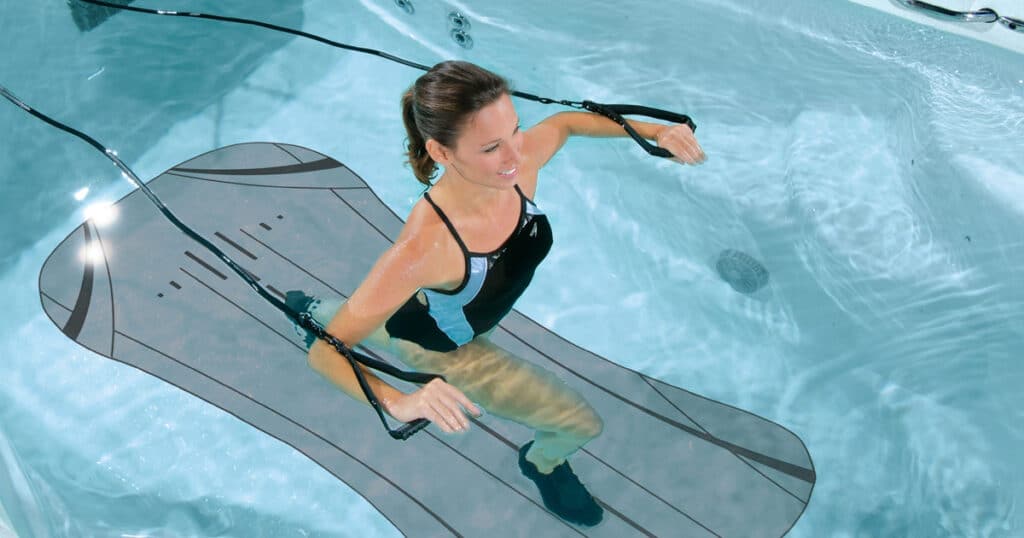 Benefits of aquatic therapy
When people have chronic pain, often the last thing they want to do is exercise. The movement can help but it's hard to get started when your body is hurting. Working out in the swim spa relieves the stress on the joints.
Terry had heard about the benefits of water exercise, especially using a swim spa. However, she was hesitant; she did not want to be cold or wet.
But all it took was one session in the swim spa to ease her worries.
"The first time, I realized, 'Wow! The water temperature is excellent,' " Terry says in the video.
Three months later, she reports that she has seen a tremendous change in her pain levels.
People who struggle with discomfort or pain while exercising on land can work out comfortably in the water. Incorporating water and water temperature, aqua therapy exercises can help you get active and stay active. The natural properties of water — buoyancy and resistance — offer support and improve range of motion.
Aquatic therapy can improve strength and decrease pain for people managing a chronic condition, like Terry. It can also be used for recovering from an injury or surgery.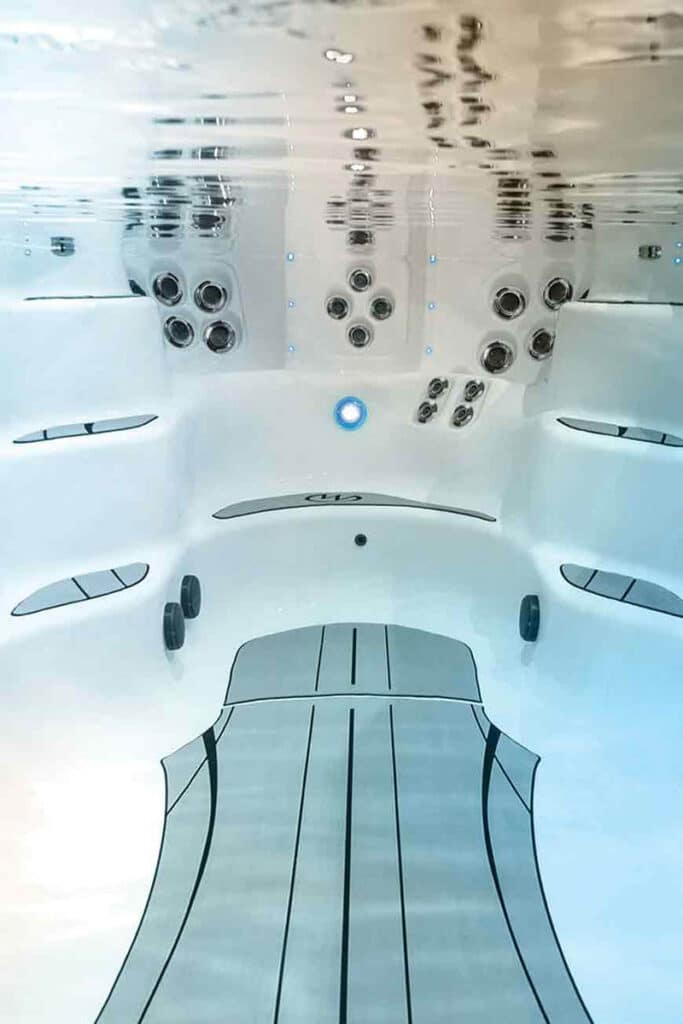 Aqua therapy exercises for every body
Most swim spas by Master Spas come with an H2Xercise equipment kit and accompanying exercise book.
The book, written by aquatic exercise expert Dr. Rick McAvoy,outlines water exercises and how they can benefit you based on your fitness levels. Joe used it as a guide to design a workout routine that was gentle but effective.
In the video, Joe jokes that they are deceptively effective.
"Exercises can feel easy because you don't have the impact," Joe says. "After one session, I was going upstairs. I thought to myself, 'Oh my goodness, I can really feel it.' It's a different kind of soreness."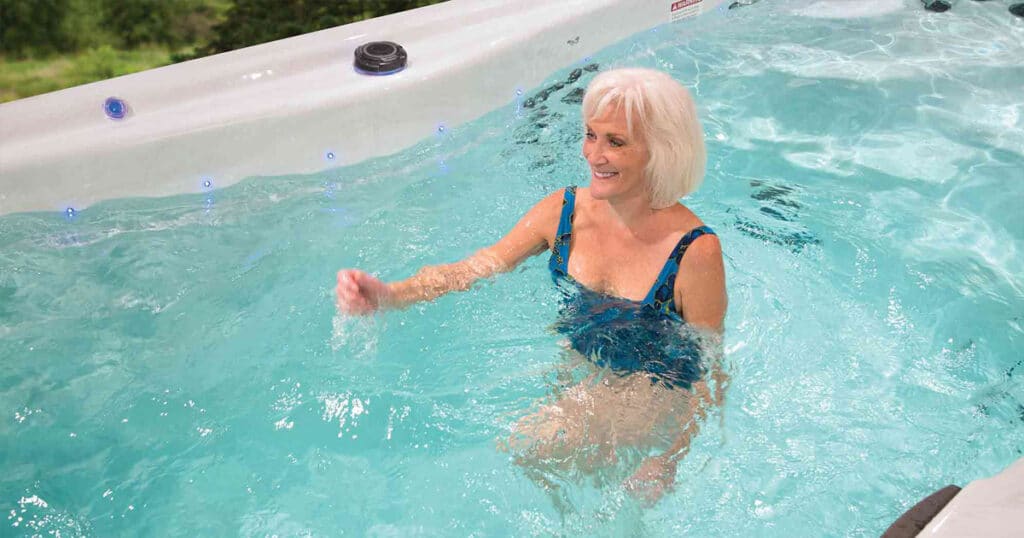 Favorite water exercises
Water walking
Walk forward while maintaining proper posture. Keep step length equal and use opposite arm/leg motion.
Walking backward
Facing the therapy side of the swim spa, stand tall with your core engaged. Step back against the water current of the swim spa.
Side steps
With good posture, engage your core. Face either long side of the swim spa. Take side steps, opening and closing arms and legs at same time. Keep step length a little larger than shoulder width. You can step against the current or walk the length of the spa. Repeat on the opposite side.
Leg lifts
Using the side of the swim spa for support, stand tall and engage your core. Lift one leg out to the side and slowly lower down. Aim for 12 to 15 repetitions per side.
Knee bend sequence
Standing, lift your knee toward your chest. Extend the foot so that your leg is straight in front of you. Bring knee in and then rotate bent leg out to the side. Step down. Aim for 12 to 15 repetitions per side.
Kickboard press down
Place a kickboard underneath one foot. Be sure to put your foot in the center of the kickboard. Press down onto the kickboard so that your leg is straight. Gently release your stance, bringing up the knee. Repeat for 12 to 15 repetitions per side.
Tricep extensions
Standing in the swim area of the spa, grab onto the handles of the H2Xercise dumbbells. Start with your elbows bent and the dumbbells near your shoulders. Straighten your arms and squeeze the back of your arms. At the end of the movement, the dumbbells should be behind you, near your bottom.
Flutter kicks
Holding onto the grab bar, allow your legs to float up to the surface. With your core engaged, move your legs up and down. Aim for 12 to 15 repetitions per set.
Scissor kicks
Holding onto the grab bar, allow your legs to float up to the surface. With your core engaged, criss cross your legs with one over the other. Aim for 12 to 15 repetitions per set.
Knees to chest
Holding onto the grab bar, let your legs float up to the surface. With your core engaged, bring your knees into your chest. Return to start. Aim for 12 to 15 repetitions per set.
How to buy a swim spa
Are you ready to begin incorporating low-impact exercise that relieves pain and improves your quality of life? Having a Master Spas swim spa at home makes it convenient and fun to incorporate water exercise into daily routine. You can click here to find out more about the benefits of water fitness and hydrotherapy. Or, contact your local Master Spas retailer to learn more about swim spa ownership. Wondering how much a Master Spas swim spa costs? You can request a quote here.