For one Michigan family, a hot tub would be a way to spend more time together while enjoying the great outdoors.
But they wanted to make sure that they were getting the right spa for their backyard.
In a review for the Twilight Series TS 7.2 from Master Spas, they share, "We did a lot of research and spoke to a lot of folks before buying our hot tub and are so glad we did!"
When you are researching a hot tub, though, you might be wondering what questions you need to ask and what information is important. You want a spa that will not only meet but exceed your expectations.
These questions will help guide you through the buying process.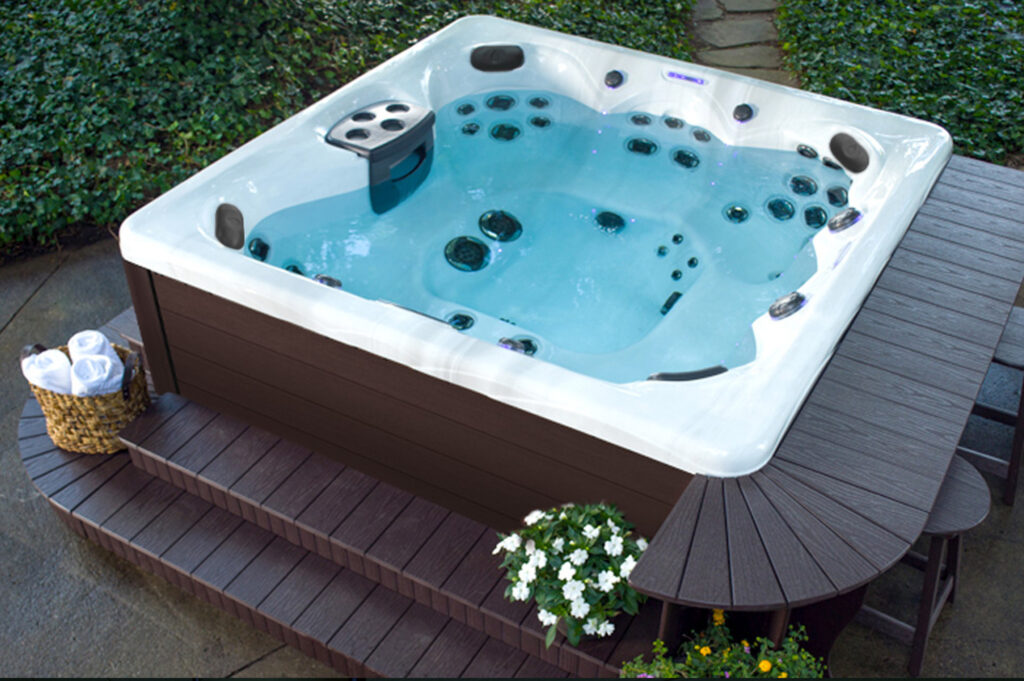 Hot tub buying considerations
Hot tubs have many benefits. They're relaxing, they help relieve stress, and they can even improve your health by improving circulation and the nervous system. Hot tubs also come in many different sizes and shapes with different features. You can find one that's perfect for your needs.
Buying a hot tub is an exciting investment but you want to make sure it's the best fit for your family, home, etc., but it's important to consider all of these things before you buy it.
What kind of spa do I want?
There are many different kinds of hot tubs available. In your search, you might come across hot tubs and swim spas, mineral filtration systems and saltwater tubs.
A hot tub is designed for people who want a way to unwind and recover from the stress of daily life. Swim spas are designed as a pool alternative, providing fitness, recreation, and family fun.
Master Spas manufactures both hot tubs and swim spas, in a range of sizes. The mineral filtration system makes the spa easy to maintain and easy to enjoy.
Determining what kind of hot tub you want will likely depend on your answers to the following questions about buying a hot tub.
How much space do I need for a hot tub?
The amount of backyard space required for a hot tub really comes down to one thing: the size of the hot tub. Spas can range in size from 6 feet wide to 9 feet wide, although the dimensions will vary model to model. You also need to plan for about 3 feet of access on each side of the spa. Why? You want to be able to access the spa's components in the event you need service.
Another consideration is the cover of the hot tub. You want to plan for how the cover will open and the dimensions of a cover shelf, if you choose to install one.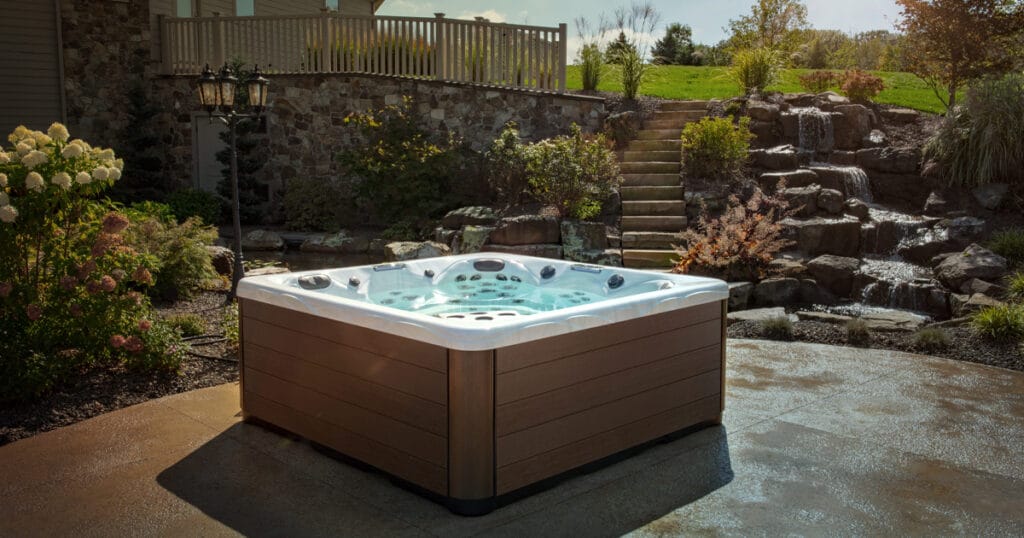 How do I choose the best location for my hot tub?
A hot tub can help transform your backyard into an oasis. Among the primary considerations for any hot tub owner should be the location of the spa. You want it to complement your existing space but still be convenient for soaking year-round.
The natural elements, though, can play a role in choosing the best location for your hot tub. You might prefer the protection and privacy that mature trees offer. However, others might install a hot tub away from trees because of the leaves and twigs that might fall.
Another consideration is how much sunlight will hit your hot tub during the day. If possible, view this location during different times of day when weather permits — this way you'll know how much sun exposure the spa will get.
But the best location for any hot tub will be a place that draws you in. After all, you are considering a hot tub because you want to incorporate the benefits of hydrotherapy into your daily life.
How will I get in and out of the hot tub?
As you move through the buying process, it's important to think about how easy it will be to get into and out of the hot tub. Be sure to consider the height of the hot tub, the water depth, and location of the seats. A cooling seat can often be a great place to step in and out of the spa.
If you have mobility issues, you might need a different set of steps or consider a custom installation. There are also after-market handrails that can make getting in and out of the hot tub easier and safer.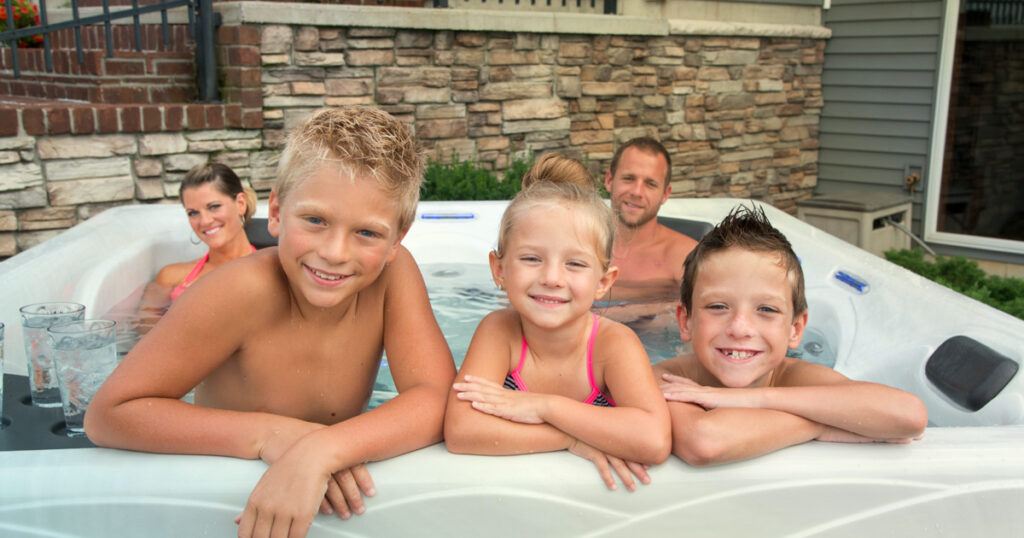 Is there enough seating for me and my family?
An important factor to consider when buying a hot tub is how many people will be using it at once. You want to make sure that there is enough seating for everyone to enjoy the hot tub.
Families often prefer a larger hot tub with an open seating arrangement, such as the Precision 8 or the Michael Phelps LSX 850. Each hot tub has room for seven adults, with a variety of therapy options.
But for some families, bigger is not always better. Homeowners Bob and Christy are empty-nesters. Instead of a larger six-person hot tub, they chose the Twilight Series TS 240 from Master Spas. The three-person corner spa complements their courtyard-style space and is the perfect size for the couple.
How will I use a hot tub?
A new hot tub can help you live life better, offering that escape from everyday life that you have been seeking. There are numerous benefits to including a hot tub into your daily routine. Regular soaks can help you manage stress and anxiety, ease aches and pains, and strengthen relationships with the ones you love the most.
One factor you should consider as a hot tub buyer is how you will use the spa. Will it be for therapy? Relaxation? Do you hope that the warm water will help you improve muscle soreness from exercise and recover more quickly? A hot tub can also be a fun spot to hang out with family and friends.
If you plan to use your hot tub for therapy, consider the hydrotherapy features and jet arrangements. Many Master Spas hot tubs include the StressRelief Neck and Shoulder Seat. This exclusive seat features out-of-water jets that target the high tension areas of your neck and shoulders. Avid cyclists and runners might appreciate a spa with a full lounger because there are jets that target the hips and legs.
Do you just want to spend time with family and friends? A spa with an open seating arrangement might be the best option.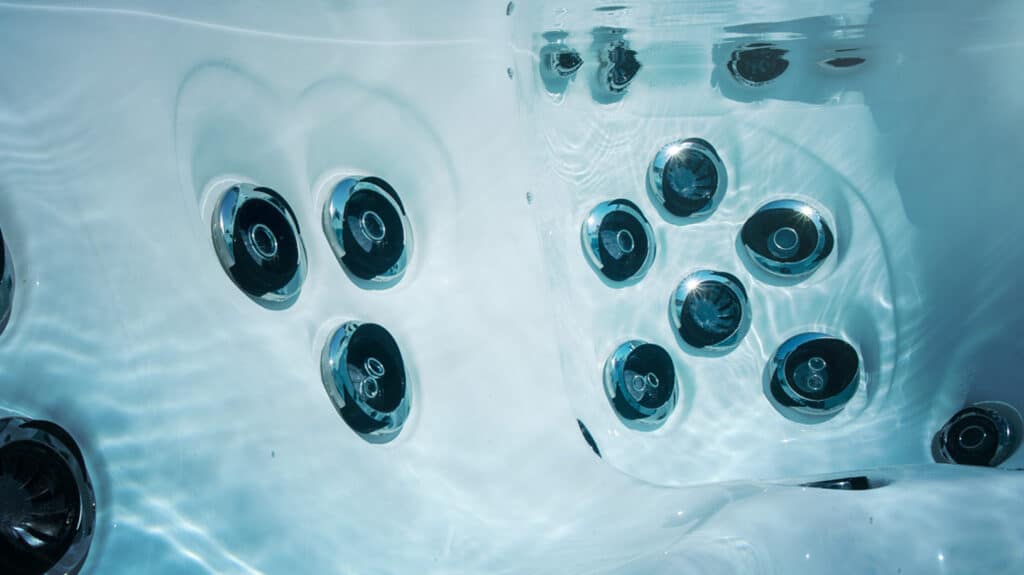 What type of maintenance is required?
Many hot tub shoppers have questions about the required maintenance. Is taking care of a hot tub hard? Is it a lot of work? What kind of chemicals do I need?
The answer is that taking care of a hot tub is not difficult. Master Spas hot tubs utilize a mineral filtration system, EcoPur Charge. This mineral filtration system takes advantage of natural elements, such as copper and zinc, to keep your water cleaner and with fewer chemicals. The result? You can spend more time soaking in your hot tub and less time on maintenance.
Master Spas owners can expect to check their water every few days, balancing the chemicals as needed. You should add a non-chlorine shock and rinse your filters once a week. You should use a filter cleaning product once a month.
How often should you drain your hot tub? Master Spas recommends changing the spa water every six months.
How well is it insulated?
When shopping for a hot tub, be sure to check the insulation. This is one of the most important factors to consider when purchasing because it directly affects the cost of operating your spa.
Master Spas models feature an energy-efficient full foam insulation. The insulation prevents heat from escaping while also protecting spa components.
What kind of warranty can I expect?
Warranties are basically promises that manufacturers make about their products, which is why they're so important.
Every Master Spas hot tub is built to exacting standards and undergoes rigorous testing before ever leaving the factory. An industry-leading warranty backs our attention to detail and quality engineering, so you can relax and enjoy your new hot tub.
Warranties can vary based on the model but will cover equipment, spa shell, and the skirting.
What are the options for delivery and installation?
Delivery and installation are usually included in the purchase agreement of your hot tub. However, it's important to discuss the path of delivery with your Master Spas retailer. Some hot tub installations are straight-forward, with the crew using a dolly or forklift. Backyards with limited access or special cases might need a crane.
Be sure to communicate with your retailer so that there are no surprises on delivery day!
The delivery crew will place your spa in the proper location and help with set-up. However, the installation will have to be completed by a licensed electrician. The electrician will hook-up the spa to a dedicated breaker, based on the electrical requirements.
Will I regret buying a hot tub?
Texas resident Suzy was living with chronic hip and back pain. Her husband lives with leg pain.
But one thing that has helped has been her TS 7.2 hot tub.
"I can't say enough about this hot tub. We have been in it every day since we filled it up," she writes. "We now have our favorite places we like to sit. You won't have any regrets with this investment on yourself."
For Anthony, a Florida man, the spa is an opportunity to unplug at the end of the night. Patty, who lives in Illinois, says she likes to start her day in the hot tub — sipping on a cup of coffee, meditating and planning her day.
But while the reasons for buying a hot tub are different, many share Suzy's sentiment.
As Anthony writes, "I love it, and would buy it all over again."
How to buy a hot tub
Look forward to spending more time in your own backyard oasis. A Master Spas hot tub can be enjoyed safely by the entire family. You can click here to learn more about the benefits of hydrotherapy. Or, contact your local Master Spas retailer to learn more about spa ownership. Wondering how much a Master Spas hot tub costs? You can request a quote here.