There are 24 hours in a day and seven days a week — that's 168 hours if you want to do the math. But at the end of the week, when it seems like you finally have a chance to breathe, do you find yourself asking:
Where did the time go? I barely had time to …
Between work and school, meetings and sporting events, it can feel like those 168 hours are not enough to accomplish life's daily tasks and spend quality time with your family.
But making quality family time a priority is important. Research shows the benefits include a greater emotional bond, improved communication, and children are more likely to exhibit positive behavior at school.
"Our research shows that, well into the adolescent years, teens continue to spend time with their parents and that this shared time, especially shared time with fathers, has important implications for adolescents' psychological and social adjustment," said Susan McHale, professor of human development and director of the Social Science Research Institute at Penn State.
When it comes to the health and well-being of your family, you want to make sure that you're doing all you can.
You might be surprised to discover that there's a way that takes the stress out of incorporating quality family time into your daily routine.
A Master Spas hot tub is a space that invites the family to spend time together, as well as physical and mental well-being.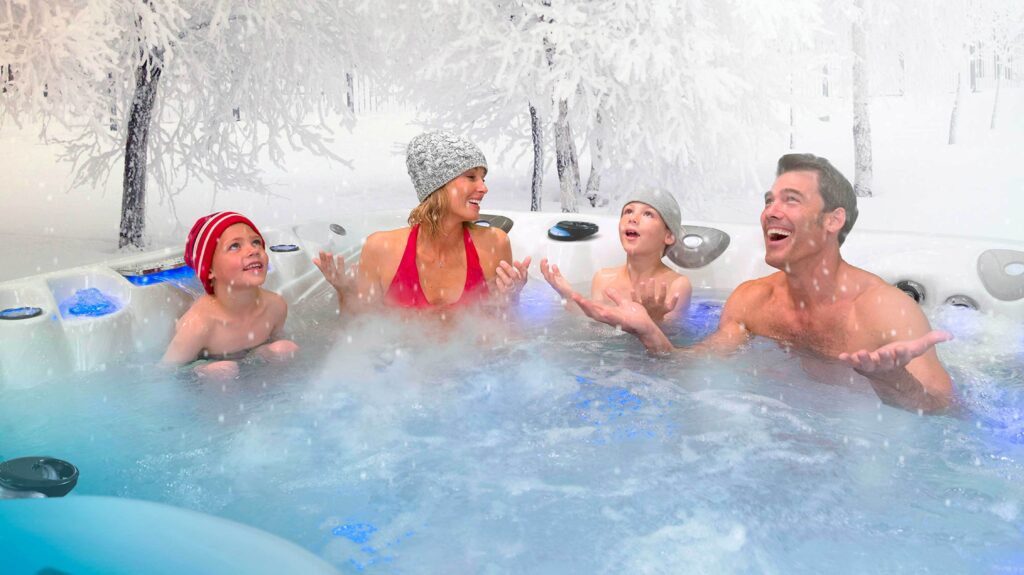 Hot tub benefits for families
A hot tub can be a great way to relax and unwind after a long day. They boost mental health, physical health and help everyone sleep better at night.
But it's not just for the adults of the house. Hot tubs can be a great way to get your family together and spend quality time.
Get in the game
One of the best parts about hot tubs is how much fun they can be. But you can level up the fun factor for the family with a game night. You can get a set of waterproof cards or pool game for your hot tub family night.
Game options for your hot tub include Uno Splash, playing cards, and a floating chess board. Depending on the size of your hot tub, you can also play with a floating toss game.
It might seem like a simple idea but a family game night can be a great way to bond. They can be used as a teaching tool, open up the lines of communication, and improve self confidence.
The great outdoors
Backyards have gone from a space where the kids play to a place where the entire family lives. But if you're caught up in the busyness of day-to-day life, you might find yourself opting for the couch instead of the patio chaise.
But when you have a family hot tub, you have an incentive to turn off the TV and turn on the jets.
And that's important! Unplugging and heading outside can help you reduce stress and anxiety. You might find that you are thinking more clearly or even able to turn off your brain.
Bonus: Research shows that people who spend more time outside are happier and healthier.
A 2019 study reports that spending 120 minutes outside each week was linked to better health and well-being. In addition, Aa 2021 showed that 30 minutes of outdoor time could lower blood pressure by almost 10 percent. [source]
Night-time soaks
Nearly every parent has found themselves wishing for a good night's sleep. Whether it's sleep regression or anxiety-related, up to half of children can struggle with sleep issues. And, sleep is often one of the most frequently discussed topics at well-child doctor's visits.
But sleep is important. Poor sleep can be related to academic performance, behavior, and even accidental injury.
An established bedtime routine, though, can help your children get to sleep — and stay asleep. Elements of a good sleep routine include reading, brushing teeth, and going to bed at the same time. A warm bath has also been a popular bedtime ritual. But hot tub owners can consider swapping it with a soak in the hot tub.
A warm soak in a hot tub at the end of the night will result in passive body heating. Why is this important? Research shows that it can " increase the perception of sleepiness and result in an increase in the subsequent amount of slow wave sleep." [source]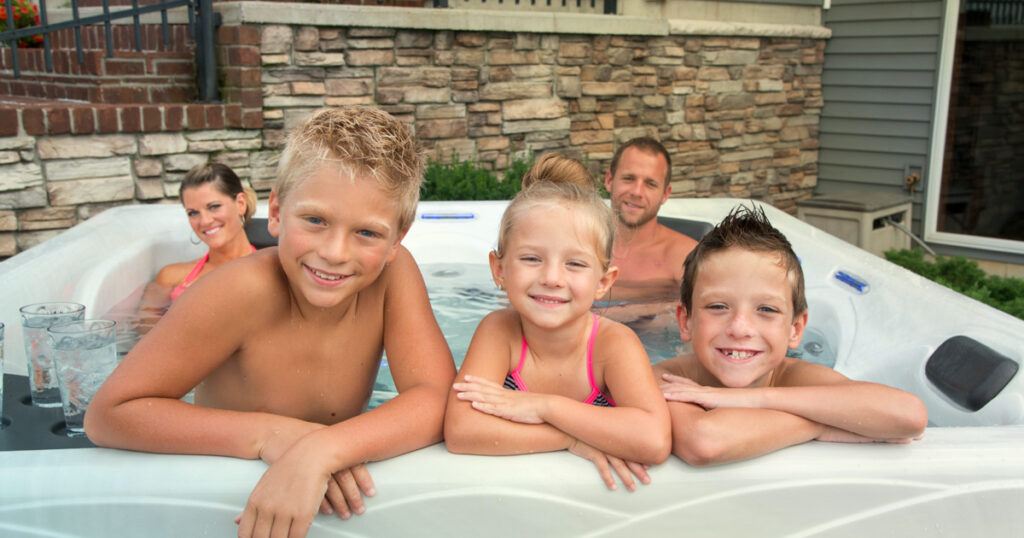 Everyday getaway
The costs of planning a family vacation can quickly add up. There's the cost of getting where you want to go, accommodations, dining out, and entertainment. Even the price of a weekend getaway can become prohibitive depending on the destination.
According to travel websites like Hopper, the average vacation can cost $1,919 per person per week. That means a family of four would spend nearly $8,000 on one trip.
Research shows that taking several trips a year can be extremely beneficial. Taking time away from work (and school) can improve focus, productivity, and even heart health.
But sometimes getting away can seem like more trouble than it's worth. Coordinating schedules, taking time off work, and selecting a destination can be stressful. And then you have TSA lines, flight delays, and lost luggage.
A family hot tub, though, can give you the vacation vibes you've been chasing without staring at an airport monitor waiting for an update on your departure. It's a mini break from the everyday that you can enjoy every day.
How a hot tub and family vacation are alike: You get to spend time together, everyone feels relaxed, you get a break from work, and it feels like a little bit of luxury.
Consider planning a family staycation with scheduled time in your family. You can plan hot tub sessions around other activities like visiting a local museum, taking a nap, and going to a new restaurant.
Tech-free conversations
One of the most important things a parent can do is keep the lines of communication open. However, it can be hard to have a conversation when there's the constant chime of notifications from a phone or tablet.
According to Dr. Jenny Radesky, an assistant professor of developmental behavioral pediatrics at the University of Michigan Medical School, technology can contaminate family time. Incoming communication from work, friends and the world at large can interrupt traditional family rituals like mealtime and bedtime.
But when you hop in the hot tub with your family, the sounds of the devices are muffled.
With the hydrotherapy jets and warm water promoting relaxation, you might find that teens are more open to talking. And you are more able to focus and listen because you aren't distracted.
If you are struggling to get the family start talking, you can try conversation starters like: What was the best part of your day? What are you scared of? What do you think will be the best part about being a grown-up?
How to buy a hot tub
Look forward to spending more time in your own backyard oasis. A Master Spas hot tub can be enjoyed safely by the entire family. You can click here to learn more about the benefits of hydrotherapy. Or, contact your local Master Spas retailer to learn more about spa ownership. Wondering how much a Master Spas hot tub costs? You can request a quote here.