Sue Radford is ready to get her body back. After giving birth to 22 children, the UK resident and reality TV star has essentially spent 16 years of her life pregnant.
"Now that I'm getting a bit older, and I'm getting my body back, I'm thinking I need to get fit," she says in an episode of "22 Kids and Counting. "My resolution for this birthday is to get more fitter and more healthier."
Getting fit and healthy might be easier said than done, though. Not only does she have to balance the family business, The Radford Family Pie Co., but pregnancy and motherhood have taken their toll on Sue's body. Traditional fitness activities, such as running on a treadmill, are uncomfortable.
"Carrying children may have kept her arms strong but it's done nothing for her back," the narrator says.
But Sue's husband Noel might have a solution: Swimming. Sue enjoyed swimming in her younger years, and it's a low-impact activity that won't put pressure on her back.
And a special birthday gift will help Sue incorporate swimming into her regular routine.
Spoiler alert: The gift was a Master Spas swim spa.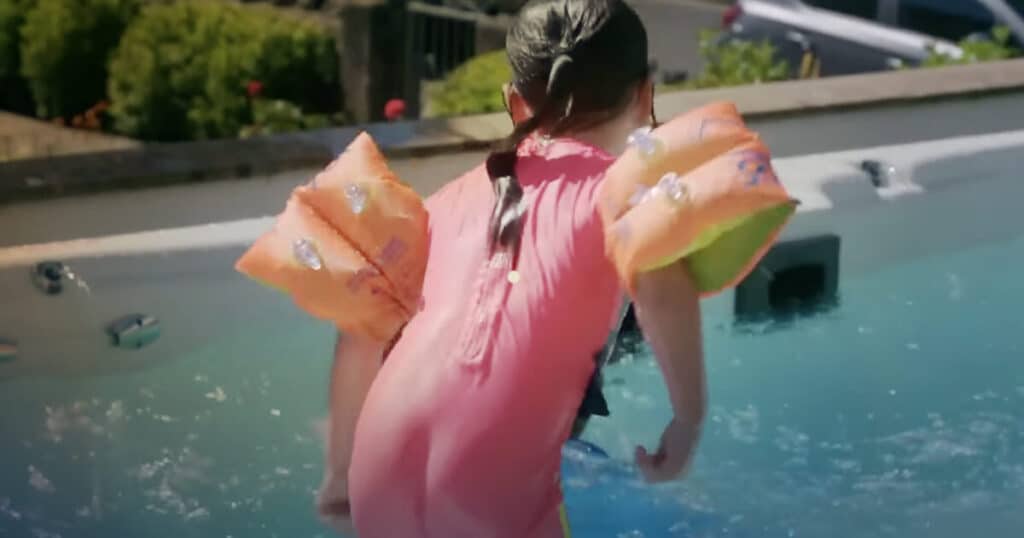 The Radfords and '22 Kids and Counting'
When Noel and Sue first met as teenagers, they didn't expect to have 22 children — much less become the stars of a reality TV show.
In 2008, though, they entered the spotlight when they appeared in a television show featuring their family. At the time, the Radfords had "just" 13 children. Subsequent TV specials followed the growing family and their life in Morecambe, a seaside town in Lancashire, England.
Christopher, who is the oldest of the brood, was born in 1989. Heidie Rose is the youngest — born in 2020.
The family lives in a 10-bedroom home and enjoys a spacious backyard garden, a luxury for many in England. There's an outdoor playset and soccer for the children, as well as outdoor lounge furniture and bar for the adults.
The Radford's backyard garden was designed for more than just family fun. They wanted a peaceful place to unwind, and a hot tub made it even easier. The hot tub offered a chance for the family to relax together, even when they were stressed or just wanted to hang out.
The kids loved the hot tub, too. It was big enough for everyone, and they could spend time with each other while enjoying the soothing water. The hot tub was also great for relieving aches and pains, as well as helping with anxiety and stress.
Mum and dad deserved to be spoiled sometimes, though. A Master Spas swim spa would be an upgrade to the family's hot tub, offering space for Sue to swim and the children to play.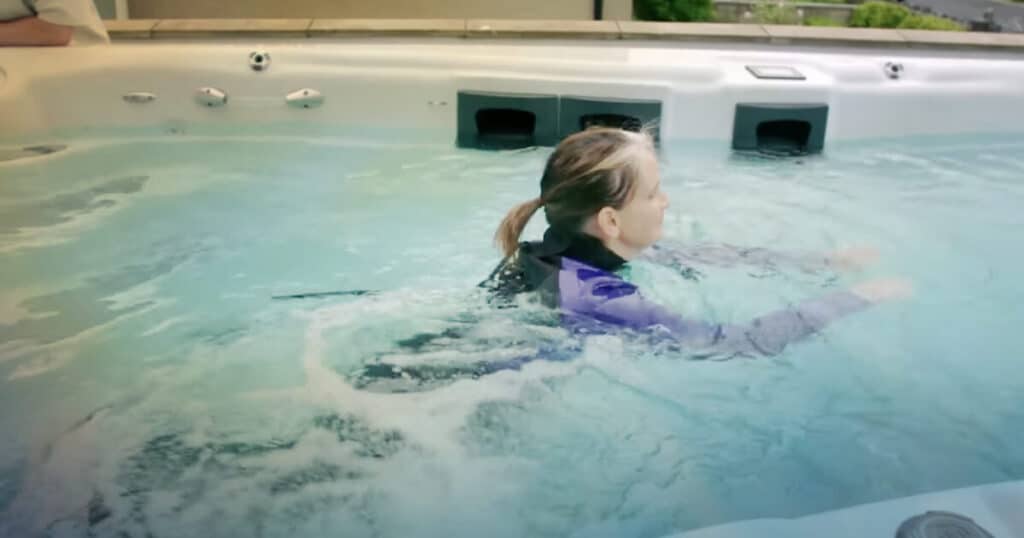 Sue's return to swimming
Sue Radford was looking for a way to stay motivated on her fitness journey. She needed to do more than say she wanted to start swimming. She needed a goal.
An open water swimming event near her home would help focus her workouts and keep her accountable. The event offered multiple distances for swimmers, and Sue chose 800 meters — an ideal distance for her return to swimming.
But with the open water swim on the calendar, she needed to get in the water.
With the family in tow, Sue and Noel head to the community pool.
Even as the Radfords are the only ones at the pool, the lap lanes are crowded. She tries to get in a few lengths of the pool and quickly discovers any real exercise is a challenge. The children just want to follow her and play in the water.
Noel and Sue soon discover that it's going to take more than a pool membership to balance family life and her fitness goals.
A swimming pool alternative for the Radford family
Noel, wanting to support his wife, decided a visit to the Hot Tub Superstore was in order.
The family business, which serves all of the UK, sells a variety of Master Spas hot tubs and swim spas.
Master Spas swim spas provide a stationary swimming experience, along with the therapy of a hot tub. And, as Noel points out, Sue can "just step outside and do some training."
The water is clean, clear, and delightfully warm. The couple take turns swimming against the current and relaxing in one of the massage seats.
Noel and Sue are swept away by the swim experience — in the best way possible. The swim area is spacious and obstacle free, and the hot tub seats are comfortable. The water current allows them to swim in place at their pace. And since Sue is preparing for an open water swim, she can try out her wetsuit before the event.
Since the Radfords had a concrete pad in their garden, Hot Tub Superstore was able to quickly install the spa. From the time it was craned to hooking it up, it wasn't long before Sue was able to begin training.
"I don't have any excuses now," Sue says.
But as the Radfords shared on their social media, Sue is not the only one taking advantage of the swim spa. A pool alternative, it's good for when the kids want to play in the summertime — especially when the UK was in the middle of a record-breaking heatwave.
Plus, she'll be able to use it whenever she wants during the winter months, when the pool is closed! Swim spas feature full foam insulation and heat pumps to keep the water perfect, year-round — even on the coast of England.
---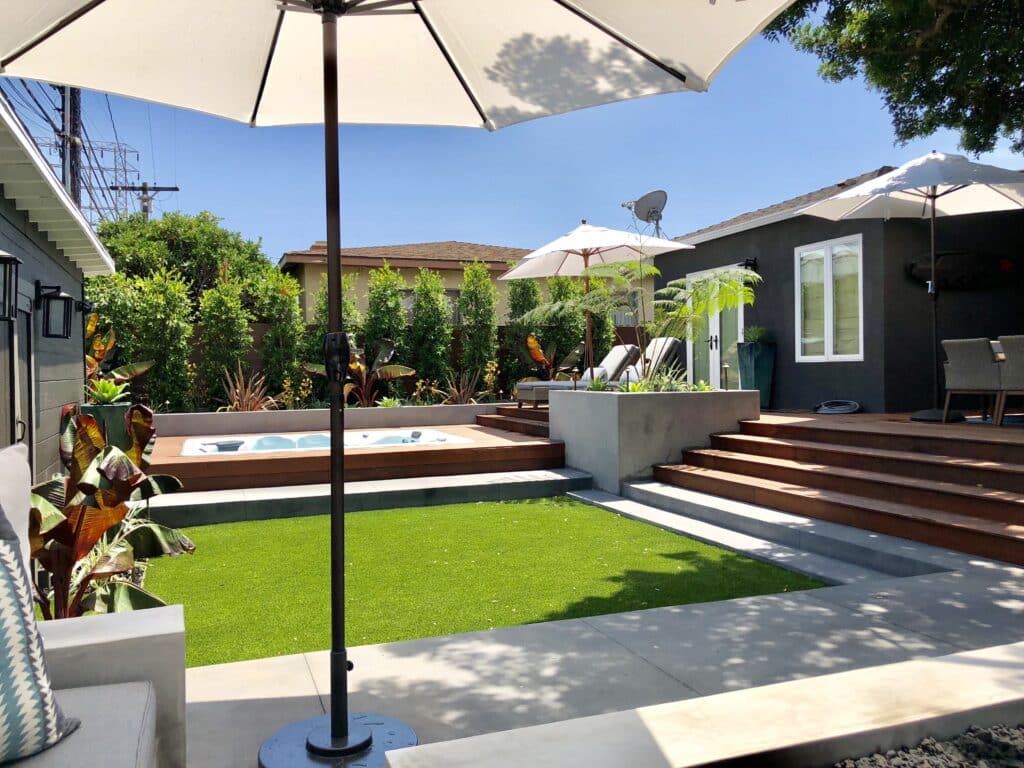 How to buy a swim spa
Do you want to be able to swim, exercise, and relax at home? Having a Master Spas swim spa allows you to swim on your schedule while adding a fun factor to your backyard. You can click here to find out more about the benefits of hydrotherapy and relaxing in a hot tub. Or, contact your local Master Spas retailer to learn more about swim spa ownership. Wondering how much a swim spa costs? You can request a quote here.