The passing of winter can often be marked by bulky coats, lost gloves, and the whip of the frigid wind across your face. While there are people who say that the cold doesn't bother them and, in fact, they love it, most of us find the chilly temperatures a reason to cuddle up and stay inside. A 2013 CBS News Pool found that only 1 in 10 Americans called winter their favorite season.
Whether you simply dislike winter rather than loathe it, the season can feel like one of hibernation. But getting up and getting outside can do your mind and body good. "What about the weather?" you ask. "Icy roads, below-freezing temperatures?"
Outdoor activities — even swimming — can be just as enjoyable in the winter as they are in the summer. Swim spas offer owners the opportunity to swim, exercise, and relax year-round. You can fit in a quick 15-minute workout or take advantage of the relaxing hot tub jets.
These tips for winter swim spa use will help you get fit and stay fit, reduce stress and — yes — even enjoy the outdoors.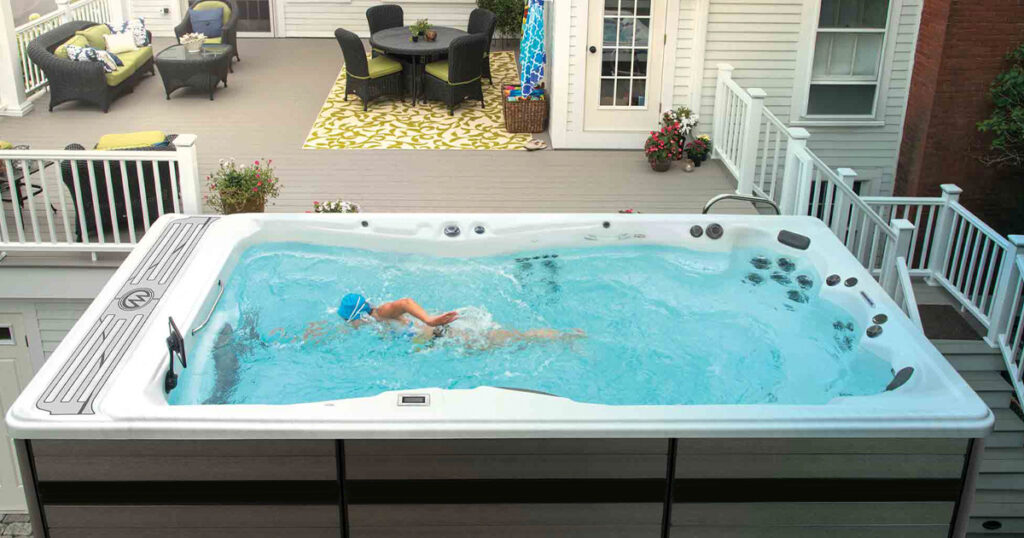 Too cold to swim? Water exercise in winter
Swimming when there's snow on the ground and the air temperature is below freezing? It might seem like an activity that's reserved for the annual polar plunge or ice swimmers who push the limits.
A swim spa, though, makes winter swimming not just safe but fun.
Master Spas swim spas have a jet system that creates an endless water current for stationary swimming. The current is smooth and wide, with less turbulence compared to other systems. You can adjust the speed of the current, too, to match your abilities and goals.
Typical perfect pool temperature is often considered to be between 72 degrees and 82 degrees. However, you can turn up the swim spa to 88 degrees or even 90 degrees for winter swimming.
However, a swim spa is more than an alternative to a standard lap pool. You can walk or jog against the water current, use the row bars, or even do traditional land-based exercises like squats, bicep curls, and jumping jacks.
The Master Spas H2Xercise book has a comprehensive collection of water exercises that you can incorporate into your winter swim spa routine.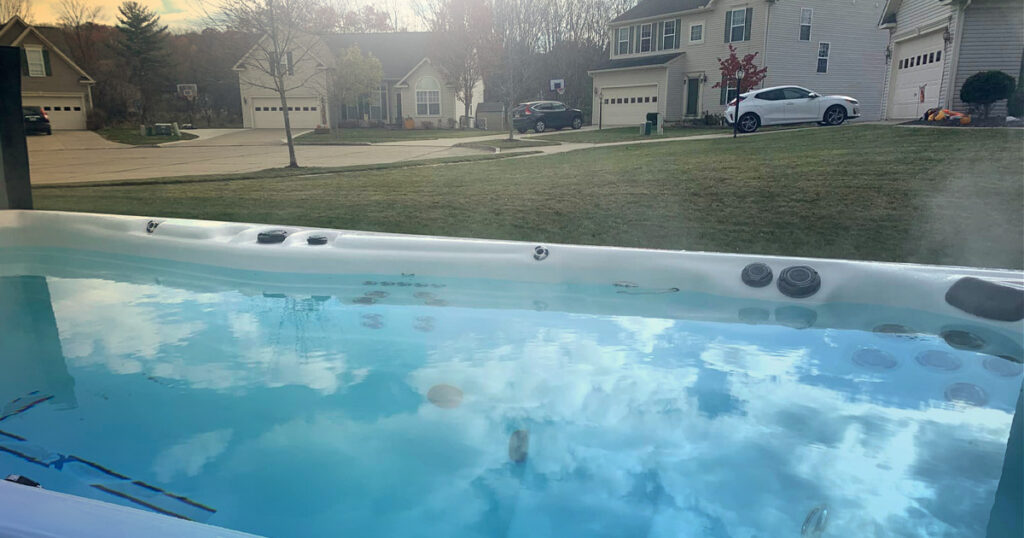 Benefits of swim spa winter use
The typical outdoor pool season is about four months. However, a Master Spas swim spa allows you to extend the season to 12 months. With full foam insulation and quality cover, you can enjoy the benefits of water exercise and therapy even on winter's worst days.
Soothe sore muscles
A swim spa is more than a place to move your body. Master Spas models also feature hot tub jets that help you reduce aches and pains. This flow of water from the jets can can help work out the knots and ease tension. Are you sore from shoveling snow? The StressRelief Neck and Shoulder seat targets high tension areas.
It's not just the jets that help your muscles feel better. The combination of water's natural buoyancy and warm water creates a soothing effect.
If you plan to use your swim spa for hydrotherapy, consider setting the temperature between 95 degrees and 99 degrees. Warm water increases circulation, boosting the body's natural production of endorphins.
Beat the winter blues
The cold, darker days of winter can leave you feeling in a funk. You might feel down, lethargic, and less interested in activities that you usually enjoy. Research shows that up to 20 percent of American adults experience seasonal mood changes at some level.
But you can help manage the winter blues with regular exercise and taking time for yourself.
Regular exercise has been shown to improve your mood, release endorphins, and increase your body temperature, which can provide calming effects. In addition, regular exercise can lead to better confidence and sense of self.
However, simply taking time to relax in the swim spa during winter can help bring you joy.
Family time
When the temperatures drop, it can be challenging to find activities that the entire family can enjoy. A swim spa provides fun for everyone, from the youngest members to older generations. You can turn on the continuous current system and let the water push the kids around, like a wave pool. Teens might love the hot tub seats just as much as you do.
No matter the activity, the swim spa is a great place to talk and catch up on the day — without the distraction of technology.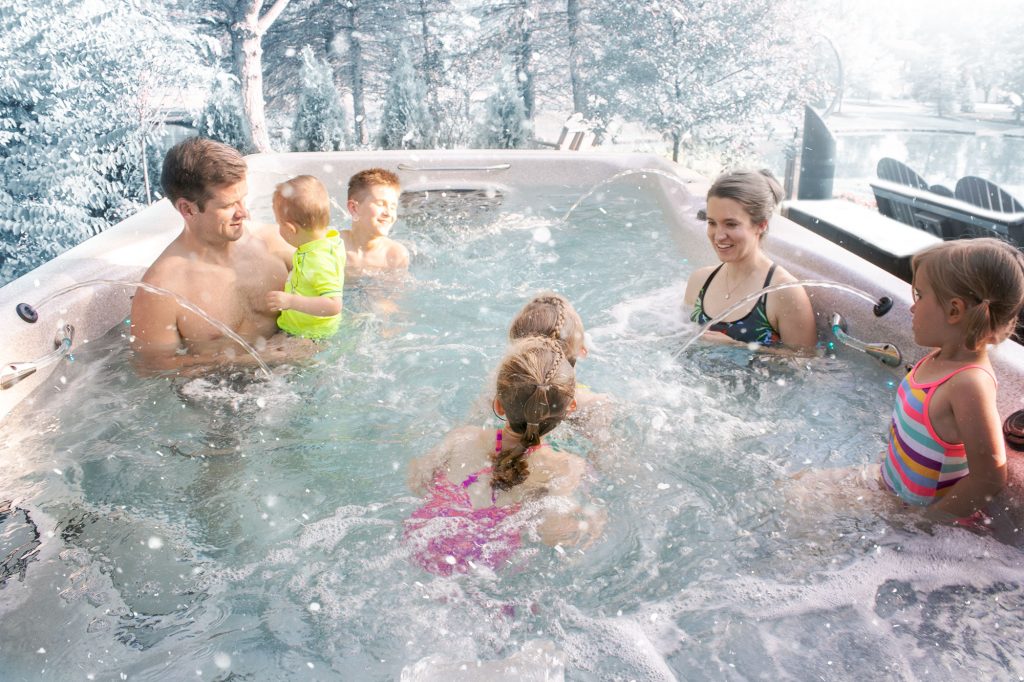 Tips for using a swim spa in winter
If you want to make the most of the winter and use your swim spa, here are some pro tips to make the most of your experience.
Keep your swim spa covered
A quality spa cover is designed to increase the energy efficiency of your swim spa when not in use. The cover locks in the heat and keeps out the cold, making it easier for the spa to maintain your perfect temperature. In addition, the cover will keep out natural elements such as snow, branches, and other debris.
Stay warm
The water in the swim spa might be delightful but when the weather is frightful, you want to bundle up before heading out. Make sure that you have plenty of towels, heavy robes, and shoes that are easy to slip on and off.
Keep an eye on the water level
Draining and refilling your swim spa in the middle of winter might not be your No. 1 priority. If you are struggling to keep your swim spa water clean and clear, you might want to change the water when the outside temperature is still comfortable. In addition, if you need to top off your spa water, make sure to do it at the warmest part of the day and remember to disconnect your hose when finished.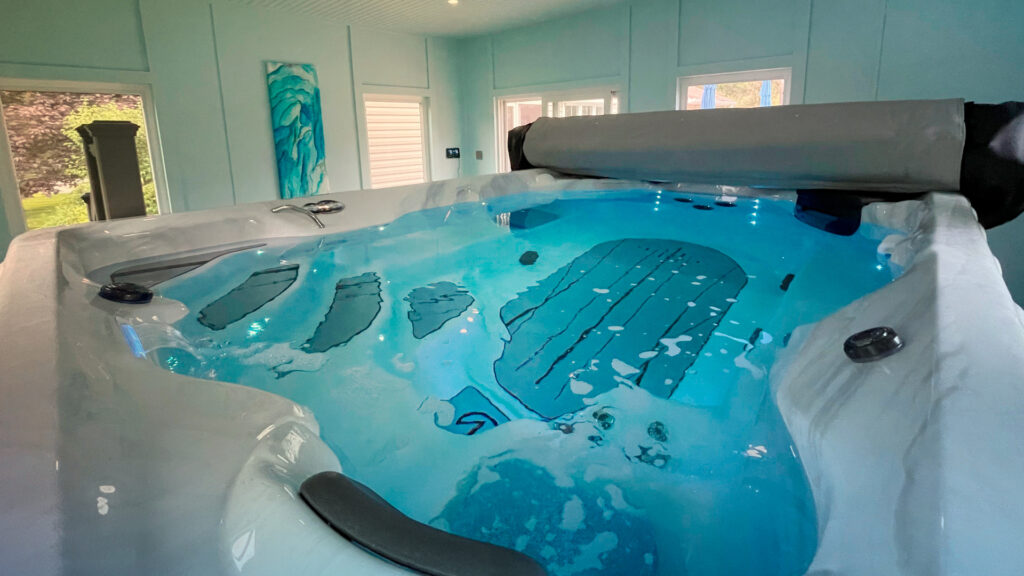 How to buy an all-season swim spa
Do you want to be able to swim, exercise, and relax at home? Having a Master Spas swim spa allows you to swim on your schedule while adding a fun factor to your backyard. You can click here to find out more about the benefits of hydrotherapy and relaxing in a hot tub. Or, contact your local Master Spas retailer to learn more about swim spa ownership. Wondering how much a swim spa costs? You can request a quote here.