For swimmers and fitness enthusiasts, a lap pool can be an attractive option. It can take the stress out of going for a swim, allowing homeowners to skip the gym commute, locker room, and crowded swim lanes.
But installing a lap pool can also require permits, lengthy construction timeline, and additional landscaping. It's a big project, especially for a pool that you can use for just a few months a year (depending on where you live).
A swim spa by Master Spas, though, offers the benefits of an inground lap pool without digging up the yard. And the swimming pool alternative also offers more versatility and family fun, too!
If you are thinking about a lap pool, a swim spa might be a better option. Here are four things to consider before the excavator rolls in.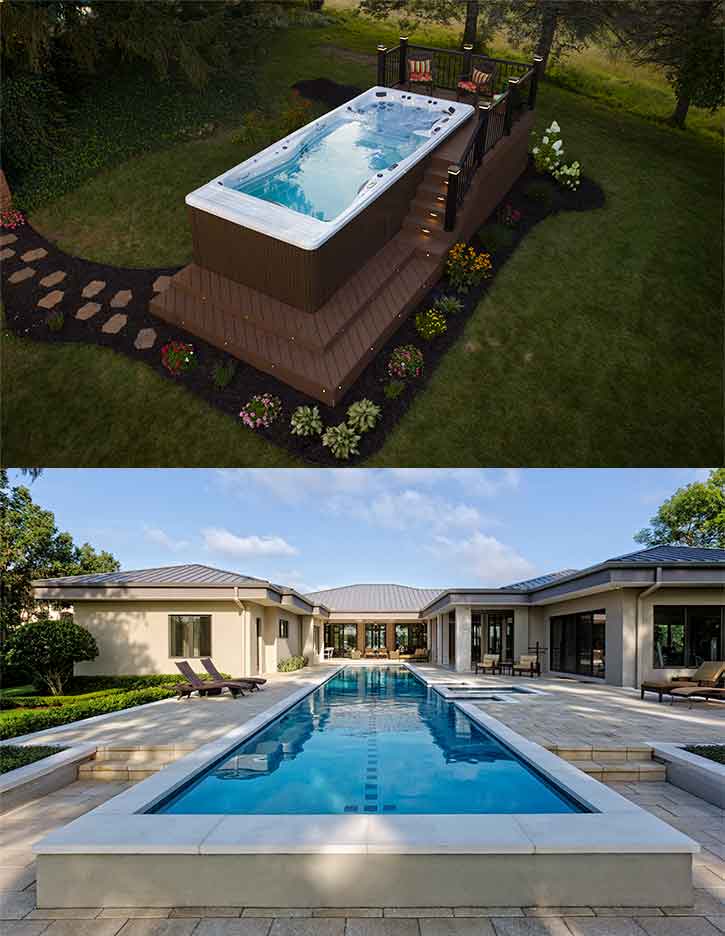 Lap Pool vs. Swim Spa
Area requirements
Lap Pool: The space required for a lap pool will depend on the design. However, you must also consider proper clearance, which can add 10 feet to the overall length and 6 feet to the width. Decking and patio options can also add to the space needed for a lap pool.
Swim Spa: When planning for your swim spa installation, it is ideal to budget three feet of clearance on all sides of the spa. Periodic maintenance checks require entry into the equipment bay and therefore easy access to this area is important. Other installation requirements include access to electrical and a water source. For more information, be sure to download our Backyard Planning Guide.
Year-Round Use
Lap Pool: The season for a pool is dependent on where you live and whether you choose to heat the pool. Installing a heated pool will add to the total cost.
Swim Spa: A swim spa by Master Spas is designed to be used year-round, no matter the climate. As a self-contained unit, it features full foam insulation that helps maintain water temperature. There's also a heater and easy-to-use controls built-in so that you can set the water to your perfect temperature.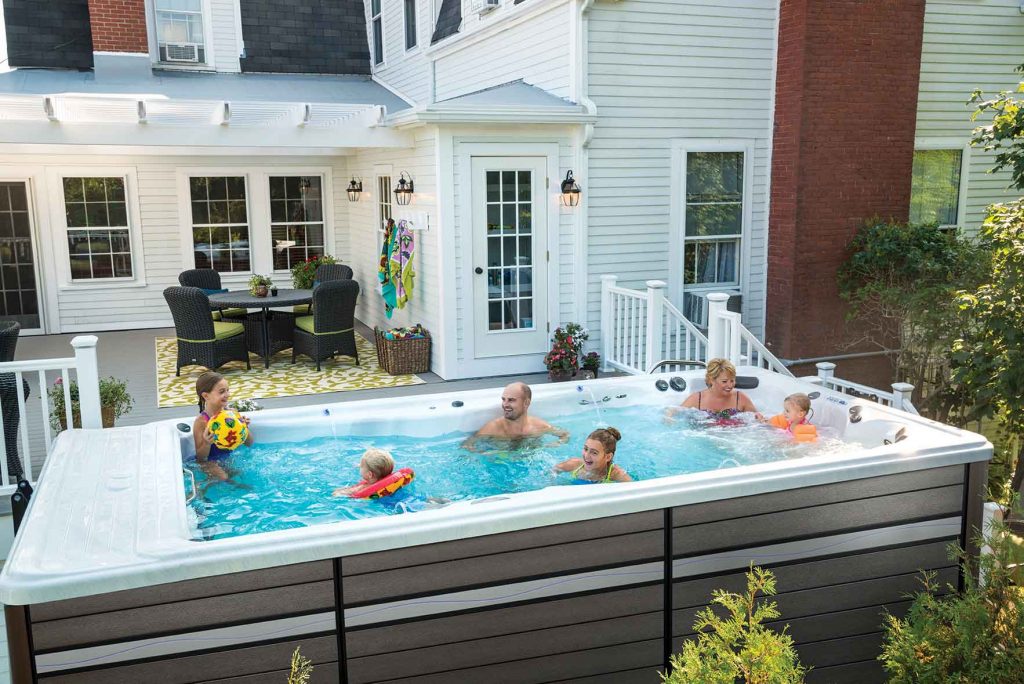 Pool Cost
Lap Pool: A small pool might seem like a cheaper option when compared to more lavish options. However, a lap pool costs about $43,800, according to Home Advisor. But that price is just the average. A backyard pool project can be cheaper or cost more than $100,000, depending on whether you choose a fiberglass pool, vinyl liner, or concrete. The size and features, such as lighting and heat, can also affect how much a lap pool costs. 
Swim Spa: The price of a swim spa includes the unit and the features you choose. The cost varies depending on the model you choose and the type of swim current you prefer. It can be between $15,000 and $50,000.
Pool Design and Size
Lap Pool: Often narrower and longer in design, the size of a lap pool varies. You will need at least a space four feet wide for swimming. However, a backyard pool is typically 8 to 10 feet wide. The longer the pool, the easier it will be to get in a good workout. When working with a contractor on your backyard pool design, be sure to factor in how you will get in and out of the pool. Will you want steps? Do you need a grab rail? If it's something that you want, you can also add an integrated spa.
Swim Spa: Swim spas by Master Spas come in a variety of sizes but those best fit for swimming are between 15 feet and 19 feet in length. You can also choose the acrylic and skirting color based on your preference, as well as add lighting packages. The 19-foot swim spas have a built-in hot tub but all models have hydrotherapy seats. If you'd like to have a more custom design, you can choose to add a raised deck to give the appearance of a recessed swim spa installation. Be sure that there's access to the swim spa control panel for easy maintenance and service.