The temptation is there: You have wrapped up your season, and you can just cruise for the next few months.
But you know the winter can be a valuable opportunity to do the work to become a better swimmer.
There are just a few problems, though. It's really cold outside. It's dark in the morning and even darker way too early in the afternoon. By the time you finally make your way to the pool and spend a few minutes at the water's edge cringing at the thought of jumping into that cold, crowded lane, you only have time to squeeze in half the workout you had planned.
What if you could skip the commute to the pool, the busy locker room, and the crowded lanes? It's easier than you think, and it doesn't involve getting a permit to dig up your backyard. A swim spa from Master Spas makes swimming more convenient than ever — even in the winter months. The energy-efficient design allows you to swim year-round in water that's just the right temperature.
Whether you're looking to get in the water more, improve your form, or rehab nagging injuries, you can gain the ultimate off-season training edge — all the while swimming at home.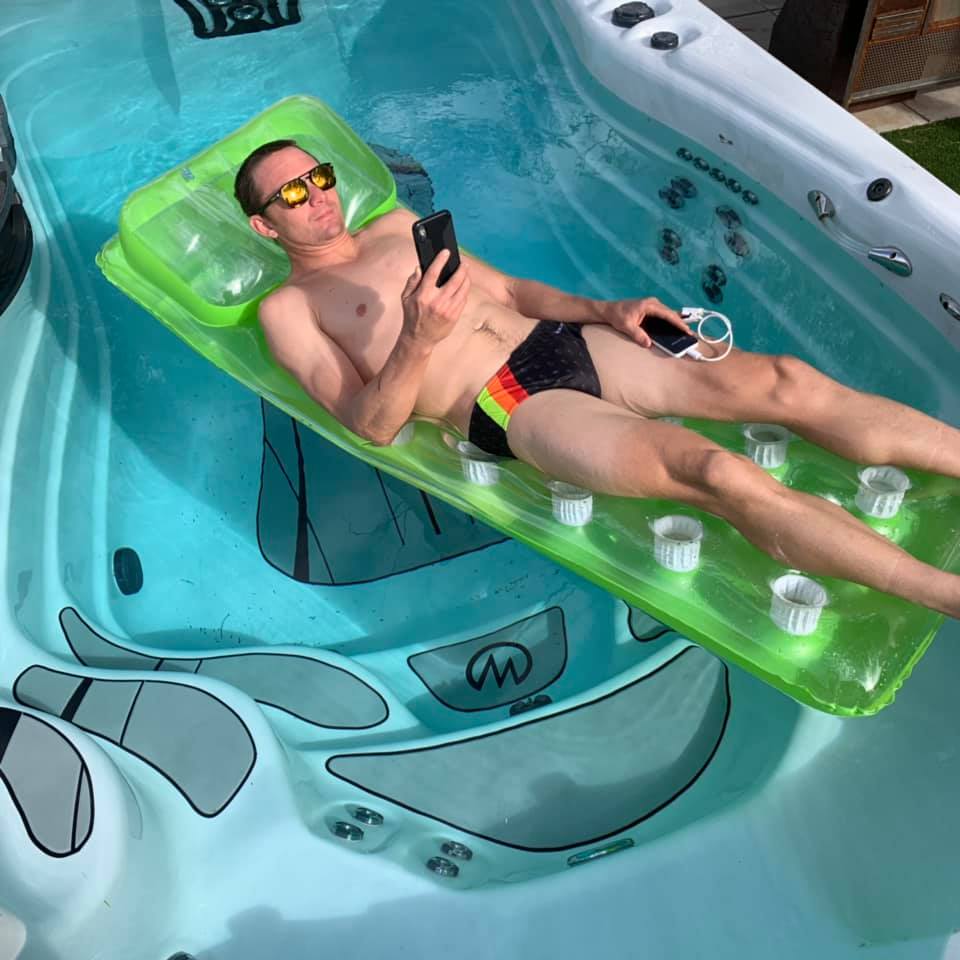 6 Ways to Improve Your Swimming this Winter
Endurance
When you hop in the water for a set of challenging intervals, you want to feel the confidence that you have the strength and energy to complete the session.
Endurance, often called your base, is the foundation for your fitness and provides that strength. Winter is a great time to improve your base so that you can start your season feeling stronger and swimming faster than ever.
Longer sessions at a slower pace are a great way to improve your base. And with a swim spa by Master Spas, you can make even more gains. Thanks to the steady stream of water, you can enjoy a continuous swimming experience. There are no flip turns or kick off, which means you're swimming the entire time. It's an ideal way to enhance your off season training.
Frequency
The only way to improve your swimming is to, well, swim. But the winter can be a challenging time to fit in the sessions that your schedule calls for. For most parts of the country, outdoor pools are closed for the season — making it prime time for indoor facilities. However, lanes are often crowded with swim team members and swim lesson participants.
A swim spa by Master Spas makes it easier to get in your off season training sessions — even a few extra ones. Always just steps away, the swim spa is available 24 hours a day, seven days a week, 365 days a year. Or, 366 days as is the case for 2020.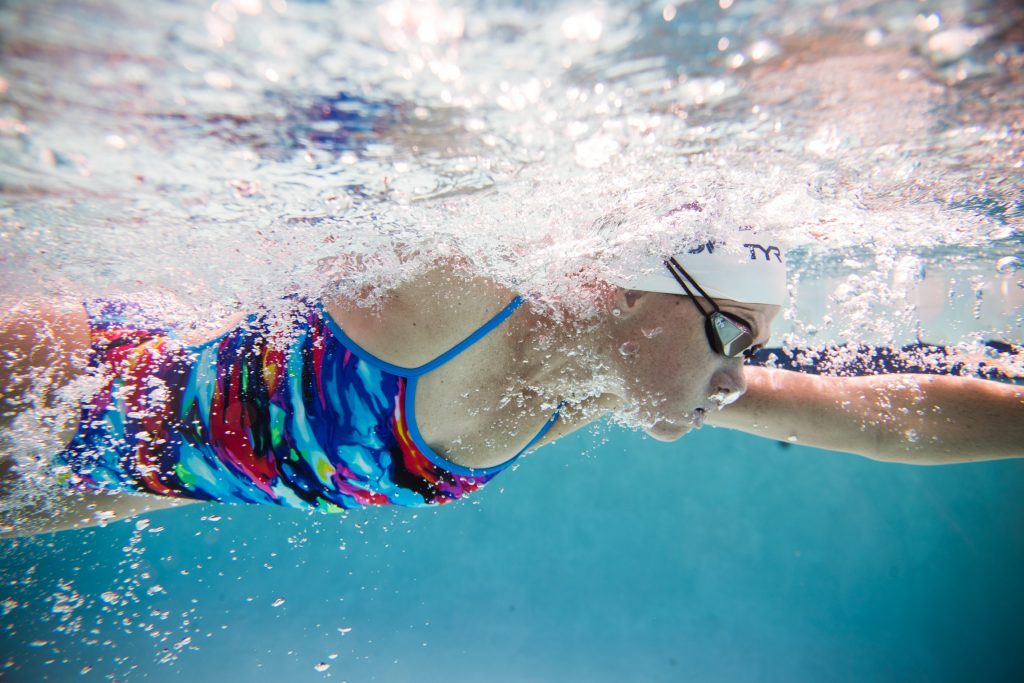 How to Improve Swimming Technique and Form in a Swim Spa
Swimming is a technique-heavy sport. Small tweaks to your stroke, catch, and kick can have a significant effect on your overall performance. But regular feedback from a swim coach might not be convenient or cost effective.
A swim spa by Master Spas makes it easier to see what you actually look like in the water. You can place a mirror at the bottom of the swim spa so that you can have visual cues of what your body is doing in the water. Everything from hand entry, hip rotation, and head position can be monitored and adjusted as you swim — giving you a whole new awareness and feel for the water.
Tech-savvy swimmers might prefer to use an underwater camera that's mounted on the edge or placed inside the swim spa. Not only can you easily film your stroke for personal review but you can share it with coaches or training partners.
Gold medalist Michael Phelps trained in a swim spa, and it gave him the opportunity to refine his stroke technique and improve his performance.

"It was easier for my coach to see the small aspects of my stroke that he just couldn't see in the pool," Phelps says. "The underwater camera gave him vantage points underwater that he couldn't see from the pool deck. I would be able to apply his input right away, which helped refine my stroke technique. I believe training in the swim spa helped me develop the best freestyle stroke I've had in my career."
After reviewing the footage, you can take to the swim spa to perform drills that focus on areas where you need the most improvement. Over the course of the winter, you can make significant improvements that will put you in the fast lane when the outdoor pool opens.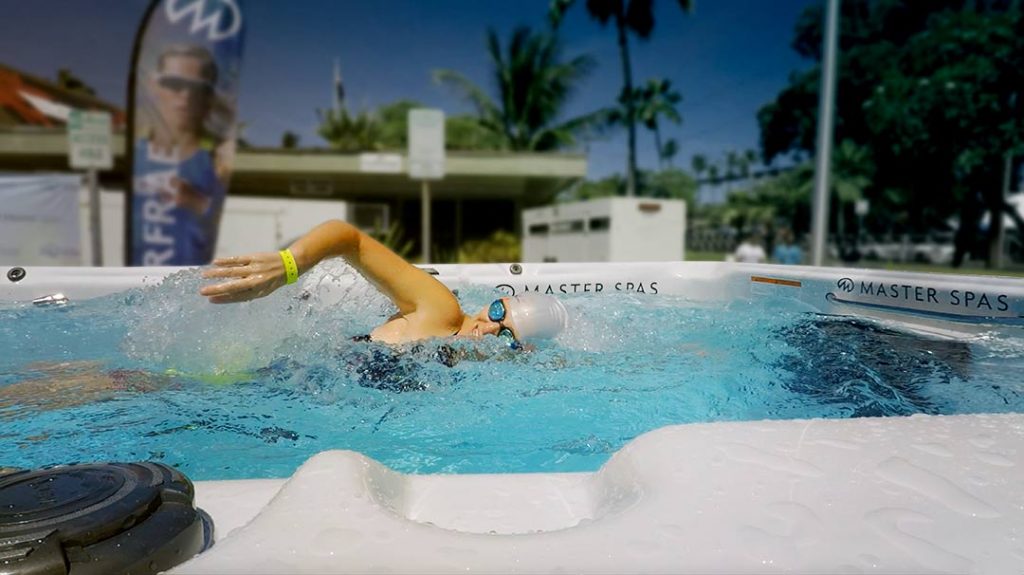 Open Water Prep in a Swim Spa
Registering for an event or thinking about upcoming meets is a great way to stay motivated during off season training. Not only does it have you thinking of the sunny days and warmer temperatures to come, it can give you something to work toward.
An open water swimming event, whether it's a triathlon or swim-only, can be fun and challenging. But the conditions in the lake or ocean will be different than what you experience in a pool. A swim spa by Master Spas, which has an adjustable water current, allows you to mimic open water conditions that you will see on race day.
Cross Training
The off-season is a great time to add increased focus on the resistance exercises that will benefit your training and improve performance.
But you don't have to go to the gym and lift heavy weights. The water is a great place to build strength and muscular endurance. A swim spa allows you to take advantage of water's natural resistance as you perform traditional exercises with resistance tubing and H2Xercise dumbbells.
Rehabilitation
Injuries can be a frustrating part of training. If you ended the season with a niggle or two, the winter can be a great time to recover and comeback stronger. Aqua therapy can be one of the most effective and efficient forms of rehab, whether you're dealing with tendinitis in the knees or shoulders or tightness in the hips and back. Performing rehab exercises in a swim spa can increase flexibility and circulation to help you get the most out of every exercise. Master Spas swims spas feature contoured therapy seats with adjustable massage jets that can help sooth aching muscles for a relaxing end to every session.