It might be something you do not want to admit. However, the truth is that you have a fear of the water or struggle when it comes to swimming.
But you are not alone. According to the Centers of Disease Control, more than a third of American adults cannot swim the length of a pool. Even celebrities, such as singer John Legend, have been open about not learning to swim until they are adults.
Access to a pool or open water, financial circumstances, upbringing, and trauma can prevent a person from learning to swim as a child.
And if you didn't grow up swimming or liking the water, the thought of hopping into a pool can feel intimidating and create a sense of dread. After all, who wants to put on a swimsuit and jump into water that feels chilly at best.
If you want to conquer your fears, though, you can take the first step (or stroke) in learning to swim.
Michael Phelps Foundation
Through his foundation, 23-time Gold Medalist Michael Phelps is helping kids learn how to enjoy the water while being safe.
"Our im program reaches thousands of youth and young adults year-round with water safety, wellness and goal-setting programming," Phelps says. "The progress we have made to date is very encouraging, but we have more work to do. We are committed to helping people have a better understanding of how to be safer, yet still have fun, in and around the water."
Master Spas is proud to support the foundation through its long-time partnership with Michael Phelps.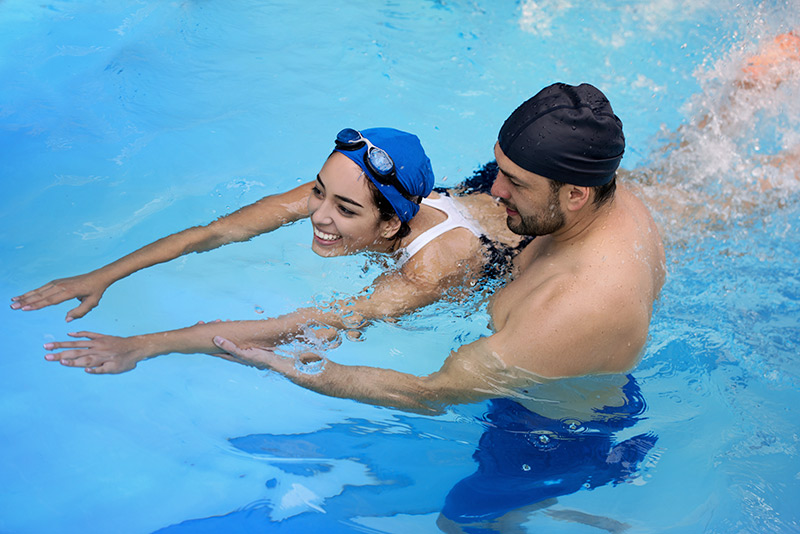 7 Tips to Help You Learn to Swim
Be Patient
Not all of us are born to be Michael Phelps, who started swim lessons at age 7 and earned his first national record when he was 10 years old. It can take some time to learn to swim, anywhere from a couple months to a year, depending on your fear of the water and schedule. Swimming is a skill that you will enjoy throughout your life — you don't need to feel rushed or married to an arbitrary timeline.
Create a Positive Association with Water
Start by just getting in the water for 5 to 10 minutes, even if it's just dangling your feet over the side into the water. After a week, try moving around — whether it's walking, jogging, treading water. As your confidence improves, add more time to your session and switch up the activities in the water.
A swim spa by Master Spas can make it easier to incorporate these short sessions. The backyard convenience eliminates the commute to the facility, and you can skip the locker room. The time it takes to get in the water is significantly reduced, giving you less time to psych yourself out.
Find a Comfortable Environment
One of the most important skills to master is not your breath or stroke — it's relaxing in the water. Learning to relax in the water is key to your swimming success. And finding that comfort level begins with selecting a place where you are comfortable. More than likely, you aren't going to start your journey with an open water swim in the middle of the ocean. A swim spa by Master Spas is a controlled environment where you can feel safe during your swim sessions. You can choose the perfect water temperature for you and start off at a gentle pace. And when you are ready for a break, just bring your knees into your chest and stand up.
A swim spa by Master Spas is an alternative to a backyard swimming pool that you can use year-round. A jet or propulsion system creates a current of water, making it possible to swim in place.
Essential Swim Gear
When you are new to any sport, it's important to get the tools that will help you succeed. After all, you are making an investment in yourself. Anyone who is swimming, whether they are a beginner or a gold medalist, needs a good pair of goggles. The goggles not only allow you to see where you are swimming but protect your eyes from chlorine. If you are taking swim lessons with the goal of learning to swim laps, an athletic swimsuit will reduce drag in the pool and stay in place as you move. A swim cap can be helpful, as well.
Back to Basics
Swimming is a technique-heavy sport. You have to float, breathe, kick, and crawl — all with the proper timing. Rather than try to do all of those things during your first session, layer skills. Start with putting your face in the water and then move onto other elements, such as kicking, proper body position, and taking a few strokes.
Stay Positive
A good attitude is imperative, especially if you are trying to overcome any apprehension or fear. Take some time on the deck to slow down your breath and picture yourself moving effortlessly through the water. When you are anxious or stressed, you might have a harder time maintaining correct body position, timing your breaths, and moving forward.
Get Feedback
Whether you join an adult swim class or seek the help of a private coach, it's important to have a knowledgeable swimmer to guide you during the process. A swim spa by Master Spas allows you to get real-time feedback on your body position, timing, and technique. A coach can observe you from the side and watch as you swim against the current of the water.