A backyard swim spa is more than just a place to swim —  although it is the perfect spot to practice your favorite stroke. Growing in popularity, a swim spa is an in-ground pool alternative that provides convenient access to water exercise and hydrotherapy.
Swim spas offer myriad benefits, whether you want to get active and stay active, manage a chronic condition like arthritis, or simply wind down after a long day. And unlike a traditional pool, many swim spas can be used year-round, in any climate.
But how do you find the swim spa that's best for your backyard, lifestyle, and budget? You might feel like there are so many choices and features. And you want to choose the best swim spa option.
This checklist for swim spa buyers will help you narrow down your goals and select the model that will surpass your expectations.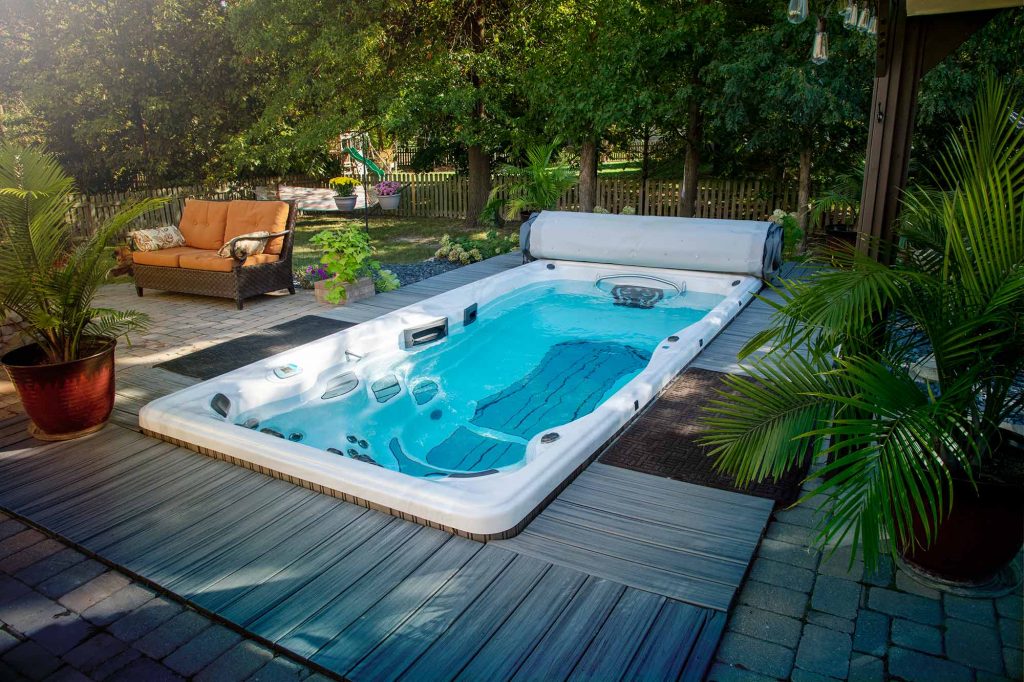 Checklist for swim spa buyers
When you are shopping for the best swim spa, it's easy to focus on the things that you can see — the dimensions, skirting styles, and the color of the acrylic. But there's more to consider, including the swim experience, water exercise options, ease of maintenance, manufacturer's reputation, and quality construction.
Swim experience
Swim spas combine the benefits of a traditional swimming pool with the therapy of a hot tub. Unlike most backyard pools, though, you can use a swim spa for training. Quality swim spas, such as those made by Master Spas, do not require a tether. Rather, a jet system or propulsion unit generates a current for you to swim in place. There are a variety of speed settings so you can set the pace of your workout.
The best spa for swimming in place will have a smooth, wide current of water. The design of the model, too, will help direct the flow of the water so that there is a nice return and consistent pace.
If you plan to swim in your spa, here are some questions to consider:
Is the swim area free of obstacles?
Does the swim system introduce air into the water current?
Can you adjust the resistance of the water current?
Do you need a tether to keep you in the right spot?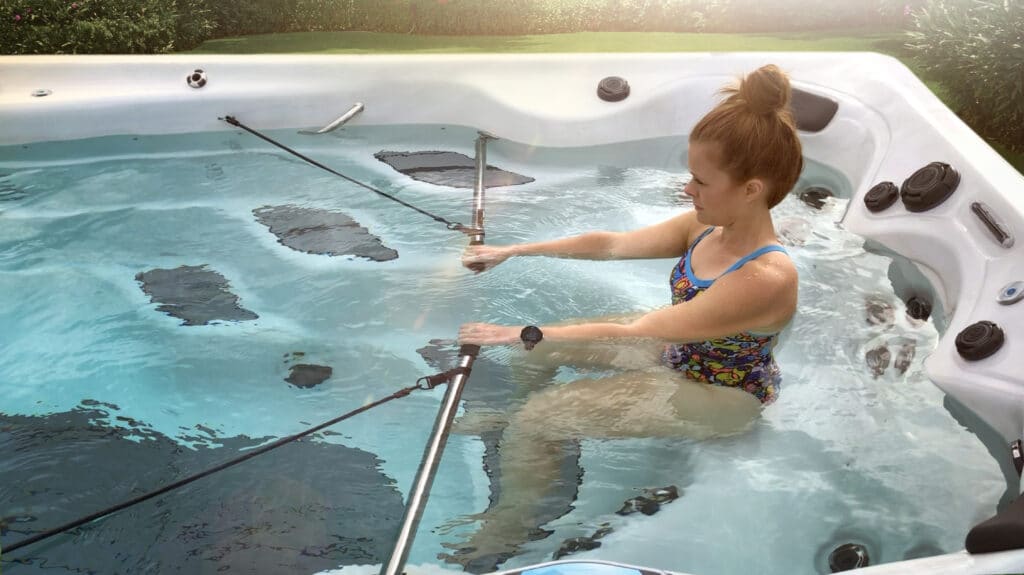 At-home water exercise options
Water exercise can help you boost your heart health, build strength, and improve balance. Water naturally provides buoyancy, which takes the stress off your joints. A swim spa makes water exercise convenient and comfortable, allowing you to incorporate intentional movement into your daily routine.
Many people purchase swim spas as an investment in their overall well-being. If you plan to use the spa for aquatic exercise and therapy, here are a few questions to ask:
What type of exercises can you do in the swim spa?
Can you safely exercise in the swim spa without water shoes?
Can you use rowing bars in the swim spa?
Swim spa hydrotherapy
One of the many advantages of buying a swim spa, especially compared to a backyard pool, is the hot tub jets. Swim spas feature comfortable seating with massage jets — just like a hot tub.
Even if you plan to use the swim spa mostly for aquatic exercise, you want to make sure you have the opportunity to recover and relax. Here are some factors to consider when you are buying a swim spa:
What type of jets are used in the swim spa?
Can you interchange the jets for a custom hydrotherapy experience?
Can you adjust the pressure of the water?
Can you comfortably sit in the hot tub seats?
Are there a variety of jet arrangements?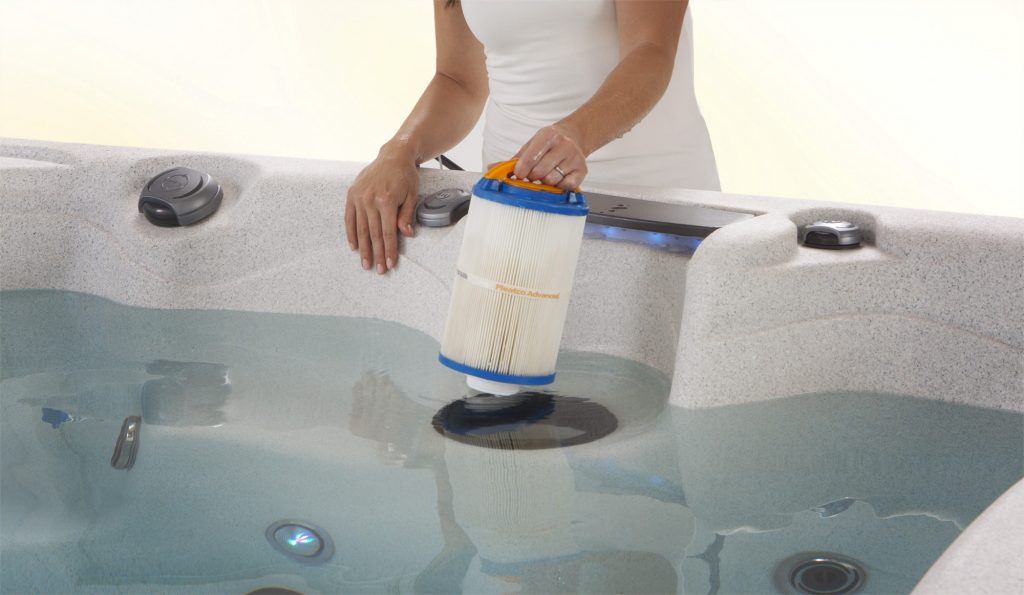 Easy swim spa maintenance
When you buy a swim spa, you want to spend time in the water — not taking care of it. A quality filtration system and easy maintenance are important.
All swim spas need a way to keep the water clean, clear, and safe to enjoy. Just like a swimming pool, you will add chemicals as part of the maintenance routine. But you don't want the water to smell like chemicals. To reduce the amount of chemicals needed and eliminate the chlorine odor, the best manufacturer's will have a quality mineral system.
When shopping for a swim spa, ask your retailer to go over the water care routine.
How often do you have to add chemicals?
Does the swim spa have an ozone system?
How do you change the filters?
Can you easily access the components in the event the spa needs maintenance?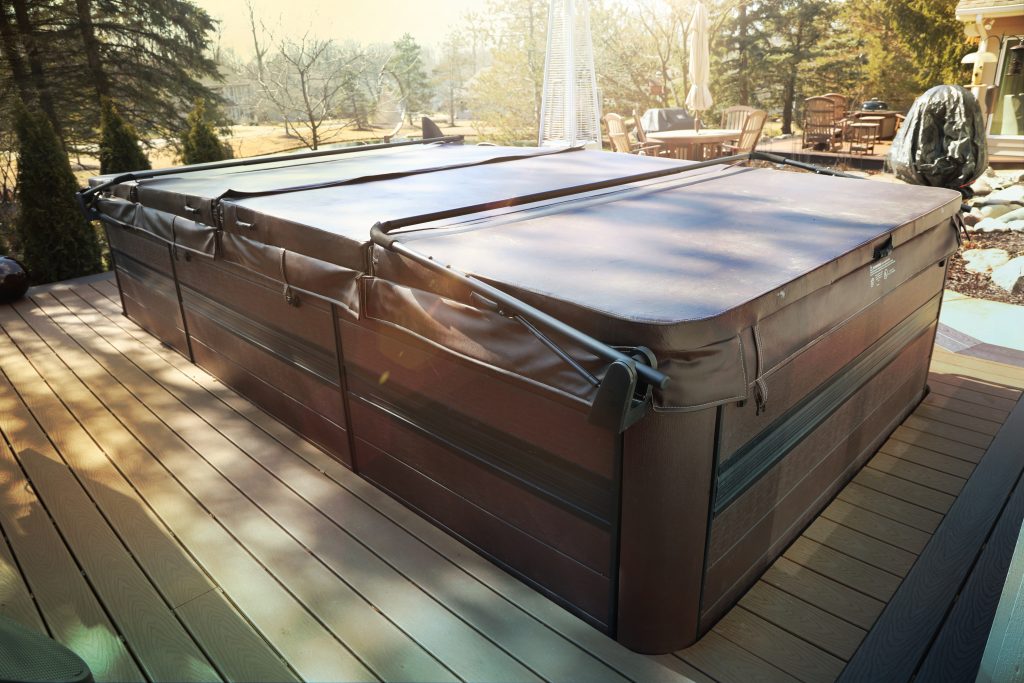 Quality construction
There are many swim spas on the market, running in size and price. But it's important to choose a product that is well-made so you can enjoy it for many years to come.
By looking at the materials used when constructing the swim spa, you can feel confident that you are choosing a product that is well made and has quality components. A quality swim spa will also have full foam insulation that will reduce your overall operating costs.
When you are shopping for the best swim spa, here are some questions to ask:
Does the swim spa have full foam insulation for maximum energy efficiency?
Does the swim spa cover help lock in heat and keep out natural elements?
Is the swim spa Commission for Environmental Cooperation (CEC) approved?
Manufacturer's reputation
With so much choice in the swim spa market, it's easy to feel overwhelmed when beginning to search for the right swim spa. It's important to look at more than features or the price. You want to choose a brand that you trust.
Here are some things to look for in a manufacturer:
Does the manufacturer have a proven record of reliability?
Where is the swim spa made?
What does the warranty include?
Does the manufacturer offer post-purchase support and customer service?
With this checklist for swim spa buyers, you can feel confident that you will get the best product for your lifestyle and backyard.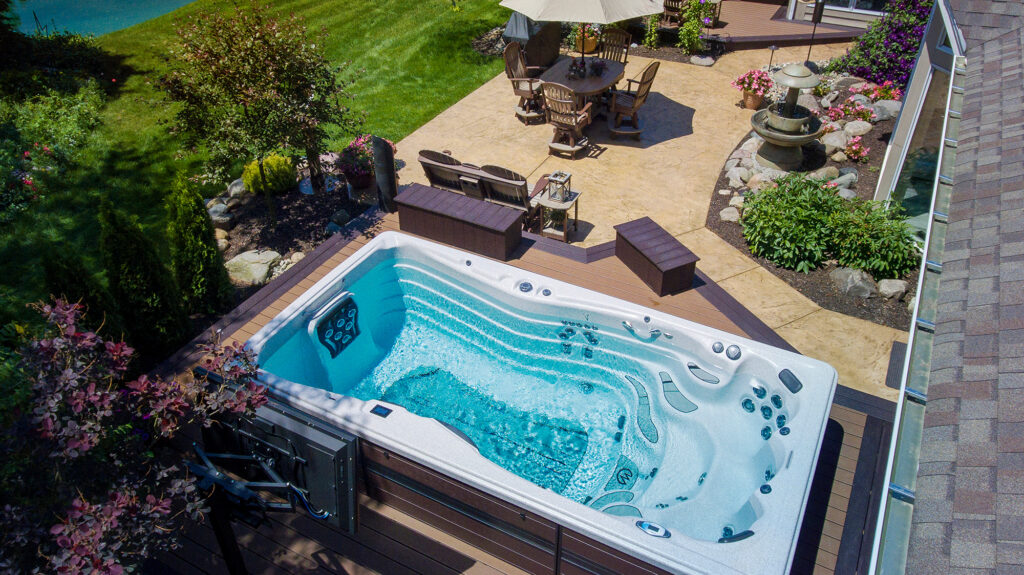 How to buy a swim spa
Do you want to be able to swim, exercise, and relax at home? Having a Master Spas swim spa allows you to swim on your schedule while adding a fun factor to your backyard. You can click here to find out more about the benefits of hydrotherapy and relaxing in a hot tub. Or, contact your local Master Spas retailer to learn more about swim spa ownership. Wondering how much a swim spa costs? You can request a quote here.