"My yard is my pride and joy," says Dallas homeowner Christy. And, as you look around the courtyard-style outdoor space, it's easy to see why. There are cozy seating areas and lush perennials, bistro-style string lights and a custom fountain. As you wander along the paver pathway, there are surprises and inspiration around every corner.
"It looks like it was ripped out of a magazine," says Ben Gilliam, a Master Spas swim spa specialist and co-host of the company's Facebook Live videos.
But there was something missing from the backyard, homeowners Christy and Bob agreed. The couple wanted a place where they could not only relax but feel rejuvenated. A Master Spas hot tub would provide the hydrotherapy that they were seeking.
It was important, though, that the spa not overwhelm the beautiful patio garden. While they initially considered a small hot tub that could seat four, Bob and Christy chose the Twilight Series TS 240.
The three-person corner hot tub "looks like it should have always been there," the homeowners say in a video tour with Master Spas' Ben Gilliam and Mari Cuticelli.
"It fit perfectly in the courtyard," Bob and Christy say.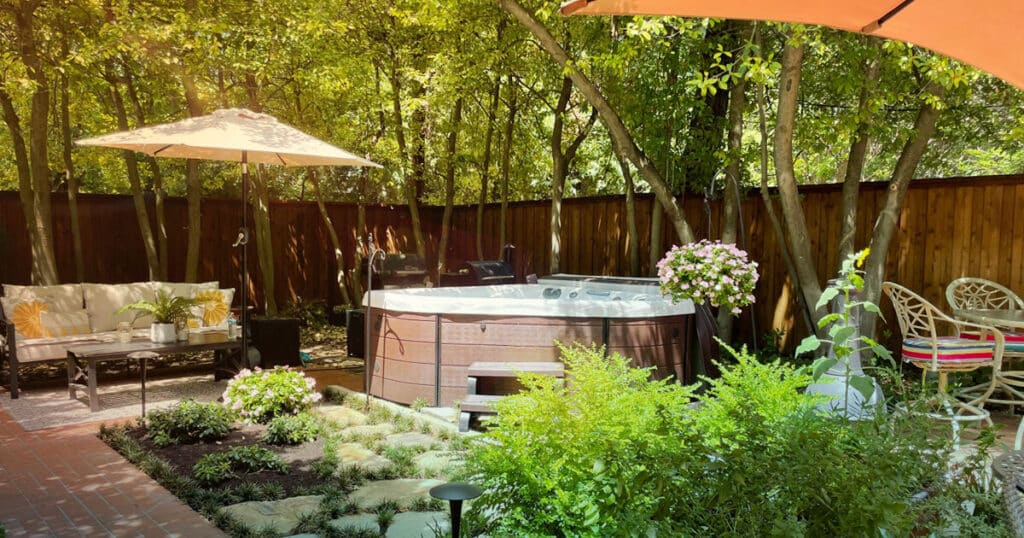 Corner hot tub benefits
Christy and Bob have lived in their Dallas home for about 18 years. In that time, they have been able to create a backyard oasis.
But to maximize their enjoyment in the space, they decided to buy a hot tub in 2021. A traditional rectangular hot tub seemed like an obvious choice. However, the corner hot tub in the Twilight series caught their attention. Not only would it complement the backyard but it had the power and the features they were seeking.
"We needed a tub that was more therapeutic. We're getting older and want to sit in the tub at the end of the day and wake up and feel great," Christy says. "My favorite is the lounge. I love that. My husband loves the corner one with the jets on the shoulder."
While it's a small hot tub, it has the power of a larger spa. The TS 240 has two pumps, which power 26 jets, including the exclusive Master Blaster foot therapy jet.
The Master Blaster foot jet has 14 individual nozzles, which deliver a reflexology-like massage. Bob enjoys using this jet to relieve tension and discomfort in his hips.
"It's small but still has an amazing punch for therapy."
The couple typically keeps the hot tub water temperature at 102 degrees. However, in the heat of a Dallas summer, they do lower it. They usually take advantage of the hot tub three to seven days a week, depending on the weather.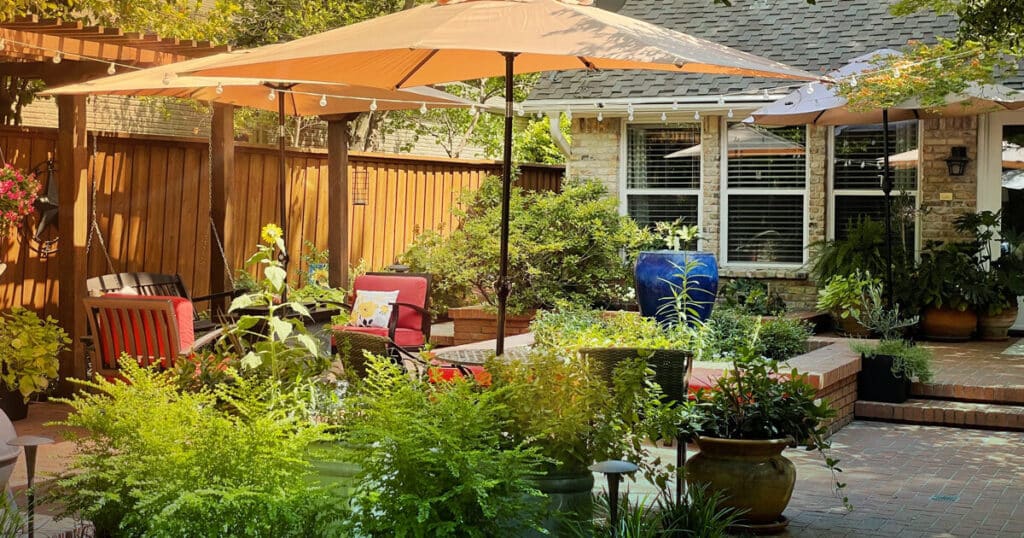 Installing a corner hot tub
For homeowners Bob and Christy, the Master Spas crew made the delivery and installation of their corner hot tub look effortless.
At 78 inches by 78 inches and just 34 inches tall the TS 240 is designed so that it can fit through a standard size door or gate. The delivery crew can easily move the spa on its side using a dolly.
But Bob and Christy, like other homeowners, did have to prepare the yard before accepting delivery.
The electrical requirement for most Master Spas hot tubs is a 50-volt/240-amp GFCI electrical hook-up. The breaker is often located on the side of the house for convenience, with the spa installed nearby. Since the Dallas homeowners chose a spot in the back of the yard, the electrical work was run under a brick pathway and a section of turf.
In addition, they worked with a contractor to create the hot tub foundation and re-envision the surrounding landscaping. The hot tub installation now features crushed granite and stone work.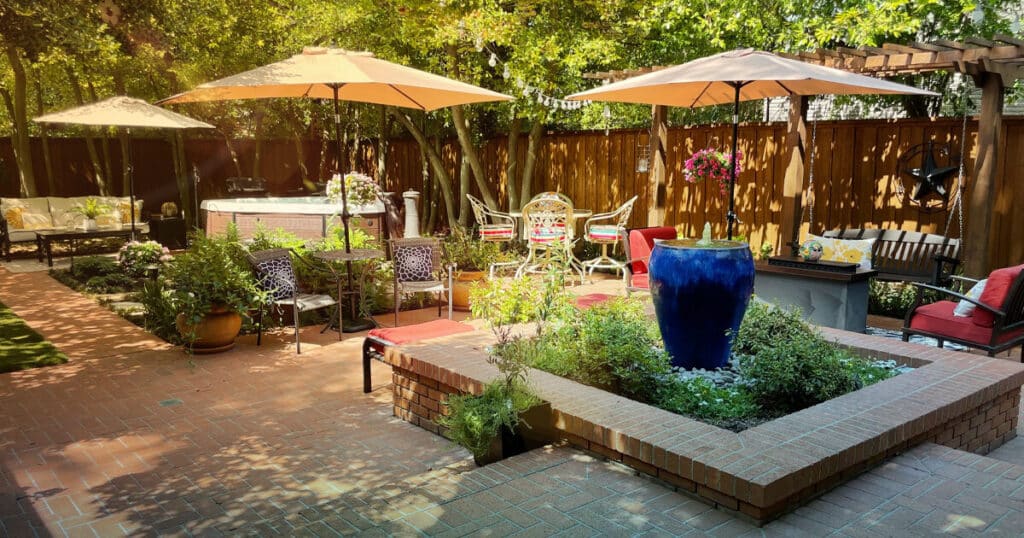 Inspiration for a secret courtyard at home
A charming outdoor space can add a sense of serenity and calm to your home. An enclosed-type garden space, like a courtyard, allows you to feel surrounded by nature and enjoy the relaxation it provides.
Backyard courtyards provide a sense of privacy, whether it's provided by fencing, mature trees, or vine covered walls. There's also plenty of green space and a mix of greenery with colorful blooms.
Bob and Christy created an eclectic courtyard in the backyard of their Dallas home.
Among the courtyard's feature:
Walkways made of bricks and rocks, which reduce the amount of backyard maintenance.
Lush plants, such as ferns and ground cover, which are ideal for the shaded backyard. Some plants are in the ground while others are arranged in oversized pots. Hanging planters and decor offer pops of color.
Made from a large planter, a custom fountain adds not only interest but tranquility to the space.
A fire table adds ambiance and warmth on a crisp Texas night.
Seating was a priority for the homeowners. This backyard courtyard features multiple seating arrangements and even a bench swing. Portable umbrellas provide shade on the hottest summer days, allowing Bob and Christy to enjoy the space year-round.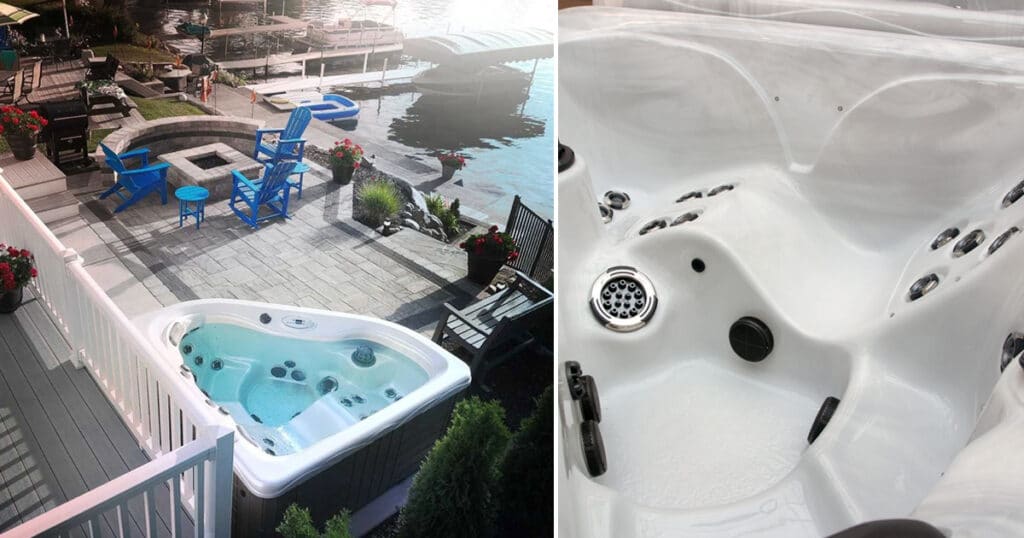 How much does a corner hot tub cost?
Look forward to spending more time in your own backyard oasis. A Master Spas hot tub can be enjoyed safely by the entire family. You can click here to learn more about the benefits of hydrotherapy. Or, contact your local Master Spas retailer to learn more about spa ownership. Wondering how much a Master Spas hot tub costs? You can request a quote here.