Craig and Heather had plans to move into the city and downsize their home. But the Indiana couple did not want to give up one of the things they loved most about their backyard — a Master Spas swim spa.
"A swim spa is a very nice option in the Midwest to be in the water year-round," Craig says.
Their new home had a very small yard with a beautiful deck. While there was not room for a swim spa and hot tub, Craig and Heather could install an H2X Trainer 19D. This dual zone swim spa from Master Spas has two separate areas for swimming and relaxing.
"We actually love having the two areas connected because we can go back and forth between the hot tub and swim side," Heather says.
Installing a swim spa in a small backyard
Craig and Heather chose a beautiful home in a small Indiana city. Near the city center, the property lacked the space that they were used to.
However, the home had the features that they wanted, including space for an outdoor swim spa.
The H2X Trainer 19D would be new but Craig wanted to seamlessly integrate it into the backyard.
"The deck was already very beautiful," he says. "I was able to reuse all the railing and connect it to make it look like it was already here."
While the swim spa is next to the deck, the foundation is a reinforced concrete pad. The pad can support the weight of the swim spa when filled with water. However, it's not so big that it overwhelms the rest of the yard.
Next to the spa, the couple built a set of custom steps that allows for easy access to the water. On the opposite side, there's a trellis-type structure with vining plants that offers privacy.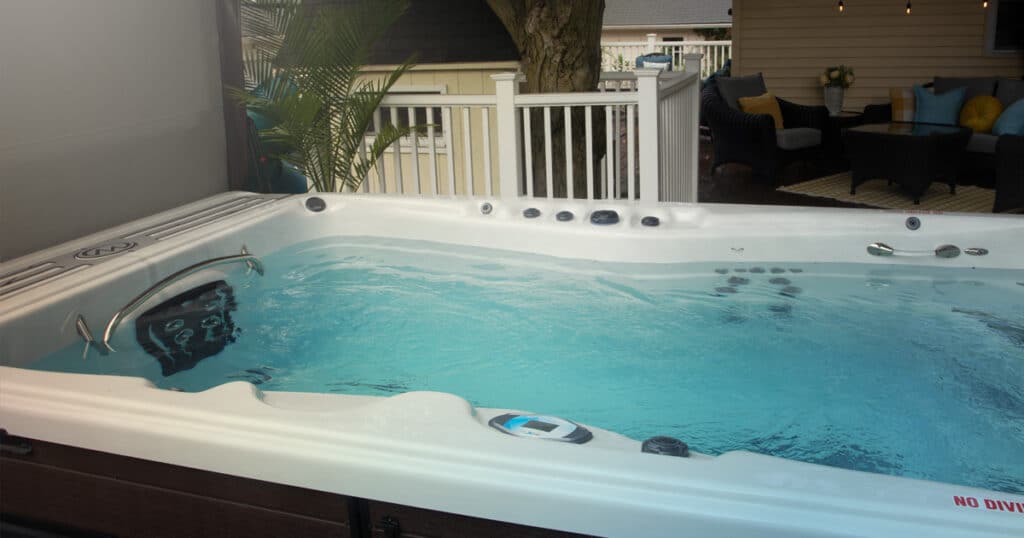 A swim spa for everyone
The possibilities for fun and fitness can seem endless with an in-ground swimming pool. But you often need a large backyard (and a budget to match) to install an in-ground pool.
For Craig and Heather, space could have been seen as a limiting factor. However, a dual-zone swim spa transformed their backyard into a space they could use and enjoy year-round.
At-home water exercise
Heather had taught fitness classes for years. However, some health challenges made it difficult to exercise the way she used to. A Master Spas swim spa offered a variety of benefits — including at-home water exercise.
While she was used to being in a gym, Heather could exercise in the water. "That felt amazing to me, she says.
"The swim spa gave me a piece of my life back," she says.
A swim spa is not just for swimming The continuous water current can also be used for water walking, aqua jogging, and aerobics.
The combination of water's buoyancy and natural resistance helps support the body with less stress on the joints. Whether you want to focus on your cardiovascular health or strength — or both — you can move through a greater range of motion with less pain. People who exercise in the water often see improved balance, strength, endurance, and flexibility.
Water games and family fun
For parents of young children, investing in a swim spa was not just about water exercise and relaxation. Heather and Craig have discovered that the swim spa is a place where the whole family can spend time together.
The Trainer 19D has an acrylic divider between the swim and hot tub areas. Heather and her children will play pool-safe card games.
"That's our thing when we want to spend time together," she says.
Even if they are not playing something like Uno Splash!, the family has found the swim spa is still a place to spend time together. Heather and Craig often relax in the hot tub as the kids splash around in the swim area.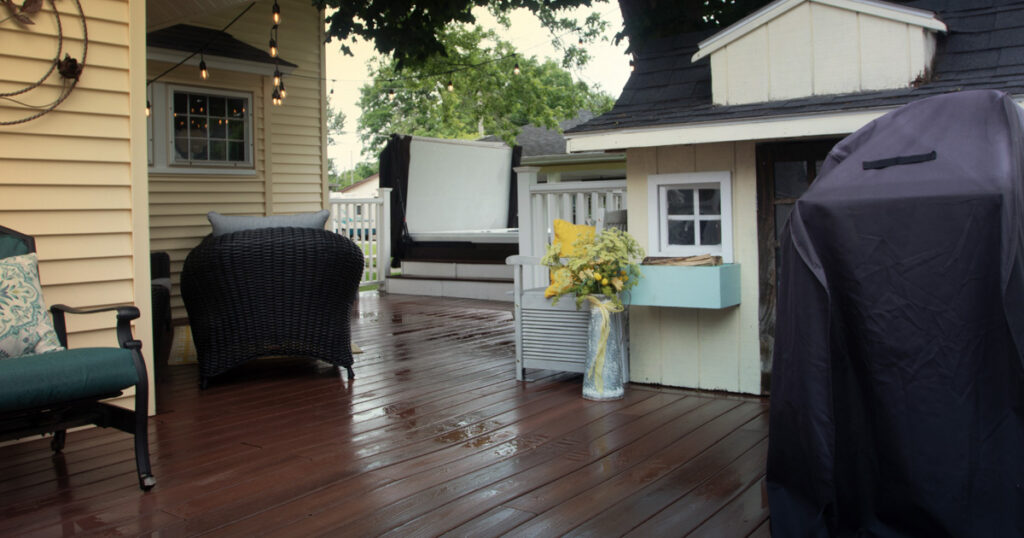 Swim spa entertainment ideas
For many homeowners, an in-ground pool or swim spa is the centerpiece of the backyard. It can be a place to exercise or relax. But it's also a place for friends and family to gather.
"It's just easy entertainment," Heather says. "You just open up the swim spa, and you have a party."
The entire family enjoys having friends over. Heather and Craig can hang out with friends and relax in the swim area of the spa. The children can play water games with friends.
With the adjacent deck, too, entertaining is made safe and fun. Parents can keep an eye on children who are in the water. Or, the adults can take a break and enjoy a cold beverage at one of the patio tables.
There's also a comfortable seating area. The outdoor seating has a neutral palette but bright cushions and accessories make the space standout. The yellow and aqua not only make a splash but make the space inviting for guests.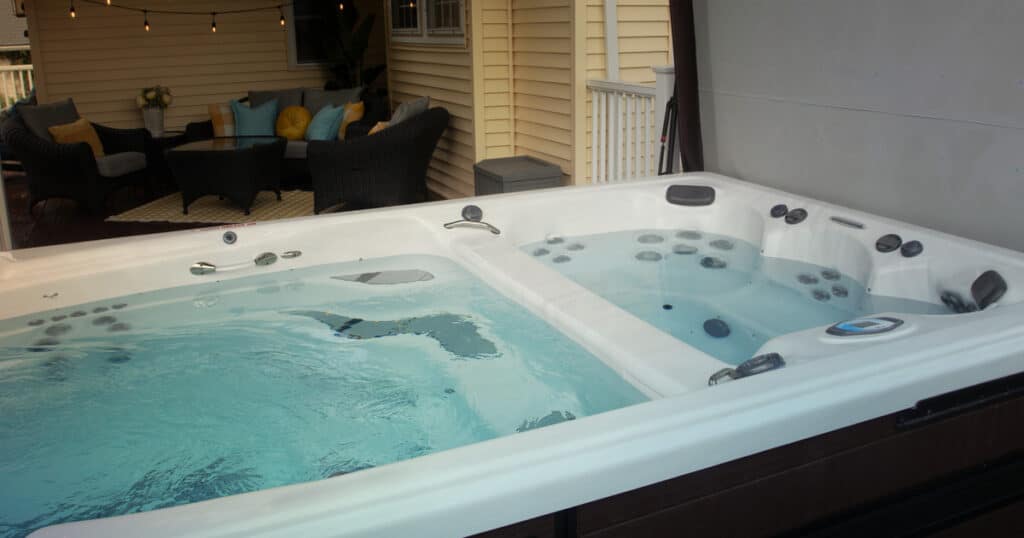 About the H2X Trainer 19D
Heather and Craig had previously owned a swim spa and a hot tub. "Look at this little yard that we have," Craig says. "Two units aren't going to fit here."
A dual-zone swim spa helps them make the most of the space, offering relaxation and recreation. The H2X Trainer 19D allows you to have the best of a hot tub and a pool. The water temperature of the hot tub side can be set to 104 degrees for soaking, while you can keep the swim area cooler for exercise and fun.
The hot tub side has room for four adults. There are 31 jets, including the exclusive StressRelief Neck and Shoulder Seat. The swim side features the VIP Technology, which creates a current of water for stationary swimming and aquatic exercise.
How much does a swim spa cost?
Do you want to be able to swim, exercise, and relax at home? Having a Master Spas swim spa allows you to swim on your schedule while adding a fun factor to your backyard. You can click here to find out more about the benefits of hydrotherapy and relaxing in a hot tub. Or, contact your local Master Spas retailer to learn more about swim spa ownership. Wondering how much a swim spa costs? You can request a quote here.