Meredith Kessler is living in what she and her friends call "nausea nation." For most women, it's the kind of place you visit during your first trimester of pregnancy. But for the 44-year-old professional triathlete, it's a place she has yet to depart.
Kessler recently announced that she and her husband Aaron are expecting their second baby in August 2022.
The 11-time IRONMAN and 23-time 70.3 Champion is no stranger to "nausea nation," though. She also experienced nausea throughout her first pregnancy with Mak, who is now 4-years-old.
"Looking at the two pregnancies, they are both the same in regards to how I feel — nauseous, lower back pain, pelvic discomfort to name a few! However, I recognize the privilege of getting to be in this position. We are so excited to be welcoming another boy into the family."
But her source of comfort during this time might be surprising.
"Pregnancy can be a tough journey for many individuals, for many women," says Kessler, who is also a Master Spas athlete. "Swimming, biking, running, and strength training immensely help me to cope and navigate through the physical effects of pregnancy."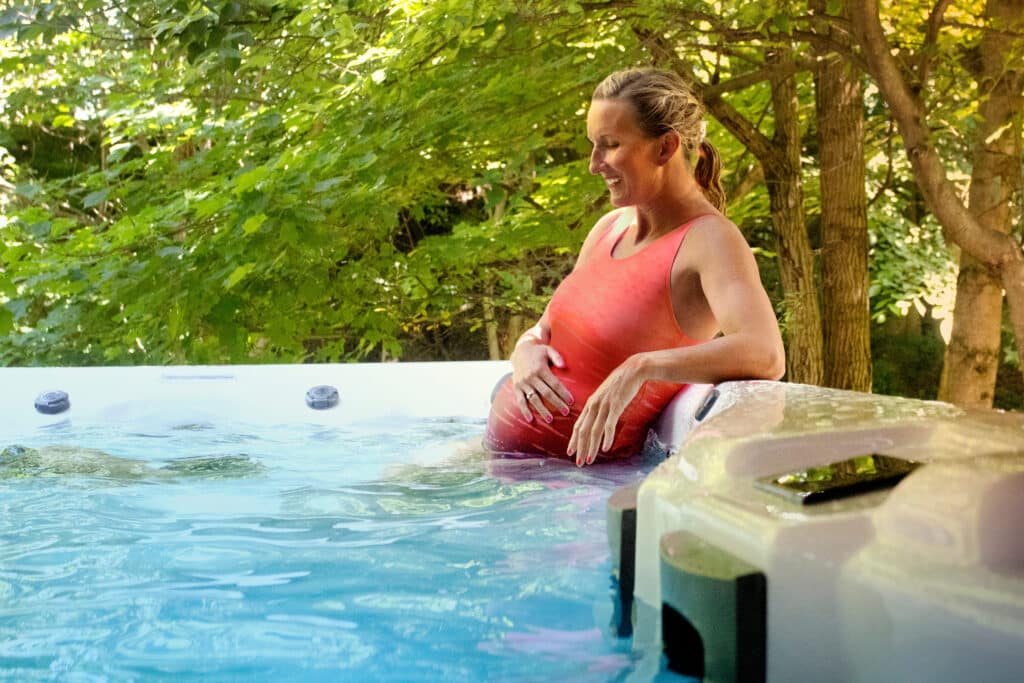 Triathlon training and swimming during pregnancy
An 11-time IRONMAN Champion, Kessler had qualified for the World Championships and had planned to race in St. George, Utah. But the soaring temperatures and race conditions, she decided to pull out of the race.
Kessler, though, did not hit pause on her training.
"I aim to make about 20 hours of exercise a week still a vital priority because it makes me feel more like myself both mentally and physically" she says. "I really believe that a healthy human is a healthy mother."
Master Spas sat down with Meredith Kessler to talk about how she balances training with pregnancy and how she incorporates a swim spa into her training.
How much do you swim while pregnant?
"During pregnancy, my swim volume tends to go up if anything as swimming always feels the best! I like to swim, even in my highest training, about 25,000 to 35,000 yards a week. I am at the higher side of that at the moment because with this extra baby buoy in my belly, it feels soothing to my pregnancy ailments! I remember with Mak, I swam 8K the day I was induced with him because swimming made everything feel better!
"That said, it was best not to flip turn from about 39 weeks on simply because my belly got in the way and I literally could not make the turn!
"That's the beauty of the swim spa. Do you have to do a flip turn in it? You sure do not! So there is a strong chance that I try to knock out 10k in our Master Spas the day this baby is due!"
How are you incorporating your H2X Challenger Swim Spa into your routine?
"I truly use the swim spa the same as I did pre-pregnancy. If I'm in the pool 4-5 days a week, I'm in the swim spa at least two times a week to train in it. If anything, I will probably add another two times a week for a couple half-hour swims at night to try to help my back out and keep the baby from dropping too low on my pelvis! We, of course, still go in as a family several times a week right now in the summer just as we do all year long! After I do my swim, my family will join me and we'll hang out and talk about the day."
Kessler has been training and relaxing in an H2X Challenger 15D since 2020. The Master Spas swim spa allows her to enjoy the benefits of a pool and hot tub all year. The swim spa has six airless VIP jets for stationary swimming, and a variable speed system. In addition, there are seats with massage jets and the Xtreme Therapy Cove, one of Kessler's favorite features.
Kessler can choose a gentle pace for recovery swims or "at the highest level to at least try to prove to myself that I can still go faster-ish in my current pregnant state!"
You can swim as fast as 1:20 per 100-meter pace in the H2X Challenger 15D. Swimmers and athletes who want a more aggressive pace can choose the H2X Challenger 18D Pro, which can swim as fast as 1:10 per 100-meter pace.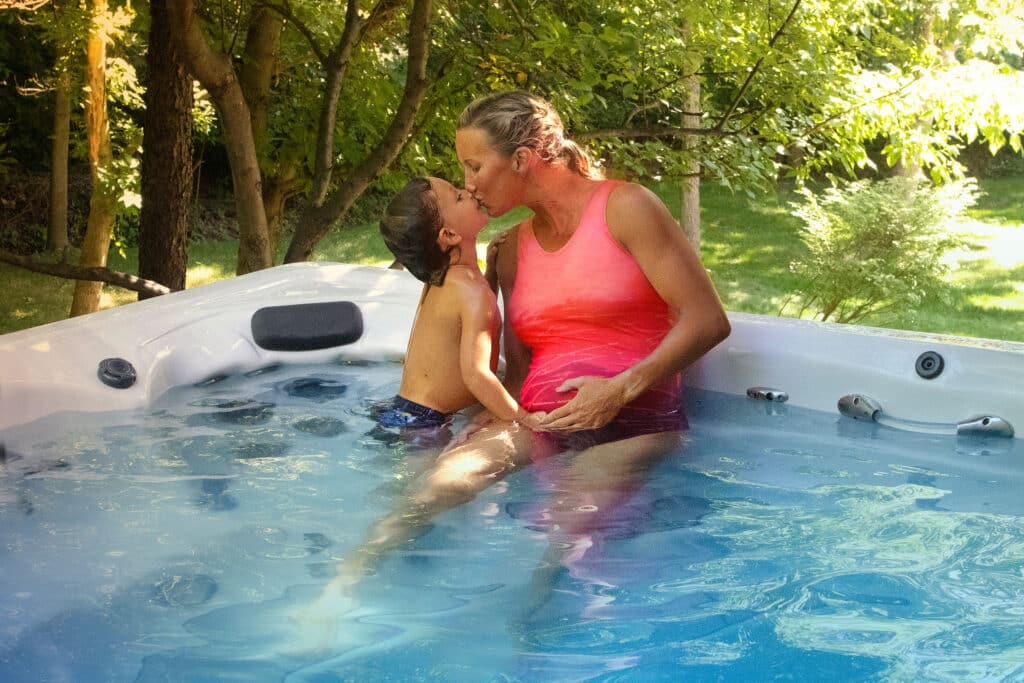 Have you made any changes to your swim workouts while pregnant?
"My workouts have changed in intensity. I still do some key sets with training partners but I add in some toys, like fins and paddles so I can keep up with the send-offs! The one component that has't changed in terms of intensity have been my strength training sessions as my goal is to also continue to keep my pelvic floor as strong as possible."
What is your favorite swimming workout in pregnancy?
"I have the same go-to workout that I do when I'm not pregnant. I've done this set no less than thousands of times in my career, and I do it at least once a week. It's essentially 30 x 100s."
The set alternates between an easy 100 and a more challenging 100, although there are two to eight consecutive hard 100s that are interspersed throughout the workout.
When Kessler is preparing for a race, she uses this set to gauge how ready she is for the race. During pregnancy, "it tells where I am pace wise and how much it is dwindling — ha!"
Do you still do your signature MBK chi swims?
"If there was a need for chi time, it's when you're pregnant. I have taken my MBK chi swims to the next level. Right now, I treasure them more than I ever thought. They recenter my mind, body and spirit to the max!"
What does it mean to "listen to your body" during pregnancy?
"When we listen to our bodies, it's no different than when we're a non-pregnant athlete. There's a time to push and there's a time to really listen. Pregnancy is a smidge different because you have a human life inside you to be cognizant of — and, understandably, you have a growing belly which can have you compensating a lot in your swim, bike and run form."
"I'm in my final trimester. I notice I'm compensating more because I have a belly. I'm biking, and I'm noticing the need to be more upright when I'm used to being in aero position. Most of the time, my lower back aches and my knees feel a bit creaky. This becomes understandable as I'm compensating because I'm heavier than I'm used to at this present time! It is essential to listen to your body every single day and within every single workout. If we are not cognizant of what are bodies can and cannot do during pregnancy, with flirt with having an eventual injury or potential stress fracture that can deter our desired comeback — I am always mindful of this on the regular!"
How do you make time for recovery?
"When I think about when I was pregnant with Mak, I didn't have Mak yet physically — I felt like a queen! I could go home from workouts and sleep, eat, relax, and recovery properly! As expected, this round is different as Mak is a vibrant and busy 4-year-old that I just try to keep up with whether I'm pregnant or not!"
"Recovery is marquis. I get that from the swim spa and that's where I recover the most right now. It brings me joy and life."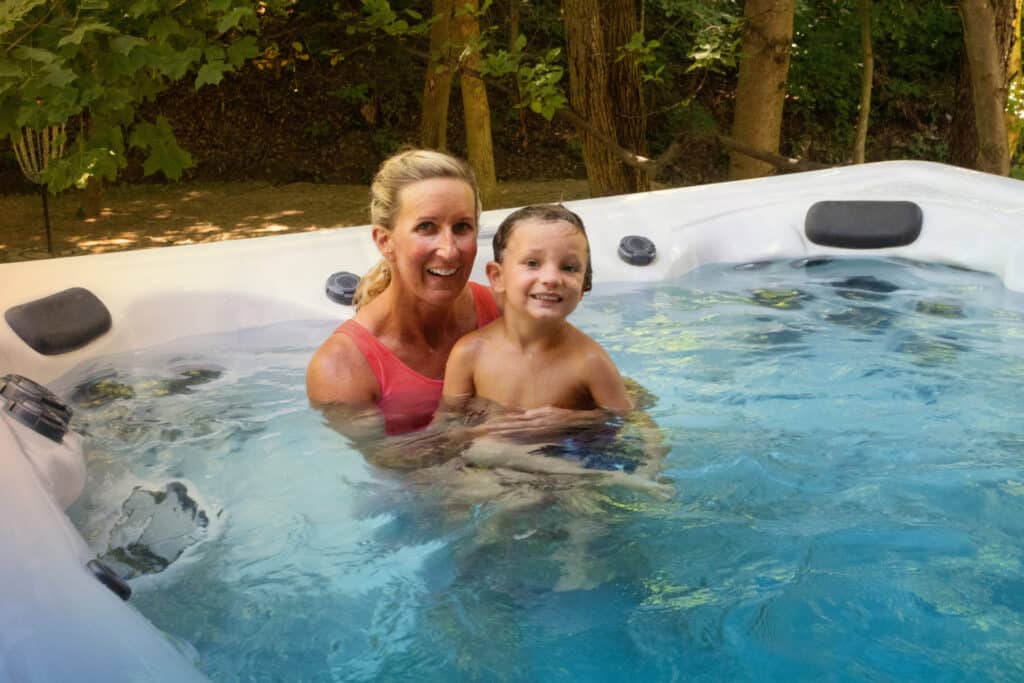 How to buy a swim spa
Do you want to be able to swim, exercise, and relax at home? Having a Master Spas swim spa allows you to swim on your schedule while adding a fun factor to your backyard. You can click here to find out more about the benefits of hydrotherapy and relaxing in a hot tub. Or, contact your local Master Spas retailer to learn more about swim spa ownership. Wondering how much a swim spa costs? You can request a quote here.