Living in the city offers myriad benefits. Whether it's a sprawling metropolis or a quaint town, city dwellers enjoy a sense of community. Groceries are nearby, and they can easily walk to restaurants. However, a house in the city often means sacrificing (at least some) space for lifestyle — especially when it comes to the backyard.

But less outdoor living space does not mean fewer opportunities.
The size of their backyard did not limit the opportunity to create a backyard oasis.
Creativity, smart planning, and a dual-zone swim spa from Master Spas helped transform the small backyard into a place where they can truly live — and love.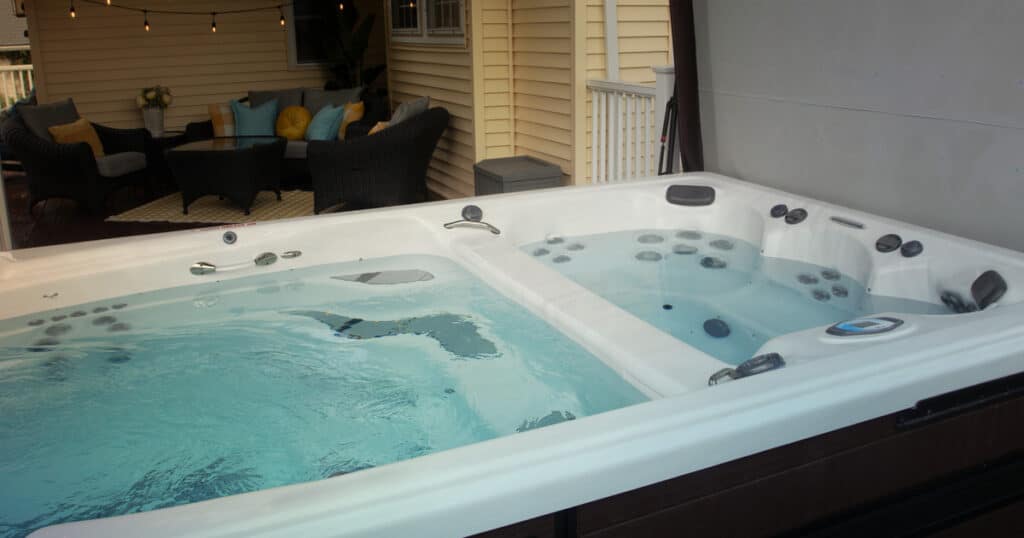 Small backyard planning tips
Your backyard space should feel like an extension of your home. But if you live in a historic home with a postage-stamp backyard or an urban townhouse on a narrow lot, the space might test the definition of "extension."
While the dimensions of your backyard might influence your landscape design, you can still have a space that fits your lifestyle.
The first step in planning the landscape of your small backyard is to identify your priorities. Maintenance, entertaining, curb appeal, and privacy can all be important factors in how you design the space.
In this Indiana backyard, the homeowners wanted a family-friendly space that was fun and relaxing. It was important to have a backyard that was going to be used to its fullest potential. Other features, such as lush gardens and hardscaping, were less important.
The landscape design was built around the family's deck, which is the heart of the backyard. Features such as a treehouse, slide, and a dual-zone swim spa were installed on or near the deck to create a backyard oasis.
Small backyard features
Build in fun
This backyard is all about the family. A small treehouse is built onto the deck with a slide that ends on the lawn. But unlike other play equipment, it doesn't take over the entire backyard space.
The H2X Trainer 19D is a dual-temperature swim spa that is ideal for families. Mom and Dad can relax in the hot tub side while the kids splash around in the swim area. The spa is spacious enough for tossing a football, swimming against the current, or using a kickboard to "body surf."
Landscape for privacy
Privacy can often be one of the backyard features that you sacrifice when living in the city. But this family took advantage of a mature tree and select plantings to create privacy. A living wall placed next to the swim spa provides privacy from the nearby neighbors, as does the position of the swim spa covers.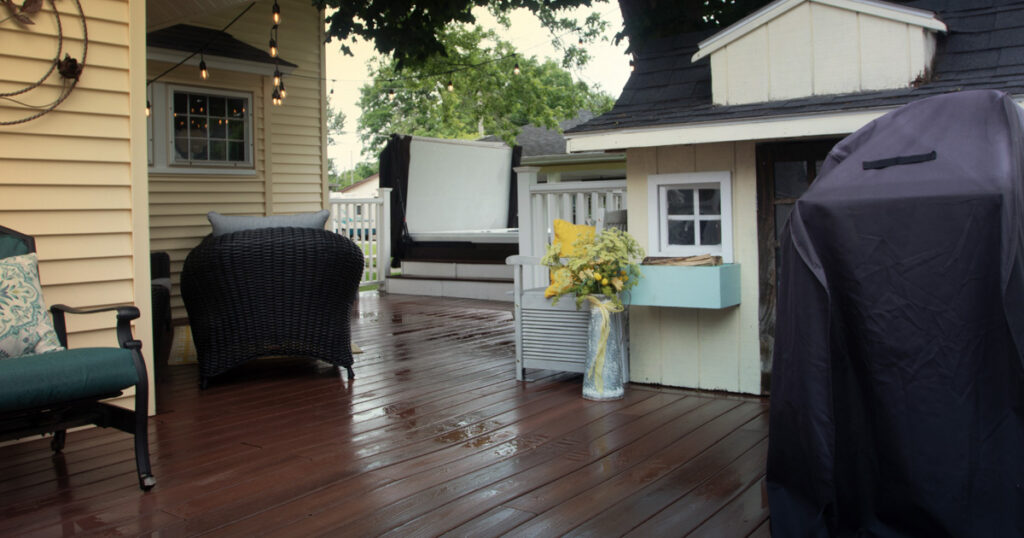 Entertain outdoors
When you entertain outdoors, you can enjoy the fresh air, soak up some vitamin D, and savor a delicious meal. This backyard features a grill and patio table for hosting friends and family. Be sure to tell everyone to bring their swim gear when you send out the invite if you think they will enjoy the spa.
Note, friends should rinse out swimwear before heading over. Residual detergent in fabric can affect the water quality of the spa.
Small backyard decor
Your deck and backyard are part of your living area — even if they are outside. These homeowners embraced the idea of creating a living area. There's a cozy seating area with an outdoor rug to define the space. Decor is hung on the siding to add interest and style.
Add pops of color
Do you want your outdoor living space to make a splash? Add some color. Brightly hued patio accessories are the easiest way to bring life to your space. These homeowners used outdoor pillows in yellow and aqua to brighten up their outdoor furniture. String lights hung above the deck add interest and make it easy to entertain at night.
Planters for greenery
There might not be room for a grand garden when you have a small city lot. However, you can still bring life to the space with containers and planters. These homeowners put planters with tropical greenery around the deck.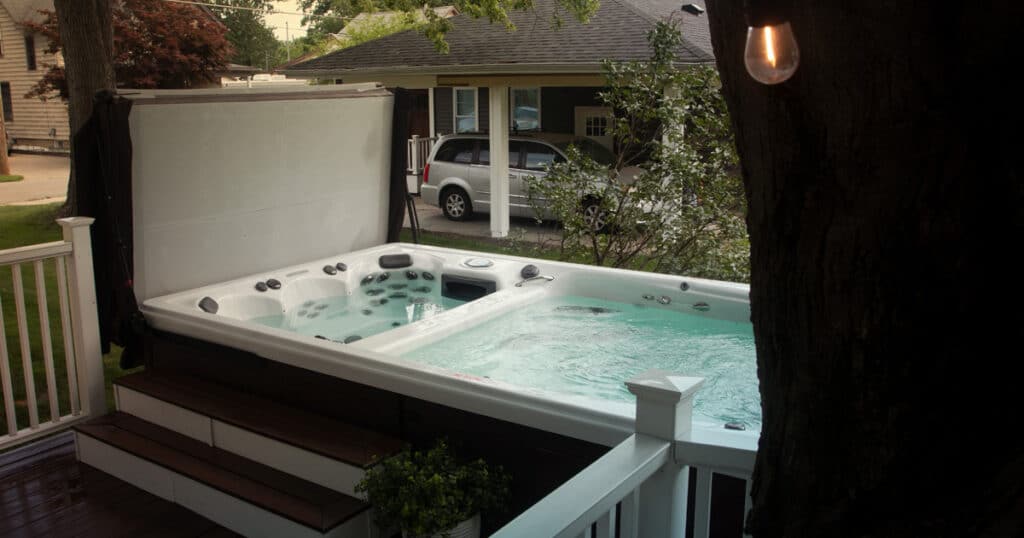 Dual-zone swim spa
Dual-zone swim spa helps them make the most of the space, offering relaxation and recreation. This backyard features the H2X Trainer 19D.
This swim spa allows you to have the best of a hot tub and a pool. The water temperature of the hot tub side can be set to 99 degrees for soaking, while you can keep the swim area cooler for exercise and fun.
This full-size hydrotherapy hot tub has 31 jets, including the exclusive StressRelief Neck and Shoulder Seat.
The swim side features the VIP Technology, which creates a current of water for stationary swimming and aquatic exercise.
Transform your backyard with a Master Spas swim spa. Get started by finding your local retailer.