You want a place to hang out on a hot summer day. However, as you start to think about the kind of pool you want, you start thinking about the other backyard amenities. A built-in spa, tanning ledge, expanded patio, pergola, and outdoor fire pit. Soon, building a pool becomes a big project with a big backyard required.
But what if your yard is really small. Like, really, really small.
From narrow lots in town to sloped yards with a lot of trees, a small backyard might seem like an obstacle getting in the way of your pool dreams.
However, you can still have an at-home aquatic retreat in your small backyard without a big sacrifice.
Even the tiniest of backyards can be home to a swim spa by Master Spas. An alternative to an in-ground pool, a swim spa allows you the space to swim, exercise, relax, and play.
And the bonus? A swim spa will have more functionality than a small plunge pool or lap pool, with the benefit of year-round use. Plus, if you move, you can take it with you.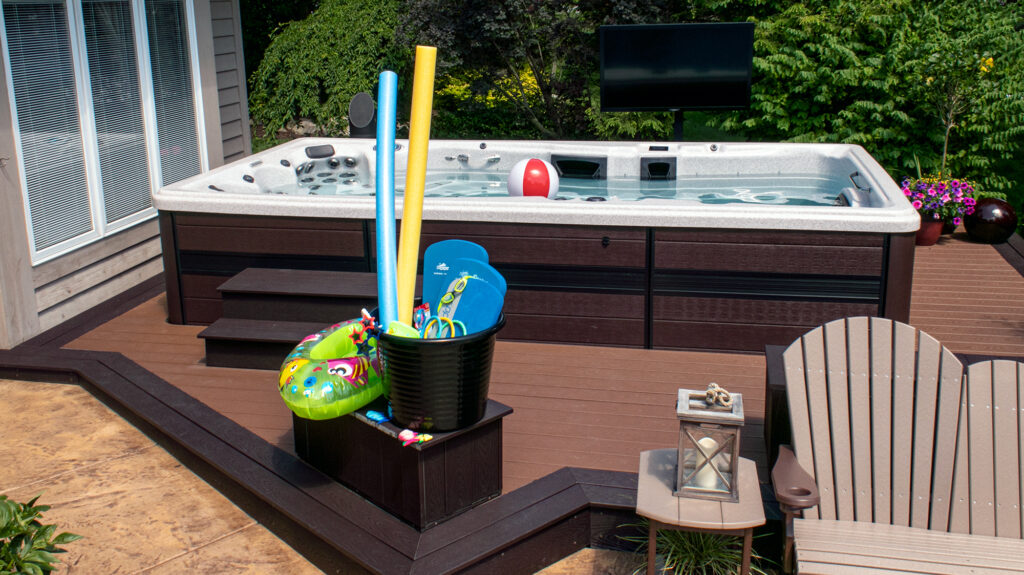 Swim Spa Installation Tips for Small Backyards
When you have a small backyard, the question might not be, "Where do I want to put a swim spa?" It might be, "How do I put a swim spa there?"
While your backyard might pose some design challenges, a small swim spa can be installed close to your house and turn your space into a place you enjoy day after day.
Here are some factors to consider if you are looking for a small swim spa:
Swim Spa Size
Master Spas manufacturers a wide range of swim spas, which are 8 feet wide and vary in length from 11 feet to 19 feet. For small spaces, 11-foot swim spas up to 15-foot models are the most popular.
Don't Be Afraid to Go Big
When you have a small backyard, you want to maximize the space. Your tendency might be to scale things down — low profile outdoor furniture and landscaping that will grow up instead of out. When it comes to a small swim spa, it can be the centerpiece of your backyard. Allow it to occupy space that you would not otherwise enjoy.
Room for Maintenance
Master Spas recommends that you allow for three feet on each side of the swim spa. This clearance allows space for access to the swim spa equipment in the event you need service. However, this clearance can be less so long as a service team member can get to the panel.
Delivery Route
The team at your local Master Spas retailer has experience delivering spas — whether by rollers, forklift, or crane. Typically, they need a space about 9 feet wide to move the spa in. However, if you are on a narrow lot or don't have great access, a crane might be necessary.
For more information about installing a swim spa, download our Backyard Planning Guide.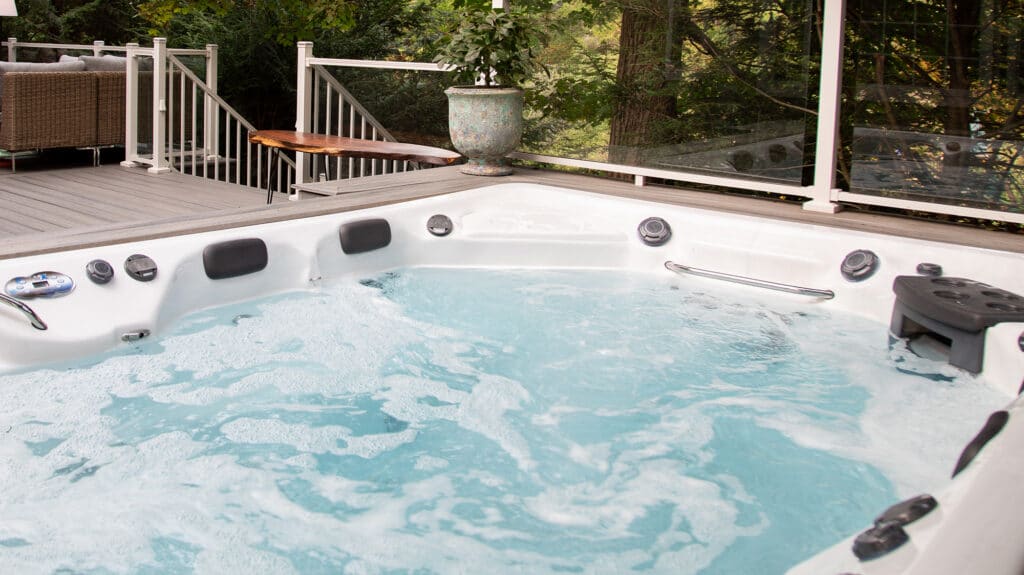 Small Backyard Swim Spa Installations
Built-In Swim Spa Installation
Lifestyle expert Evette Rios' Pennsylvania farmhouse was built in the late 1700s, a time when the focus was on indoor living — not the outdoors. But as she took on a massive renovation project, she knew she wanted an outdoor space meant for living. The #NiceBigDeck project addressed the challenges of her yard, among them were an extreme slope and mature trees. A raised deck that was reinforced could take advantage of the limited space. Among the features is an H2X swim spa that's built-in to the deck, providing an alternative to the popular plunge pool. Her young children can play safely in the water as adults look on.
Related post: Lifestyle Expert Evette Rios' Big Deck Build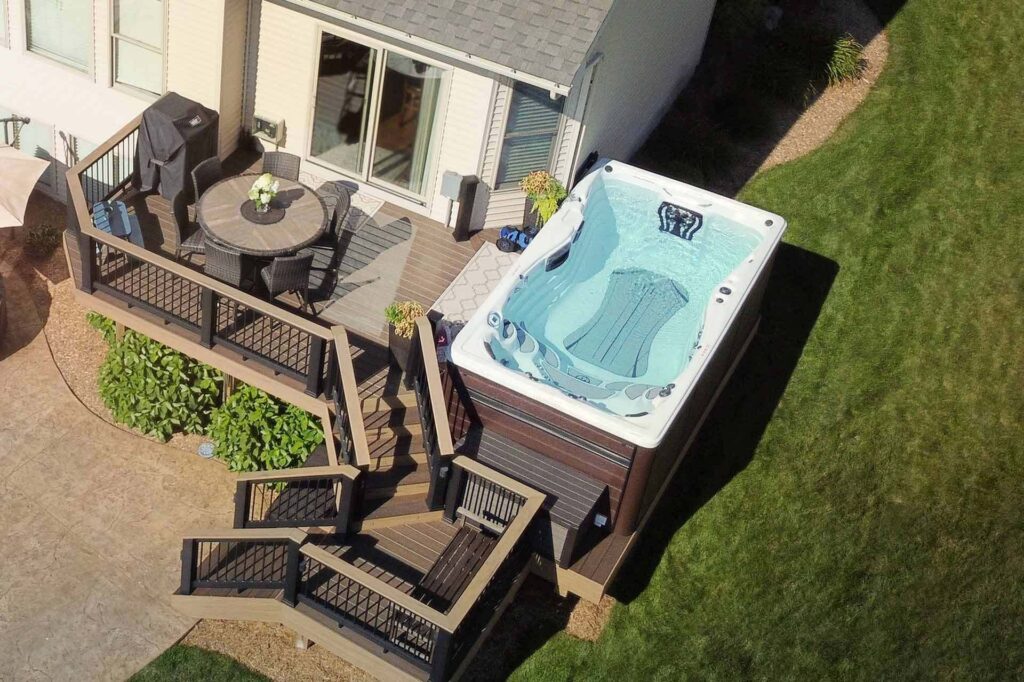 H2X Trainer 15D Installation
For this Indiana family, it was all about location, location, location. The swim spa needed to be close to the house, with convenient access to the patio doors. The family chose to install the swim spa tight to the house on a reinforced deck. The swim spa installation has a custom look while not taking up valuable space in their backyard.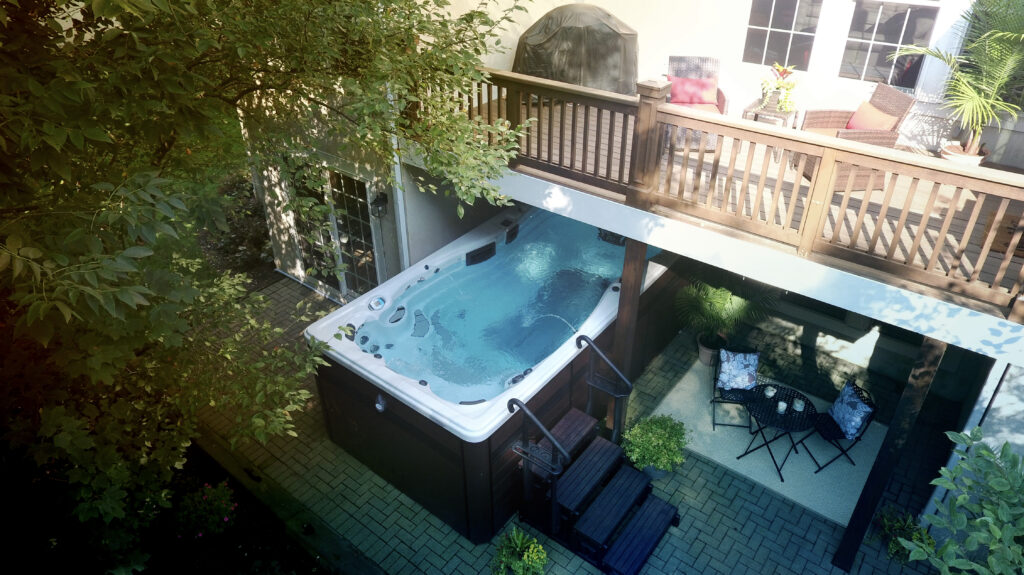 H2X Challenger 15D Installation
Professional triathlete Meredith Kessler lives in a newer development outside Columbus, Ohio. Her backyard features a walkout patio, second-floor deck, and beautiful view of the woods. However, when it came to choosing a site for her swim spa, space was limited. Kessler chose to put the swim spa on the walkout patio, where she would have convenient access from her indoor training space. The placement also offers a view of the trees and room to stretch out with her family.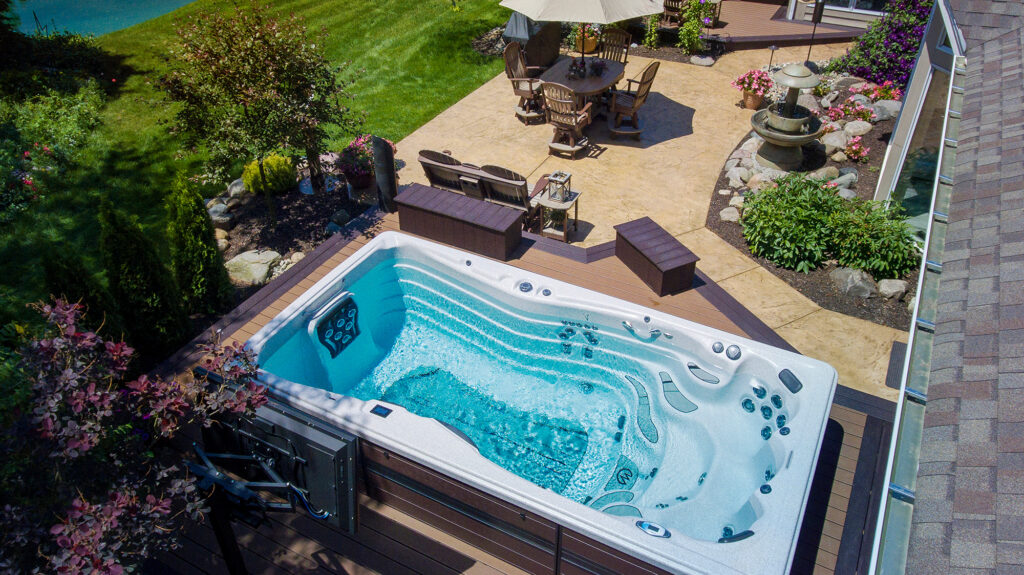 Swim Spas for Small Backyards
A typical swimming pool is about 15-feet by 30-feet. However, the pool project will require additional space for site preparation, external plumbing, decking, and fencing.
A swim spa by Master Spas is an alternative to that in-ground pool, simply needs a concrete foundation the size of the swim spa. There's no external plumbing and as it ha alocking cover, you do not need a fence.
Therapool D
An 11-foot swim spa, the Therapool D is a popular choice among people who want a place to enjoy aquatic exercise and therapy. It has more than 50 jets, including three flow stream jets that create a resistance for water exercise. Take advantage of the H2Xercise system or relax in one of the hot tub-style seats. The Therapool D also has LED lighting and a waterfall.
H2X Trainer 12
With the smallest footprint of any swim spa in the H2X Trainer Series, this 12-foot swim spa allows you to swim and train at home. The H2X Trainer 12 features four VSP jets, which create a current of water ideal for recreational swimming. If you prefer, use the H2Xercise equipment for resistance training. Trainer series swim spas also feature the Xtreme Therapy Cove for recovery and relaxation.
H2X Trainer 15D
The H2X Trainer 15D is the most popular swim spa from Master Spas. A 15-foot swim spa, the Trainer 15D has a large area for swimming, recreation, and family fun. Easier to maintain and with a smaller footprint, this swim spa is an ideal alternative to a traditional pool. Plus, the swim spa has the Xtreme Therapy Seat and Xtreme Therapy Cove for hydrotherapy.
H2X Challenger 15D
The H2X Challenger 15D has the features of the popular Trainer series but with increased swim performance. Ideal for people who want to swim and train at a higher level, the current of the Challenger is smooth, and wide. The smallest footprint of any Challenger model, it's ideal for small backyards.