Meredith Kessler was excited to get into the water and start swimming. For someone who finds water to be therapeutic, the professional triathlete found pool closures and limited access to be challenging.
An H2X Challenger 15D by Master Spas would allow her to continue training and swim at home amid the pandemic.
But swimming in the swim spa was more than just getting in "and doing the work."
The self-described "scrappy swimmer" soon discovered that the swim spa would allow her to focus on her form, something she had never done before. She can stroke count, see her technique in the mirrors, and improve her cadence.
And, maybe more importantly, she could set the water current speed to a moderate pace and do one of her signature "chi swims."
But what is a "chi swim," which Kessler calls "pockets of gold?" They are long periods of time in the water. Lap after lap in the pool or swimming a smooth, steady pace in her H2X Challenger 15D.
"And do I ever do them in the swim spa," Kessler says. " So far, the longest I have gone is probably two hours straight in the Master Spas. TRUE ZEN!"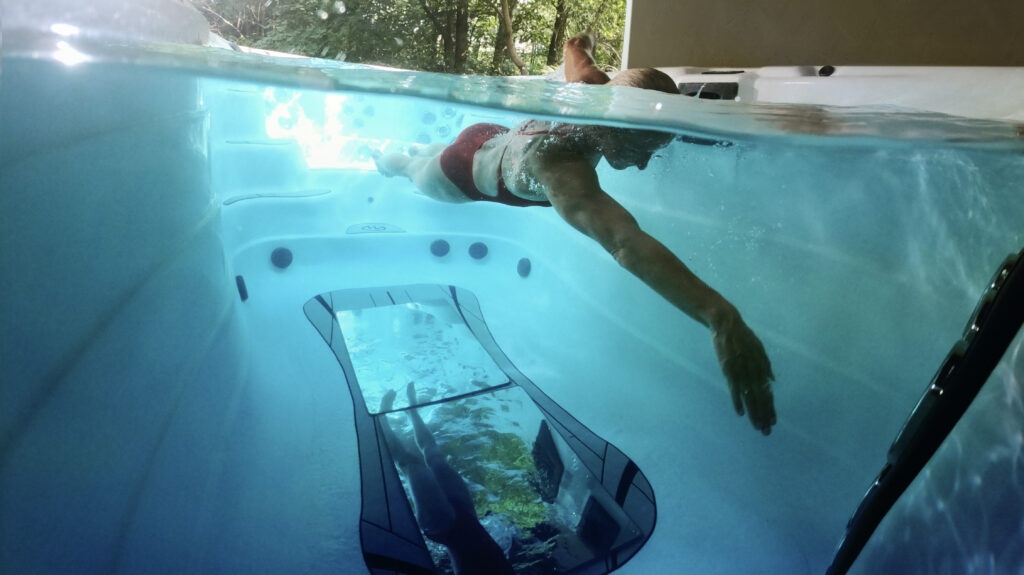 Triathlon Swimming in Swim Spa
Triathletes can incorporate a swim spa into their weekly routine. From swimming to recovery, a swim spa can help triathletes maximize their time in the water.
A swim spa allows you to focus on the little things, and "little things make the big things happen," Kessler says.
One of the biggest surprises, Kessler says was the ability to focus on her form. She uses mirrors* on the bottom of the swim spa, allowing her to get instant feedback during a swim. She can see herself, from the position of her elbow to how her arm moves through the water.
Another benefit, she says, is being able to work on her cadence while swimming. While the ideal stroke rate can vary depending on your arm length and upper body strength, keeping a strong cadence can help you move through the water more efficiently.
For triathletes, though, the open water simulation can also be a big deal. The endless water current of the spa allows triathletes to mimic the continuous swimming of a race.
The H2X Challenger 15D features a variable speed system, so you can set the pace from zero to 25. You can use it to swim intervals or dial it into a cruise pace.
How fast does the H2X Challenger swim? You can swim the equivalent of a 1:20 per 100 meters.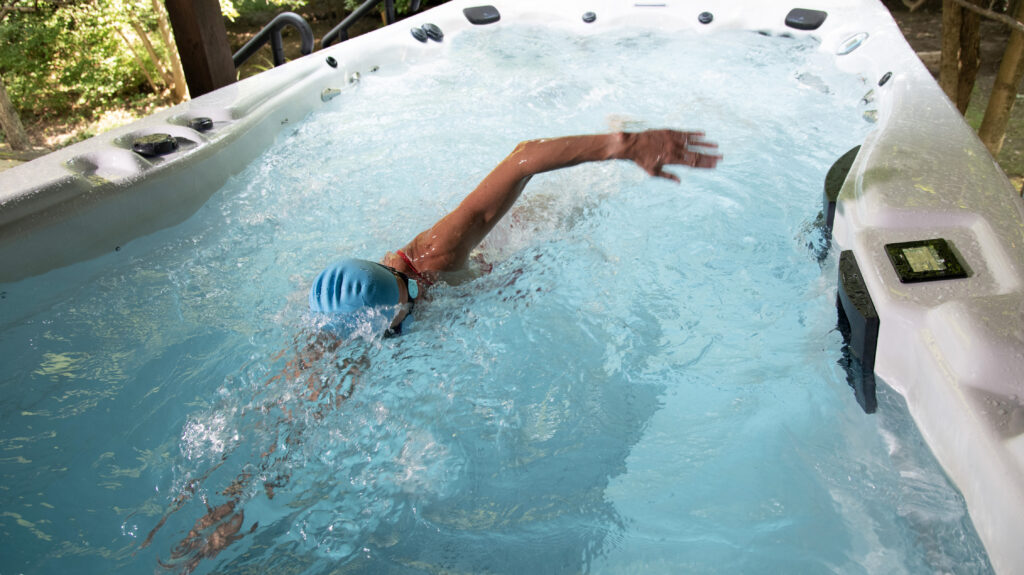 MBK 'Chi Swims'
As a professional triathlete, Kessler swims most days a week. Some of her swims are workouts — hard efforts in the water where she has to put in the work.
But she also likes to include a couple "chi swims" that focus on recovery and time in the water. These swims can be as far as 8,000 meters or two hours. However, the swims help Kessler clear her mind, meditate, and relax. Physically, these long recovery swims can help with active recovery and flushing out lactic acid.
"It represents a cathartic way to flow through the day with my chi intact," she says.
Kessler first discovered her signature swim when she was about 14 years old. As a high school student, she would hop in the pool at 5:30 am and look forward to lap after lap. She did the same when she went off to college.
"Call me crazy, yes — yet these set the day up for ultimate success as they allowed me to surf through the school day with gusto and then follow that up with whatever sporting practice I had after school," says Kessler, who is a lifelong athlete and team sports member. She played field hockey and soccer, as well as ran track and swam.
As an adult, Kessler's "chi swims" have taken on a new role. They help her nurture her mind and body.
"Now at 42 years old, I have had not had any significant injuries in my career (except bike crashes out of my control)," Kessler says. "I 100% chalk this up to proper strength sessions, which I have also been doing since high school, combined with these 'MBK CHI SWIMS' in the weekly rotation."
Hours in the swim spa might not be for everyone. Some triathletes might see a long, easy bike ride as therapeutic. It's about finding what works for you and helps keep you a happy, healthy athlete.
*Master Spas does not manufacture nor sell mirrors for swim spas.