You want a place to sit back and relax at the end of the day, or a place to enjoy your morning cup of coffee. There's no debate that a backyard hot tub can give you that place to unwind and recharge. But the question might be what kind of seating should that hot tub offer? Would a hot tub with a lounge be better than a spa with no lounge?
It might seem like there's a right or wrong answer. However, choosing a hot tub with (or without) a lounge comes down to personal preference.
A lounge seat allows you to recline, almost in a lying position, as you soak. Massage jets are thoughtfully placed to focus your stress points, from the shoulders to the calves. Other seats in the hot tub offer targeted massage therapy for your back and legs.
Featuring an open seating arrangement, a hot tub with no lounge offers room to move around and entertain. Seats feature a variety of jet arrangements, offering a unique massage experience.
Master Spas manufacturers a range of hot tubs, some that feature a lounge seat and others with an open seating arrangement.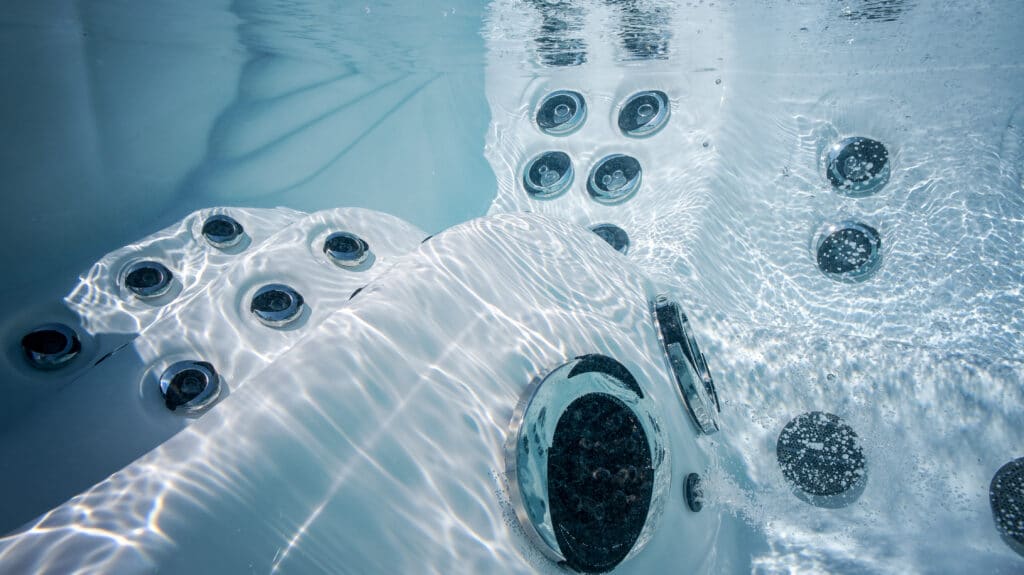 Hot Tub Lounge Features
Shopping for a hot tub can be a bit like shopping for furniture. When you look at accent chairs, you might find yourself drawn to a traditional style. Or, you might look at recliners, preferring to stretch out as you watch TV or read a book.
If you enjoy sitting in a recliner, your legs outstretched, you might enjoy the relaxation of a hot tub lounge. You can sit in the soothing warm water and take advantage of the hydrotherapy jets. A lounge seat will typically have more jets when compared to an upright spa seat.
Example: The Twilight Series TS 8.2. This popular six-person hot tub has six jets for the back, two for the wrists, and eight for the lower body. With the turn of a diverter, you can control the water pressure and personalize the water pressure.
Before you buy, you will want to see whether you can schedule a wet test with your Master Spas retailer. This appointment will give you an opportunity to try the hot tub lounge and see how the lounger "fits." You want to make sure that your legs can rest comfortably and your head is above water.
The lounge hot tub also gives you a variety of seating options, which you might appreciate.
Customer review: "Our hot tub is amazing! The dedicated foot jets were a favorite during the wet test, and it is one of my favorite features. Every seat has a different jet configuration and I am loving all of them. The lounge seat hits everything from my feet to upper back." — Ron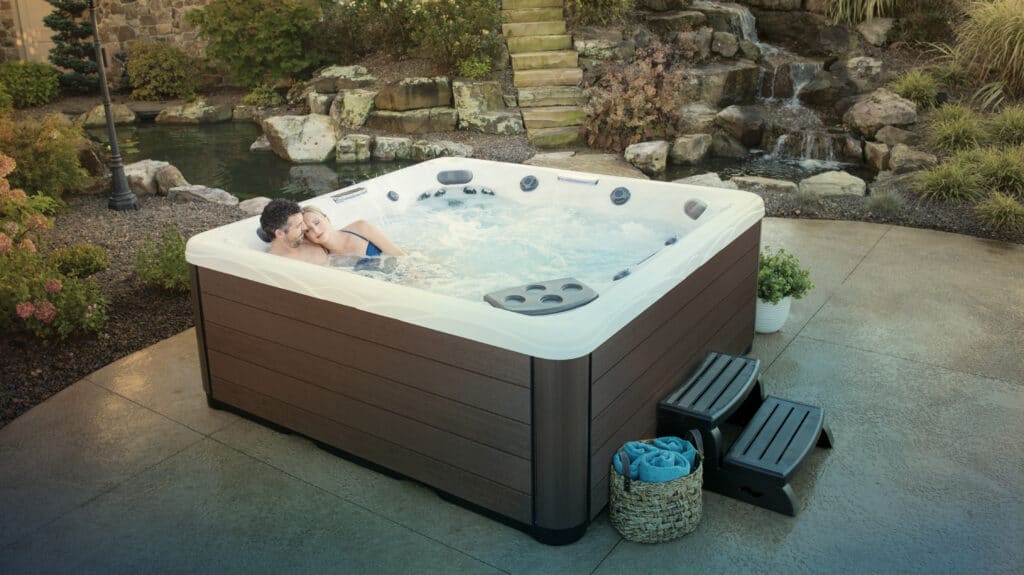 Spas Without Lounge
Choosing the best hot tub seating arrangement is about what will work for your lifestyle and how you will use the spa. A hot tub without a lounge allows you to maximize the seating and space available. If you have a large family or plan to entertain, a hot tub with no lounge might be the preferred option.
When you are asking yourself, "Should I get a hot tub with a lounge?" you need to consider who is using the spa. Height can affect how comfortable you find this seat, and some shorter people report "floating" in the lounge.
Also, spa users who want to move around will prefer a spa without a lounge seat.
The Twilight Series TS 8.25 is similar to the spacious TS 8.2. It has the StressRelief Neck and Shoulder Seat, adjustable massage jets for the calves, and Master Blaster foot therapy. However, this seven-person hot tub does not have a lounge.
Customer review: "We are very satisfied with our new tub! All seats are slightly different, and there are lots of options for seating. It will satisfy all your needs from neck to toe!" — Bob, Ontario